The last time we looked at the Edmonton Oilers contract negotiations with defenseman Darnell Nurse, we knew the two sides were at a stalemate. When Edmonton opened up training camp, the talented 23-year-old was not in attendance and had flown back to Toronto while both sides were at an impasse. The original report was that the two sides were $200,000 to $300,000 apart in negotiations.
This isn't the first time Oilers general manager Peter Chiarelli and Nurse's agent Anton Thun have been locked in a bitter negotiation. In September 2014, Chiarelli and Thun were negotiating the deals for Reilly Smith and Torey Krug. Both missed training camp, but cooler heads prevailed, and both were in the lineup for opening night.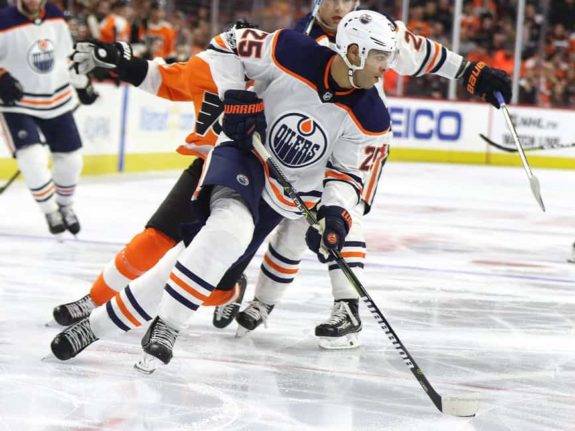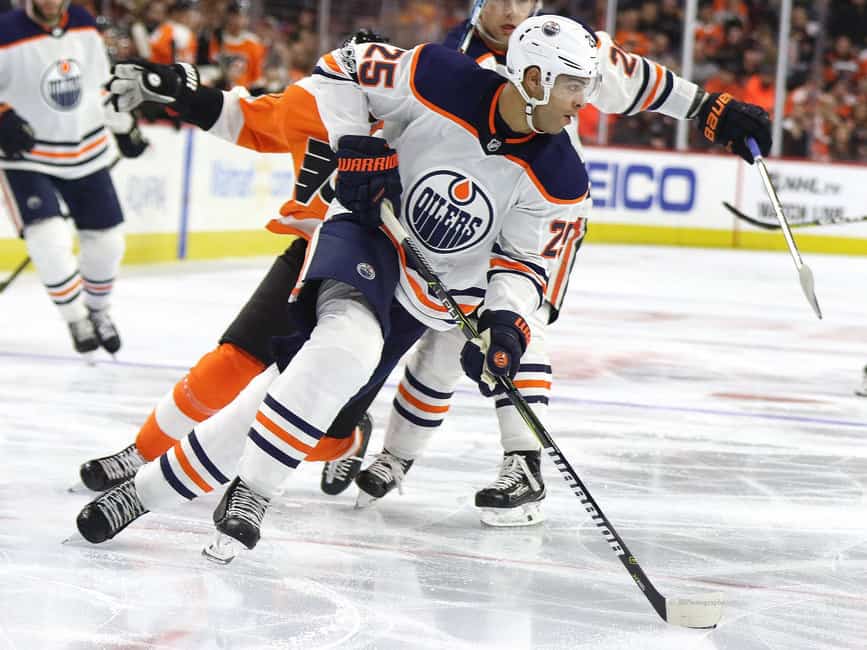 Both signed near identical deals for $1.4 million, with Smith signing in the last week of camp (Sept. 28), and Krug signing shortly after (Oct. 5). More importantly, the Krug deal came in much lower than market value after coming off a 14 goal, 40 point season. He'd put up 12 goals and 39 points in 2014-15, and then cash in on a $3.4 million one-year deal. Krug is now on his fourth contract, and first long-term deal, at $21 million over four years.
So what does this have to do with Nurse? The rumored evaluation from the blue liner's camp is $4 million, while it's speculated the club is around a $3 million evaluation. As much as the 23-year-old's camp is aiming high (like Krug and Thun were), eventually they'll have to come down in their ask. That's even more evident with the recent news over the weekend.
Jets & Josh Morrissey Come to Terms on Contract
We were in a waiting game between the comparables for Edmonton's restricted free agent (RFA). In July, the Anaheim Ducks had come to terms with Brandon Montour, 23, at $6.77 million (a $3.38 million AAV) over two years. That left two others as comparables; Shea Theodore (Vegas Golden Knights) and Josh Morrissey (Winnipeg Jets). Well, one of those dominos has fallen.
Related: Edmonton Oilers 2018-19 Training Camp Guide
The Jets and Morrissey, 23, came to an agreement of $6.3 million (a $3.15 million AAV) over two years. Morrissey and Nurse are near parallels in their boxcars from last season. Nurse averaged roughly two minutes more per game (22:51 in ice-time versus Morrissey's 20:27). The Winnipeg defender put up 26 points, as did Nurse. Both were RFA's, and both are left-side defenders.
Both defenders are pegged to play a top-four role for their respective clubs, and so on. According to Corsica Hockey's advanced stats, both had similar points-per-60 (P/60), and Corsi For percentages (CF%). So regarding the value, and considering Montour's deal, the numbers suggest Nurse should be around $3.15 million to $3.38 million, on a bridge deal.
Most readers should know my thoughts by now; $6.5 million ($3.25 AAV) over two years for Nurse. I've been arguing that point throughout the summer. Ironically enough, that's relatively close to what the middle ground is between Morrissey and Montour's deals ($3.26 million).
Related: Edmonton Oilers 2018-19 Season Preview
That's the market value, and unfortunately for the agent, the recent signings are working against his stance in negotiations. If Thun wants to take what happened in the Krug negotiations, and what other agents did with the Montour and Morrissey deals, there's one approach worth considering. Take a one year deal for less than the $4 million they're hoping for, and get in a better negotiation spot next summer with arbitration rights.
Darnell Nurse Contraction Comparables

DEFENDER
TEAM
AAV
YRS
GP
G
PTS
P/60
CF%
TOI

Brandon Montour

ANA

$3.38M

2

80

9

32

0.52

49.4

20:28

Josh Morrissey

WPG

$3.15M

2

81

7

26

0.84

51.3

20:27

Darnell Nurse

EDM

RFA

NA

82

6

26

0.78

51.0

22:15

Shea Theodore*

VGK

RFA

NA

82

8

39

0.95

51.3

20:21
* Shea Theodore's stats are calculated over a full 82-game NHL schedule.
Toronto Maple Leafs general manager Kyle Dubas is currently going through a similar situation with RFA forward William Nylander. From reports, the Leafs want to get a deal done around $6.5 million, but Nylander's camp is valuing the player closer to $8 million. To borrow a line from THW's Jim Parsons, "the optics of Nylander missing a few games versus Dubas putting the Leafs in a precarious salary cap position make the decision to let Nylander sit an easy one.".
The same can be said for Nurse, Chiarelli, and Thun. Can Thun genuinely expect to get more for Nurse than Morrissey (and even Montour) got? You'd think this solidifies the market value for Nurse, and speed up negotiations. The only thing that might be slowing things down is the hope that Theodore's deal gets done soon and that contract ends up going in favor of the player and the agent. Looking at the spread of the recent deals that have unfolded, why would they?
We now wait for the other shoe to drop. Moving on.
Oilers Re-Assign Maksimov, Rodrigue, Samorukov
With the pre-season schedule about to kick off, the Oilers went ahead and made their first re-assignments from training camp. Kirill Maksimov, Olivier Rodrigue, and Dmitri Samorukov have been re-assigned to their junior clubs. That lowers the camp roster from 62 to 59 (six goaltenders, 18 defencemen and 35 forwards). While some might be upset that Edmonton might not be giving it's youngsters a fair shake, there might be some simple reasoning here.
None of the three players were genuinely contending for a roster spot with their NHL, and are ineligible to play for Edmonton's AHL or ECHL affiliates. Aside from Evan Bouchard who's competing for an NHL job, Ryan McLeod who's had an impressive showing in the early goings, the trio are the only junior prospects in camp. With the OHL and QMJHL pre-season schedules wrapping up, opening night for the 2018-19 junior season is a week away.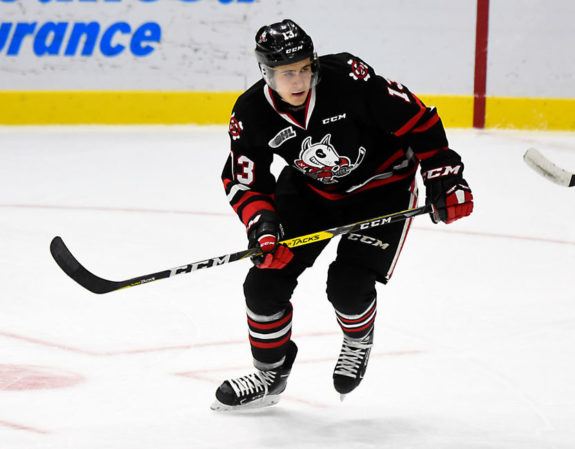 The trio will rejoin their respective junior squads and have a week to prep and get ready for the first game of the season. It would've been nice to see Maksimov, Rodrigue, and Samorukov get a taste of NHL pre-season hockey, especially with back-to-back games coming up against the Calgary Flames and Vancouver Canucks. That said, don't let their early re-assignments affect your opinion on the prospects.
Related: Edmonton Oilers – Top 10 Prospects
In the summer edition of the Oilers Top 20 Prospects listing, all three had spots in the rankings. Maksimov (ninth), Rodrigue (11th), and Samorukov (16th). Maksimov, 19, rejoins the Niagara IceDogs and could end up scoring 50 goals in the OHL this season. He had 34 goals in 62 games last year, good enough to finish amongst the top 20 goal scorers in the OHL. He should also get a deserving look to play for Russia at the upcoming World Junior Championships (WJC).
The same can be said for Rodrigue and Samorukov. The 62nd overall pick from the draft in June is gunning for a spot on Canada's entry, while Samorukov could be a returnee and teammate for Maksimov with Russia. This is Samorukov's last season in junior, and the expectation is for him to have a staring role for the Guelph Storm and Russia at the WJC.
Updated Roster Projections for Oilers
Not much has changed in the projections for this year's team. As known, Edmonton has three players in camp on professional tryouts (PTO's); Alex Chiasson, Jason Garrison, and Scottie Upshall. Chiasson, 27, can play both wings and has an outside shot at earning a spot on the club's fourth-line. Ditto for Upshall, 35, who's on the mend from a knee injury that caused him to fail his physical on the opening day of camp.
Upshall is back to skating, but it's unlikely he'll be ready in time to get into the first two pre-season games. Expect to hear the 15-year veteran to be cleared in the next week or so and get a close look during the final week or so of camp. As for Garrison, he's battling alongside quite a few defenders for that No. 7-8 job. Jakub Jerabek has the inside track on a No. 7 job but could bump up to the No. 6 spot if Nurse isn't signed before the opener, or if Chiarelli doesn't go out and make a trade to address the blue line.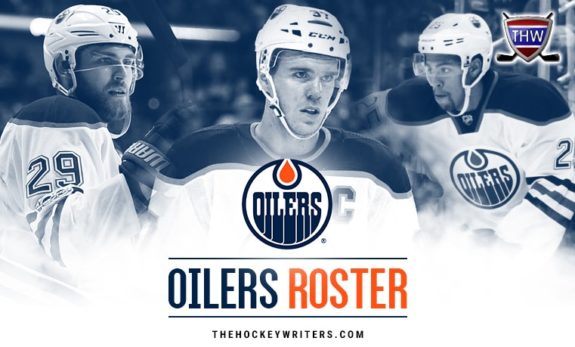 Projecting Edmonton Oilers 2018-19 Opening Night Roster
Goaltenders
Left Defense
Right Defense
1. Cam Talbot
1. Oscar Klefbom
1. Adam Larsson
2. Mikko Koskinen
2. Darnell Nurse (RFA)
2. Matt Benning
3. Al Montoya*
3. Kris Russell
3. Evan Bouchard
4. Stuart Skinner*
4. Jakub Jerabek
4. Ethan Bear*
Left Wing
Center
Right Wing
1. Ryan Nugent-Hopkins
1. Connor McDavid
1. Ty Rattie
2. Milan Lucic
2. Leon Draisaitl
2. Tobias Rieder
3. Jujhar Khaira
3. Ryan Strome
3. Jesse Puljujarvi
4. Drake Caggiula
4. Kyle Brodziak
4. Zack Kassian
5. Pontus Aberg
5. Cooper Marody*
5. Kailer Yamamoto
* Denotes players expected to start the year in the AHL.
Until then, this is what the roster and current depth chart shakes out to. If we extended the list to show the No. 6 on each wing, that's where you'd see both Chiasson and Upshall. The list has also been changed to reflect Jujhar Khaira starting camp alongside Ryan Strome and Jesse Puljujarvi, while Drake Caggiula slides down to lineup alongside Kyle Brodziak and Zack Kassian on the fourth-line.
Do you agree? What changes would you make to this roster? Let us know in the comment section below. For up to date info, follow me on Twitter @SanderTHW.
Edmonton Oilers regular contributor providing insight on all things Oilers including club history, prospect profiles, trade breakdowns, and everything else in between. Check back regularly for new and exciting content. Follow on Twitter @SanderTHW.