When EA Sports releases its annual NHL video game, it means the regular season is around the corner. We decided to simulate the upcoming 2018-19 season with NHL 19 to see the completely accurate and undisputable results for the upcoming season.
There are a number of questions which will find answers during the season. Will the Vegas Golden Knights build off of their surprising first season? Will Alexander Ovechkin and the Washington Capitals repeat as Stanley Cup Champions? Will the signing of John Tavares make the Toronto Maple Leafs the team to beat in the East? Will Connor McDavid win his third straight scoring title? Will the acquisition of Erik Karlsson put San Jose over the top? And which team(s) will surprise and which will disappoint?
The simulation was done with trades and injuries off, giving all teams a chance to show what they could do at full strength.
Regular Season Standings and Leaders
Eastern Conference
The Tampa Bay Lightning continued to dominate in the regular season, finishing with a league-leading 119 points while capturing their first Presidents' Trophy in the process and now the franchise hope it turns into a Stanley Cup. Despite the trades of Karlsson and Mike Hoffman, the Ottawa Senators got off to a hot start and they sat sixth in the league through early November. Ultimately, though, they couldn't keep it up, finishing with a league-worst 71 points and without a first-round pick, giving the Colorado Avalanche—the team who owns Ottawa's pick—the best odds at selecting first overall in June 2019.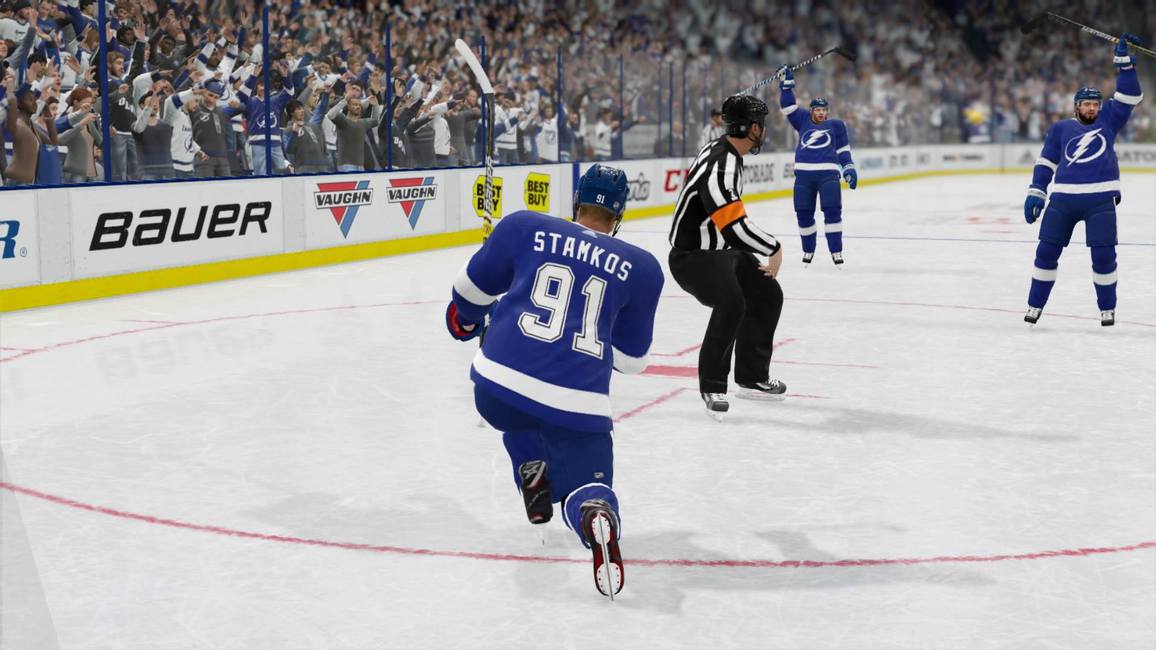 Seven of eight Eastern Conference teams from the 2017-18 playoffs returned, with only the New Jersey Devils failing to qualify.
Tampa Bay Lightning – 119 pts (59-19-7)
Toronto Maple Leafs – 113 pts (54-23-5)
Washington Capitals – 109 pts (53-26-3)
Florida Panthers – 97 pts (45-30-7)
Columbus Blue Jackets – 95 pts (44-31-7)
Philadelphia Flyers – 95 pts (43-30-9)
Boston Bruins – 93 pts (42-31-9)- Wild Card
Pittsburgh Penguins – 92 pts (40-30-12)- Wild Card 
Carolina Hurricanes – 88 pts (39-33-10)
New York Rangers – 83 pts (38-37-7)
Montreal Canadiens – 82 pts (36-36-10)
Buffalo Sabres – 81 pts (39-40-3)
New Jersey Devils – 81 pts (35-36-11)
Detroit Red Wings – 80 pts (38-40-4)
New York Islanders – 73 pts (32-41-9)
Ottawa Senators – 70 pts (33-45-4)
Atlantic Division:
After landing the biggest free agent of the summer, the Toronto Maple Leafs were one of the top teams all season long, never falling out of the top three in the standings after October. The Florida Panthers missed the playoffs by one point in 2017-18, but they made sure it didn't happen again. Aided by a healthy Roberto Luongo, who played 65 games, the Panthers finished with 97 points to make the postseason as a divisional team. The Sabres continued to move in the right direction, with their most wins since 2010-11—also 39—but still finished 11 points out of a playoff spot.
Tampa Bay Lightning- 119 pts
Toronto Maple Leafs- 113 pts
Florida Panthers- 97 pts
Boston Bruins- 93 pts
Montreal Canadiens- 82 pts
Buffalo Sabres- 81 pts
Detroit Red Wings- 80 pts
Ottawa Senators- 71 pts
Metropolitan Division
The Capitals felt no effects of the Stanley Cup hangover, storming to a 31-6-1 record by the New Year, and while their performance after Jan. 1 was a modest 22-20-2, it didn't stop the team from capturing their fourth consecutive Metropolitan Division title.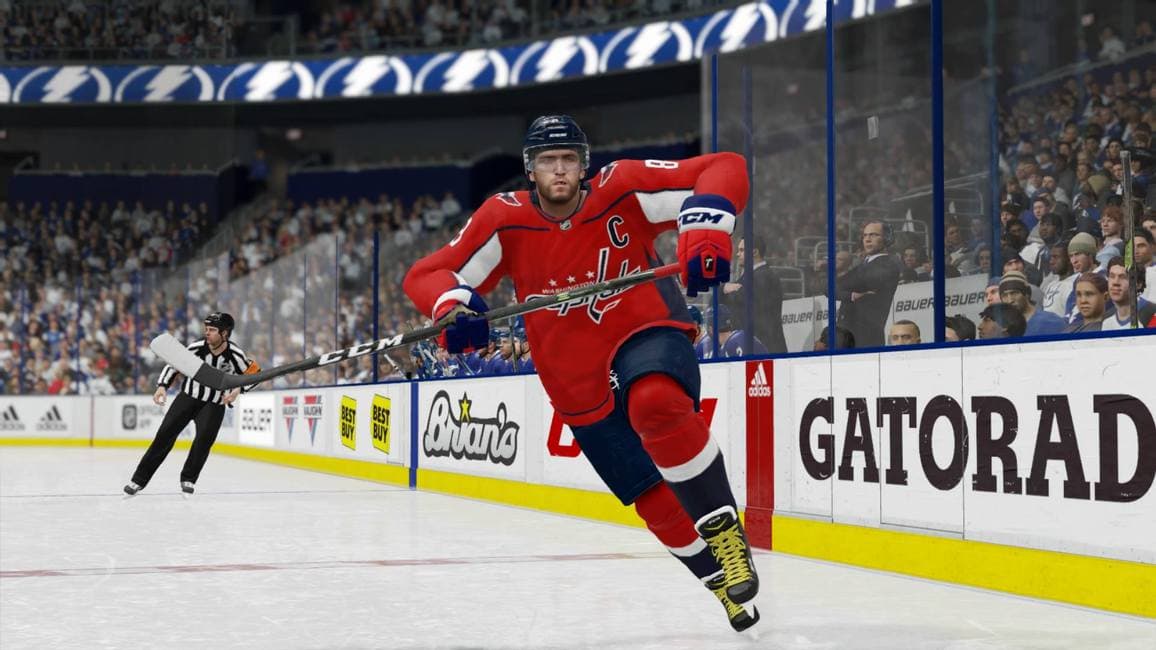 The Pittsburgh Penguins sat 30th overall with 34 points on New Year's, but a 27-12-4 record in their final 43 games earned them the final wild-card spot. In their first season of the post-Tavares era, the Islanders struggled to a last-place finish in the Metro.
Washington Capitals- 109 pts
Columbus Blue Jackets- 95 pts
Philadelphia Flyers- 95 pts
Pittsburgh Penguins- 92 pts
Carolina Hurricanes- 88 pts
New York Rangers- 83 pts
New Jersey Devils- 81 pts
New York Islanders- 73 pts
Western Conference
While the West was much weaker than the East, there was still a number of notable teams.
The biggest trade of the offseason paid off for the Sharks, as the acquisition of Karlsson vaulted the team into first place in the Western Conference. After shoring up their depth via free agency, the Dallas Stars returned to the playoffs for the first time since the 2015-16 season. Following a miserable season in 2017-18, the Edmonton Oilers made their return to the playoffs.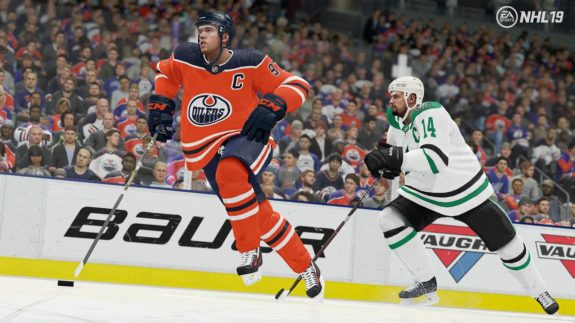 The playoff picture in the West changed significantly as the Jets, Wild and Predators failed to return to the postseason, with the Stars, Oilers and Blues taking their place.
San Jose Sharks- 106 pts (51-27-4)
St. Louis Blues – 99 pts (48-31-3)
Dallas Stars – 98 pts (45-29-8)
Vegas Golden Knights – 91 pts (39-30-13)
Los Angeles Kings – 89 pts (46-36-3)
Colorado Avalanche – 89 pts (42-35-5)
Edmonton Oilers – 89 (43-36-6)- Wild Card
Anaheim Ducks – 88 pts (39-33-10)- Wild Card
Arizona Coyotes – 86 pts (39-35-8)
Minnesota Wild – 85 pts (39-36-7)
Winnipeg Jets – 84 pts (37-35-10)
Chicago Blackhawks – 79 pts (34-37-11)
Calgary Flames – 79 pts (36-39-7)
Nashville Predators – 78 pts (37-41-4)
Vancouver Canucks – 71 pts (32-43-7)
Central Division 
After being eliminated from playoff contention on the final day of last season, the Blues made changes in the offseason, bringing in Ryan O'Reilly via trade and Tyler Bozak, David Perron and Patrick Maroon in via free agency. The result: a return to the playoffs with a Central Division title to their name. The Avalanche returned to the playoffs and have the best shot at the first overall pick thanks to the Senators' struggles.
The perennial championship contending Nashville Predators shocked the hockey world by finishing last in the division despite a healthy roster all season. The Chicago Blackhawks continued their fall from grace, missing the playoffs for a second consecutive season.
St. Louis Blues – 99 pts
Dallas Stars – 98 pts
Colorado Avalanche – 89 pts
Minnesota Wild – 85 pts
Winnipeg Jets – 84 pts
Chicago Blackhawks – 79 pts
Nashville Predators – 78 pts
Pacific Division
The Golden Knights showed their debut season was no fluke, finishing second in the Pacific despite winning seven fewer games than the Kings, but in the cruel world of loser points, such is life.  The additions of Alex Galchenyuk, Vinnie Hinostroza and Michael Grabner helped the Coyotes make a 16 point improvement from 2017-18, but they came up just short of a playoff berth. Lastly, the futility of the Canucks continued, as the franchise missed the playoffs for the fifth time in the last six seasons and finished dead last in the Western Conference.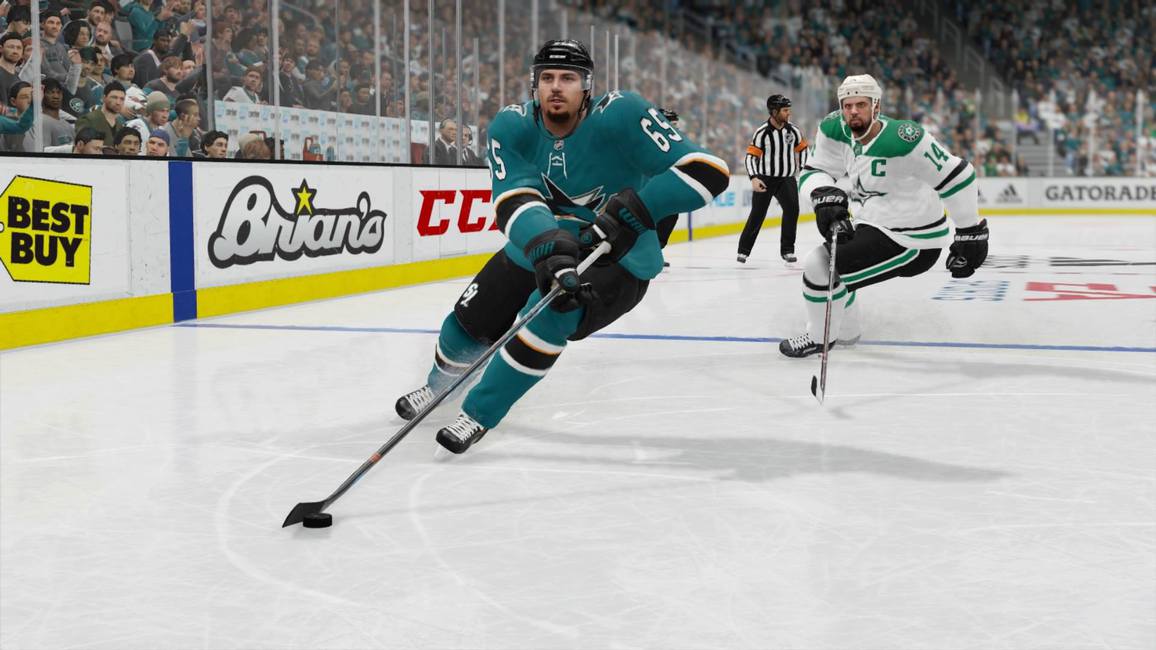 San Jose Sharks – 106 pts
Vegas Golden Knights – 91 pts
Los Angeles Kings – 89 pts
Edmonton Oilers – 89 pts
Anaheim Ducks – 88 pts
Arizona Coyotes – 86 pts
Calgary Flames – 79 pts
Vancouver Canucks – 71 pts
Points Leaders
For the first time since the lockout-shortened 1994-95 season—when Jaromir Jagr and Eric Lindros had 70 points each—, there was a tie in the Art Ross Trophy race as Vladimir Tarasenko and Nikita Kucherov both finished with 95 points. Although with the first criteria of the tiebreaker being goals, Tarasenko took home the title with his 58 goals, besting Kucherov's 42.
Here are the top five scorers by each position (goals-assists-points):
Center:
Steven Stamkos – TBL – 37-51-88
Nathan MacKinnon – COL – 40-47-87
Tyler Seguin – DAL – 40-44-84
Brayden Schenn- STL – 19-64-83
Nazem Kadri – TOR – 37-44-81
Left Wing:
Mikko Rantanen – COL – 24-50-84
Jaden Schwartz – STL – 20-60-80
Jamie Benn – DAL – 30-48-78
Max Pacioretty – VGK – 46-30-76
Johnny Gaudreau – CGY – 24-50-74
Right Wing: 
Vladimir Tarasenko – STL – 58-37-95 (Art Ross)
Nikita Kucherov – TBL – 42-53-95
Brock Boeser – VAN – 32-50-82
Jakub Voracek – PHI – 31-51-82
Patrick Kane – CHI – 36-45-81
Defensemen:
Drew Doughty – LAK – 17-64-81
Oliver Ekman-Larsson- ARI – 18-51-69
Erik Karlsson – SJS – 18-51-69
Brent Burns – SJS – 18-42-60
Shayne Gostisbehere – PHI – 12-48-60
Rookie Skaters:
Casey Mittelstadt – BUF – 18-22-40
Andreas Johnsson – TOR – 12-19-31
Filip Chytil – NYR – 9-13-22
Luke Kunin – MIN – 8-14-22
Zach Aston-Reese- PIT – 7-13-20
Playoffs: Results and Leaders
The Presidents' Trophy curse lives on, as the Lightning were eliminated in five games by the Penguins in the first round. The Blue Jackets will continue to look for the first playoff series victory in franchise history, as they fell to the first round for the fifth time in five tries. The Maple Leafs won their first playoff series since 2004, advancing all the way to the Eastern Conference Final before falling to the Capitals in six games. Lastly, Vegas couldn't change the ending of last season's Cup Final heartbreak as they were sent home in the first round following a five-game defeat at the hands of the Kings.
The Dallas Stars are your 2018-19 Stanley Cup Champions. The Stars went 16-1 on their dominant playoff run—including sweeps of the first and second rounds, as well as the Cup Final—not losing their first game until Game 3 of the Western Conference Finals against the Kings. The club clinched its second Stanley Cup in franchise history with a 3-2 victory over the Capitals in Game 4 to complete the series sweep and dashing Washington's hopes of repeating. Ben Bishop took home the Conn Smythe Trophy as playoff MVP, posting a 16-0-1 record with a .916 save percentage (SV%) and 1.15 goals-against average (GAA) in 17 games.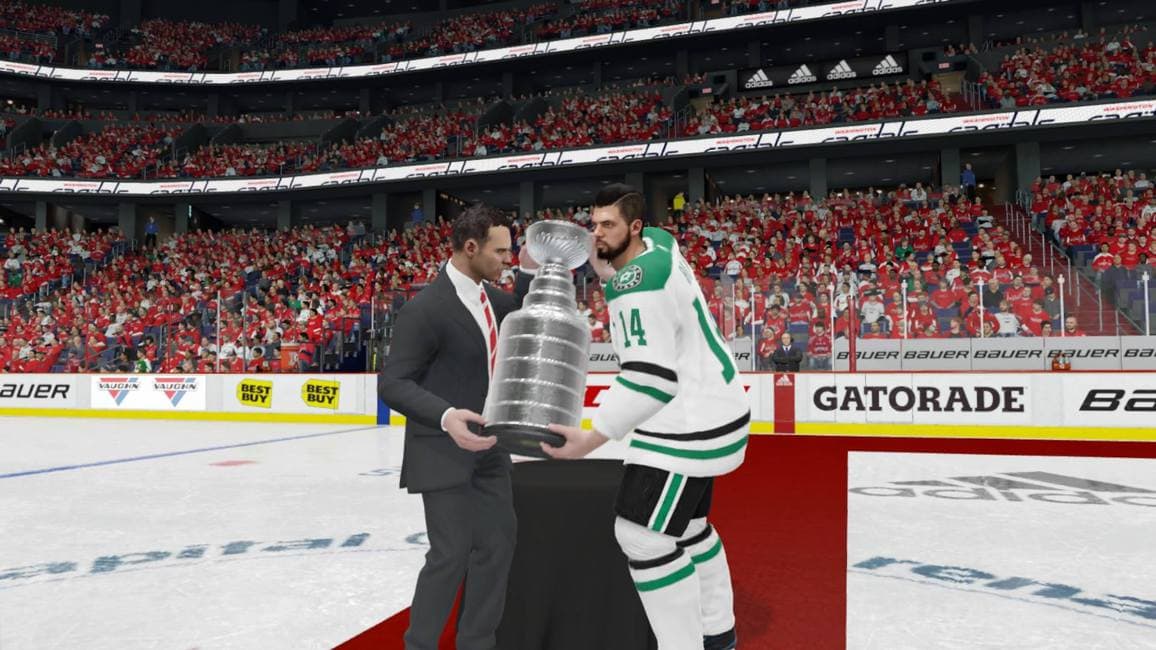 The top five scorers from the playoffs by goals, assists, points and games played
Alex Ovechkin – WSH – 12-11-23 in 21 games
Tyler Seguin – DAL – 7-15-22 in 17 games
Evgeny Kuznetsov – WSH – 8-13-21 in 21 games
Jamie Benn – DAL – 12-8-20 in 17 games
John Tavares – TOR – 7-10-17 in 20 games
Award Winners
Presidents' Trophy: Tampa Bay Lightning
Conn Smythe Trophy: Ben Bishop (DAL)
Hart Memorial Trophy: Nikita Kucherov (TBL)
Art Ross Trophy: Vladimir Tarasenko (STL)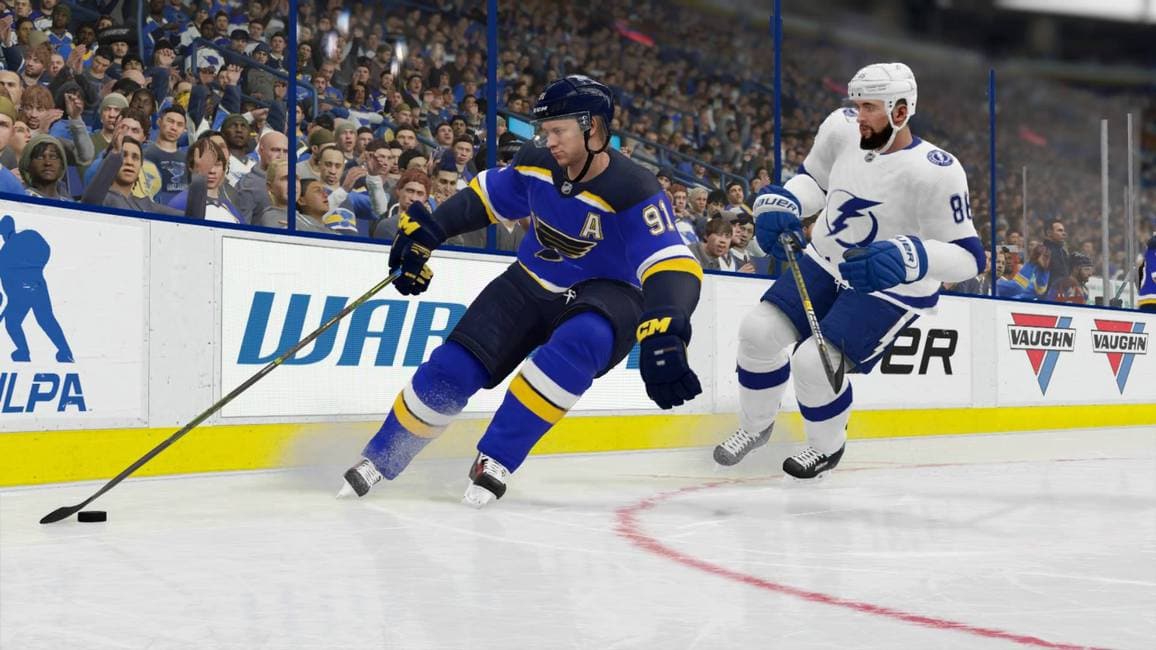 James Norris Memorial Trophy: Drew Doughty (LAK)
Lady Byng Memorial Trophy: Vladimir Tarasenko (STL)
Vezina Trophy: Braden Holtby (WSH)
William M. Jennings Trophy: Andrei Vasilevskiy (TBL)
Frank J. Selke Trophy: Patrice Bergeron (BOS)
Calder Memorial Trophy: Casey Mittelstadt (BUF)
Bill Masterton Memorial Trophy: Johnny Boychuk (NYI)
Maurice "Rocket" Richard Trophy: Vladimir Tarasenko (STL)
Ted Lindsay Award: Nikita Kucherov (TBL)
Conner McTague is a recent graduate of the Journalism program at Durham College. He covers the Pittsburgh Penguins for The Hockey Writers. He hopes to make a career out of sports reporting.