The Edmonton Oilers were quick to turn the page on a forgettable 2017-18 season where nothing went their way. After coming within one win of the Western Conference Final, the club nosedived through the NHL standings finishing 25 points lower and out of the playoffs for the 11th time in 12 years.
For fans, that meant another season of meaningless hockey from February onwards. To be frank, the club was barely treading water after US Thanksgiving last fall. With both general manager Peter Chiarelli and head coach Todd McLellan coming back for another season, it's a make or break year for the franchise.
Related: Make or Break Year for Chiarelli, McLellan, Oilers
If the club finishes outside of the playoffs for a third time in four years under that regime, both could find themselves unemployed by season's end. The silver lining in all of this is the emergence of Connor McDavid, and with No. 97 in the picture, folks won't be quick to dismiss the squad from Northern Alberta.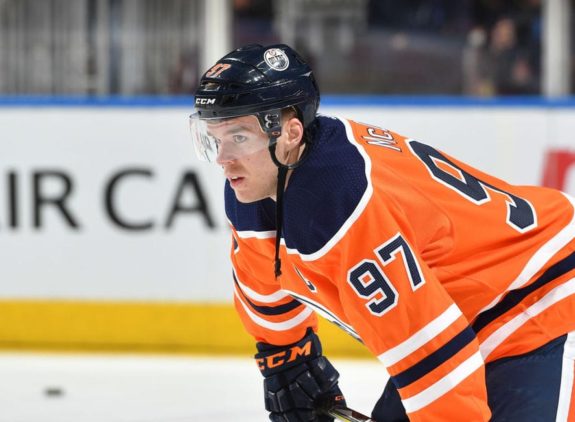 The Pacific Division isn't going to be a waltz in the park either. The defending Western Conference Champions, the Vegas Golden Knights, are once again being seen as contenders. The Oilers will also be trying to keep pace with the Anaheim Ducks, Calgary Flames, Los Angeles Kings, and San Jose Sharks.
Two teams that might fall behind are the Arizona Coyotes and Vancouver Canucks, but the parity of today's NHL makes predictions that much harder. Case in point — last year's performance by the Golden Knights. So can the Oilers get back to the playoffs or will they be forced to make some tough decisions next spring?
Let's take a deep dive into the Oilers 2018-19 season preview.
Off-Season Moves
Key Roster Additions
Evan Bouchard (RD) — Drafted 10th overall (2018 NHL Draft), signed three-year ELC
Kyle Brodziak (C) — UFA signing, two years at $1.15 million per
Kevin Gravel (LD) – UFA signing, one year at $700,000
Jakub Jerabek (LD) – UFA signing, one year at $1 million
Mikko Koskinen (G) – UFA signing, one year at $2.5 million
Tobias Rieder (LW/RW) – UFA signing, one year at $2 million
* Jason Garrison (D) and Scottie Upshall (F) were each signed to a professional tryout (PTO)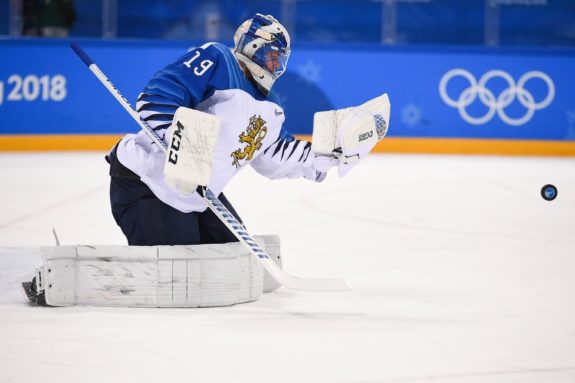 Key Roster Subtractions
Yohann Auvitu (RD) – signed with HK Sochi (KHL)
Laurent Brossoit (G) – signed with Winnipeg Jets
Eric Gryba (LD) – signed with New Jersey Devils
Joey LaLeggia (LW) – signed with St. Louis Blues
Iiro Pakarinen (RW) – signed with Metallurg Magnitogorsk (KHL)
Anton Slepyshev (LW) – signed with CSKA Moskva (KHL)
Edmonton's 2018 NHL Draft Picks
Oiler fans should be quite happy with the haul the club was able to walk away with on draft weekend back in June. With the Arizona Coyotes and New York Rangers going off the board by selecting Barrett Hayton (fifth), and Vitali Kravtsov (ninth), Edmonton walked into an enviable situation.
Related: Edmonton Oilers – 2018 NHL Draft Review
With Evan Bouchard, Oliver Wahlstrom, and Noah Dobson available, Chiarelli and company walked away with the top scoring defenseman out of the OHL. Bouchard, 18, has a legitimate shot at starting the year with a nine-game audition thanks to the injury to Andrej Sekera.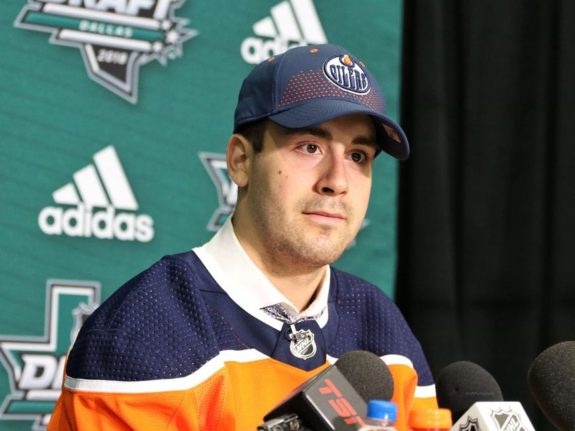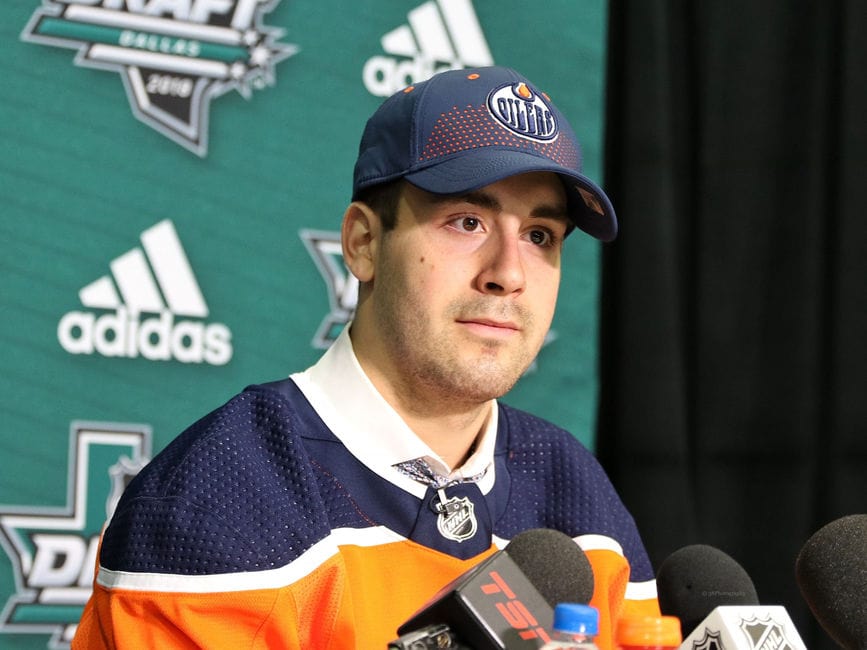 If he ends up back in the OHL with the London Knights, it's hard not to fathom him eclipsing 100 points, and being a shoo-in for Canada at the upcoming World Junior Championships. Ryan McLeod is a smooth-skating two-way forward that has good offensive upside. He's another candidate to play for Canada.
Olivier Rodrigue was the top-ranked North American goalie according to NHL Central Scouting. The Oilers traded the 71st and 133rd selections to move up and snag Rodrigue who has good overall upside and athleticism. This core group of Bouchard, McLeod, and Rodrigue should give Edmonton three NHL players in due time.
Not to be outdone, the Oilers took a flyer on two other dark horses to round out their draft class. Michael Kesselring is a tall, lanky offensive defenseman who will suit up for the Des Moines Buccaneers in the USHL this upcoming season. He's a project that could provide some benefit down the road.
Patrik Siikanen has shown year-after-year improvement while progressing through the Espoo Blues junior program. He's got an opportunity to be a decent depth scorer at the NHL level eventually. In the meantime, he'll have a glorious chance to suit up for Finland at the upcoming WJC.
Oilers Top 10 Prospects
A few years ago the Oilers prospect pool was barren outside of the first-rounders they were landing year after year. A colossal criticism has been Edmonton's inability to identify talent outside of that round, essentially the supporting staff around those building blocks.
Related: Edmonton Oilers Top 10 Prospects
Since Chiarelli's first draft in 2015, the club has managed to slowly restock the cupboards with some compelling hopefuls that should pay dividends shortly. The goaltending pool is as deep as it's ever been with Stuart Skinner, Olivier Rodrigue, Shane Starrett, Dylan Wells, and Hayden Hawkey providing excellent depth.
Skinner turns pro this coming season and will get a hefty workload in the AHL with Bakersfield. He's the closest thing Edmonton has to a goalie with starting potential down the road.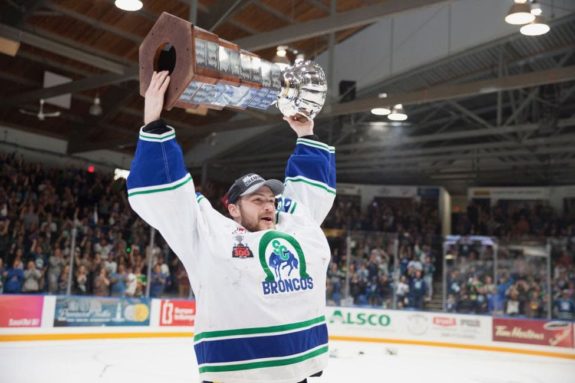 The defense is headlined by Bouchard, Ethan Bear, and Caleb Jones. They're not alone as William Lagesson, and Filip Berglund are sleepers to make an NHL impact in a few years. Lagesson joins a new group of prospects like Tyler Benson, Joey Dudek, Cameron Hebig, and Cooper Marody (among others) that turn pro and will strengthen the depth in Bakersfield.
Edmonton Oilers – Top 10 Prospects

Rank
Player
2017-18 Team
GP

GP

G

W

A

GAA

PTS

SV%

1
Evan Bouchard (RD)
London (OHL)
67
25
62
87
2
Kailer Yamamoto (RW)
Spokane (WHL)
40
21
43
64
3
Stuart Skinner (G)
Swift Current (WHL)
56
30
3.06
.905
4
Ethan Bear (RD)
Bakersfield (AHL)
37
6
12
18
5
Tyler Benson (LW)
Vancouver (WHL)
58
27
42
69
6
Cooper Marody (C)
U. Michigan (NCAA)
40
16
35
51
7
Ryan McLeod (C)
Mississauga (OHL)
68
26
44
70
8
Caleb Jones (LD)
Bakersfield (AHL)
58
2
15
17
9
Kirill Maksimov (RW)
Niagara (OHL)
62
34
46
80
10
Ostap Safin (RW)
Saint John (QMJHL)
61
26
32
58
Bouchard, Yamamoto, and Skinner are three future building blocks at three different positions. With the prospect depth slowly coming together, it's created a ripple effect that brings in a fresh crop year after year that keeps internal competition at a high.
Related: 5 Oilers Prospects to Watch in 2018-19
Some sleepers that could end up surprising everyone are Kirill Maksimov and Ostap Safin. Maksimov could score 50 goals in the OHL this year, while Safin (if traded to a QMJHL contender) could explode offensively.
Oilers' Organizational Changes
This is undoubtedly a make or break year for Chiarelli, McLellan, and the Oilers. The Oilers GM banked on his team to progress and perform along the lines of the 2016-17 team that was one win away from the Western Conference Final.
Instead, the group regressed, leaving everyone to wonder whether that year or this last one was a real marker of where this team truly is. Chiarelli is back again after getting a vote of confidence from the organization's higher-ups (Bob Nicholson, and owner Daryl Katz). However this summer he wasn't able to add a top-four defender by dangling the 10th overall selection in the draft.
Instead, the club used the pick on the aforementioned Bouchard. He didn't move Milan Lucic, who underperformed with a hefty contract. Chiarelli also didn't have the cap space to make a significant change or was at least unwilling.
He's doubled down on the same core group, and aside from some bargain moves, it's essentially the same team returning in 2018-19. That could prove troubling. There's a glaring need on defense for someone to quarterback the power play (PP).
There's a need for a top-six goal scorer ever since Taylor Hall and Jordan Eberle were traded. It's questionable why they signed Mikko Koskinen to such an expensive deal to be a backup as well. Instead, the only significant organizational change made was behind the bench, to McLellan's coaching compadres.
Related: New Coaches, Better Playoff Hopes?
Jay Woodcroft was re-assigned as the head coach down on the farm, while the club parted ways with Jim Johnson and Ian Herbers. Glen Gulutzan, Trent Yawney, and Manny Viveiros are the new hires, and the hope is that the new staff can fix the PP and penalty kill (PK) that finished 31st and 25th in the league.
Goaltending
There's no way about it for Edmonton — for them to be a playoff team, Cam Talbot needs to return to form. His 3.02 goals against average (GAA) and .908 save percentage (SV%) through 67 games only tell part of the story. An early season injury forced him to miss two weeks with an undisclosed upper-body issue.
During his absence, the Oilers other options in goal — Laurent Brossoit and Al Montoya — struggled. On 13 different occasions last season, the Oilers allowed the first goal on the first shot of the game. Laurent Brossoit was eventually banished to the AHL aside from a few recalls to fill a backup spot periodically.
Al Montoya started just five games after being acquired mid-season. So once again, McLellan had no faith in his backups.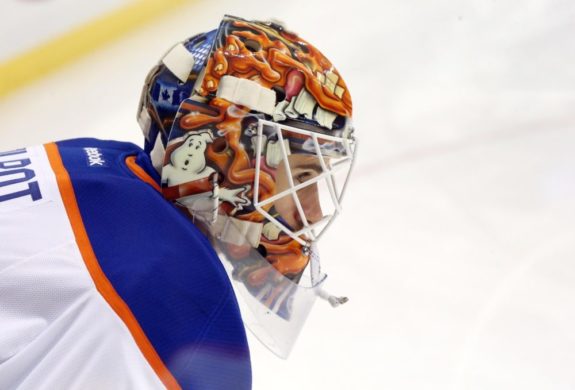 Will the addition of a high ticket goalie like Koskinen at $2.5 million change his mind? The cost of that deal leads you to believe one thing — Koskinen isn't here to wear a ballcap on the bench. Koskinen is here to push Talbot and dig into the 65.3 games he's averaged over the past three years.
Related: Oilers Sign Mikko Koskinen: Expectations & Thoughts
That's a lot of money and a lot of hope to be putting into a goaltender who has just four NHL games under his belt, almost eight years ago. What happens in the crease is going to be a noteworthy storyline all year.
Goaltenders 2017-18 Stats

Player
Team
GP
W-L-OT
GAA
SV%
SO

1. Cam Talbot

Edmonton

67

31-31-3

3.02

.908

1

2. Mikko Koskinen

St. Petersburg SKA

29

22-4-1

1.57

.937

5
It's likely that Talbot and Koskinen split the starts 60-22, and the Oilers No. 1 has a year that's more reflective of his career numbers at a 2.50 GAA and a .918 SV%. Edmonton will eventually have to figure their goaltending situation out.
Both goalies are set to become unrestricted free agents (UFA) next summer. If Talbot knocks it out of the park in a contract year, Edmonton's cap situation is going to get that much tighter.
Defense
Andrej Sekera's injury has undoubtedly left a hole on the Oilers backend. Is his absence a small leak or a gaping hole? Last season the Oilers struggled without addressing his absence for the first three months of the year. In total, Sekera missed 46 games last season.
Related: Options to Replace Andrej Sekera
Now that he's torn his Achilles, Edmonton is right back to square one trying to address their defense. He's out indefinitely, and to be frank, could miss the entire 2018-19 season. That means when the 23-man roster is finalized in October, Chiarelli will be able to place Sekera's $5.5 million cap hit on Long-Term Injured Reserve (LTIR).
Before the Sekera injury, Chiarelli signed Kevin Gravel and re-signed Keegan Lowe to compete for the No. 7 job. As soon as the Sekera injury was announced, Chiarelli went out and signed Jakub Jerabek to a one-year $1 million deal, and got Garrison to camp on a PTO.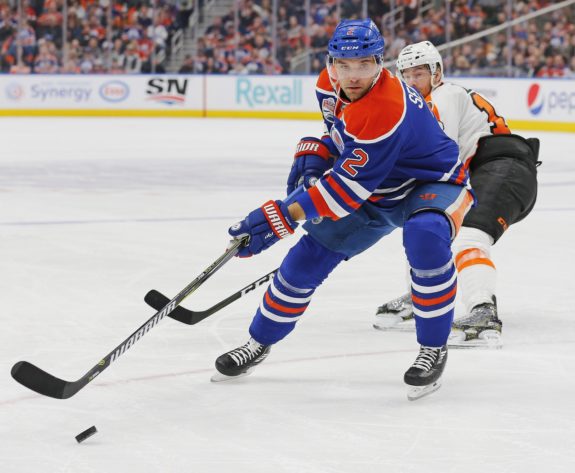 Looking at the current depth chart, there's an obvious need for a top-four puck-moving defender, preferably on the right side. In the meantime, the likelihood of Bouchard starting the year in Edmonton is quite high, whether some fans think it's the right decision or not.
Related: Oilers Opening Night Roster Predictions: Goalies & Defense
Adding another 18-year-old and asking him to solve the club's woes hasn't worked in the past, and it's even harder to do so as a blueliner. That said, Bouchard's NHL Equivalent (NHLe) from last season projected him at 34 points. Take all that with a grain of salt. The 10th overall pick in 2018 is a wild card of sorts.
If he stays, great. If he doesn't, Chiarelli should be aggressive in addressing the need for another strong defender. For his cap situation, it might be more worthwhile looking at defensemen on expiring contracts. With the ability to move Kris Russell to either side, it doesn't matter what side that defender plays.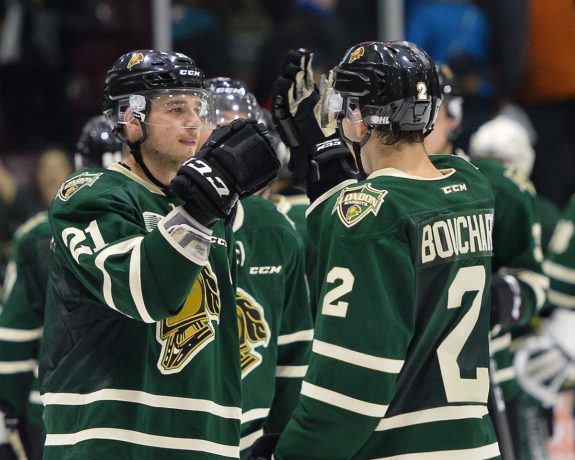 Loading up on the leftorium could mean icing three pairings with good puck-movers. Erik Karlsson is a pipedream, but Tyler Myers, Jay Bouwmeester, Alex Edler, Anton Stralman, Jake Gardiner, or a cheaper option like Jan Rutta could all be a fit. But let's let the situation play out and not put the cart before the horse here.
A healthy year from Oscar Klefbom is a must for this franchise. The 25-year-old has missed 68 games over the past three years, and thus his inability to stay healthy has become a glaring concern. When Klefbom is healthy, he's a true top-pairing defender.
Oilers Defense 2017-18 Stats

Left Defense
GP
G
PTS
CF%
Right Defense
GP
G
PTS
CF%

Oscar Klefbom

66

5

20

52.6

Adam Larsson

63

4

13

50.6

Darnell Nurse

82

6

26

50.9

Matt Benning

73

6

21

51.6

Kris Russell

78

4

21

48.9

Evan Bouchard

67

25

87*

NA

Jakub Jerabek

36

2

8

46.6

Ethan Bear*

18

1

4

45.4
* Evan Bouchard's stats are from his season with the OHL's London Knights
Having him play through much of last year with lingering injuries didn't help matters. One thing that stood out was Klefbom's desire to shoot the puck more. He exceeded his shot totals compared to the previous year by one (399 after 398) but did so in 16 fewer games.
Related: 5 Predictions for the Oilers in 2018-19
If he can stay healthy, he'll be expected to shoulder much of the heavy lifting for this club. The same can be said for Adam Larsson who missed some time due to his father's passing and some minor injuries. The Oilers need their top shutdown rearguard to take a step forward desperately.
Larsson will never win the public opinion battle that's spewed out after the Taylor Hall trade, but that doesn't mean he isn't a useful piece in the puzzle in Edmonton. Another piece that's unsigned is Darnell Nurse.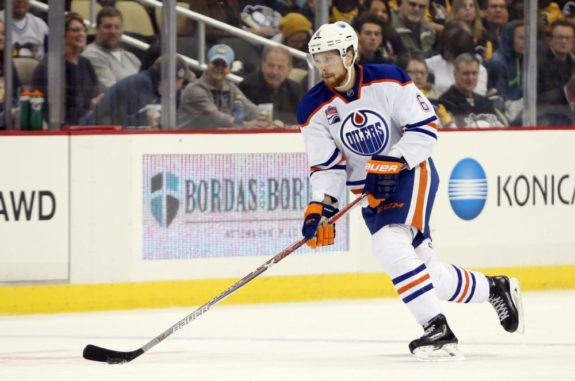 Nurse led all Oiler blueliners in points (26) and took another step forward in his evolution. A deal will be done in due time, and a bridge deal favors both sides. Once signed, between Nurse, Klefbom, Bouchard, and Matt Benning they'll have to fix the scoring issue from the backend.
Edmonton was one of the lowest scoring teams in the league from the backend in 2017-18, that can't continue. Jakub Jerabek is a nice addition, but don't expect him to exceed much more than being a No.  6-7 tweener. He's similar to what the club had with Yohann Auvitu last year, but with a little more upside.
Others in the system that could push for minutes include Ethan Bear, Caleb Jones, Gravel, and Lowe. One guy who might surprise a lot of folks down on the farm is William Lagesson who is quietly coming off a breakout year in Sweden.
Forwards
The onus offensively will once again fall on McDavid and a 50-goal, 110 point season is not out of the question. Can he win a third straight Art Ross Trophy in 2018-19? Entirely possible. With his concussion issues behind him, a healthier Leon Draisaitl should provide this club with a solid one-two punch down the middle.
The big question mark, however, is on the wings. Ty Rattie is being set up for the most significant opportunity of his career with a shot at starting the year on the Oilers top line next to McDavid. Tobias Rieder is being expected to bounce back after what was widely seen as a down year.
Related: Ty Rattie's Golden Opportunity
Will we finally get a breakthrough for Jesse Puljujarvi? What about Milan Lucic? Is he steadily on the decline or was last year an aberration? Kailer Yamamoto is expected to start the year in Bakersfield, but if others falter, he'll be asked to help out in Edmonton.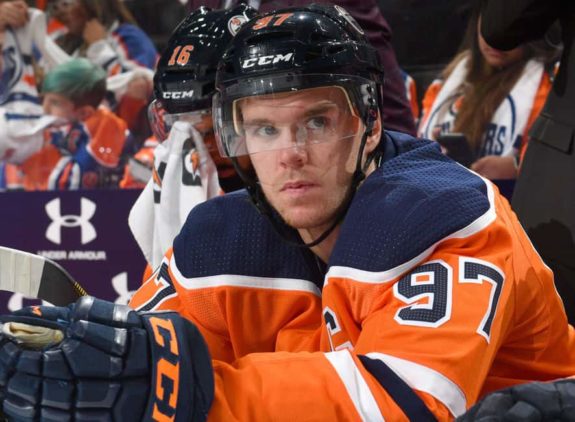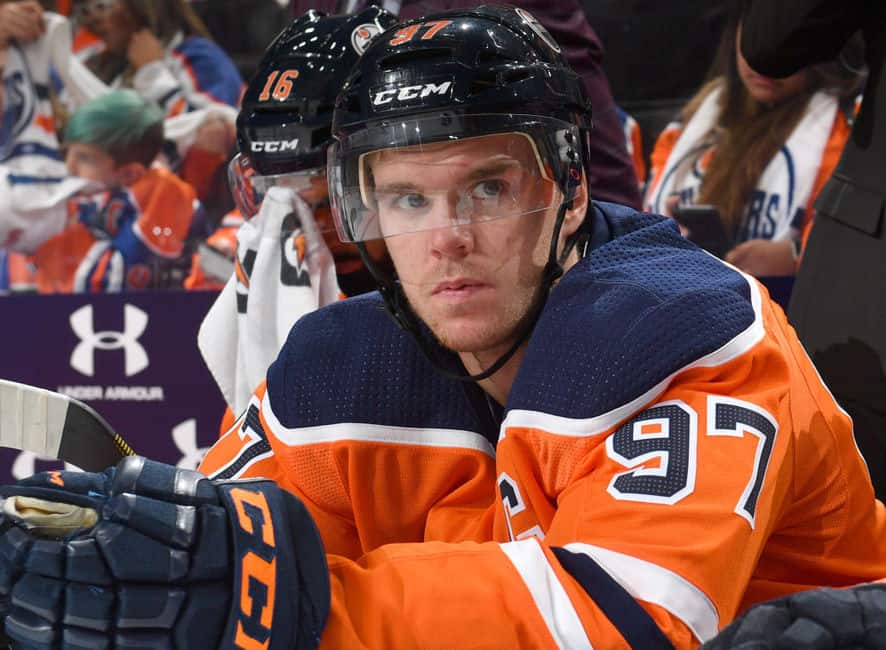 It's a lot of uncertainty, and a lot of hope and prayers that's being put into this team's offensive depth. Rightfully so, it's going to create some uneasiness for fans that are hoping last year wasn't reflective of what this team is capable of.
Related: Oilers Opening Night Roster Predictions: Forwards
The additions of Brodziak, Rieder, and potentially Scottie Upshall if he's signed after his PTO, should bolster the penalty kill (PK).
| | | |
| --- | --- | --- |
| Left Wing | Center | Right Wing |
| 1. Ryan Nugent-Hopkins | 1. Connor McDavid | 1. Ty Rattie |
| 2. Milan Lucic | 2. Leon Draisaitl | 2. Tobias Rieder |
| 3. Drake Caggiula | 3. Ryan Strome | 3. Jesse Puljujarvi |
| 4. Jujhar Khaira | 4. Kyle Brodziak | 4. Zack Kassian |
| 5. Pontus Aberg | 5. Cooper Marody* | 5. Scottie Upshall (PTO) |
* Denotes players expected to start the year in the AHL
If Rattie, Rieder, Puljujarvi, and company fail to deliver the offense in their supporting roles, look for Chiarelli to make an early move to acquire a veteran top-six scoring winger with some of the cap relief that'll come once Sekera is placed on LTIR.
This is a make or break year for Lucic. No one is expecting him to score just one goal in the final 43 games of the year. But another 34 point season with a $6 million price tag will likely see him jettisoned from Edmonton.
Break Out Player: Jesse Puljujarvi
Leading up to the 2016 NHL Draft there were three names people were raving about; Auston Matthews, Patrik Laine, and Jesse Puljujarvi. All three were expected to be taken within the top three selections.
Matthews and Laine went one and two respectively, but when the Columbus Blue Jackets and their general manager Jarmo Kekalainen got to the podium they passed on Puljujarvi who eventually went to the Oilers at No. 4. Thus sparked a theory that Kekalainen knew something about his fellow Finnish native that others maybe didn't.
Matthews and Laine went on to near instant success in the NHL while Puljujarvi is still spinning his wheels trying to get going. There's a lot of factors that have come to light. His maturity hasn't been at the level it needs to be, he's having difficulty adjusting to the North American life and the English language, and he simply needs more time to reach his potential.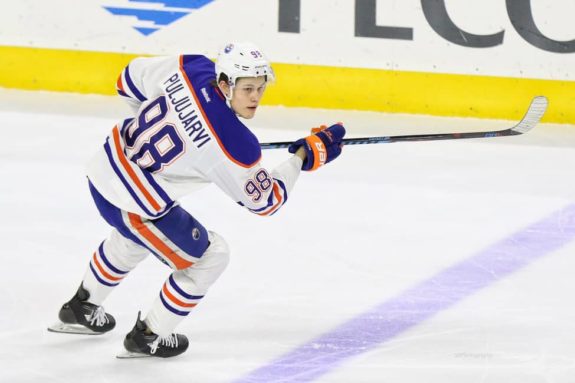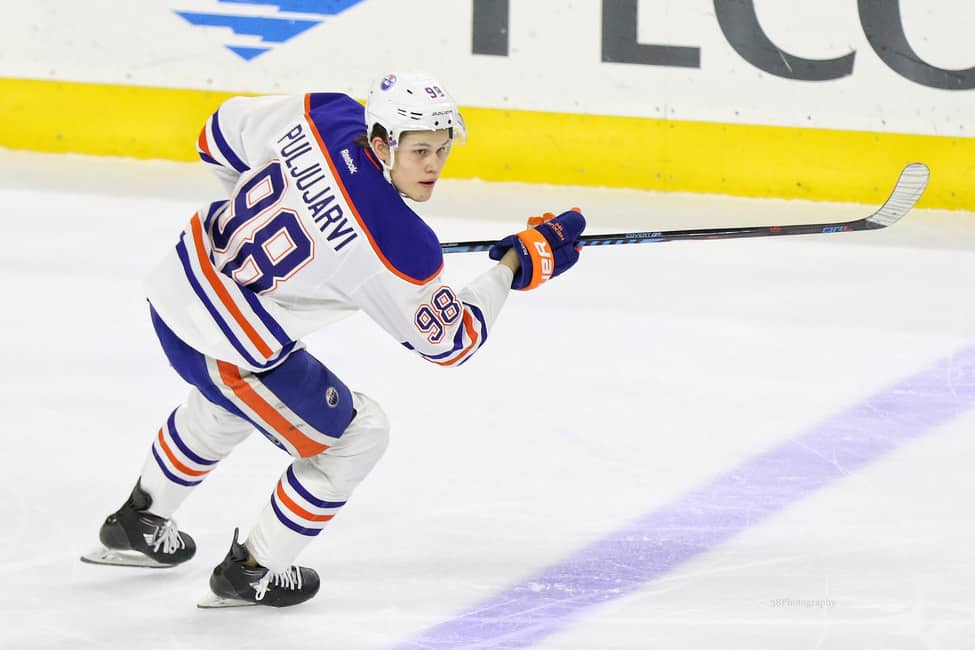 A lot of fans believe that Puljujarvi can be the triggerman Edmonton needs in their top-six. There are very few Oilers, if any, that have the kind of shot release Puljujarvi has. He could one day be the shooter on the power play, similar to how Alex Ovechkin, Nikita Kucherov, and Laine are utilized by their clubs.
He might not have the same upside, but there's a talented player that has yet to break through here. Maybe it comes down to utilization. In his rookie year, he averaged just 11:15 in ice-time, of which just 0:49 per game was on the power play. That made him the 12th most utilized forward.
That's fourth-line territory. In 2017-18, he averaged just 13:22, once again putting him 12th among Oiler forwards. Once again, only 0:45 in PP time. If you want this guy to break through, he needs to play. Expect McLellan to learn from Puljujarvi's lack of usage, and watch him blossom.
Player With the Most to Prove: Milan Lucic
Without skipping a beat, the player with the most to prove in 2018-19 for the Oilers is Milan Lucic. The 30-year-old is entering year three of seven of his $42 million contract signed in July 2016. Lucic was more or less as advertised during the first year of the deal putting up 23 goals and 50 points in 82 games.
Not just a physical presence, Lucic was a factor in the playoffs as well registering six points in 13 games. It was the second year of that deal where things turned sour. The power forward managed just ten goals and 34 points in 82 games and at times found himself playing on the third and fourth lines for brief periods on some nights.
Related: Milan Lucic Trade Talk
As he declined through the year, Lucic saw his ice-time drop from 17:09 in 2016-17 to 15:58 last season. The exclamation point was during the second half of the year when Lucic managed just one goal through 43 games.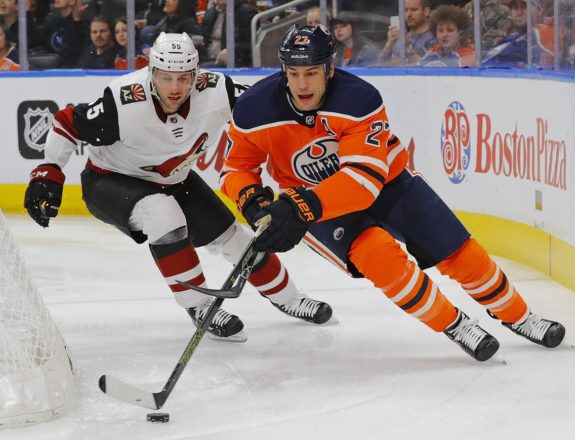 After the year Lucic had naturally there were trade rumors that circulated throughout the off-season. At one point it looked like Edmonton was going to deal him during draft weekend in June. The smoke has settled, and Lucic is still a member of the Oilers and will be here on opening night.
The hope is clear; Lucic must rebound or else the club will have to call this signing a failure and find a way to deal the embattled forward. Trading him won't be easy, and the club would come out on the losing end of any Lucic trade if he posts similar numbers for a second straight year.
Some other deterrents include a significant amount of bonus dollars he's entitled to over the deal, and a modified no-trade clause (NTC). He's still due $11.5 million in signing bonuses over the remaining four years (his 2018-19 bonus was paid on July 1).
His modified NTC limits a deal to eight teams unless waived before June 30, 2022. After that, the NTC extends to a list of ten teams he can be traded to.
Players to Watch: Call-Ups
Ethan Bear: The 21-year-old shook off an early-season concussion, and overall he had an impressive first year as a pro. He emerged as a top-pairing AHL defender scoring 18 points in 37 games for the Condors. Bear also got into 18 games with the Oilers where he scored his first career NHL goal.
Now it's about building on that success. So far this looks like a steal of a pick at 124th overall in 2015. He'll need to work on his defensive game to earn another long opportunity, but he's inching closer.
Tyler Benson: When anyone thinks of Tyler Benson these days almost always the injury issue is brought up immediately. It's true that Benson hasn't had the best of luck, and has yet to play a full season at any level since being drafted 32nd overall in 2016.
Related: Tyler Benson Back on Track
He turns pro this fall and is looking to make a mark, and the Oilers undoubtedly want to know where he's at after missing 95 games going back to his draft year. An early season spark and some scoring concerns in Edmonton could be Benson's way into a bottom-six audition.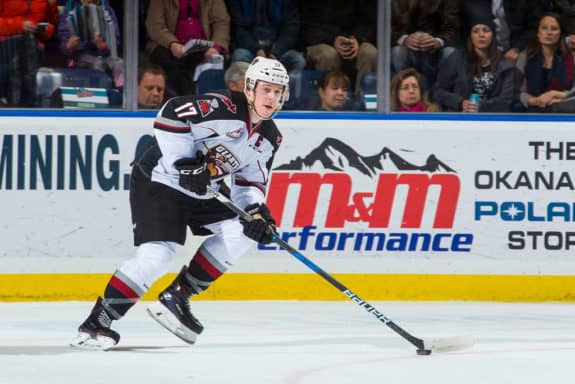 Cooper Marody: This guy is on the outside looking in, but he's currently No. 5 on the depth chart down the middle. There's a real possibility Marody makes enough noise to push himself ahead of Pontus Aberg and Drake Caggiula and will his way into a bottom-six job on the wing this fall.
He was one of the best collegiate forwards last season with 51 points in 40 games with Michigan. His three-game run at the end of the year with the Condors was quite impressive as well.
Kailer Yamamoto: If and when the forward ranks have a significant slump in a prominent scoring role, or there's an injury, the first call-up is likely going to be Kailer Yamamoto. After making the club out of training camp last fall, it's likely Yamamoto starts the year in Bakersfield.
Related: Yamamoto Tore Apart the WHL
After being sent to the WHL after playing nine games in the NHL, Yamamoto went on a tear in the WHL with 64 points in 40 games. That points-per-game (1.60) would've had him finish top five in the WHL if he played the full season.
Opening Night Roster Predictions & Thoughts
In theory, this team should have better goaltending this year if Cam Talbot returns to his average career numbers and if Mikko Koskinen exceeds low expectations. On paper, the team is better in net than they were a year ago.
The defense took a hit with Andrej Sekera's injury, and the minor additions of Jakub Jerabek, Kevin Gravel, and Jason Garrison (PTO) aren't expected to fill those shoes. Then again, Sekera was a shell of his former self and was primarily used as a third-pairing blueliner in 2017-18.
If the team can manage to add a top-four puck-moving defender, it would bolster the defense. It would also allow the club some flexibility to not be forced to rush the 18-year-old Bouchard who could go back to junior for the year.
Watch for Bear to have an opportunity to jump into the fray if injuries strike the backend once again.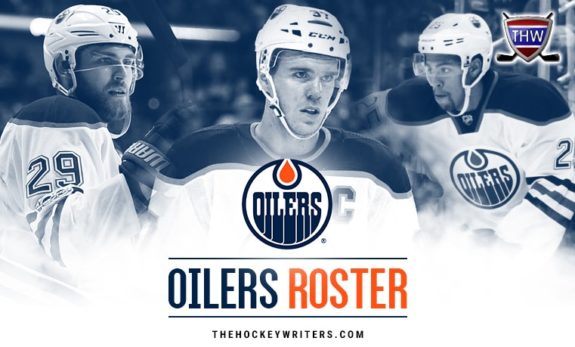 Edmonton Oilers Depth Chart 2018-19

Goaltenders

Left Defense

Right Defense

1. Cam Talbot

1. Oscar Klefbom

1. Adam Larsson

2. Mikko Koskinen

2. Darnell Nurse (RFA)

2. Matt Benning

3. Al Montoya*

3. Kris Russell

3. Evan Bouchard

4. Stuart Skinner*

4. Jakub Jerabek

4. Ethan Bear*

Left Wing

Center

Right Wing

1. Ryan Nugent-Hopkins

1. Connor McDavid

1. Ty Rattie

2. Milan Lucic

2. Leon Draisaitl

2. Tobias Rieder

3. Drake Caggiula

3. Ryan Strome

3. Jesse Puljujarvi

4. Jujhar Khaira

4. Kyle Brodziak

4. Zack Kassian

5. Pontus Aberg

5. Cooper Marody*

5. Scottie Upshall (PTO)
* Denotes players expected to start the year in the AHL.
Season Predictions
In putting together predictions for this season preview, one thing is clear; there's a lot of wild cards in the Pacific Division. Here's what some of the others at THW think might happen with the Oilers this coming season.
Ian Wilson: 2nd in Pacific Division
Many crystal ball holders picked the Oilers to make the Stanley Cup Finals entering last year. Before that many "experts" said they wouldn't make the playoffs two years ago. So, while I've read the early predictions, and I admit that I don't know anything, I view other forecasts with similar disdain.
Related: More Stories from Ian Wilson
I pick the Oilers to finish second in the Pacific behind San Jose. In my opinion, the Oilers aren't as bad as they were last season, and bounce back seasons from players capable of them – Lucic, Talbot, Klefbom, etc. – will trump more predictable forecasts.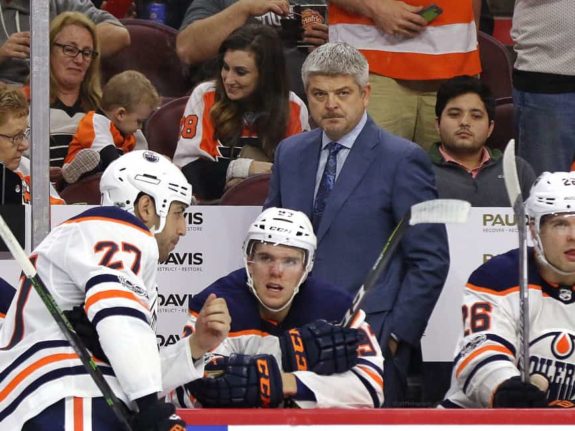 How much do Anaheim and Los Angeles have left in the tank from their core players? Is Vegas bound for a repeat after losing key players? Calgary still has goaltending concerns and a defense corps that is not nearly as good as their reputation.
So, yes, the Oilers are a playoff team. Don't ask how just enjoy the ride.
Larry Fisher: 3rd in Pacific Division
Outsiders will consider this overly optimistic — some will say homer — but I swear I'm trying to temper my expectations in predicting the Oilers will finish third in the Pacific Division. I foresee Edmonton falling just short of 100 points.
Related: NHL Standings Predictions – Off-Season Edition
According to my offseason predictions, I have the Oilers advancing to the Western Conference Final with playoff wins over San Jose and Calgary in the first two rounds before bowing out to Winnipeg. OK, that part is overly optimistic, though I made those predictions before Andrej Sekera blowing out his Achilles.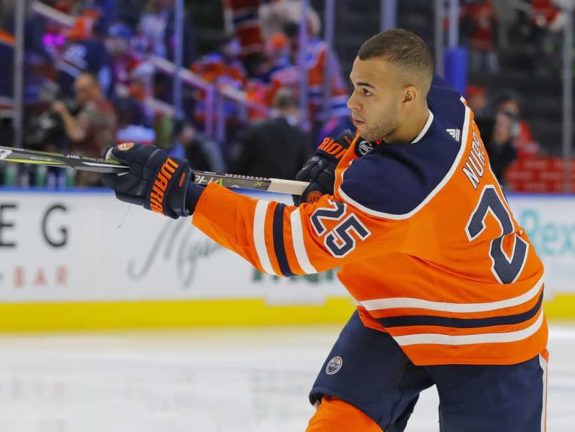 That changes the outlook a bit, but not a lot in my opinion. It may result in rushing Evan Bouchard, but I'm looking forward to seeing him alongside Darnell Nurse in the preseason to get a glimpse of the future — and perhaps present — top pairing.
Related: More Stories from Larry Fisher
Special teams and goaltending, even more so than defense, will determine Edmonton's fate this season. If the Oilers can rank middle of the pack on the power play and in save percentage — and providing Connor McDavid stays healthy — I like their chances of returning to the playoffs.
Yes, I'm a glass-half-full guy for 2018-19, or maybe I'm wearing rose-colored glasses. You tell me!
Alex Thomas: 4th in Pacific Division
While Id love to see playoff hockey return to Edmonton, I have the Oilers 9th in the west and 4th in the Pacific Division. They are a bubble team for sure, and while it could go either way, I lean towards no playoffs simply because there are too many questions.
Related: More Stories from Alex Thomas
Cam Talbot has to be better, and he's arguably the biggest key to the season. If he plays well, Edmonton can get in. Special teams will be big, and they have to return to at least average, while guys like Milan Lucic, Pontus Aberg, and Jesse Puljujarvi have to produce offense for this team to have a chance.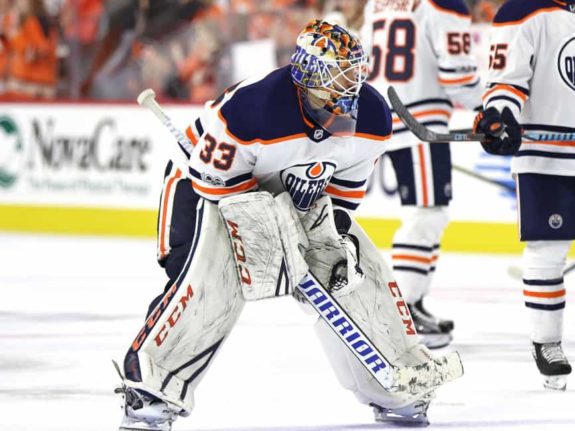 There is so much pressure on this team that I wonder what happens between now and the opener. Peter Chiarelli can't be content with this roster, and I wonder if he makes a move. Overall, I think Edmonton is the most interesting team to watch this season.
Sander's Final Thoughts & Predictions
As mentioned above, there's a ton of wild cards to consider in the Pacific Division. The best way to look at it is in three tiers. The first tier is of the teams most have projected to be playoff teams (in alphabetical order); the Calgary Flames, San Jose Sharks, and Vegas Golden Knights.
The bottom (third) tier is of the "also-rans" or teams considered to finish well outside the playoff picture; the Arizona Coyotes and Vancouver Canucks. That leaves the middle (second) tier to be; the Anaheim Ducks, Los Angeles Kings, and the Oilers.
So let's compare those three clubs (a more in-depth comparison and preview will follow soon). The Kings didn't lose any significant pieces this summer, and it's mostly the same group coming back, plus Ilya Kovalchuk.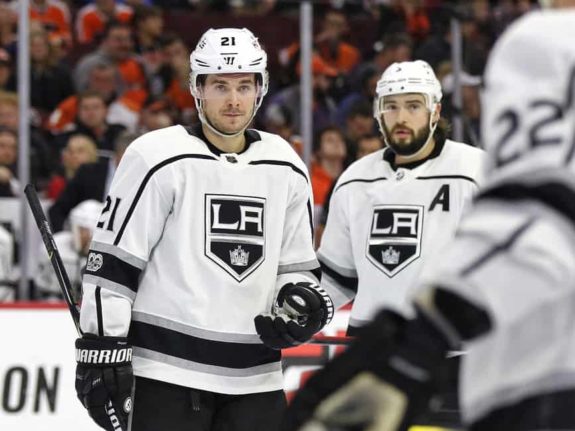 Kovalchuk's KHL stats translate into a 38 goal, 78 point season according to the NHL Equivalent (NHLe) stat. Add in another solid year from Anze Kopitar and Dustin Brown, some rekindled success from That 70's Line (Jeff Carter, Tyler Toffoli, Tanner Pearson) and the offense should be better than it was a year ago.
They've also got world-class goaltending in Jonathan Quick, and a yearly Norris trophy candidate in Drew Doughty. The Kings bowed out in the first round last year. Surely they'll be a threat to get back to the playoffs again in 2018-19.
The Ducks have arguably the best goalie in the division in John Gibson, and a talented backend with Cam Fowler, Hampus Lindholm, Josh Manson, and Brandon Montour. The problem is up front. The Ducks are an aging group, and Ryan Getzlaf, Ryan Kesler, and Corey Perry are slowing down.
Anaheim is in the midst of a transition upfront with Rickard Rakell coming off a 34 goal, 69 point season to lead the team in scoring. Anything is possible with a hot goalie, but the offensive depth might not be enough to push them into the playoffs.
So that leaves the Oilers in the middle between the Kings and Ducks, fifth in the division. Calgary went out and addressed their depth issues by adding Noah Hanifin, Elias Lindholm, James Neal, and Derek Ryan. San Jose can almost never be counted out with Brent Burns, Martin Jones, and Marc-Edouard Vlasic holding things down behind a good crop of forwards.
San Jose is still in win-now mode, and they have the cap space to make a move or two to push them over the top and challenge for the division again. Meanwhile, the team currently holding the division crown (Vegas), made significant additions in Paul Stastny and Max Pacioretty this summer. They've got the same group coming back (more or less).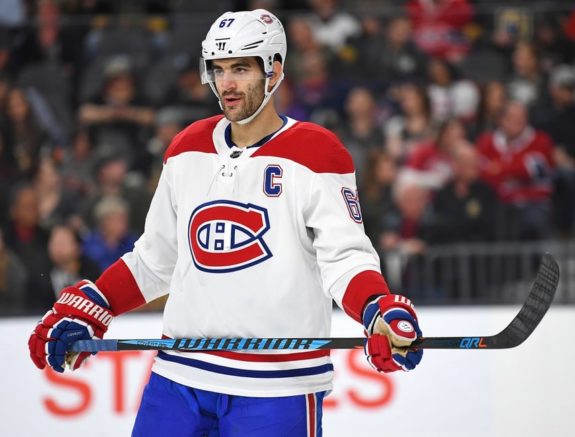 Edmonton didn't make any big moves, and there are far too many question marks with this roster to make them a shoo-in to be a playoff team. They need a lot of things to go in their favor this season, and if they get off to another slow start, they'll once again be in danger by US Thanksgiving, again.
Talbot needs to get back to playing at his old ways. The defense needs a bounce back from Klefbom and Larsson. They also need Nurse to take his offense to another level. Then there's the scoring concerns upfront with the wingers. For now, the Oilers, on paper, look like the fifth-best team in the Pacific Division.
Putting Edmonton in the ballpark of 86-90 points seems reasonable if they indeed aren't as bad as they appeared in 2017-18. The big question was what's more representative of this club; 2016-17 or 2017-18? I'm leaning towards the middle ground on this.
It's still not enough to put them in the playoffs, but good for ninth in the Western Conference.
Pre-Season Prediction: 86-90 points, 5th in Pacific Division, 9th in Western Conference.