The 2018-19 Detroit Red Wings season officially kicked off with the 2018 NHL Prospect Tournament, which began Sept. 7 in Traverse City. After another long summer, Red Wings hockey is finally here.
#RedWings prospects pick up the W tonight in Traverse City! Game three against the Rangers is Monday at 4:00 PM. #DRWPT #LGRW

🚨: @mrasmussen16 (2) & @dcholowski27
🍎: @mrasmussen16, @webb_reilly, @filip_zadina, @jveleno91, @dcholowski27 pic.twitter.com/u51Nhpw4Id

— Detroit Red Wings (@DetroitRedWings) September 9, 2018
As the organization's rebirth progresses, the 2018-19 season will be a critical one for the development of Detroit's core pieces and prospects. After signing a lucrative contract extension, the Red Wings are hoping franchise center Dylan Larkin takes a step forward in his fourth NHL season. The same can be said for Anthony Mantha, Andreas Athanasiou, Tyler Bertuzzi, and many players in their prospect pipeline.
As the final installment of the 2018 Red Wings Summer Rebuild Series, let's take a look at the upcoming season—from start to finish—and examine the stories, players, development focuses, and rebuild opportunities of the 2018-19 Red Wings season.
Red Wings Preseason Storylines
After much speculation, it appears that Detroit's captain will not return for a 16th season with the Red Wings. Henrik Zetterberg has likely played his last game with the Red Wings due to lingering back issues.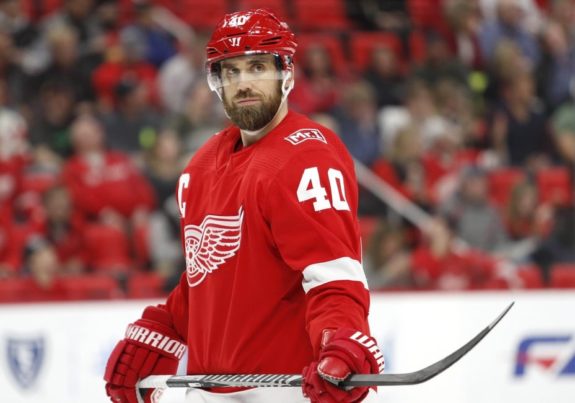 In his place, Jeff Blashill and Ken Holland are hoping that Frans Nielsen, Thomas Vanek, and Justin Abdelkader can pick up the slack from a leadership standpoint. Offensively, the Red Wings will lean on Larkin more and give Michael Rasmussen and Filip Zadina long looks to make the roster out of training camp. The two top prospects have tremendous potential, but will need to earn their stay in the Motor City. They'll also have a direct impact on the rest of the roster.
Martin Frk, David Pope, Evgeny Svechnikov, Dominic Turgeon, and Luke Witkowski are all on the bubble this fall. It will be an uphill battle for them to make the team, let alone earn ice time. Expect Frk and Witkowski to lock down the last two roster spots, with the others playing significant roles in Grand Rapids.
Finally, the Red Wings will need to decide on their No. 6/7 defenseman. Filip Hronek is the clubhouse leader at the moment, but one of Dennis Cholowski, Joe Hicketts, or Libor Sulak could separate themselves from the pack by the end of the preseason. Given his power play expertise and right-handed shot, Hronek should stick with Detroit for the upcoming season, with another defensive prospect or two joining later on.
Related: 42 Red Wings Prospects & What to Know About Them
Addressing the Salary Cap
At the moment, the Red Wings are over the salary cap upper limit with a few prospects still needing to be added to the NHL roster. Placing Johan Franzen and Henrik Zetterberg on long-term injured reserve (LTIR) would bring the team into compliance with the cap and even give the Red Wings some wiggle room to accrue salary cap space for the trade deadline.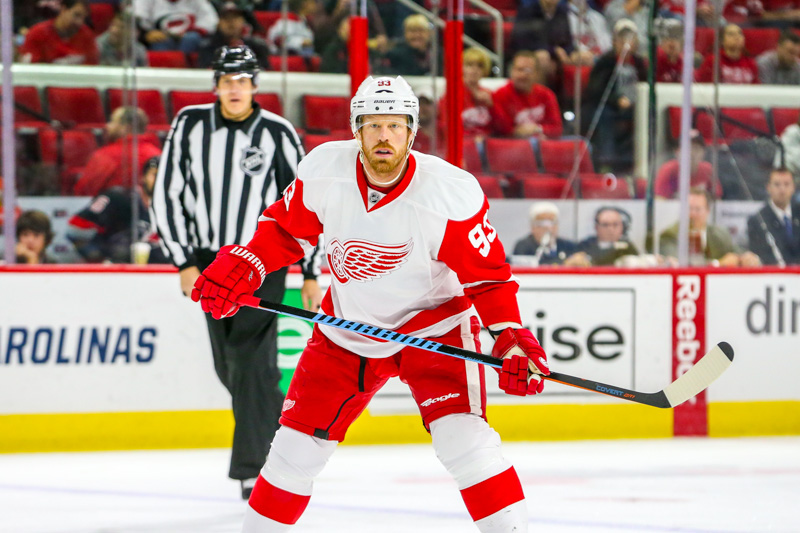 But what if Zetterberg shocks us all and is able to play later on this season? In that case, the Red Wings would need to bury Martin Frk and his $1.05M cap hit in the AHL and carry only 22 skaters to stay under the $79.5 million upper limit. To clear room for a 23rd skater, Holland would need to ship some salary out for picks or prospects.
But given the way that the Zetterberg updates have been trending, the Red Wings should be fine salary cap-wise with their long-time captain on LTIR.
Red Wings Opening Night Lineup
Based on Zetterberg's status, comments from Blashill, and previous line combinations, here's what you can expect for Detroit's lineup when they take on Columbus to open the 2018-19 season next month. Keep in mind that injuries can occur during training camp and the preseason, so they lines could change between now and then.
Projected Red Wings Opening Night Forward Lineup
LW
C
RW
Anthony Mantha
Dylan Larkin
Gustav Nyquist
Tyler Bertuzzi
Frans Nielsen
Filip Zadina
Thomas Vanek
Andreas Athanasiou
Michael Rasmussen
Justin Abdelkader
Luke Glendening
Darren Helm
Martin Frk
Luke Witkowski
Projected Red Wings Opening Night Defense & Goalies
LD
RD
G
Jonathan Ericsson
Mike Green
Jimmy Howard
Danny DeKeyser
Trevor Daley
Jonathan Bernier
Niklas Kronwall
Filip Hronek
Nick Jensen
Up front, Larkin will step into Zetterberg's old shoes (skates?) as Detroit's No. 1 center. He'll be a core member of the penalty kill and power play as well.
Beyond Larkin, the rest of the top-nine will likely change throughout the season. Vanek could move to Nielsen's wing. Helm may move to center at some point if Athanasiou continues to struggle in the faceoff circles. Zadina could be sent down to Grand Rapids as to not burn a year off of his entry-level contract.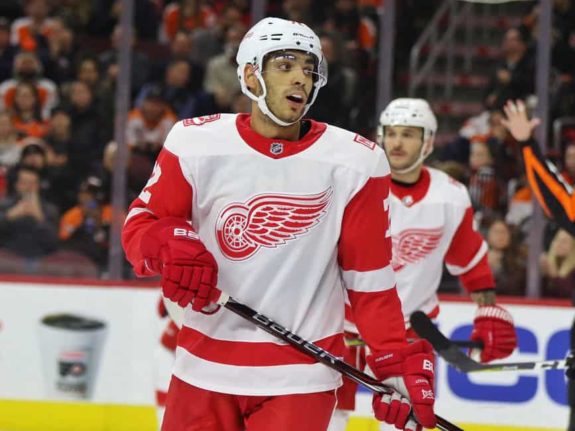 In essence, Detroit's forwards should look to achieve some sort of consistency early on because they'll be moving around in the lineup a lot otherwise. If the season is not going according to plan, Blashill will look to find wins somewhere, even if that's putting together one effective line that gels and can be deployed the following season and beyond.
On defense, you can expect to see DeKeyser and Daley matching up mostly with the tougher assignments. The Red Wings need DeKeyser especially to step up defensively and play the role that the organization had envisioned when the blueliner was signed to a six-year, $30 million contract.
Ericsson and Green will also see some high-impact minutes, but start most of their shifts in the offensive zone, where the latter is much stronger than the rest of Detroit's defensemen. The third-pairing—some combination of Kronwall, Hronek, and Jensen—will play sheltered minutes as well since all three have strengths and weaknesses to their respective games.
In net, Howard will enter the season as the starter, but will end up splitting duties with Bernier. Blashill will ride whichever goalie is hot as to not wear either veteran down. Both would benefit from a healthy competition and additional time to recover and prepare for their next game.
Griffins & Potential Call-Ups
Even if Zadina and Hronek start make the Red Wings out of training camp, the Griffins will still have a stacked lineup. Here's how their lines could shape up:
Projected Griffins Opening Night Forward Lineup
LW
C
RW
Chris Terry
Wade Megan
Evgeny Svechnikov
Matt Puempel
Dominic Turgeon
Carter Camper
David Pope
Axel Holmstrom
Givani Smith
Matthew Ford
Christoffer Ehn
Dominik Shine
Dylan Sadowy
Turner Elson
Colin Campbell
Projected Griffins Opening Night Defense & Goalies

LD
RD
G
Dennis Cholowski
Joe Hicketts
Harri Sateri
Brian Lashoff
Vili Saarijarvi
Patrik Rybar
Libor Sulak
Dylan McIlrath
Jake Chelios
Marcus Crawford
The Hockey Writers colleague Rachel Anderson—who covers the Griffins extensively—noted a few players as the most likely to be called up in case of an injury in Detroit:
Among the available forwards, it's likely that Evgeny Svechnikov—entering the third season of his entry level contract—will get a recall first. Svechnikov experienced a sophomore slump during the 2017-18 season, but picked up his game before the campaign ended. The elder forward has a very powerful stride and a deadly shot – if he's accurate. He has excellent vision, but gets lost in his frustrations from time to time. If he's able to start strong and shows steady improvement, the Red Wings will likely give him a shot.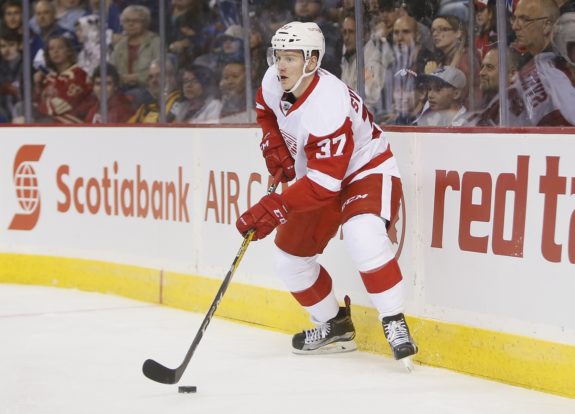 Dominic Turgeon is another skater who has been drawing quite a bit of attention. He's a strong center and is does a remarkable job on the penalty kill and power play units for Grand Rapids. Detroit's special teams are lackluster as of late and the speed and energy of Turgeon would pair wonderfully with the other younger skaters currently with the Red Wings. He's smart with the puck and handles pressure well – Turgeon is not easily frustrated on the ice, which is a benefit to him and an irritant to his opponents.
On defense, Joe Hicketts is among my favorite defensemen. He plays a strong and confident game. Entering his final season of his entry-level contract, the Red Wings have to decide what to do with the 23-year-old. Given his recent seasons, he will make himself hard to ignore during the preseason this year. As a rookie, Hicketts played a crucial role for the Griffins during the 2016-17 regular season, tallying 34 points and contributing mightily during the Calder Cup victory for Grand Rapids. He was an anchor for the defensive unit during the 2017-18 season as well. Hicketts made a great first impression by earning two points during his NHL debut last season.
Considering the depth in their lineup, the Griffins should contend for a division title. Another Calder Cup wouldn't be out of the question either considering their combination of veteran AHL scorers and high-end prospects. Overall, the 2018-19 season is definitely one to be bullish on Detroit's top farm team.
In-Season Development
Above all else, the Red Wings need to improve their team defense. Blashill's "Process" is mocked frequently, but is the key to a successful team.
If the Red Wings can minimize their mental mistakes and play a consistent, highly aggressive game, their speed and relentless back-checking can partially make up for their lack of talent. This is how the Vegas Golden Knights attacked teams en route to a Stanley Cup Finals appearance.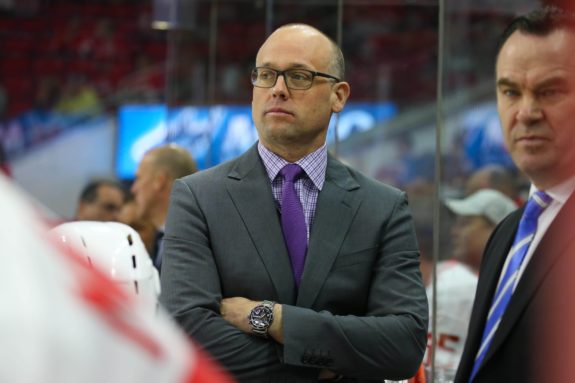 Buying into Blashill's system is crucial. Too many times last season, the coach described players as taking a few shifts off or missing assignments. Complete buy-in from everyone ensures that all fives skaters on the ice know their who to cover or how to exit the zone properly. Plus, everyone will know where their other four teammates are at any given point.
This attention to detail has been lacking lately, but needs to be addressed this season. If Larkin, Mantha, and Athanasiou are going to carry the team forward, they'll need to know how to approach every shift so that the Zadinas and Rasmussens of the future will learn the right way to compete. This is part of the reason why Holland has supplemented the Red Wings with veterans in the past – to instill an attitude that every shift matters and should be approached with 100 percent commitment and effort.
Special Teams
When the Red Wings hired Dan Bylsma this summer to assist Blashill, the former Penguins and Sabres head coach was tasked with improving Detroit's abysmal power play. Even without Zetterberg, that goal is still possible. Besides, the Red Wings can only go up in terms of special teams play.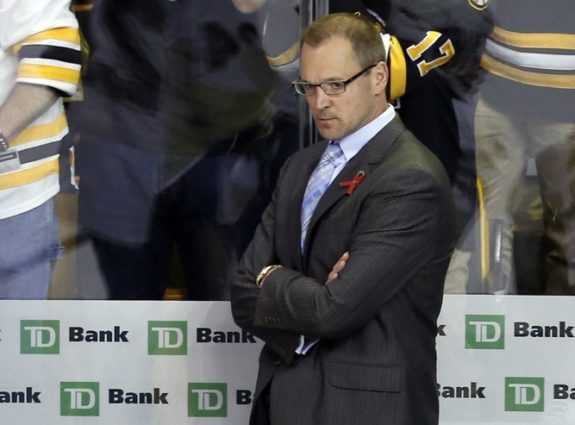 Bylsma will have a handful of players with intriguing styles to choose from for his power play. Frk's shot. Vanek's right-handed shot and net-front presence. Rasmussen's hand-eye coordination and large frame. Larkin and Green's vision and mobility. Then, there's still Athanasiou, Mantha, Nyquist, and potentially Hronek and Zadina as well.
The components are there – Bylsma just needs to find an effective way to deploy them.
Doug Houda's penalty kill could also use a boost. At times last season, the PK—especially its forechecking—looked unbeatable. But, in the end, the Red Wings gave up too many quality chances and, as a result, goals against.
While there are no additions who can improve the penalty kill immediately, perhaps another season under Houda's watch and a refined commitment to the strategy will pay dividends for the Red Wings. Maybe Bylsma can lend a hand as a former two-way player himself. Only time will tell.
Continuing the Rebuild
Detroit's commitment to a youth movement will likely receive a boost around the trade deadline, as there are quite a few Red Wings who could be on the block as rental acquisitions. The Hockey Writers colleague Jacob Messing identified Nyquist as having the most trade value of the bunch.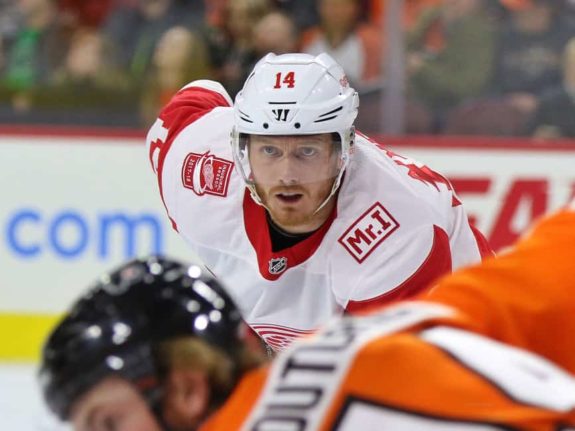 Nyquist hasn't fulfilled the lofty expectations he set for himself when he scored 28 goals and 48 points in 57 games when he broke into the league in 2013-14. At 29, Nyquist can no longer be sold as a project player.
But there's still the possibility of him finding more consistency playing alongside better linemates. He's been a positive possession player with an adequate two-way game, and a proven ability to bolster a second power play unit.
A hot start to the season could be the difference for his trade value, but he should be able to fetch a second-round pick at the least. One thing is for sure, he won't finish the season with the Red Wings.
In addition to Nyquist, the Red Wings have a handful of other players who could be attractive options around the trade deadline.
Though he has a no-trade clause (NTC), Thomas Vanek has become a valued commodity around the annual deadline. If the Red Wings decided to part with the veteran (again) and he's producing at a respectable rate, another third-round pick would be acceptable compensation for his services. The same could be said for Trevor Daley, whose NTC expires 10 days before the 2019 NHL Trade Deadline.
Related: Diving Into the Detroit Red Wings No-Trade Clauses
Nick Jensen could also be dealt this season, as he'll become an unrestricted free agent (UFA) at season's end. Teams up against the salary cap upper limit and pushing for a playoff spot would value his mobility, two-way game, and inexpensive contract ($812,500) as a solid depth add for the blue line.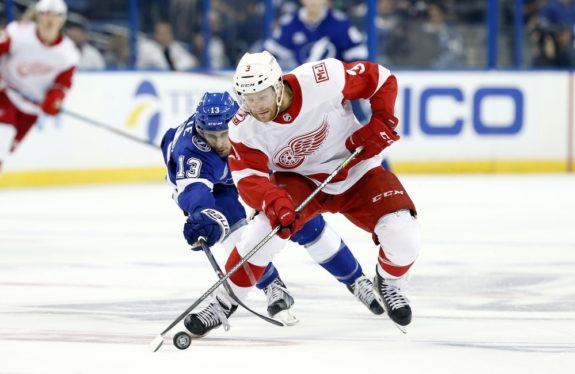 Finally, it would not be surprising to see Jimmy Howard traded since he'll become a UFA this spring as well. However, the Red Wings would only consider moving their long-time netminder if they received a substantial offer. Many expect Detroit to work out a contract extension with Howard – possibly in the two-year, $4 million per season range.
However, most—if not all—of these players could stick around under the right conditions. If the Red Wings are in playoff contention as the trade deadline approaches, Holland may decide in favor of the status quo and keep his team intact. In addition, contract extensions for Nyquist, Jensen, Howard, and possibly Vanek could prevent a few deals from happening. Vanek could also opt to exercise his NTC if a potential trade is not to his liking.
But, in all likelihood, some of these players will be sent packing by the trade deadline. As a result, the Red Wings will need to call up and deploy prospects in their stead. Hicketts, Sulak, Svechnikov, and Turgeon might find themselves in Detroit following the deadline – much to the joy of Red Wings rebuild fans. Even though these prospects won't start the year in Hockeytown, they'll play a role at some point this season.
Final Word
The 2018-19 season may not be a favorable one for the Red Wings, but they'll have the opportunity to grow as a young team. It would not be surprising to see the Red Wings finish near the bottom of standings given their strong division and the overall competitive nature of the NHL.
If that's the case, then Detroit will once again draft near the top-five of the 2019 NHL Draft. They'll also have the Islanders' second-round pick (acquired in the Tomas Tatar deal from Vegas) and their own high second-rounder. Add in additional picks from rebuilding trade deadline deals and the Red Wings could have another impact draft to bolster their prospect pipeline.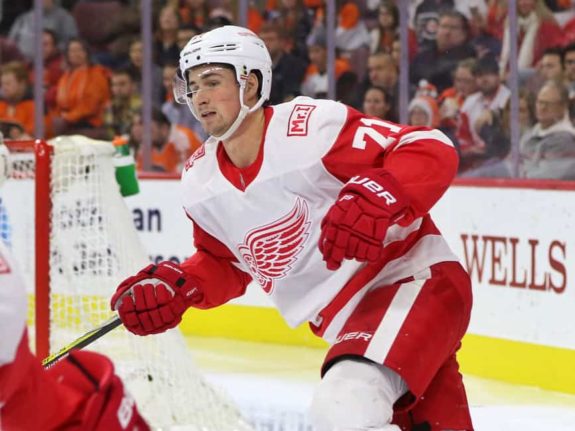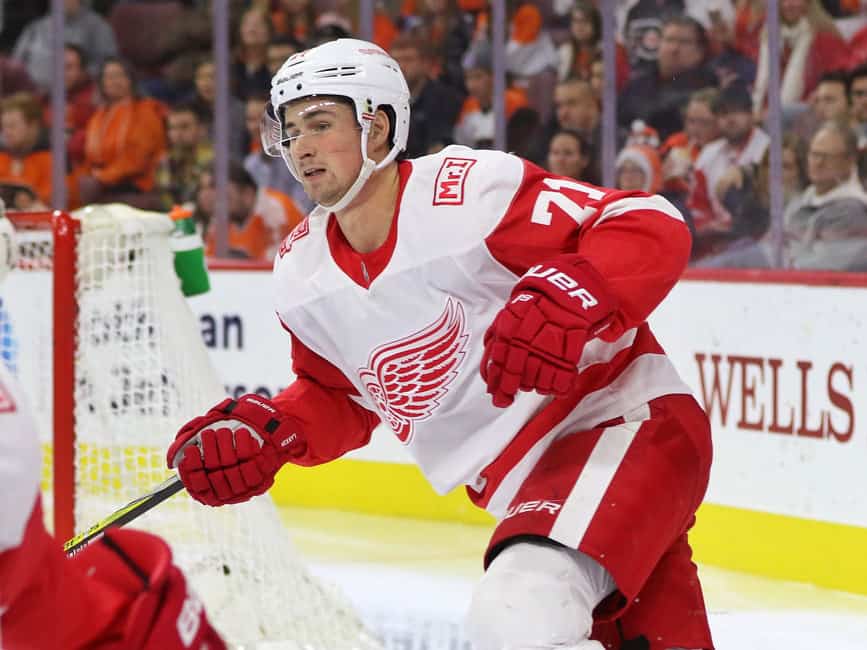 Though they'll likely be bottom-dwellers, this season should not be graded based on wins and losses, but more on the team's development. Did Mantha reach 30 goals? Did Larkin effectively step into a No. 1 center role? Did Athanasiou, Bertuzzi, Zadina, and Rasmussen grow as the season went along? And did the team remain competitive night after night?
Successes in these goals—plus other similar benchmarks—will net Blashill a contract extension in Detroit. More importantly, it will also set the Red Wings up for a productive 2019-20 campaign, when playoffs may not be out of the question.
This season may not be the most glamorous for the historic franchise, but will serve a vital role in the development of Detroit's next great teams. While it's easy to get bogged down in the trials of the moment, we must remember that the future will be brighter as a result of this year's growth.
What do you expect out of the Detroit Red Wings this season? Comment below with your thoughts.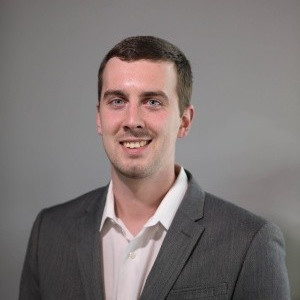 Tony Wolak is based in the Washington D.C. area and covers the Detroit Red Wings for THW. As a former junior and college hockey player, Tony has a unique perspective on Red Wings topics.