Now that the 2018 NHL Draft is over and the Detroit Red Wings have a handful of high-quality prospects joining the system, the focus now turns to free agency.
This summer will be a busy one for Red Wings general manager Ken Holland, who has a few key players in need of new contracts. As we've already learned, some will be back in the familiar red and white. Others will be given a chance to explore more lucrative avenues.
Let's take a look at Detroit's free agency outlook as part of the 2018 Red Wings Summer Rebuild Series.
2018 Red Wings Restricted Free Agents
As June comes to a close, the Red Wings still have a few significant restricted free agents to sign: Andreas Athanasiou, Dylan Larkin, and Anthony Mantha. These players are expected to be main contributors once Detroit emerges from its rebuild, and should be locked up accordingly.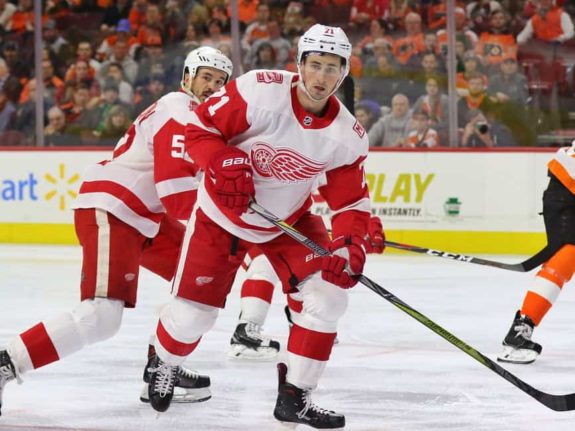 Below are my projections for Detroit's pending restricted free agents' next contracts. The term and average annual value (AAV) are based on comparable contracts signed by similar NHLers.
| | | | |
| --- | --- | --- | --- |
| Player | Pos | Term | AAV |
| Andreas Athanasiou | LW | 2 | $3.00M |
| Dylan Larkin | C | 8 | $7.25M |
| Anthony Mantha | LW | 2 | $4.25M |
Last year, I compared Larkin and Mantha's next contracts to that of the Columbus Blue Jackets' Alexander Wennberg. Each player concluded his entry-level contract with comparable production numbers – the difference, though, would be a shorter term for Detroit's duo compared to the six-year deal inked by Wennberg.
Since then, I've changed course for Larkin and now believe that the Red Wings will try to ink him to a long-term contract at a rate below the deals that Connor McDavid and Jack Eichel recently signed. Keep in mind that Toronto's Auston Matthews and Mitch Marner are due for hefty raises next summer as well. Signing Larkin to a reasonable contract ahead of Toronto's new pacts would help keep the cost down a bit before Matthews and Marner inflate the market rate for young talent.
For Athanasiou and Mantha, two-year deals will take them to the summer before they would be scheduled to reach unrestricted free agency. From there, Detroit can lock them up with long-term contracts should they choose to do so – the cost will be inflated a bit by the contracts mentioned above, but not at the same rate as Larkin's would be in three years.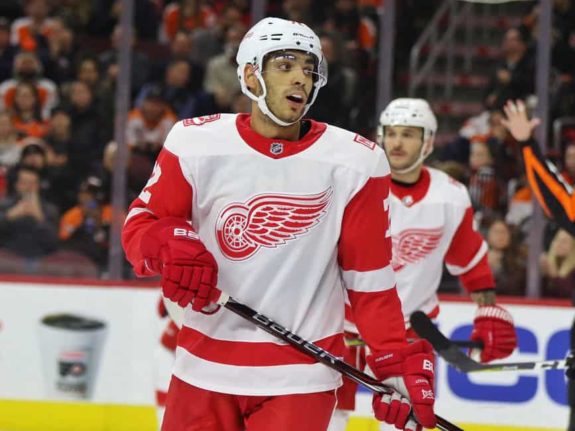 Often grouped with Larkin and Mantha, Athanasiou's next deal should keep history in mind. A pact similar to the one Tomas Tatar signed in 2014 coming off his entry-level contract—adjusted for inflation—should get the job done. Hopefully, last summer's standoff won't be repeated and his production will pick up next year – if he's still a member of the Red Wings. Athanasiou is eligible for arbitration if no deal is reached right away.
Tyler Bertuzzi was also included here while this writing was still in draft form. I had him pegged at a two-year contract with a $1.25 million AAV, just below the actual two-year deal that he signed Monday ($1.4 million AAV).
UPDATE: The Detroit #RedWings today agreed to terms with left wing Tyler Bertuzzi on a two-year contract and right wing Martin Frk on a one-year contract. pic.twitter.com/yO1pStVi6d

— Detroit Red Wings (@DetroitRedWings) June 25, 2018
Other Restricted Free Agents
I did not think that the Red Wings would tender Dan Renouf or Zach Nastasiuk new contracts, and that's exactly what happened. With Detroit's logjam on defense and Nastasiuk's lack of development, there are others more deserving of ice time at the AHL level. The two are now free to sign with any team July 1.
One Griffin who should be brought back is Matt Puempel. The restricted free agent played well in Grand Rapids after he was acquired from the New York Rangers for Ryan Sproul. Puempel is a nice fringe player who can push for a spot in Detroit and help prospects grow with the Griffins. Detroit qualified Puempel this week as well.
Signing Internal Unrestricted Free Agents
Of Detroit's UFAs, Mike Green is the likeliest to be back in a Red Wings jersey next year. There have been a handful of negotiations with the defenseman and his agent, and all signs are pointing to a reunion.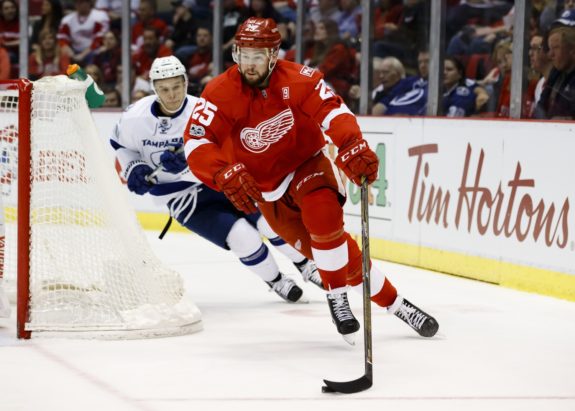 MLive's Ansar Khan noted a couple of contract options presented to Green: a one-year deal at his current $6-million rate and a two-year pact at $5 million per year. Those figures may be changing though with John Carlson re-signing with Washington, making Green arguably the best defenseman available.
After an up-and-down rookie season, the Red Wings decided not to qualify Martin Frk, changing his free agency status from restricted to unrestricted. The Red Wings, however, opted to re-sign the forward to a one-year deal. There isn't much room up front, especially with Filip Zadina likely joining the Red Wings, so Frk has a large mountain to climb to see the ice next year.
In the AHL, Matt Lorito appears to be the only unrestricted free agent worth re-signing. Jared Coreau, Tom McCollum, Ben Street, Eric Tangradi could join David Booth on the job hunt with the Red Wings likely not extending offers their way. Maybe one of Coreau or McCollum will be offered a one-year extension, but the two probably would prefer to explore other avenues first.
July 1 Shopping
In Khan's article, he mentioned that the Red Wings were eyeing a backup goalie, a veteran forward or two, and a defenseman on the open market. There are options out there, but with a small group of quality players to choose from, Detroit will have competition when it comes to signing them.
Carter Hutton is the top backup netminder on the market and would pair well with Jimmy Howard if the two split duties. Howard struggled with injuries and fatigue last season and could use a 1B to share the workload. Hutton put up strong numbers as Jake Allen's backup in St. Louis and even stole the starting job for some time. Anton Khudobin and Kari Lehtonen are other goalies to consider as well.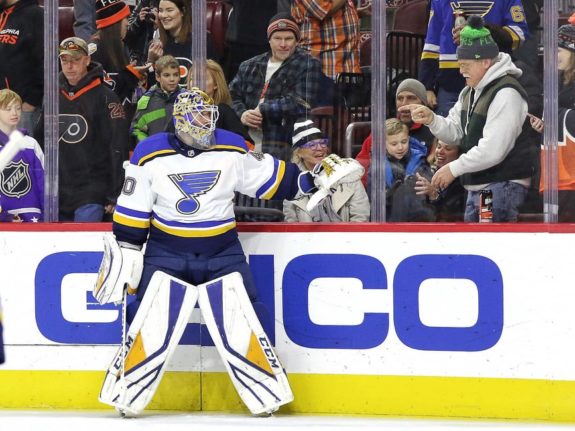 With the Red Wings buying out Xavier Ouellet, there's room on the back end for another defenseman. That player could be Green, but there are a few other rearguards available in case the veteran decides to walk away from the organization.
Calvin De Haan is an underrated defender and Toby Enstrom could help the power play. Neither are top-pairing blueliners, though. Top-four would even be a bit of a stretch. Perhaps the Red Wings could sign a defenseman like De Haan or Enstrom to a one-year deal and flip them at the deadline for draft picks.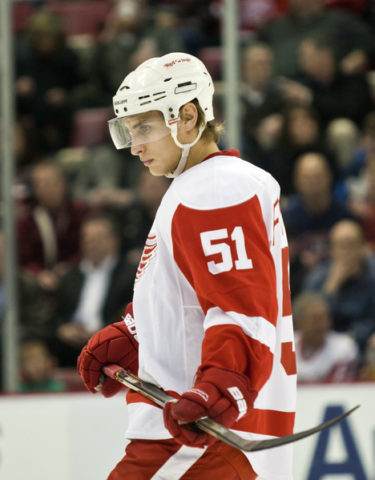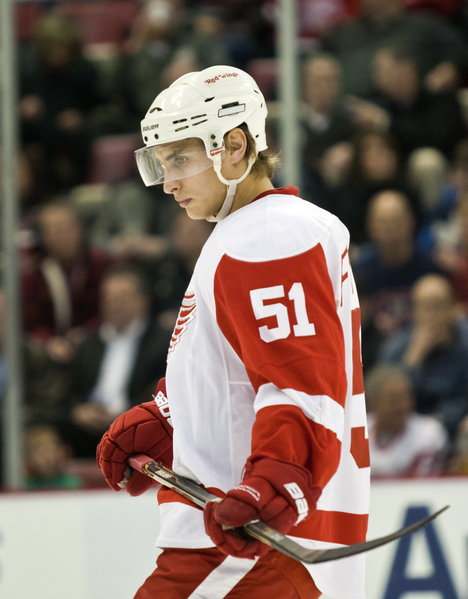 Up front, Khan mentioned a reunion with Thomas Vanek, but unless space is cleared, there's no room on the depth chart for the veteran. Perhaps the addition of Zadina will change their preferences. Other than Vanek, Tampa Bay's Matthew Peca, New Jersey's Michael Grabner, and former Red Wing Valtteri Filppula could be appealing for the right price.
More than a few players who were not qualified by their 2017-18 teams could be of interest as well. Detroit could potentially sign one or two to a "prove it" one-year contract and consider flipping them at the deadline or extending their contract if their production warrants it. Those newly appointed unrestricted free agents include:
Tobias Rieder
Anthony Duclair
Devante Smith-Pelly
Shane Prince
Zach Fucale
Riley Sheahan
(Yes, Riley Sheahan, if his price tag isn't high.)
If the Red Wings are able to trade Athanasiou or Gustav Nyquist for help on defense, then they should absolutely sign a forward with trade value. As of now, Nyquist, Howard, Nick Jensen, Niklas Kronwall, and Luke Witkowski are Detroit's pending unrestricted free agents for next summer. Howard, Kronwall, and Witkowski are unlikely to be dealt, leaving only Jensen and Nyquist as rental trade bait. Adding another player would increase Detroit's chances of later acquiring more draft picks to build the prospect pipeline. And we've seen how valuable that can be for the rebuilding franchise.
Related – The Grind Line: Red Wings 2018 Draft Review
What About John Tavares?
John Tavares would be an amazing addition for the Red Wings, albeit an unlikely one. The All-Star center would in all likelihood command a salary surpassing $11 million annually and would want to play for a winning team. With the signings above, there would be no cap space to bring in Tavares, though there are workarounds if the Red Wings are on his short list of potential destinations (which, based on the teams with whom he is initially meeting, they are not).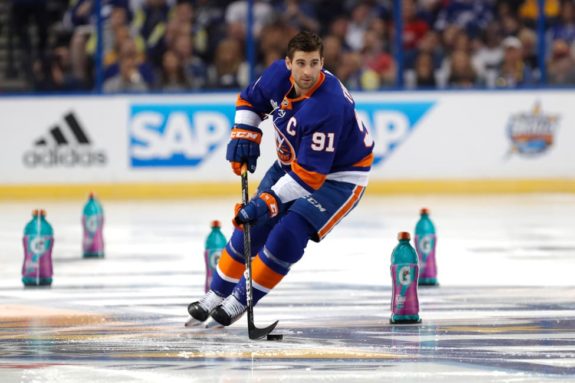 For one, Larkin would need to be signed to a cheaper bridge deal rather than an expensive long-term contract. In addition, the Red Wings would need to pass on Green, which may not be the worst thing. Those two moves would open up about $7-8 million in cap space – still short of what would be needed to sign Tavares.
If the Red Wings could move another large contract (Nyquist, Jonathan Ericsson, Danny DeKeyser) without taking much back in return, that would give them enough room to simply afford Tavares if he's open to signing with Detroit. And that's a big if.
Final Word
Overall, Holland has a lot on his plate with internal free agents, external additions, and deficiencies to address. Signing Larkin and Mantha to reasonable extensions is the most important task at hand. Those two, plus Zadina, will be the face of the franchise moving forward.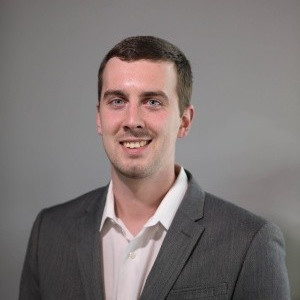 Tony Wolak is based in the Washington D.C. area and covers the Detroit Red Wings for THW. As a former junior and college hockey player, Tony has a unique perspective on Red Wings topics.