One thing you cannot help but notice when Martina Mašková is out on the ice is that she routinely has a big, bright smile on her face. She smiles a lot, and she smiles for the love of the game. Picture this if you will – it is the 2016 IIHF Women's U18 World Championship in St. Catharines, Ontario, Canada. The Czech Republic is on the receiving end of an 11-0 loss to Canada. Mašková is team captain for the Czechs.
After giving up 10 goals in the first two periods, she and the entire Czech team are understandably dismayed and downcast. While she has a role to fill as the consummate leader for her team, and thus help rally their emotions in spite of such a loss, Mašková is the last one to skate off the ice as the second period comes to a close.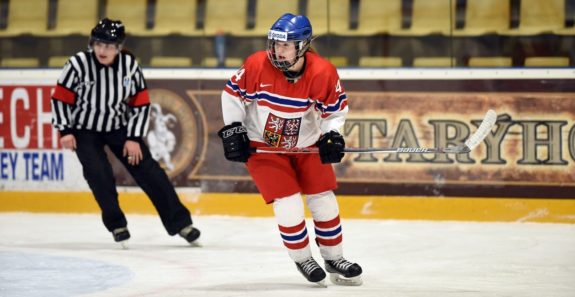 On the inside she is upset, disappointed, and maybe in a bit of disbelief as to what she and her team are now facing. But Mašková understands the adage of "never let them see you sweat". Outwardly she is composed – as all strong leaders are -and it is time to muster her strength. No matter if she is feeling disheartened on the inside, she knows that she needs to be there for her team, her fans and her country. So much so that Mašková looks up into the crowd of applauding Czech fans showing their support. She beams that smile of hers and and gestures with both hands as if to say to them – "Don't worry – we appreciate that you're there, and we've got this." Mašková and the Czechs would come back in the third period and only gave up one final goal before stopping Canada the rest of the way. It was a testament of strength that they would carry throughout the rest of the tournament and it was ignited by their captain.
"Hockey has been part of my life for so long and it is something that will always make me happy," Mašková told THW. "Even though I have a bad day, I am always excited to step on the ice because that is a feeling that brightens my day no matter what.
That is just the kind of leader that Mašková is, and the character that she possesses.
Upbeat and positive, Mašková is also very humble and finds it a little embarrassing to speak about herself. THW had the chance to catch up with her as she begins her sophomore year at the University of Regina in the province of Saskatchewan. We talked hockey, growing up in the Czech Republic, life in Canada, and what her aspirations are for the Czech Women's National Team in the years ahead.
Life in the Czech Republic and Learning Hockey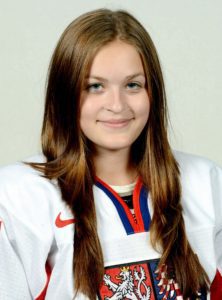 Mašková's birthday is Feb. 15, 1998. While she was born in one Czech city, she grew up living in another nearby town. Additionally, she would end up playing a sizable portion of her hockey career in a yet a third region – one in which she still plays to this day when she is not attending school in North America. These early hockey journeys are not only her history, but sculpt her into the player that she is today.
"I was born in Ústí nad Labem because my mom is from there," Mašková explained, "but I always lived in Teplice which is just 20 minutes away. I started to play hockey in Teplice but then our rink got demolished so I had to find a new team. I went to Ústí nad Labem where I played for a couple years, but then the coaches did not treat me very nicely so I decided to leave. I went to Litoměřice where the entire organization treated me perfectly. Even though I left three years ago to study and play hockey abroad, I can always come back whenever I need to. I am usually home for four months so I always work out and skate with the boy's team."
Mašková hails from true hockey towns. Stanley Cup champion Milan Hejduk and goaltender Michal Neuvirth were both born in Ústí nad Labem, while former NHLer Robert Lang comes from Teplice. Litoměřice is the home of both Cup-winner Martin Škoula and longtime Czech goaltender Milan Hnilička. Much like those players did in their earlier years, Mašková learned the game at a young age. She did however have to forgo another interest so that she could make hockey her primary athletic focus.
"When I started playing hockey I was four and I was doing ballet at the same time," said Mašková. "My grandpa and uncle both played hockey and they were also coaching. One day they asked me, my sister and my cousin if any of us want to try it. I was the only one who tried it and I loved it from the beginning. When I was six I had to decide whether I wanted to play hockey or dance. Even though it was a pretty hard decision to make, I know for sure that it was right."
Mašková's International Experience
Mašková's decision to keep with hockey and make it her primary focus has allowed her to play for her country and see the world in the process. Three times she represented the Czech Republic at IIHF Women's U18 World Championships – 2014 (Budapest, Hungary), 2015, (Buffalo, NY, USA) and 2016 (St. Catharines, ON, CA). At the 2014 tournament Mašková helped the Czechs take home the bronze medal by defeating Russia in the third place game. To date, this one of just two medals the Czechs have won at Women's U18 tournaments, making it all the more meaningful as an achievement.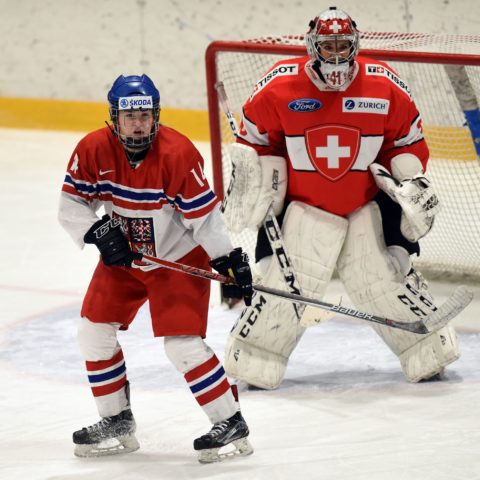 "It is the best feeling to represent your country and to wear the National Team jersey," Mašková said. "The best memory that I will never forget is when we won the bronze medal in 2014 in Budapest, Hungary. The game was extremely close and I will never forget the moment when the game ended. I cried because I was happier than I had ever been before. Winning the medal was a defining moment for me because it gave me the courage to leave home and pursue an education in Canada while playing hockey. This championship was also special for me because my entire family was there to support me."
Not really known as a scorer, it is the intangibles of leadership and positivity that have made Mašková so invaluable to the Czechs. Through her 17 career games combined from the three IIHF U18 tournaments she scored a lone goal. That single tally was a difference maker though, as Mašková scored an empty-netter in the dying minutes of a tight 2014 quarterfinal against Sweden. The goal ensured that the Czechs had the win and would advance to the semi against USA.
Separate from any statistics, Mašková is a role player who makes a difference by being herself. She is infectious and caring, and this permeates throughout the teams she has played for, including the 2016 squad that Mašková captained.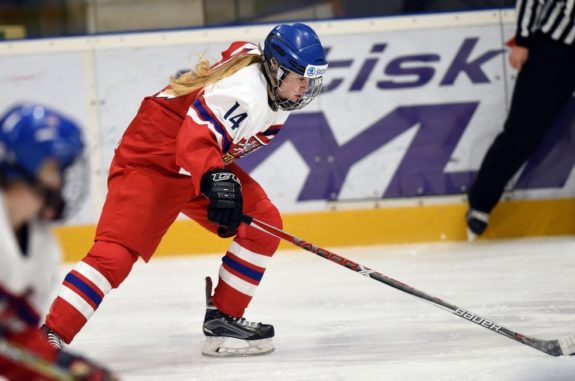 "I don't wanna sound cocky, but I think that one of my best attributes is that I am unselfish and I always put the team first," she stated. Speaking specifically about being elected captain for the St. Catharines tournament, Mašková added, "This is a pretty hard question. I guess the team voted me because I was a person that they needed at the moment. I am someone who tries to be positive when someone is having a rough time, so I would always say how much the team needs her right now. I was a captain who got no points that championship and that is also kind of who I am. I don't look for goals, assists or points – I only care about how is the team doing."
Her Collegiate Career at U of R
Prior to her collegiate career commencing, Mašková played a year with the Canadian International Hockey Academy's U19 team (2015-16) followed by a season with the Boston Shamrocks (2016-17) – both teams are members of the Junior Women's Hockey League (JWHL). Between the two teams, Mašková totaled 10 goals and nine assists for 19 points in 50 career junior games. Both teams better prepared her for college play. The 2017-18 season was Mašková's freshman year at the University of Regina. She put forth a decent first season offensively, scoring one goal and four assists for five points in 24 games. It was a physical first season for Mašková too, as she picked up 29 penalty minutes her first year as well.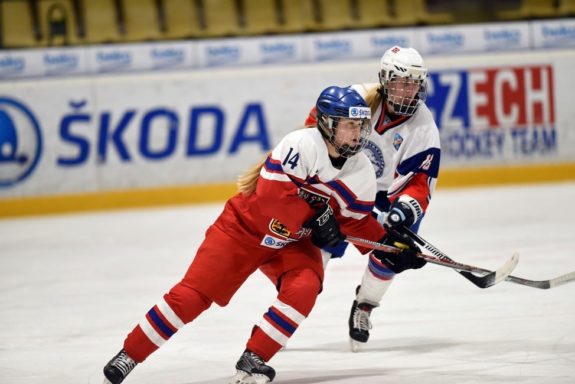 Mašková spoke very highly of the "second home" she has found at Regina. Hockey has been a long journey for her, but U of R has been more than welcoming. Playing for the Cougars has brought her comfort away from the Czech Republic, and she is thrilled to be part of their program.
"My journey to Canada has been an ongoing adventure," Mašková stated, "and I will be forever thankful to my family who has helped me make the decision to be here in Regina. I was deciding between a lot of schools but U of R was the only one that made me feel like it could be my second home for the next four years. It was the coach, Sarah Hodges, and all of the teammates who did not take me as a weird girl from Europe who had an accent. All of my teammates are amazing and I take them as my second family."
What the Future Has in Store
Just beginning her second season with Regina, Mašková has plenty of time to contemplate her future. While she will thoroughly enjoy her remaining time in school, she certainly has plenty of options for hockey after her studies have been completed. The 2018-19 NWHL season will see Czech hockey players compete for the first time, as fellow countrywomen Kateřina Mrázová (Connecticut Whale) and Denisa Křížová (Boston Pride) have joined the league. A multitude of Czech players and former teammates of Mašková's are finding successful careers in various European leagues too. Mašková does not know where she intends to play after graduating from U of R, and that is perfectly fine – there is not need to rush.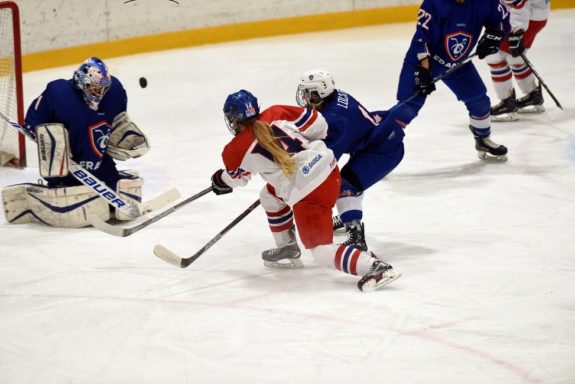 "I do not know what will happen in the next three years after I am done at university," Mašková shared, "but as of right now I am trying to work as hard as I can so that the Czech National Women's Team could go to the Olympics and I would be part of that. Of course, I would love to play professionally in NWHL or CWHL but I was also considering playing somewhere in Europe such as Switzerland, Sweden or Finland since it would be way closer to home."
No matter what team(s) she decides to play with in the years ahead, Mašková will always be that bright, warm spirit that she is naturally. A leader by both example and with words, she embodies the word "teammate" better than most. As for her country, the Czech Republic Women's National Team has never participated in a Winter Olympics. It will happen someday. Likely sooner rather than later, the Czech women will be there. And when they do, rest assured that Martina Mašková will be standing there with them, shoulder to shoulder to represent her country. You won't be able to miss her – you'll spot her easily because of her beaming smile.
General Manager of the Buffalo Beauts (NWHL). Hockey history writer "The Hockey Writers". Credentialed media for the NHL Combine and 2018 IIHF World Junior Championships in Buffalo, NY, USA. Born and raised in Buffalo, NY. Lifelong hockey fan for over 40 years. Proponent of the women's game.