Edmonton Oilers general manager Peter Chiarelli should be happy with their haul from the 2018 NHL Draft. At 10th, Evan Bouchard might be the long-term solution to the club's puck-moving woes on the right side. He was the highest scoring defenseman in the OHL and has a shot at cracking the opening night roster.
Related: Oilers Draft Evan Bouchard 10th Overall
At 40th, Ryan McLeod was a consensus late first-round pick that dropped into Edmonton's lap. They then packaged the 71st and 133rd selections in a deal with the Montreal Canadiens that allowed them to move up to the 62nd pick and snag the top North American ranked goaltender by NHL Central Scouting, Olivier Rodrigue.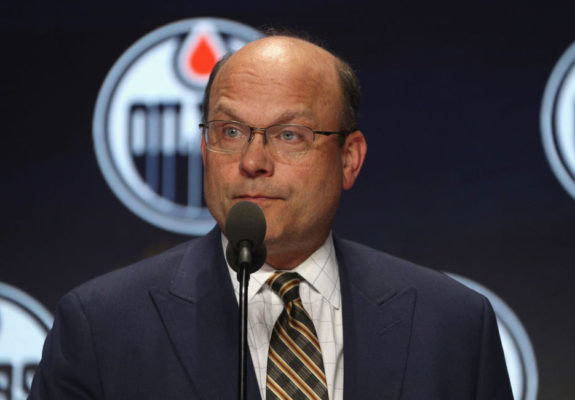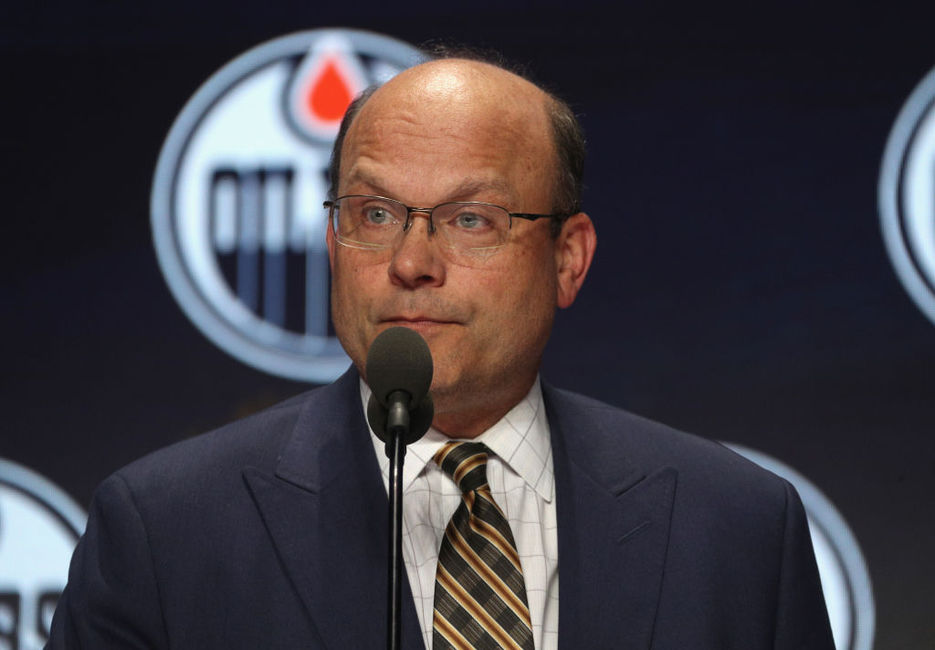 That left a gap between the 63rd and 163rd pick where the Oilers didn't have a draft pick. Along with trading the third and fifth-round picks to Montreal, they also gave the Canadiens their fourth-round pick (122nd) back at the trade deadline for Al Montoya. Habs GM Marc Bergevin then peddled that to the Calgary Flames for a 2019 fourth-rounder.
Related: Oilers Draft Ryan McLeod 40th Overall
That's not where the Oilers and Canadiens finished. Edmonton also acquired NCAA goaltending prospect Hayton Hawkey from Montreal in exchange for their 2019 fifth-round choice. So that left the Oilers with the 164th and 195th picks for their final two selections. Edmonton took an unknown high school prep defenseman, Michael Kesselring, with their sixth-round choice, and Patrik Siikanen with their seventh-round pick.
Oilers Draft Michael Kesselring 164th Overall
Kesselring is a right-shot, right-side defenseman with a 6-foot-4, 191-pound frame. He played a significant portion of the 2017-18 season with a high school prep program out of New Hampton School where he scored 11 goals and 34 points in 38 games. He also made a brief appearance in the USHL with the Des Moines Buccaneers playing 12 games.
Related: Oilers Draft Olivier Rodrigue 62nd Overall
He was committed to Merrimack College in the NCAA for next season but asked to be released from his National Letter of Intent (NLI). Instead, he'll return to Des Moines for the 2018-19 season. Kesselring was also the 75th ranked player according to NHL Central Scoutings North American rankings.
In high school hockey, he's been a near point-per-game player, so he fits the continued theme of Oiler acquisitions over the past few seasons; puck-moving blueliners that can put up points. Kesselring is far from being the saving grace of the Oilers franchise, and whether he has NHL upside is questionable.
At this point in the draft, you're taking flyers on prospects. Only nine defensemen have ever been taken with the 164th pick in NHL Draft history. Seven of those rearguards never played in the NHL. The other two were Stephane Robidas (1995, Montreal) who played 937 games in the pros, and Christian Proulx (1992, Montreal) who played seven games. So the odds are against Kesselring to make it.
Scouting Reports & Thoughts on Michael Kesselring
Jeff Cox (New England Hockey Journal):
New Hampton defenseman Michael Kesselring picked 164th by Edmonton Oilers. Big, lanky, skates, has offensive instincts. Will be in Des Moines in USHL this year. De-committed from Merrimack this past week.
Larry Fisher (The Hockey Writers, Kelowna Courier):
The Oilers go with good-sized right-hand defenseman Michael Kesselring from the USHL. Lots of intriguing D coming up from that league, Kesselring among that bunch. Interested to see how many of them end up getting picked down the stretch. Decent pick for Edmonton but wouldn't have been my guy.
David Staples (Cult of Hockey):
Kesselring is a big player, already 6-feet, 4-inches, 193-pounds. He was ranked 75th overall for North American prospects. The right shot d-man played high school hockey in the US last year and was unable to make much of a mark when he got 12 games with Des Moines in the tough United States Hockey League. He is to play in the USHL again this coming year.

Jonathan Willis (The Athletic):
Edmonton takes Michael Kesselring at 164. 6'4″ RD, and nearly a point-per-game in USHS. As always, my stats model offers a blanket endorsement on high-scoring late-round USHS gambles.
Oilers Draft Patrik Siikanen 195th Overall
The 6-foot-1, 198-pound Siikanen is a left winger playing for the Espoo Blues Junior A program. He scored ten goals and 17 points in 24 games, which gives him an NHL Equivalent (NHLe) of 20.9 points when calculated. He was ranked 70th by NHL Central Scouting amongst European skaters.
He was also ranked 200th by McKeen's Hockey, so he went right around where he was projected to go. As hoped, Siikanen has shown year after year improvement slowly graduating through the Blues program from their U16 team playing Junior C to now being on their Junior A squad (as mentioned).
He also played for Finland at both the U-17 and U-18 tournaments and scored three goals in five games in the latter competition. From the limited information available on Siikanen at the moment, he's described as a duel center-winger with a good shot, but his skating is a work in progress.
He projects as an NHL depth player if he pans out. It's surprising considering some of the names that were left on the board, and yes it's the seventh round we're talking about after all. Trey Fix-Wolansky of the Edmonton Oil Kings was still available; he ended up going 204th to the Columbus Blue Jackets.
Jordan Kooy, the goaltender for the London Knights, went 208th to the Vegas Golden Knights. Austin Wong, younger brother of Golden Knights prospect Tyler Wong, went 215th to the Winnipeg Jets. Fix-Wolansky, Kooy, and Wong might have similar if not better upsides and are better-known prospects in North America than Siikanen.
It's an interesting pick, and again, we're pulling hairs on a seventh-round selection. Here's what some folks are saying about Siikanen.
Scouting Reports & Thoughts on Patrik Siikanen
Marco Bombino (McKeen's Hockey):
Oilers select Patrik Siikanen in the seventh round. A big forward who can play both center and wing, has a good shot with a quick release. Skating is not his best attribute right now, but there's potential here.
Larry Fisher (The Hockey Writers, Kelowna Courier):
At 195, Oilers finish off their draft with Finnish center Patrik Siikanen. Not a bad pick but I'm in stunned disbelief by all the names still left on the board, including a dozen WHL prospects that I felt deserved to be drafted. No homer.
Matt Mosewich (EDM Prospect Watch):
With their final pick, the Oilers take Patrick Siikanen. I'm shocked by some of the names that continue to fall.
Brayden Sullivan (Draft Geek, Dobber Prospects):
With the Edmonton Oil Kings selecting second at next week import draft. Hard to think that Oilers 7th rounder Patrik Siikanen, a Finnish Forward who spent last season in SM-Liiga isn't on there radar.
Alex Thomas (The Oilers Rig):
Oilers seventh-round pick Patrik Siikanen is slated to play in a men's league in Finland in 2018-19. That should be good for his development.