In the past few months, the San Jose Sharks have gone all in on superstar center John Tavares becoming a free agent and having him sign with the Sharks. In the just concluded draft, they selected Ryan Merkley with their top pick. Merkley was widely considered the most polarizing high-end talent in the draft. And last month, the Sharks signed Evander Kane, one of the league's most talented and troubled players, to a long-term deal.
Each situation represents high risk with high reward. In each case, Sharks general manager Doug Wilson made the call.
The Superstar: John Tavares
Going all in on Tavares, one of the league's superstars, meant the Sharks bypassed other opportunities.
I'll provide one example, though there are more. Last week, San Jose acquired Ottawa Senators forward Mike Hoffman, a talented player. Hoffman's fiancé, though, is embroiled in a scandal and well, the Sharks promptly traded Hoffman to the Florida Panthers. The Sharks could have kept Hoffman, then gone all-in on Russian winger Ilya Kovulchuk. It would have meant walking away from Tavares, but having two excellent wingers for (at least) a few seasons would have given the Sharks a formidable roster.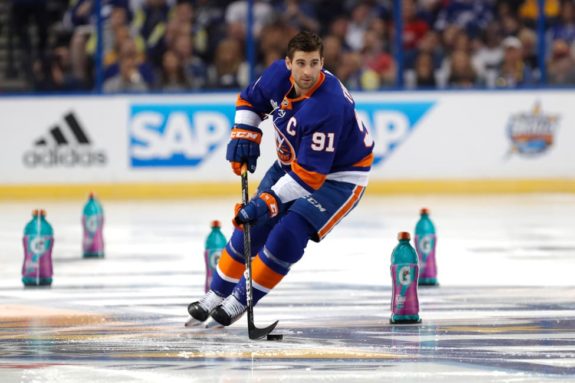 Kovalchuk's last full NHL season (2011-12) saw him score 37 goals and post 83 points. And while he's a good bit older (35), he's been a force in the KHL the past several years. This past season, he posted 31 goals in 53 games and captured an Olympic gold medal (also being named MVP in the Olympic tournament). Meanwhile, Hoffman has posted 22 or more goals in each of the last four seasons, averaging 26.
Hoffman and Kovalchuk could replace lesser players like Kevin Labanc and the traded Mikkel Boedker. Roughly fifty goals replacing twenty-five. Late last week, Kovalchuk's choice was reported down to four teams, the Sharks being one of the four. He is now off the market after signing with the Los Angeles Kings.
If San Jose had taken this approach with Hoffman and Kovalchuk, the Sharks would be a bit light at top line center. However, they'd have a remarkably talented group of wingers:` Hoffman, Kovalchuk, Kane, Tomas Hertl, Timo Meier and Joe Pavelski (unless he's slotted at center). All six players had over 20 goals last season. A team plays eight wingers a game; having six of the eight wingers scoring over 20 goals in a season is virtually unheard of. No team in the NHL had more than six players (independent of position) get to 20 goals this season. Presidents' Trophy winner Nashville had just four. The Sharks add in center Logan Couture (34 goals last season) for a seventh forward in the 20+ group. And they have one of the top scoring defensive groups in the league. All in all, the Sharks could have iced a team with an enormous amount of offensive firepower.
Instead of going this path (or others like it), Wilson stayed on the path which might lead to Tavares.
Assessment: the Tavares sweepstakes will conclude shortly. It could end at almost any moment, but certainly within a week. Wilson's work has given the Sharks a genuine chance to land the superstar. The Sharks have a strong pitch to make and apparently, Tavares is going to hear it. San Jose is reported to be among the handful of teams Tavares is considering, with meetings expected to take place early this week.
The Mercurial Talent: Evander Kane
Evander Kane's signing represented a different sort of risk. Actually multiple risks. He joined the Sharks at the trade deadline. Shortly after the Sharks season ended, they signed him to a seven-year deal.
Kane has had off-the-ice issues and issues with teammates. On the ice, he drew a suspension in this year's playoffs for a cross-check to the face of Vegas forward Pierre-Edouard Bellemare.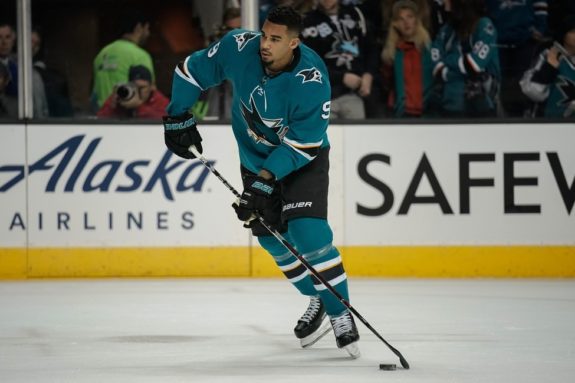 Kane's history of wearing out his welcome (on and off the ice) within a few years did not deter Wilson.
Still, the biggest risk with Kane are not the above issues. Hopefully he's matured and these problems are more a thing of the past rather than a predictor of the future.
It is Kane's injury history that makes the deal risky. Kane has yet to play a full NHL season, nine seasons into his career. And mind you, he's only gone to the playoffs once, so he's had full offseason to recover and prepare.
The Sharks are a consistent playoff team, but Kane has been less than fully healthy in April in three of the past four seasons. If he isn't healthy in April, it's a big deal since April is when the playoffs start. Further, he plays a physical style which tends to draw injuries. The injury risk is embedded in his style of play – it is not going away.
At his best, Kane is worth far more than his $7 million annual salary. But his history says he's frequently not at his best (the case during the Sharks playoff trip this season), or not available.
Assessment: the risks with Kane will play out over the course of his tenure with the team. Each season will be it's own story and it may be quite different year-to-year. His play in the playoffs over the course of his tenure in San Jose will be the ultimate determinant.
The Draft Pick: Ryan Merkley
Finally, there is the case of first round draft pick Ryan Merkley. Plenty of pixels have already been used on the Sharks' choice, including a fine piece from my colleague Mac Bass. Most have characterized him as boom or bust. On the upside, he is a very talented player, young even by the standards of the draft. But he is also immature and too often, disruptive. While some say his defensive game is a problem, others aren't as kind.
The risk equation increases because the Sharks passed on Joseph Veleno, a well-regarded center (something the Sharks tend to covet). Veleno was expected to have been long gone by the time San Jose made its pick. But the Sharks passed on him.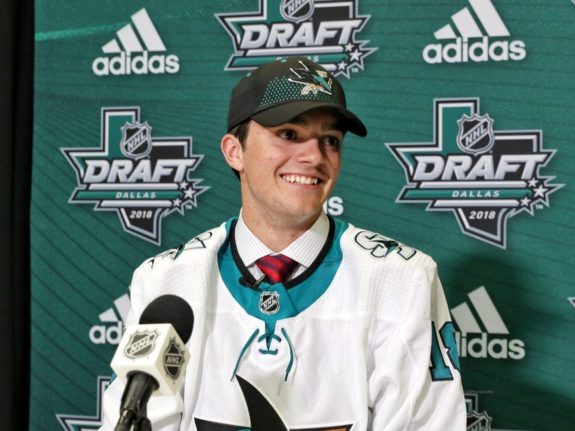 In Merkley's case, the Sharks need is not around the corner. The Sharks defensive group is a good one and they really have one need on there – they need Brent Burns to rediscover his all-around game.
Assessment: there are no near-term NHL challenges for Merkley to address. He just needs to get better in the areas he is deficient or troubled. As the Sharks core group ages (Burns along with Marc-Edouard Vlasic and Justin Braun), Merkely will get his chance. But it won't be until he is in his twenties, three seasons from now. Perhaps more. There is no point in rushing him along. It may take five years, perhaps more, for a verdict on the risk taken with Merkley.
The Sharks Rewards?
Historically, the Sharks have not been shy about taking on some risk. But generally, its been measured. They've avoided taking on major risks. For years, Wilson signed players to shorter deals in order to limit the downside risk of a deal gone bad. There have been few major free agents (Paul Martin is his biggest free agent signing). He traded for Raffi Torres and signed John Scott. But these were not big swings. A miss doesn't torpedo the team, a hit doesn't lift it to Stanley Cup champion.
Wilson's recent moves are bigger and bolder. If the Sharks are rewarded, these players will make the team better now and well into the future.
Zeke's Notes
• It is worth noting, there is a tie-in between Merkley and Tavares. They share the same representation, CAA's J. P. Barry. On CAA's website, they list many players they represent, none are currently with the Sharks.
• In a draft day interview, Merkley stated he sees a psychologist to help him with his issues. I'm reluctant to include this bit of information, but it has already been widely circulated (Merkley credited the aforementioned Barry for advising him on this).
The world doesn't need to know if a 17-year-old is seeing a psychologist. It is entirely inappropriate for this to come up in public discussion, even if Merkley was the one who revealed it. Mental health challenges should be (mostly) off-limits. Especially for those who are minors.
• Five teams, in addition to the Sharks, are reportedly in on Tavares. This includes his current team, theNew York Islanders, plus the Tampa Bay Lightning, Toronto Maple Leafs, Dallas Stars and Vegas Golden Knights.
One might expect Tavares to consider each team's need for his abilities. Of these teams, only San Jose has a void at the top center spot and is the best fit for Tavares on this front.
One might also expect him to take a close look at the sorts of things which have held his Islanders teams back over the years. The Isles have had major issues with the quality of their defensive group and the ability of their goaltender to play big in critical games. The Sharks arguably have the best defensive group among these teams. And goalie Martin Jones .926 postseason save percentage is just a shade behind Ben Bishop's .927 for best among the group.
Against the criteria one might expect Tavares to use, the Sharks fare extremely well.
• The deal which saw Hoffman come and go from San Jose in a matter of hours also resulted in the Sharks parting company with Mikkel Boedker. Hoffman came to the Sharks, who quickly traded him to the Panthers. The Senators likely balked at dealing Hoffman directly to a division rival. So Wilson got involved and collected what amounts to a commission on the deal.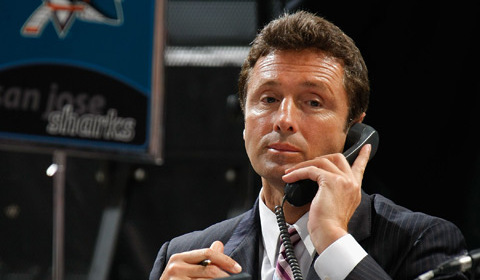 This isn't the first time Wilson has been in on a deal where a trade runs through a third party to avoid an intra-division trade. He acquired goalie Martin Jones in a similar, indirect manner from Los Angeles. Jones was briefly in the fold of the Boston Bruins before San Jose acquired him.
• Former Sharks forward Ryane Clowe has his first head coaching job with the newly formed Newfoundland Growlers of the ECHL. Clowe is a Newfie from the small town of Fermeuse. The Growlers are part of the Toronto Maple Leafs organization. He previously worked as an assistant with the New Jersey Devils.
• In St. Thomas, Ontario, the city council renamed the local community center (or in this case centre) with its skating rink after hometown legend Joe Thornton. Thornton visited the rink this past weekend, skating out onto the ice with several kids from the community.
• Speaking of Thornton and draft issues, it is traditional for the first round draft pick to don a team jersey with the draft year on it. Merkley donned a Sharks jersey with 18 on it. Next season, first round picks will don a team jersey with 19 on it. For San Jose, this is Thornton's number. There is no doubt Thornton's number will be retired when the time comes. Does this mean someone else will get to wear a Sharks 19 jersey on draft day? Probably not; the Sharks don't have a first round pick next season.