It's been said many times by now that the 1989 draft was a game-changer for the Wings. Like any draft, there were many players who were never utilized or that were missed out on. Unfortunate casualties to last-minute decisions, often quality players are passed over. Though 1989 held many players worth their weight in gold for the Wings, one seemingly missed opportunity stands out. Detroit passed over Russian skater Pavel Bure in the fifth round in favor of Shawn McCosh. Bure was left available for Vancouver in Round 6 while Detroit selected Dallas Drake 116th overall. Did Detroit miss out by not selecting Bure sooner?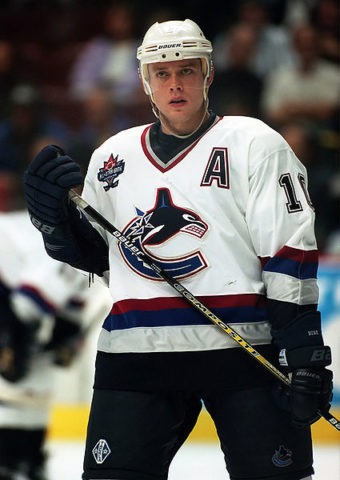 After being selected by Vancouver, Bure finished out his tenure in Moscow, tallying as many points as he had games. Bure joined the Canucks in 1991 and wasted no time in finding his NHL legs, racking up 60 points in 65 games. He appeared in Vancouver's postseason playoff run the same year and netted 10 points in 13 games. The following two seasons were increasingly successful for the young Russian. Bure earned more than 100 points in two consecutive seasons and appeared in back-to-back playoff runs prior to the 1994-95 NHL lockout.
Bure returned to Russia during the lockout but later came back refreshed and ready for more time with the Canucks. Nicknamed "The Russian Rocket," Bure continued the point streak with the power that earned him the name. He averaged a point or more a game until moving to the Florida Panthers following the 1997-98 season. Bure did not disappoint the Panthers. Staying true to form, he earned about a point a game. He tallied more than 90 points in two consecutive seasons.
Pavel Bure Brings Hall-of-Fame Career to a Close
Pavel finished his career with the New York Rangers. Though not as glistening of a finish as his previous seasons would suggest, Bure still was leagues beyond the rest. In only 12 games with New York in the 2001-02 season, he recorded 20 points. In his final season, The Rocket finished strong in the 39 games he played, earning 30 points. Throughout his career, he totaled 779 points in 702-regular season games and 70 points in 64 playoff games.
Clearly, by the numbers, Bure was one to be chased but never caught. Vancouver found a diamond and utilized his ability as soon as they were able. He had immense speed on his side and a skillful fire when playing. Injuries sped up his retirement, but Bure's NHL success is inarguable. He was inducted into the Hockey Hall of Fame shortly after his career officially came to a close.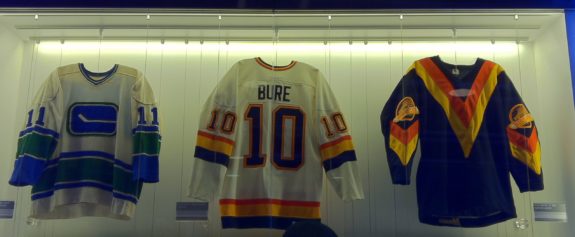 Though the Wings got some promising picks in the 1989 Entry Draft, some might say they missed on Bure. Detroit had already selected one Russian, Sergei Fedorov, so perhaps they weren't prepared to take on the responsibility of another junior Russian, which were hard to come by legally at the time. Backpedaling a bit, the Wings selected Dallas Drake in the sixth round after Bure was snatched up. Was it worth it?
Red Wings Miss Bure But Get Dallas Drake
Dallas Drake has a significantly less glamorous track record than Bure. However, the scrappy winger came in handy and was consistent. Prior to the draft, Drake had committed to Northern Michigan University, where he spent 1988-92. Continuously improving his record throughout his college years, Drake finished with 83 points in 40 games in the 1991-92 season.
After graduating in 1992, Drake was called to Detroit to begin his NHL career. Appearing in 72 games, Drake accumulated 44 points his rookie season along with 93 penalty minutes. Only being six feet tall, Drake established himself as a fiery opponent early on. Despite his rookie success, the 1993-94 season found Drake, only in his second season, going through a whirlwind of change.
His season began with the Adirondack Red Wings, Detroit's AHL affiliate at the time. Only skating in one game, he was called back to Detroit and appeared in 47 games. That March, the Wings traded Drake to the Winnipeg Jets along with Tim Cheveldae in exchange for Sergei Bautin and Bob Essensa. Drake played the remainder of the season in Winnipeg, only appearing in 15 games. Not many players end up being "lifers" with one team, and Drake was part of the vast majority who floated around teams. Serving several seasons for each team, his consistent production remained more or less unhindered.
Drake Returns to Wings for Stanley Cup Run
Drake's development with Winnipeg, Phoenix, and St. Louis up until 2007 saw him maintain his physical play while still putting up points. After being put on waivers by St.Louis at the end of the 2006 season, Detroit saw some grit left in the winger and signed him to a one-year deal. Having the building blocks for a stellar 2007-08 season, Detroit was looking to stack its existing grit. Having had 15 prior seasons in the NHL, Drake was more than willing to come back for one more whack at the Cup. It was almost serendipitous that it was with the team that gave him his first chance.
Drake became a driving force on the fourth line throughout the regular season and postseason. Honing in his previous seasons of Cup frustrations, Drake was a valuable body to have on the ice. Strong for his size, he was able to break up lines and often made multiple big hits per shift. Though he did not score much (four points in 22 postseason games) his physical work was what the Wings needed to power through the playoffs. Drake established himself as a much-need physical presence and played with a consistent level of intensity night after night. His hard work paid off when Detroit beat the Pittsburgh Penguins for the Stanley Cup.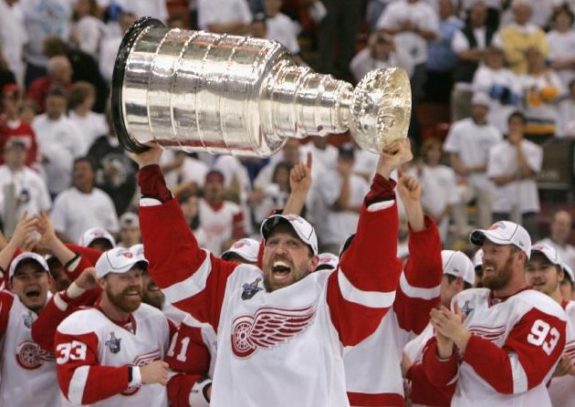 Better Than Bure?
Drake didn't have the intense, high-scoring record that Bure did, but his consistent health enabled him to skate in over 1,000 regular season games whereas Bure's career was cut short due to injury. Bure played in the Stanley Cup Final once in his career, but Drake was the one coming out on top and hoisting the Stanley Cup.
In the end, Detroit passing over Bure could have been a hindrance throughout the regular seasons. However, with Drake returning to Detroit for his final season, he proved to be an added spark that pushed them through the Final. In light of the hard work finally paying off, Dallas received the high honor of the Stanley Cup hand-off from Captain Nicklas Lidstrom.
Drake recalled the moment, saying, "It meant an awful lot to me that the guys let me go grab it next."
In hindsight, Bure was a phenomenal hockey player; no one can deny that. Choosing to pass him up could be seen as a fatal flaw, but the initial relationship built with Drake, as a result, came back to benefit the Red Wings organization. He didn't have the glitz or flair that Bure did, but when it all comes down to it, he was the one holding the Cup in the end. I wouldn't consider it a "draft mistake" on Detroit's part. Bure would have been an excellent addition to Detroit's rebuild, but Drake's long-term consistency came back to benefit the Wings at a critical time. The return Drake ended up bringing to Detroit, even years later, proved to be worth the wait.