In about two weeks, New York Islanders center John Tavares might hit the open market. If he makes it to free agency, he'll be the best player to hit the open market in a very long time. While he doesn't become a free agent until July 1, he can start listening to other offers before then, which means every team in the league is finalizing their sales pitch, including the San Jose Sharks. I'd imagine the team's pitch goes something like this …
You're Not Staying With the Isles …
We all know, John, that you're not falling for the sales pitch of 75-year-old Lou Lamoriello. Maybe he'll upgrade the goalie position with 35-year-old Pekka Rinne. And you might even get a winger in 35-year-old Ilya Kovalchuk. But no way you're signing an eight-year deal with a crew which won't be there for long. You don't even know who your GM or coach are going to be.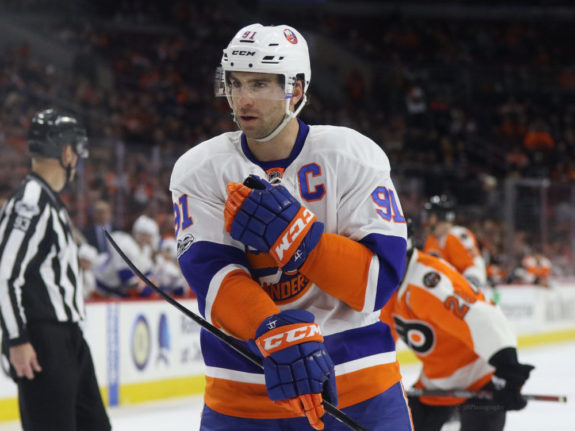 The last thing you need is an organization in transition which is rebuilding for the short term. Not in the toughest division in the league. Lou doesn't need a longer-term vision because, well, he's 75. He won't be there for the longer term. So why would you?
What you need, John, is an organization where players are excited to play, excited to live and excited about the realistic opportunity to go far in the playoffs. A place where excellence is sustained, year after year.
The Sharks' Team Fit
Yeah, we know, the San Jose Sharks aren't the only franchise who can offer all this and also pay you competitively, but there aren't many others who can make all these claims.
This list gets even slimmer when you look for a good team in need of a top-line center. See John, San Jose has had this one guy who's been holding down the top spot for a dozen years. You've heard of him; he's got more NHL points than any other active player. But alas, he's no longer the right fit for the top-line role and, well, you can slip into those Jumbo skates and they sure would look good on you. You don't even need to grow a beard, though you can if you want.
The Sharks' Competition
You'll have the opportunity to play in the division with elite centers (Ryan Getzlaf and Anze Kopitar) while your games against Connor McDavid are going to be must-see television all over the hockey world. You'll be the centerpiece for great matchups.
While the division is pretty good, it won't be quite as challenging to make the playoffs as it is in your current division or in the Central. You could try the NHL's Atlantic Division, but every good team there already has a top-line center.
Sure, there are some other sweet benefits. We'd advertise the weather, but hey, you've been here. Not many places in the world can compete with San Jose. And you'll no doubt be the Sharks' All-Star representative next season. Whoever you're competing against in that game, it'll be on your home ice. Because for you John, the 2019 All-Star Game is going to be a home game. The last time the Sharks hosted the game, our All-Star had a really good day.
The Sharks' Opportunity
You know this is a talented team. It's not just one or two good players, but quality across the roster. Excellent forward depth, three strong defensive pairs and yes, a really good goalie, too.
We're a perfect fit on a bunch of levels, John, but there's one more thing which matters. And we think it matters a lot.
San Jose's Canadian Connection
John, take a look at our history with Canadian players. Not just good players, but very good players and even elite players.
You're a great Canadian hockey player, so what's it been like for other great Canadian hockey players living in San Jose and playing for the Sharks? We can start with Joe Thornton. You'll get to play with the living legend and best beard of any teammate you'll ever have. But Thornton, who openly says he bleeds teal, is just the start.
Logan Couture, Marc-Edouard Vlasic, Martin Jones and Brent Burns are among the Canadians who've found happy homes in San Jose and are on our current roster. You remember the day you became eligible to sign a new deal? It was all the way back on July 1, 2017. We had a couple guys who became eligible to sign a new deal that day, too: Vlasic and Jones. Their deals were inked within hours of being eligible to get done. Not days, not weeks, not months. First chance they had, they chose San Jose.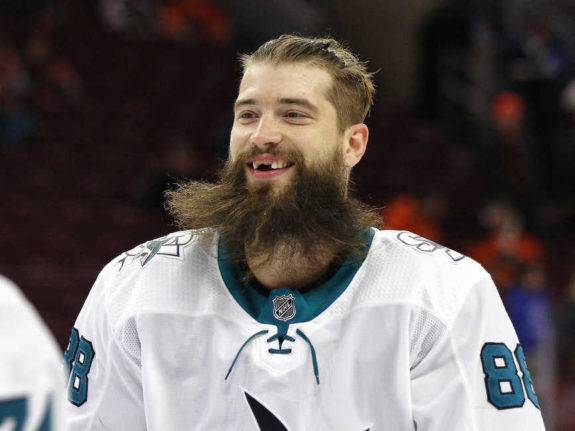 Canadians who recently retired to the area include Scott Hannan, Jonathan Cheechoo and Dan Boyle. Boyle explained why he returned to the area after calling it a career. And he used the word "love" five times. These fine Canadian players all stayed here after they were done playing because they like the team and the community.
Yes, we know Patrick Marleau left town (for what is, by far, the largest deal ever offered to a 38-year old in league history). But he spent 20 years in the area and it's the longest tenure with one team of any active player. Plus, when he calls it a career, he'll also return here to live.
Do San Jose fans still appreciate Marleau, even after he left? Of course they do. Lots of love for him in his return to the Shark Tank. But the Sharks did beat him that game. We're sentimental, but not to a fault.
John, you gotta admit, that's an impressive list of Canadians who've come to call San Jose home.
See John, other teams can offer you big money, and we can too. Other teams are good and are Stanley Cup contenders. And we're right there. Heck, our centers could be yourself, Joe Thornton, Joe Pavelski and Logan Couture. You know what that means? Did you just drool? Yeah, we did a little bit, too. But I digress.
Getting Tavares to Yes
John, on all the major fronts, we're competitive. San Jose offers great hockey in a great atmosphere. We've got the cap space to pay you competitively. But this is about something more. San Jose also offers a great place to live. A place where several of your fellow countrymen are still playing after many years, often after re-signing several contracts. And once playing days are over, this is a place many continue to call home.
We're not particular about where you sign your deal. Heck, you can sign the deal while mowing your lawn. It wouldn't be the first time its been done.
Client Joe Thornton, who turns 38 today, signing new 1 year contract with a total value of $8 million. Happy Birthday Jumbo! @SanJoseSharks pic.twitter.com/MzDU8ovEgp

— Top Shelf Sports Management Inc. (@Topshelf_TSSM) July 3, 2017
When you look at it from every angle, San Jose is the one place which really does have it all. Guys like you come here because they really appreciate it here. They've had great success here, just not quite the final wins needed for the Stanley Cup. You're the difference.
Sharks' Benefits
John, you don't have to call your hat-trick shot at the All-Star game or have a beard like Chewbacca or sign contracts while wearing sandals and sitting on a riding mower. You also don't need to be a detective to figure this one out, though if you need one, Joe Pavelski's got some experience on this front. And in San Jose, your holiday sweater is always welcome. There's a lot of great fun in this town, and a lot of great hockey.
Here's the bottom line. In San Jose, you'll be joining a good, deep team. A team that can win playoff series and has a good chance to hoist the Stanley Cup.
But this is also a place that a lot of very talented Canadian hockey players call home. A team where good players sign and re-sign and re-sign again. Where they come to play and come to live. It's a fit on and off the ice.
Welcome to town, John. Welcome home!