The 2018 NHL Entry Draft in Dallas, Texas, has come to an end, and despite speculation, the New York Islanders held onto all eight of their draft picks.
The speculation prior arose for numerous reasons. The team lacks a number one goaltender and could use an upgrade on defense. With picks number 11 and 12 overall and two more selections (41 and 43) in the second-round, it seemed inevitable that the Islanders dealt at least one pick away.
However, as the draft went on, the team stayed put as players like Oliver Wahlstrom, Noah Dobson, and Bode Wilde landed right into their lap.
In fact, now that it is all said and done, the Islanders appear to be the 'winners' of the draft but of course, time will tell.
Oliver Wahlstrom
In many mock drafts, Oliver Wahlstrom was projected to go somewhere around sixth overall. Yet, some off-the-board selections including Jesperi Kotkaniemi going third overall to the Montreal Canadiens and Barrett Hayton going fifth overall to the Arizona Coyotes, Wahlstrom was the best player available with two picks to go before the Islanders' turn. Wahlstrom looked poised to become a New York Ranger. But instead, the team surprisingly took Vitali Kravtsov and watched their cross-town rivals select Wahlstrom two picks later. The Edmonton Oilers selected right before the Isles and in desperate need for defensemen, they took Evan Bouchard.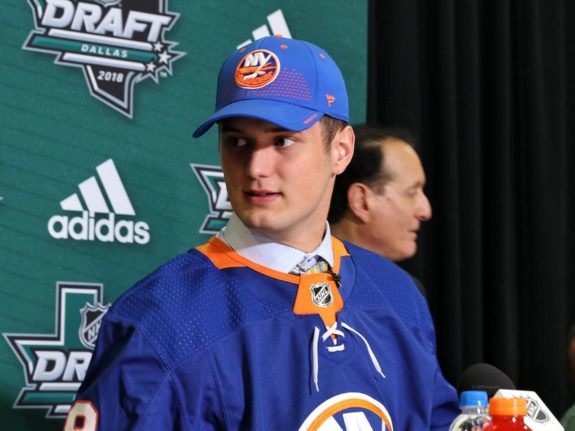 Wahlstrom is considered by many to be the best pure goal scorer in the draft. In 62 games the United States National Team Development Program (NTDP), the Boston College commit scored 48 goals and 94 points. At the under-18s, Wahlstrom scored at a goal-per-game pace with seven goals in seven games and added two assists as well.
Noah Dobson
Right after selecting Wahlstrom the Islanders were back on the clock and used their next pick to draft defenseman Noah Dobson. Dobson, projected no worse than a top 10 pick in many mock drafts, is fresh off a Memorial Cup with Acadie-Bathurst Titan. In 67 regular-season games, the defenseman scored 17 goals and 69 points with a plus-33 rating. During the playoffs, he scored three goals and 13 points through 20 games en route to the Memorial Cup.
First-Round Recap
After the first round, the Isles' president and general manager, Lou Lamoriello, spoke to the media regarding how the night went.
"I don't think we can be more delighted," Lamoriello told Andrew Gross of Newsday following the first-round. "You have to feel extremely good. Both are exceptional players. I don't think you don't ever not make a trade if it's going to make your team better. Obviously, that didn't happen. But when you see a player like these players there, you feel very good because they're outstanding prospects."
Before the night had officially begun, the Colorado Avalanche acquired goaltender Philipp Grubauer (and defenseman Brooks Orpik) from the Washington Capitals in exchange for the 47th overall pick in the draft. The Islanders were reportedly involved in discussions for Grubauer as the team continues to search for a number one goaltender but nothing ever truly materialized. The Capitals were perhaps hesitant to trade Grubauer within their own division and more importantly, the Islanders were not willing to take on the cap hit of Orpik or give up one of their two first-round picks.
"I don't think we need to come away these two days with anything," Lamoriello told Andrew Gross of Newsday. "But we are looking for a goalie, absolutely. I think we have quite a bit of time to get that done."
Bode Wilde
On the second and final day of the draft, the Islanders held six picks including two in the second round. At 41 they happily picked up Bode Wilde out of the United States National Team Development Program. The defenseman was seen as a mid-to-late first-rounder but somehow slipped to 41 where the Isles once again pounced on the opportunity. Wilde was committed to the University of Michigan but, according to Arthur Staple of The Athletic, will instead head to the OHL next season – The Saginaw Spirit currently own his OHL rights.
The 6'4″ defenseman registered 12 goals and 41 points in 61 games with NTDP this past season after scoring eight goals and 19 points the season prior.
Ruslan Iskhakov
One pick later the Islanders were back on the clock for selection number 43 and used it to draft Ruslan Iskhakov. Spending last season overseas in Russia with Krasnaya Armiya Moskva of the MHL, Iskhakov scored six goals and 30 points in 33 games. In international competition, the 5'9″ center had 21 points in 24 games. He is committed to play college hockey at the University of Connecticut (UCONN) next season.
Jakub Skarek
In the third-round, the team selected goaltender Jakub Skarek 72nd overall. The fourth goalie to be taken in the draft, Skarek split the season between two teams in the Czech Republic. With HC Dukla Jihlava he played 21 games with a 2.41 goals against average (GAA) and a .913 save percentage (Sv%). In a 10 game stint with HC Stadion Litomerice, the 6'3″ netminder put up an impressive 1.90 GAA and a .942 Sv%. Next season he is expected to head over to Finland and play for the Pelicans in Liiga.
Jacob Pivonka
At pick number 103 in round number four, the Isles selected Jacob Pivonka out of the United States National Team Development Program. Pivonka, the third NTDP player the Isles selected in the draft, will play college hockey at the University of Notre Dame next season after an eight goal, 20 point campaign with NTDP. His father, Michal, played 13 seasons in the NHL, all with the Capitals. In 825 regular-season games, Michal scored 181 goals and 599 points with an additional 55 points in 95 playoff games.
Blade Jenkins
The Islanders used their fifth-round selection, 134th overall, on Blade Jenkins. Jenkins put up 20 goals and 44 points through 68 games with the Saginaw Spirit of the OHL and could see fellow Isles draftee Wilde join him next season.
Christian Krygier
The final pick in the draft for the Islanders came in round-seven and the Islanders used it select Christian Krygier 186th overall. The 6'2″ defenseman only had eight points (all assists) through 48 games with the Lincoln Stars of the USHL last season but was a +10 with 137 penalty minutes. He will play his college hockey at Michigan State University next season.
His father, Todd, played in 543 NHL games split between the Hartford Whalers, Capitals, and Mighty Ducks of Anaheim, scoring 100 goals and 243 points.
John Tavares Sweepstakes
Everything has been looking pretty good on Long Island/in Brooklyn this past month and a half. Lou Lamoriello was hired to be the team's president of hockey operations and he has since done wonders for the organization. He has relieved former general manager Garth Snow and head coach Doug Weight of their duties, named himself the new general manager, and hired Barry Trotz – fresh off a Stanley Cup victory and with 19 seasons of NHL coaching experience – to be the team's newest bench boss.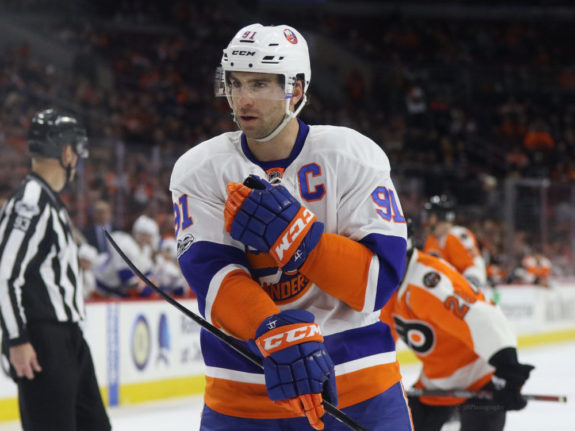 And after a stellar inaugural draft with the team, the focus now shifts to their captain and franchise player, John Tavares. If a new deal isn't reached by July 1, Tavares will become a free agent which, obviously, would be a devastating loss for the Islanders especially considering their recent culture change, all in an effort to win now.
As of yesterday, according to Pierre LeBrun of TSN, the team was notified that Tavares will hear pitches from five other NHL teams starting Monday. While not confirmed, it appears that the Toronto Maple Leafs, San Jose Sharks, and Dallas Stars are among the five teams meeting with Tavares in Los Angeles, where the agency that represents him, CAA, has their headquarters. The Vegas Golden Knights and Tampa Bay Lightning might be the other two.
As mentioned in here from last night, Tavares' list of visitors on Monday/Tuesday will almost certainly include TOR, SJ and DAL. TBL may be in there too. LAK, after signing Kovalchuk, likely out. Perhaps VGK gets in there. https://t.co/pIe8CyCKwz

— Arthur Staple (@StapeAthletic) June 23, 2018
Despite this, Staple gets the feeling that Tavares will remain with the team that drafted him first overall in 2009, saying that "just about everyone around the league" feels this way.
In fact, according to David Pagnotta of The Fourth Period, the Islanders have given Tavares their first formal contract extension offer, an eight-year deal worth $88 million ($11 million AAV).
It's been an eventful and very successful offseason for the Islanders thus far but as the countdown to July 1 continues, the fans and the organization will continue to hold their breath as they await Tavares' decision.