The Buffalo Sabres 2018-19 season may only be three games old, but Carter Hutton has already saved it from starting out as a complete disaster. He's not only won two games, he's quickly won over a fanbase.
Through three games, the Sabres now have two wins and a loss. It marks the first time since the lockout-shortened 2013 season they've had a win percentage above .500. Add them up and it's been a total of 457 games since the team has had a winning record.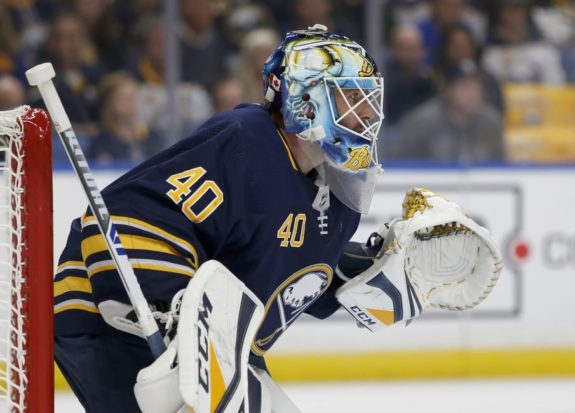 Hutton has been Buffalo's best player thus far and has already paid dividends for general manager Jason Botterill, who inked Hutton to a three-year, $8.25 million contract on July 1.
Hutton Makes More Than a Save
In the past few years, when Sabres' opponents come in on breakaways, it's almost a forgone conclusion that the red light will soon be turned on. It's caused nightmares for fans. That's quickly changing, though – Hutton has stopped many of them, including a rarely seen 3-on-0 rush by the New York Rangers in their second game.
Related: Sabres Find Stability With Hutton
Things fell apart when Sabres forward Tage Thompson attempted to skate the puck out the Buffalo zone. Blueliners Casey Nelson and Nathan Beaulieu headed up ice as well, ahead of the puck. In the blink of an eye, the puck was picked clean and the Rangers' Jesper Fast, Brett Howden and Ryan Spooner went in, all alone, on Hutton.
"I don't know if I can say what exactly was going through my head there," said Hutton. "It might not be allowed on the air. It was one of those ones where you look up and go, 'Oh, dear.' I just tried to be patient on it."
Hutton says he's not allowed to say on-air what was going through his head as the Rangers stormed down the ice with a 3-on-0. As the season moves along he's going to become a fan favorite, especially if he keeps playing well #Sabres @WKBW pic.twitter.com/67bgOCKp1F

— Matthew Bové (@Matt_Bove) October 7, 2018
It was more than a huge highlight reel save. After dropping their season opener at home to the Boston Bruins in front of a sellout crowd, the save was a giant sigh of relief and fist-pumping moment for the team's win-starved, 'here we go again' fragile fan base. It was even more meaningful for Hutton's teammates, who praised him afterward.
"Our goalie was our best player tonight," said Captain Jack Eichel. "Credit to [Hutton]. I thought he was tremendous."
Jack Eichel sealed the game with an empty-netter after blocking a big shot in the #Sabres zone. After the game, he had some fun with @pham1717 & said it's good to see they can win games even when they don't play their best @WKBW pic.twitter.com/kuLkQAwrNn

— Matthew Bové (@Matt_Bove) October 7, 2018
Notching the win was even bigger, for fans and the organization.
When Hutton Talks, People Listen
Hutton is a vocal, well-spoken athlete. He's meticulous, engaging and his calm demeanor and candid nature oozes experience while breathing confidence into his teammates. He isn't shy about voicing his opinions after a game.
"Your goalie's back there and he's bailing you out like that, it gives you confidence," said Thompson. "He's just security. He's fun to watch. He's so calm in net. Even when things get a little crazy out there, he's steady back there."
Hutton has been just as advertised; a calming presence able to make a timely save. He finished the game against the Rangers, getting his first win as a Sabre as well as the team's first win of the season. He was phenomenal–not only stopping the shots he was supposed to, but also stifling a handful of really tough ones. He made 43 saves in total.
Related: Buffalo Sabres Benchmarks for the Season
The Rangers had 68 shot attempts and a lopsided 44-29 edge in shots on goal. It was a classic Hasek-like game in which the Sabres were outplayed but came away with a win.
"There's obviously a lot of pressure that comes with our position, our sport," said Hutton. "But I don't try to really overthink it. I just have fun with it."
Another Good Knight
After outdueling the Rangers Henrik Lundqvist, Hutton notched his second consecutive victory, getting the best of three-time Stanley Cup Champion Marc-Andre Fleury. It was lights out, Knights out.
He turned away 35 shots in another solid outing, this time against the Vegas Golden Knights in Monday's matinee in downtown Buffalo. The Sabres were outshot 37-17 and out-attempted by an even greater margin, but prevailed in a 4-2 victory. Hutton came up with big saves when the team needed them.
Hutton Is Making Saves and Building Trust
We're now just three games into an 82-game season, but Hutton's calm demeanor and controlled play have been a gleaming bright spot for the Sabres. His 2.06 goals-against average and .943 save percentage are impressive statistics. His stickhandling and zone-exit clearing passes are icing on the cake.
Related: Captain Jack Begins New Sabres Era
Hutton is relaxed, likeable, professional, and commanding respect of teammates and fans by his impressive play. And he's giving the rebuilding Sabres a chance in every game.
This young Sabres team will make a lot of mistakes. After all, the roster has more than seven players who have yet to reach their 24th birthday and are still getting accustomed to life in the NHL. That said, the team has yet to play their best game and they've come away with hard-won victories. Much of that success rests with netminder Carter Hutton.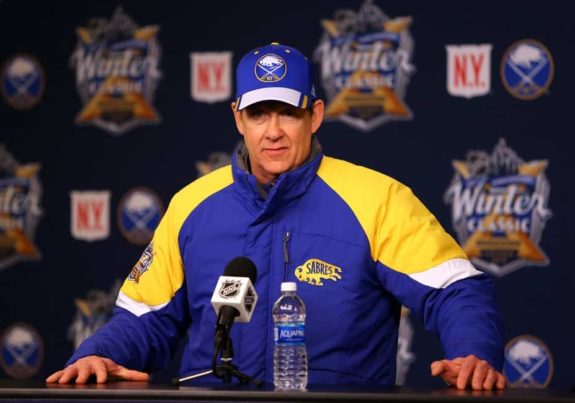 After serving as a backup goalie in his first five seasons, Hutton is leading the charge for the Sabres. "When he's playing, he's a really focused individual," said head coach Phil Housley. "It says a lot about him and his work ethic to get to where he's gotten."
"He's a very good veteran and he says the right things in the room," added Housley. "He's a very likable guy. But at the same time, he says what's on his chest. It doesn't matter if you're a veteran or rookie, he's just going to leave it out there. I think the guys respect that. He's provided us with some very good leadership."
Jeff has been covering the NHL for over a decade for various sites. He's been with The Hockey Writers as a lead Sabres writer three years, while also writing a satire column called "Off the Crossbar."