When Jake McCabe fell to the ice and grabbed his right leg, he may have also been letting go of his time with the Buffalo Sabres.
The alternate captain clutched Cody Eakin and Kyle Okposo as he coasted off the ice and hobbled to the dressing room during the third period of his team's Saturday's matinee with the New Jersey Devils.
McCabe Could Be Out for the Season
One of the few bright spots on an underperforming roster, McCabe is out for the season.
"I'm very concerned. … It rips my heart out to see what Jake has gone through, also coming off the Covid battle," said glass-is-always-half-full head coach Ralph Krueger. "… There's a big, big ache in my heart right now."
It looked pretty harmless in real-time. But looking at the replay, it's far from anything pretty. McCabe's leg buckled under Nico Hishier as he slid into the wall, bending in a way legs aren't meant to bend. The veteran had an MRI today in Buffalo that revealed a torn ACL, MCL and meniscus in his right knee. But it didn't take X-ray vision to know there was some serious damage. The recovery time for the injury is expected to be six to eight months.
"I'll best honest with you, (I'm) not very optimistic about the diagnosis that'll come out of this, but let the medical team take a look at it and we'll give you a full report," Krueger said via a Zoom call. "The lower-body injury is serious."
Blue Line Feeling Blue
The Sabres defense is already down Rasmus Ristolainen, who is still recovering from COVID-19 and is suffering some serious cardiac complications.
"When there was chest pain, it felt like my heart was cracking as I walked up the stairs," Ristolainen told Ilta-Sanomat, according to a Google translation. "A couple of evenings there were such conditions when I went to bed that I didn't know if I woke up here anymore in the morning."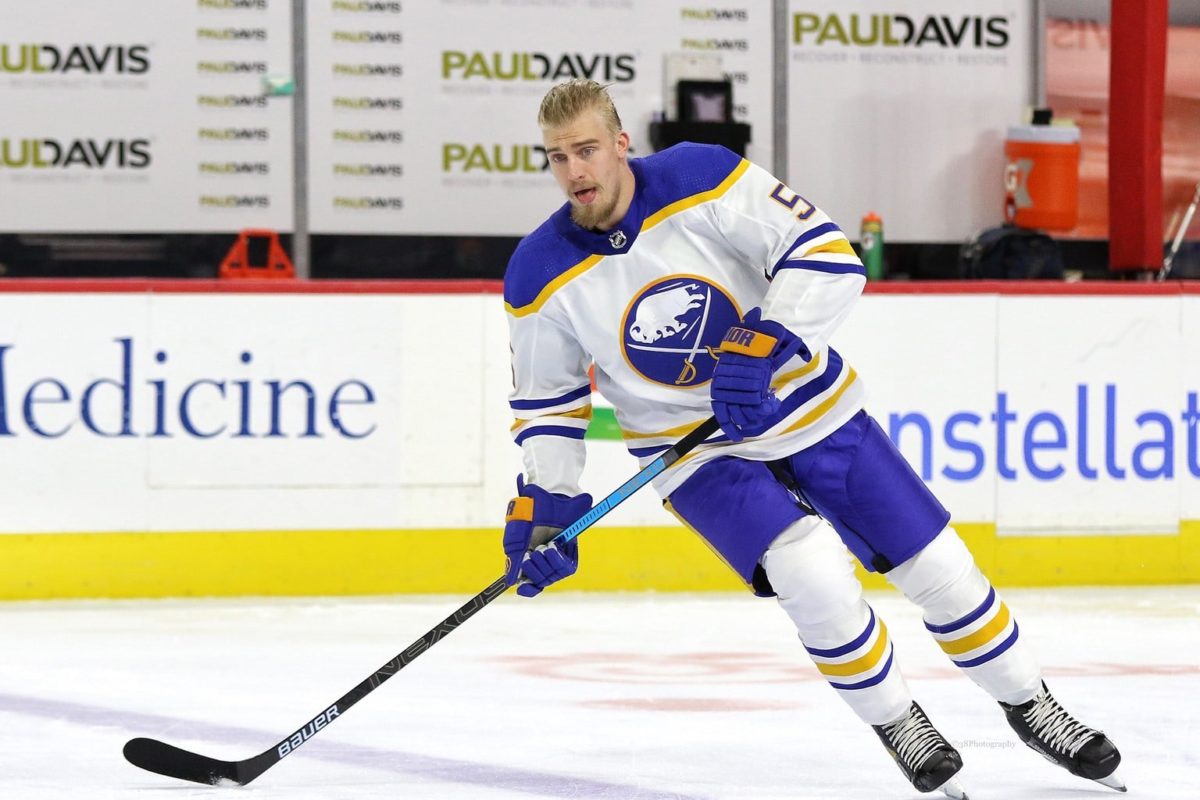 The 6-foot-4 Finn hasn't rejoined the Sabres, but according to the paper, has skated on his own. "I got a clean bill of health from doctors, but I'm physically at the moment so weak that this is still a long way to get to playing condition."
The tandem of Ristolainen and McCabe have been analytic darlings. They've both boast stong numbers; McCabe boasts a 62.0% xGF%, while Ristolainen sits at 56.2%.
Opportunity Knocks for Sabres Prospects
Injuries are unfortunate and part of the game, especially for a player in a contract year. McCabe is in the final season of a two-year, $5.7 million deal. He was having a solid start to the abbreviated season.
The pending unrestricted free agent's absence opens doors for other players to step up. Will Borgen, a 2015 fourth-round pick by the Sabres, was recently activated off the taxi squad and has looked good. Jacob Bryson and Brandon Davidson are both left-shot defensemen on the taxi squad. Mattias Samuelsson, another left-shot blueliner, is also in the prospect pool.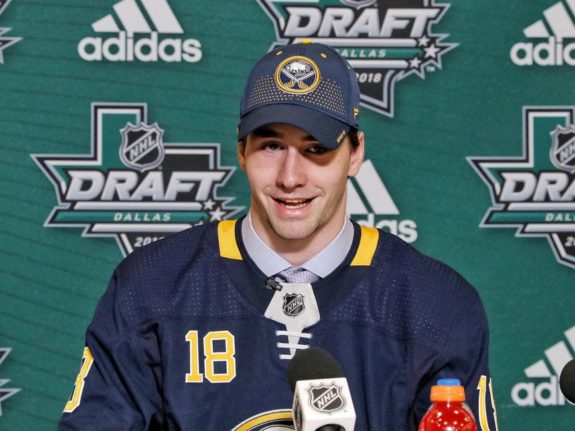 Bryson, drafted 99th overall in 2017, played 61 games for the Rochester Americans last season. Through five games this season, the 5-foot-9, 23-year-old Canadian is playing well while skating on the team's top pair. Bryson is strong positionally but does not have the same snarl or physicality that McCabe brings.
On the other hand, Samuelsson has a giant 6-foot-4, 223-pound frame. After playing two years at Western Michigan University, the Sabres' 2018 first-round pick made the jump to Rochester this season.
Looking ahead, they should try to re-sign McCabe at the right price, building out the team's left side along with Dahlin and either Bryson, Davidson or Samuelsson. He's already chipped in a goal and two assists in five games, with a plus/minus rating of plus-2.
Related: Sabres' McCabe and Ristolainen Pairing Has Been Really Good
Further down the pipeline is the Sabres' 2019 first-round pick (31st overall), left-shot defenseman Ryan Johnson. The sophomore Minnesota Golden Gopher could possibly be ready to join the Amerks next season.
Final Game in Blue and Gold?
McCabe is well respected in the locker room. "All the guys have a lot of respect for [McCabe] in that room," said teammate Kyle Okposo. "I don't know what the final prognosis is yet, but he's going to be a guy that's dearly missed on and off the ice. He does everything right. Blocks a lot of shots, he's there for guys, he's fought this year. I mean, he's just a high-character guy. He's gonna be missed."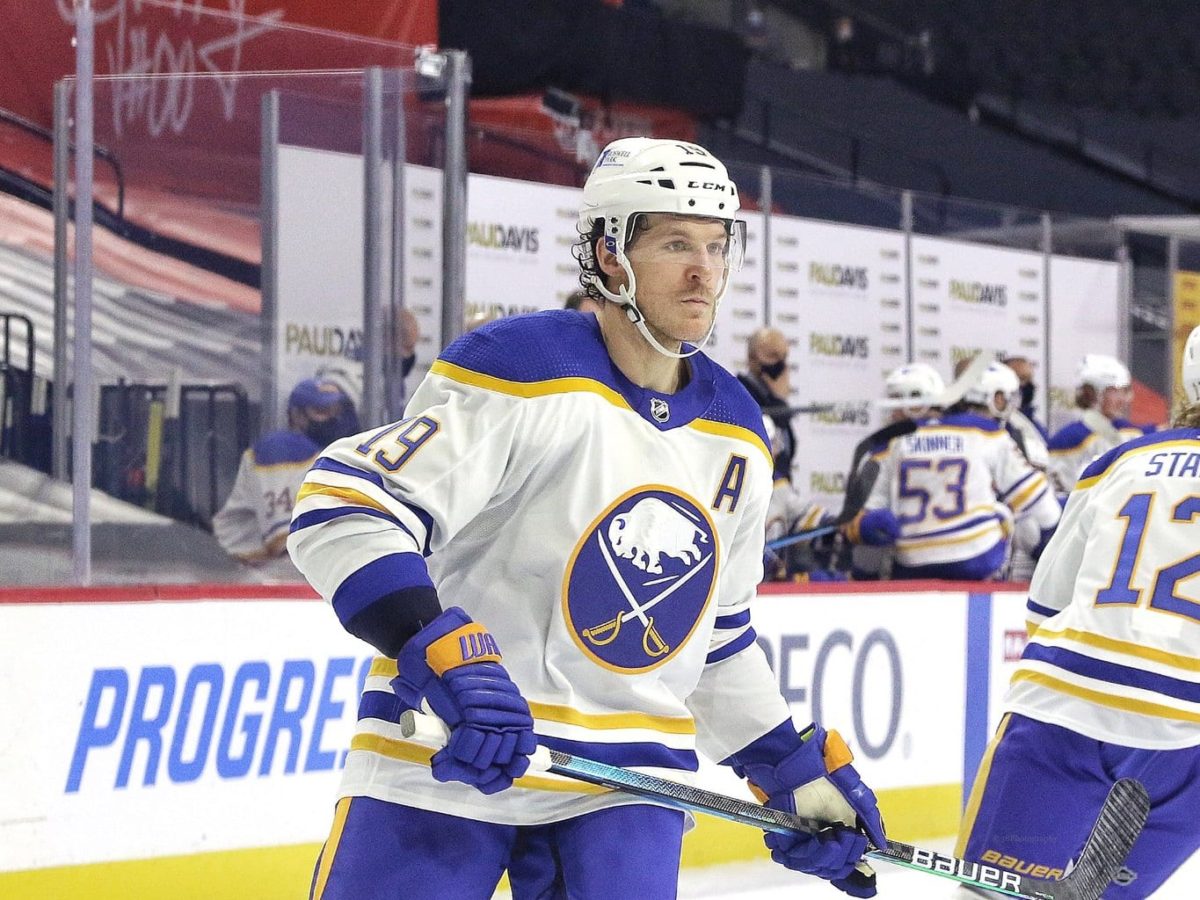 A 2012 second-round pick by the Sabres, McCabe has played parts of eight seasons in blue and gold. He's played 353 games for Buffalo, the second most of any Sabres blueliner (Ristolainen has played 503).
This season, McCabe was playing some of the best hockey of his career. He was averaging 19 minutes, 11 seconds per game.
If the Sabres can't sign him to an extension – he's due a raise of his underpriced $2.85 million – he'll join a congested blue line of unrestricted free agents that includes such notables as Alex Goligoski, Alec Martinez, Marc Staal and Jamie Oleksiak.
---
---
Jeff has been covering the NHL for over a decade for various sites. He's been with The Hockey Writers as a lead Sabres writer three years, while also writing a satire column called "Off the Crossbar."