After two tough losses, the Buffalo Sabres responded strongly by defeating the Tampa Bay Lightning 5-3. It was a chippy game that saw Jack Quinn, Jeff Skinner, Tage Thompson, Tyson Jost, and Vinnie Hinostroza score for Buffalo. With the win, the Sabres pushed their record to 32-25-4. That matches their win total from all of last season. In goal, Eric Comrie stopped 33 shots to take the win.
Related: Sabres News & Rumors: Cozens, Hinostroza, Stillman & Houser
---
Latest News & Highlights
---
What a nice response for the Sabres. They had been beaten soundly by the Columbus Blue Jackets and the Boston Bruins in their past two games, losing by a total score of 12-4. However, they played impressively against a Lightning team that was slumping so badly that head coach Jon Cooper saw the need to sit his top line during the third period. 
In this edition of Sabres News & Rumors, I'll take a look at some of the player news that emerged from the team. I'll also look at the chance they could make it to the postseason.
Item One: Eric Comrie Wins Fourth Game In a Row
Comrie had not been playing regularly with Ukko-Pekka Luukkonen and Craig Anderson handling most of the goaltending duties. However, when he has played he's been winning. Coming into Saturday night's game against the Lightning, he had won his previous three starts.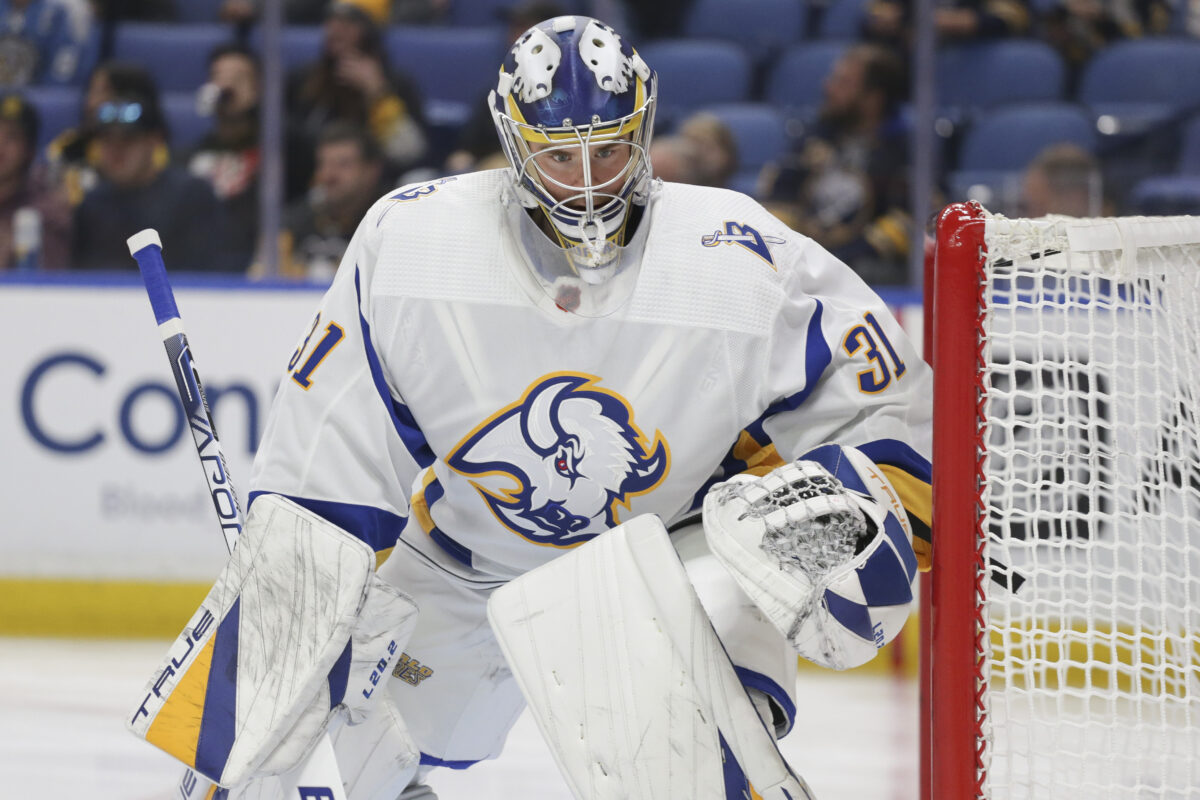 The truth is that those starts had taken place over the course of more than a month because, although Comrie had been winning games, his play had been a bit shaky. Coming into Saturday's game, he had a record of 7-8-0, with a 3.59 goals-against-average (GAA) and a .882 save percentage (SV%). Fortunately, he's received plenty of goal support.
Related: Sabres Are Rolling the Dice on Eric Comrie
Against the Lightning, Comrie stopped 33 of 36 shots to help lead his team to the 5-3 win. In doing so, he won his fourth straight dating back to Jan. 26. During that time span, he had allowed 13 goals with a .892 SV%. It's interesting that, for some reason, he receives strong offensive support even when his performances seem often less than up to par.
Item Two: Tage Thompson Continuing to Reach NHL Heights
No surprise this season that, once again, Thompson had a strong game in the win against the Lightning. His goal was scored on the man advantage, and he added an even-strength assist. 
Thompson's power-play goal came late in the first period when he fired a shot past Brian Elliott from the faceoff circle. Later in the second, he helped out on the game-winning goal when he set up rookie Jack Quinn with just 14 seconds remaining. It was Quinn's 12th goal of the season in 56 games.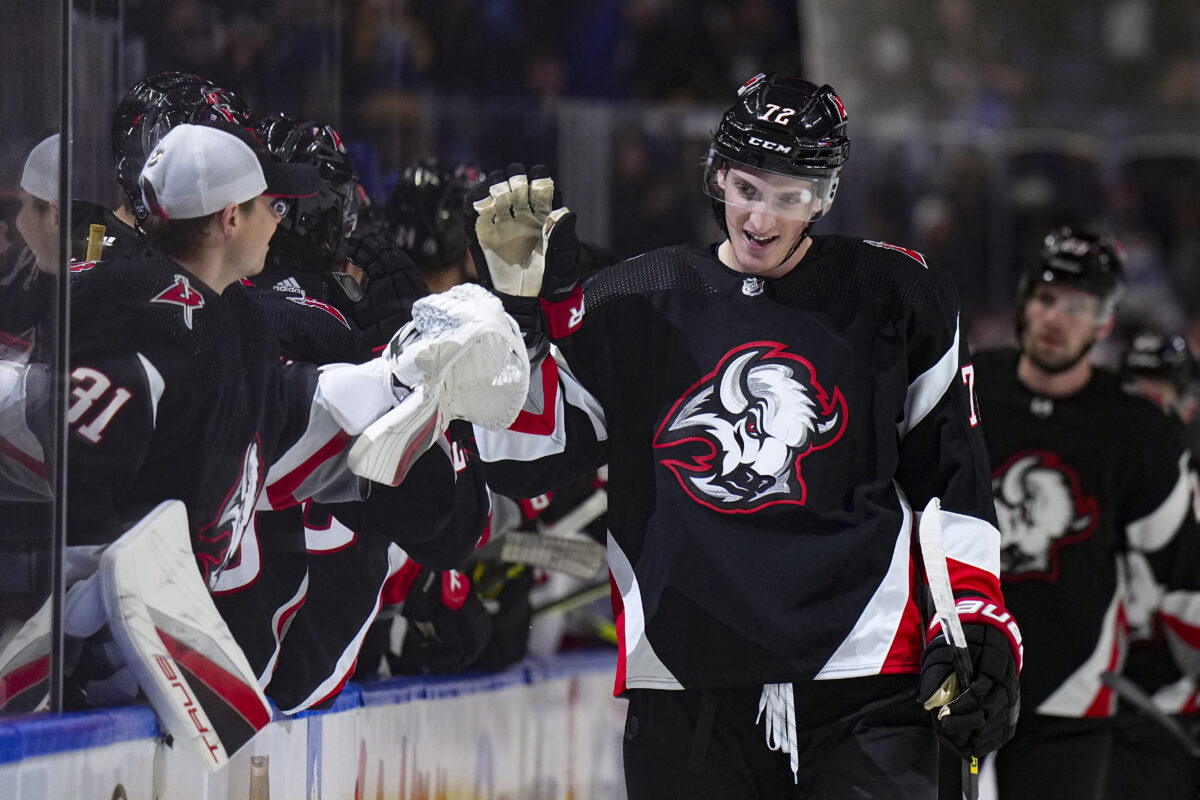 Thompson's been on a hot streak lately. He's scored seven goals and added six assists (for 13 points) in the last nine games. He currently has 42 goals and added 40 assists (for 82 points) on the season. 
Related: Sabres Embrace Team Chemistry Via Social Media
Remarkably, Thompson is now in third place in the NHL in goals (18 of them are on the power play). He trails only the amazing Connor McDavid and the Boston Bruins' David Pastrnak in goals. He's also in the top five in NHL points (trailing only McDavid, the Oilers' Leon Draisaitl, the Lightning's Nikita Kucherov, and Pastrnak). Such performances show how crucial Thompson is to the Sabres.
Item Three: Jeff Skinner Is Headed for Career Season
Jeff Skinner also is continuing his strong season. He scored a power-play goal and added an even-strength assist. His power-play goal came off a Tampa Bay turnover and was scored during a consecutive five-goal streak for the Sabres.
Like Thompson, Skinner's been on a hot streak. He's scored six goals in his last eight games and totaled 11 points in that span. On the season, he has now pushed his goal total to 26 and point total to 62. He's played in 58 games.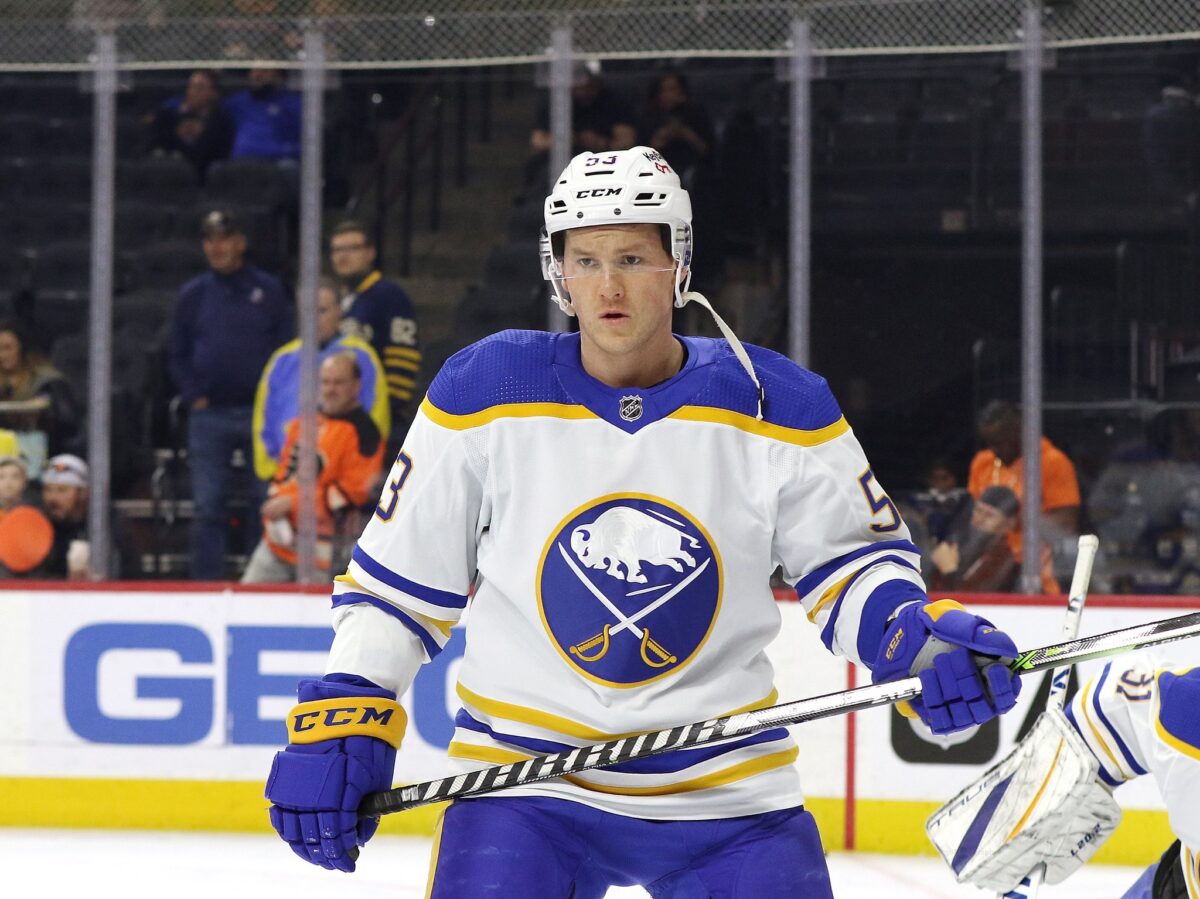 Talk about a consistent point-producer, Skinner has put up 63 points four times already in his career. One more point this season, and he'll hit that career-high again. Sabres' fans should count on him to fly past that threshold very soon.
What's Next for the Sabres?
In my youth, I grew up near Buffalo. The Sabres of the late 1950s and early 1960s were the team I watched with my Dad. I'm a huge French Connection fan. I'm pleased to begin contributing to the strong Sabres' writing team at The Hockey Writers.
I'm predicting that the Sabres, although they're still in rebuilding mode, will make a strong push for the playoffs this season. Saturday's game marked another solid performance by this youthful but talented team. 
Related: Does Being a Buyer at the Trade Deadline Really Help Teams?
The Sabres' stars are rising at the right time to play key roles in the team's success. Better days are coming in Buffalo for Sabres fans.
---
---