Despite growing up during the most depressing era in Montreal Canadiens franchise history, I was nevertheless subjected to the value and richness that is fostered by the hockey club's deep foundational heritage. One of the major contributors to this development in my life was Saku Koivu, the franchise's second longest serving captain.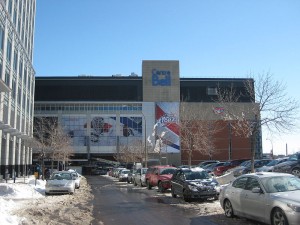 I can remember the first NHL hockey game that I ever attended. It was a Sunday afternoon. I went to the Molson Centre with my father.
I was just five years old, and there was a big snowstorm on that particular day. Our car got stuck as we attempted to leave the arena after Jaromir Jagr and the Pittsburgh Penguins defeated the hometown Habs handily.
I remember Jocelyn Thibault got pulled that afternoon. I remember a young man by the name of Jose Theodore coming in to relieve Thibault.
But while I can fondly remember certain details from that day, the one thing that has stuck with me the most from that afternoon, was the crowd's reaction to Michel Lacroix's voice, as the PA announcer exclaimed: "Le numbero ONZE, number ELEVEN…..SAKUUUU KOOOIIVUUUU!" during his delivery of Montreal's starting lineup. Koivu wasn't even the captain yet!
I can remember racing home from school at the age of eight years old. I could not concentrate on a single thing that any one of my grade three teachers had to say on that particular day.
How could I? Saku Koivu was going to be in the lineup that night against the Ottawa Senators! He was going to play! He was going to play!
He was going to play his first game of season after a rigorous battle with non-hodgkin's lymphoma. With just 3 games remaining in the regular season, he was going to help the Canadiens clinch a postseason birth for the first time in four years! He was! I just knew he was!
I can remember watching the standing ovation that he received on that particular night.
I remember the chills that I felt.
I remember then-Canadiens defenseman, Craig Rivet, jumping into Saku's arms after scoring a goal in that game. I remember the Canadiens beating the Senators by a score of 4-3, and making the playoffs as an 8th seed. I then remember how Saku and his teammates upset the first seeded Boston Bruins in six games of round number one.
I can remember many names from the long list of average line mates that Saku Koivu played alongside during his time with the Montreal Canadiens.
I remember hearing and reading about members of the media who harassed the Finnish captain because he did not speak the French language fluently.
I remember his gentleman-like attitude, and the way he carried himself through winning streaks, and through losing streaks.
I remember seeing him in the community, and I can remember his involvement with the Saku Koivu foundation. I especially remember his initiative that ultimately brought a PET scan to the Montreal General hospital.
I can remember watching Saku calm Sergei Kostitsyn down on the bench immediately after Kurt Sauer concussed his older brother Andrei.
I can remember his reactions after scoring a big goal. I can remember him battling in front of the net. I can remember him battling for loose pucks in the corner against larger players. And I can certainly remember Saku winning many of those battles.
(Koivu goal at 1:12 says all you need to know)
During an era when the Montreal Canadiens were more or less a mediocre hockey team, there are a lot of factors that have provoked fans and media to elicit Saku Koivu's captaincy as the most admirable and triumphant as it could have been.
However, while a commemoration of some sort needs to be in order for Koivu, unfortunately his number 11 will never be associated with the most important criteria for Montreal Canadiens excellence: on-ice winning. While Koivu did have a positive influence on my life, and the lives of many other hockey fans around the world, I am not part of the campaign to have Koivu's number hanging from the rafters at the Bell Centre.
For my money, if you were the winningest franchise in hockey history like the Montreal Canadiens are, it would be difficult for me to understand the reasoning behind a decision to retire the number of a non-winner, and then have it hang amongst a group of numbers that were worn by winners.
 
If the Canadiens do indeed decide to retire his number at some point, what message does that send?
 
Would a decision like this confirm a shift in organizational standards?
Have your say!