The San Jose Sharks have the best pure playmaker of his generation sidelined with an injury. Joe Thornton had surgery in late January to repair his right medial collateral ligament and it is unknown when he will return. There were whispers he may come back late in the first round, but his teammates breezed through the first four games. The Ducks put up little fight but the second series isn't too far off and questions still loom., the biggest one being about their aging star center.
Where should Thornton slot into the lineup, and who should he replace? I guess there's another question, but it's if Thornton deserves a spot in the lineup. Let me be clear, he absolutely deserves a spot. I can name about nine forwards who he deserves a spot over. The future Hall of Famer's impact on the power play alone would be worth it.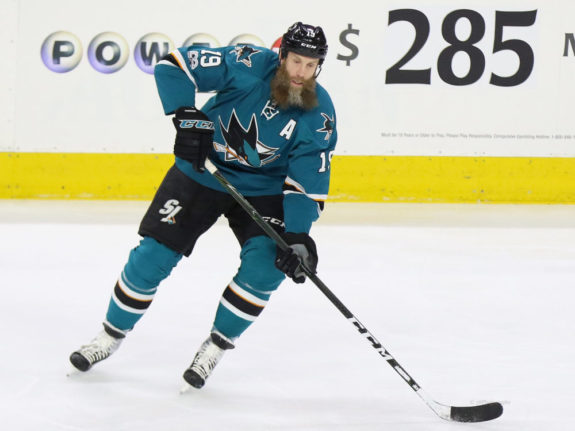 So let's dig deep and figure out where Thornton belongs on the Sharks.
The Joe Thornton-Joe Pavelski Connection
Big Joe and Little Joe have been terrorizing the Pacific Division for the better part of the last half-decade or so. Their chemistry is undeniable and could prove to be a dominant asset in later playoff rounds. Currently, the line is Evander Kane, Joe Pavelski, and Joonas Donskoi. Thornton is left handed and so would take the left wing spot or center position, which isn't as big of a deal as you might think. Kane would stick to the left side while Pavelski, a right-handed shot, would replace Donskoi. Thornton would then slot into his natural center position.
Kane has proven to be a great trigger man as well as an incredible power forward and Pavelski has always been a fantastic shooter who makes the higher danger area his home. Adding an elite playmaker will bolster the line's attack and help dominate offensive zone possession time. Kane and Pavelski are dangerous with the puck and giving them a player that has made his money off of dishing perfect passes could be too delicious for head coach Peter DeBoer to pass up.
It's not all sunshine and rainbows though, Thornton is now 38 years old and recovering from two devastating knee injuries in as many years. He's getting slower and his surgeries are not helping the situation. Pavelski and Kane are playing a faster style that starts with a quick transition offense, Thornton might get left behind. I think sheltering the prospective line's zone starts might help with any issue though, as Thornton doesn't need to be fast to dominate offensive zone possession.
The All-Center Line
The second line is as deadly for the Sharks as the first line is. Logan Couture has taken the next step as a superstar scorer – he excels in all three zones and still feels like a secret weapon. He's currently flanked by Tomas Hertl on the left and Mikkel Boedker on the right. Both Hertl and Couture absolutely deserve second line minutes, if not more, but the Sharks have a wealth of top six talent. The issue is that both are left-handed, and the player I'd like to move, Boedker, is right-handed. It'd be a little off-putting to have three left-handed centers on one line, as it can create an imbalance through the lineup.
This is a much slower line than the first, as they produce most of their points and chances through continued offensive zone pressure. Couture, Hertl, and Thornton would be a heavy mix that would grind opponents down and score more as the game goes on. This line has started in the offensive zone less than the team average in both the regular season and playoffs, so zone sheltering might have to be altered. Nevertheless, I think Thornton would be a defensive and offensive upgrade over Boedker.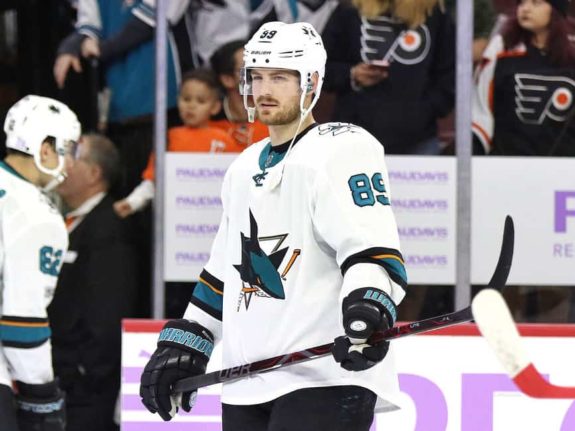 My biggest issue here is that Boedker is the only speedster on the line, and taking him off compacts the ice. I guess you could stretch Couture, but his great two-way play would be wasted at wing. Having three centermen on a line is nice, but when all are left handed, it takes away the advantage of always having a centerman on his strong side. The loss of speed and the left-handed overload will be the biggest issue here, but there are worse things in the world.
The Kid Line Becomes the Babysitter Line?
The third line has dominated in the playoffs so far. Chris Tierney has blossomed into an elite third line center while helping youngsters Kevin Labanc and Timo Meier grow into complete NHL players. First things first, giving Meier less ice time is a huge mistake that will rightfully draw the ire of the entire fanbase. He's already a pace pushing power forward who hasn't even scratched the ceiling of his potential. The "weak link" on the line is Labanc, who excels in producing shots as he is third among forwards in shots per 60 minutes.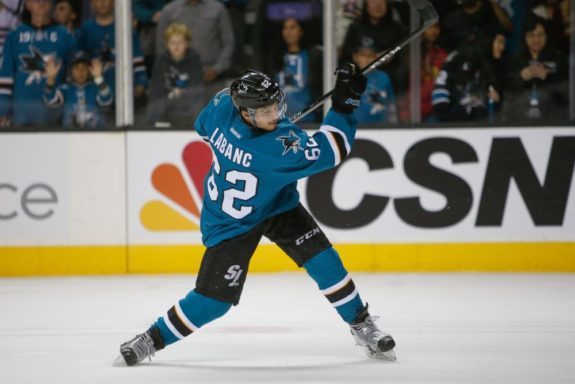 Tierney and Meier already excel in the corners and Thornton would add to their perimeter dominance. The Sharks thrive off of their ability to shoot, fight a battle, retrieve the puck, and repeat till they score. The shots come from many areas of the ice, but adding Thornton will probably lessen their reliance on shots from defensemen, and create more chances in high danger areas.
One of the downsides is the same as the second line, in that all are left-handed except Labanc. My other issue is that this line starts in the defensive zone more often than not, and uses their speed to break out and maintain possession. Thornton will slow this line down significantly and may break up the awesome chemistry they have. The third line has been incredible in the playoffs so far and disrupting them without cause would be a dumb decision. As the old saying goes, if it ain't broke, don't fix it.
Is Joe Thornton a Fourth Liner?
It's a wild thought, but crazy things happen in the playoffs. The Sharks beat the Ducks in four games and every line contributed in their own way. Marcus Sorensen, Eric Fehr, and Melker Karlsson make up the fourth line and while all played incredibly, one of these guys will likely be bumped to make room for the future Hall of Famer. I would take Fehr off, despite his highlight reel goal against the Ducks. It'd be a mistake to take off Karlsson, who is a shifty skater who drives hard to the net and is tenacious in the corners. Sorensen has also played his way off the bubble as he scored three goals in the first round. So forget about taking the speedy Swede off of the roster.
Taking Fehr out of the lineup would've been an easy choice about 10 days ago but now it seems harsh after an excellent first round. Still, the switch would provide quite a few benefits including power play performance and just better overall play. Fehr is faster, and that shouldn't be ignored, but Thornton is better in every other possible way. Giving Thornton sheltered zone starts with sheltered minutes could spark some even strength offense that hasn't exploded yet.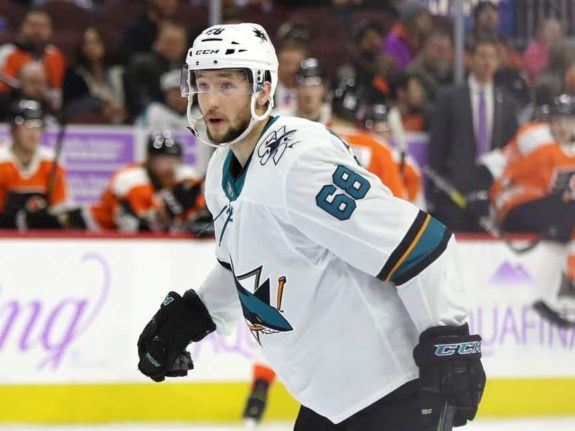 As I mentioned earlier, Fehr is a faster player than Thornton. Today's NHL is getting faster and those too slow are being exploited. The Ducks were a slow team but the Vegas Golden Knights will be far more quick and precise. Slower players may get picked on, and I'm not sure how fast Thronton will be. Plus, the fourth line gets the same treatment as the third line, in that they seemingly have great chemistry.
Where I Think Joe Thornton Ends Up
If I was head coach, and I know many of you are glad that I'm not, my forward lineup would look like this:
Evander Kane-Joe Thornton-Joe Pavelski
Tomas Hertl-Logan Couture-Joonas Donskoi
Timo Meier-Chris Tierney-Kevin LaBanc
Marcus Sorensen-Melker Karlsson-Mikkel Boedker
Ahh The old bait and switch! I neglected to mention that Karlsson is a center for that M Night Shyamalan-like twist. I still think Fehr is the odd man out, as Sorensen and Karlsson are basically better younger versions of him. But enough of the fourth line, let's discuss Thornton. Thornton would center the first line until he proved that he wasn't able to. I think his offensive instincts far outweigh any defensive issues that may arise. If those issues become too terrible, I would move him directly to the fourth line where he can play mostly sheltered minutes and power play time.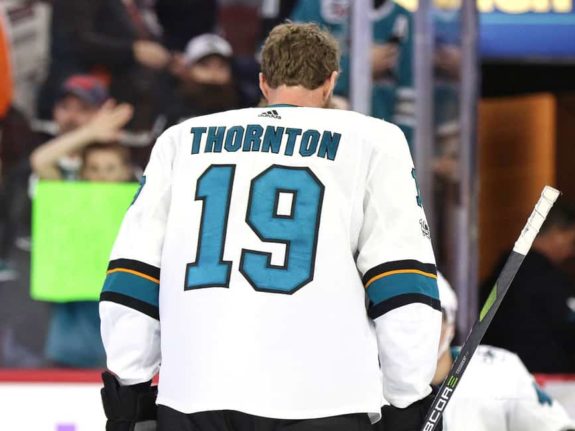 This is likely Thornton's last ride, or at least his last ride with the Sharks. I think he has more to give and will be useful when he returns to the ice, but we can't know for certain. Thornton's return for round two isn't a guarantee, as Deboer might rest him until the Sharks absolutely need him. Vegas might make Thornton's return a necessity, but I still think the Sharks' are a better team. One thing is for certain though, the Sharks' have the best depth in the Pacific.