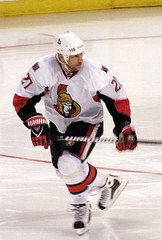 When you take a look back at the Ottawa Senators history as a franchise you notice a lot of things, but there was one thing that kept reoccurring that was weirder than Jason Spezza's laugh (well almost). Ever since rejoining the league in 1992 the Ottawa Senators have had only 14 Russian NHL players suit up for them and almost all of them have left town on a sour note. Sure there are the instances when a prospect does not make the jump to full time NHL player or when a player decides to leave the team but in Ottawa it seems like when a Russian player makes an exit it's never on good terms.
Now for the younger Senators fans out there you may know Alexei Yashin, former NHL all star and apparently a very convincing contract negotiator in his days with the New York Islanders. Once upon a time when the Senators were the fresh faced expansion team of the 1990's Alexei Yashin was the team's first true star. Yashin would holdout playing until he was made to be the highest paid player on the team, somehow cause controversy over pledging a million dollar donation to a local arts centre that was later cancelled, and oh yeah he sat out the entire 1999-2000 season claiming he was not being paid enough. The Senators star player and captain was embarrassing the franchise with his financial demands and was stripped of his captaincy and eventually traded on draft day 2001 for this young defenseman named Zdeno Chara and the 2nd overall draft pick that became Jason Spezza.
The city of Ottawa was ready to love another Russian Alexei when 2009 rolled around and signed Alexei Kovalev to a two-year 10 Million dollar contract. Kovalev was known to be an enigmatic forward who could dominate one night and disappear another, but was coming off a 65 point season and was one year removed from an 84 point season. Kovalev constantly frustrated more often than he produced results and ended the season with 18 goals and 49 points in 77 games.  Fans grew frustrated with Kovalev and just over the halfway mark of his second season Kovalev and Sens GM Bryan Murray agreed to part ways and Kovalev waived his no trade clause to be moved to Pittsburgh for a 7th rd. Pick.
Then there are some cases when the player is talented but for some reason just doesn't want to play in Ottawa. Nikita Filatov arrived in Ottawa in exchange for a 3rd Rd. Pick and after just 9 games with 1 point he was assigned to Binghamton of the AHL. Filatov however decided he did not want to play in the AHL and left and signed with the KHL where he has played ever since. Alexei Kaigorodov was a 2nd rd. Pick of the Senators and billed as a potential top 6 forward. Kaigorodov finally arrived in Ottawa in 2006 but after just 6 games with 1 point he was assigned to the AHL, but he refused to report and was eventually suspended then traded from Ottawa.
Of course the Senators have not been around long compared to most NHL teams so chances are one day that love connection between the city of Ottawa and a hockey player from Russia will finally happen. The Senators have not chosen a Russian in the first round in over 10 years so that may make it a little harder. I think there is one thing we can all agree on, Ottawa should stay away from players with the first name Alexei, come on even Spezza found that one funny.