As sports fans, most of the allure is drawn from our longing to see our favorite teams bring home a championship.
Championships are great, but not every team or fan base will get to celebrate a championship in their lifetime. If you are a fan of the Toronto Maple Leafs and you were born after 1967 you have spent your entire life cheering for a team that has let you down year after year, season after agonizing season.
Part of being a fan is developing an appreciation for the rivalries.
Whether it's the Maple Leafs and Montreal Canadiens on a Saturday night, the Pittsburgh Penguins and the Philadelphia Flyers in the battle of Pennsylvania or the spirited battles between the Detroit Red Wings and the Colorado Avalanche throughout the 1990's, the rivalries bring fans together and peaks your interest in your team and the sport of hockey.
Another aspect that brings fans out to the rink is to satisfy our thirst for hate. Ask any NHL fan if they hate a team or a player and you are bound to get a reply, and with it, a story as to why their hatred is so strong.
Toronto fans hate Buffalo fans. Boston fans hate Montreal fans. New York Ranger fans hate New Jersey fans. Philadelphia fans hate Pittsburgh fans. Ok, who are we kidding? Philly fans hate everybody!
And then there are the players.
Some fans hate a player because they simply play for their biggest rival. Some fans hate a player because of their style of play. Some fans hate a player because they killed their team's chances at a Stanley Cup. Some fans hate a player because they are flamboyant and some simply hate anyone not wearing the home team's jersey!
The bottom line is, everyone has a player they love to hate on. It just comes with the territory of being a fan.
So which Toronto Maple Leaf player do the fans hate most? Is it simply rival fan bases that hate Maple Leaf players, or are there some players that both the fans of the Maple Leafs and rival fans hated at some point?
With all this in mind, here is the ten most hated Maple Leafs of all-time.
10. Borje Salming

A native of Kiruna, Sweden, and one of the first European players to wear an NHL jersey, Borje Salming had to endure an onslaught of calculated cheap shots and liberties being taken against him throughout his NHL career.
Rival players seemed hell bent on making an example of Salming as they attempted to prove that European players were too soft to make it in the NHL.
Salming was not hated for anything he did on the ice; rather rival players simply hated him because he was a "Swede".
To Salming's credit, he sucked it up, endured the hatred, and played through the abuse. Salming chiseled out an NHL career which included 1148 regular season games, 81 playoff games, 150 goals and 637 assists.
If Salming's spirited play didn't win opposing players over, Salming's horrific "face incident" probably did.
In November of 1986, in a game against the Detroit Red Wings, Salming was knocked down in front of the Leafs net. Red Wings forward Gerard Gallant accidentally sliced Salming's face open with his skate. Covered in blood, Salming would receive more than two hundred stitches in order to close the cut and require facial surgery.
Salming didn't need this incident to prove he was tough, he already was. But it sure didn't hurt his case.
9. Darryl Sittler
If you are a fan of the Montreal Canadiens, you are not a fan of Darryl Sittler. Not when he was arguably the Maple Leafs best player for over a decade between 1970-71 and 1981-82 and certainly not if you remember when Sittler slashed Canadiens forward Guy Lafleur.
The date was February, 12th, 1975. Five minutes into the third period, Sittler slashed Lafleur in the hand, breaking one of Lafleur's fingers.
Montreal Canadiens head coach Scotty Bowman was so irked by the slash that he confronted chief referee Scotty Morrison in the crowd. Morrison said he didn't see the slash, but the Montreal fans in attendance have never forgotten it.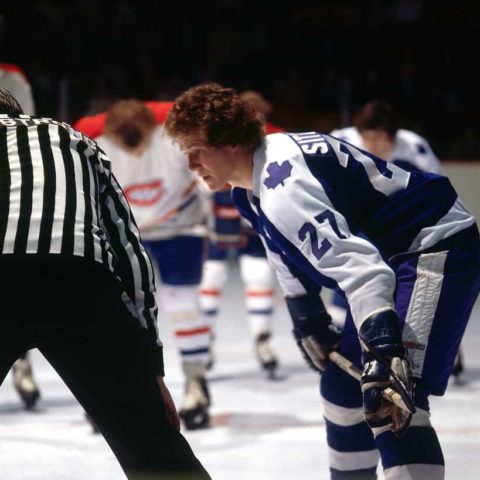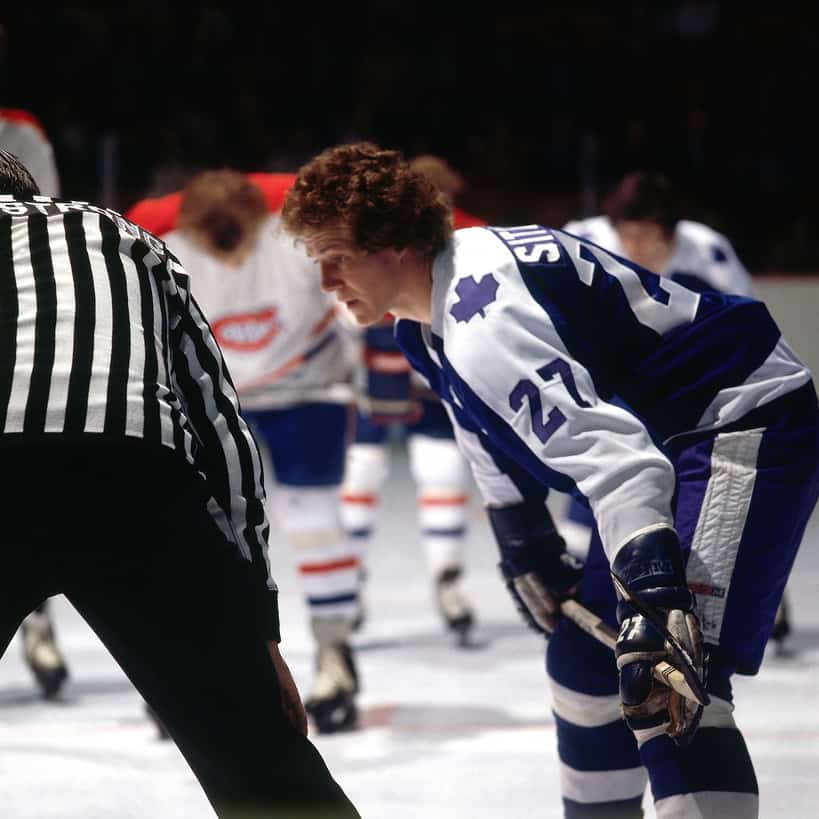 That is why Darryl Sittler still stands as one of the most hated Maple Leafs in history…at least from a Montreal Canadiens fans perspective.
After an NHL record ten-point effort against the Boston Bruins on February 7th, 1976 there was no way any self-respecting Boston Bruin fan could not hate Darryl Sittler forever. He embarrassed their players, and in the process stuck a dagger in the Bruins' fans back for life.
Sittler scored six goals and added four assists that night and legendary TV personalty and one-time NHL coach Donald S. Cherry was behind the Bruins bench to watch the whole thing!
If a ten point night from an opposing player is not enough for you to have hatred for a player, I don't know what is?
8. Nikolai Borschevsky
If you are a fan of the Detroit Red Wings you undoubtedly remember the heartbreaking Division Semi-Finals of 1993.
The Red Wings were clear favorites to win the series, but Toronto had played the Detroit Red Wings tough through six games.
With the series tied at three games apiece, the two sides played to a 3-3 tie in regulation time of game seven, forcing sudden death overtime to decide the series.
With the Red Wings unable to subdue a vaunted Maple Leafs effort in Detroit's zone, unlikely hero Nikolai Borschevsky tipped a puck into the Red Wings net at 02:35 into overtime, sending the Leafs bench into a frenzy and shocking the Detroit Red Wings and their fans.
While there has not been much to celebrate over the years in Leafland, the Borschevsky goal stands out as one of the best memories for many fans of the Blue and White and is the reason Red Wings fans still have a hate on for Borschevsky.
7. Phil Kessel
He hasn't played any meaningful games in a Toronto Maple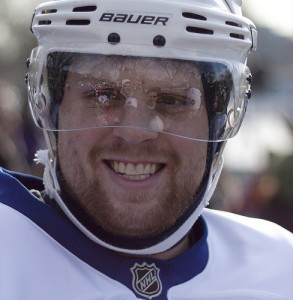 Leafs uniform and he is only 25-years old. So, what could Phil Kessel possibly have done in order to make the top ten most hated list?
Kessel's uneasy relationship with the Boston Bruins and their fans is well documented and his propensity for being quiet and reserved brings about a measure of distrust.
That said, one incident sheds light on how poorly Kessel is looked upon by his peers.
With the NHL choosing to go with a draft for the 2011 All-Star Game, Phil Kessel was selected last. Washington Capitals forward Alexander Ovechkin snapped photos with his cell phone, players pointed fingers and erupted in laughter and numerous fans felt Kessel being selected last was deserved.
Somebody had to go last, but the fact that so many players chose to attempt to embarrass Kessel spoke volumes about their lack of class and the undeniable fact that many of Kessel's peers just don't like him.
Of course, these days Kessel is having the last laugh, finishing sixth overall in the scoring race in 2011-12 with 82 points.
It's alright Phil, let the players play and leave the hating to the haters!
6. Larry Murphy
Through 151 games, Murphy netted 19 goals and 100 points in a Toronto Maple Leaf uniform.
Looking back on things, Murphy's totals suggest he played well while in Toronto, but you wouldn't know it if you attended a game at Maple Leaf Gardens at that time. With the Maple Leafs struggling on the ice, Murphy received the bulk of the fans displeasure, riding him with taunting and "Boo's" unmercifully.
Things got so bad that the Maple Leafs were all but forced to trade away the future (now a member) Hall of Famer.
The Detroit Red Wings came calling, offering future considerations if the Maple Leafs would pick up two-thirds of Murphy's contract.
Cliff Fletcher, who was the Maple Leafs general manager at the time of the deal, jumped at the chance to move Murphy, consummating one of the worst deals in franchise history.
If Maple Leaf fans hated Murphy while he was in Toronto, it only got worse when Murphy went on to win back-to-back Stanley Cups with the Detroit Red Wings.
5. Wendel Clark
Wendel Clark might just be the most popular player to ever wear the blue and white.
When you consider the greatest Maple Leafs of all-time, Clark's offensive numbers may not be as impressive as Mats Sundin, Darryl Sittler or Dave Keon's, but his compete level was off the charts and his leadership and fighting prowess were legendary.
Clark's battles with Detroit Red Wings pugilist Bob Probert are well documented, often ending with the two men barely able to raise their arms after a spirited tussle. Clark beat the snot out of a number of rival team's tough guys, making more than one fan base haters of Clark.
Often called "Wendy" by his fighting opponents and onlooking haters, Clark was arguably one of the best power forwards of his time, and one of the best fighters of his time as well.
In the end, it was the love that so many Maple Leaf fans had for Wendel that made rival fans hate him, but I am positive most of them would have loved to have had Wendel in their lineup.
4. Tie Domi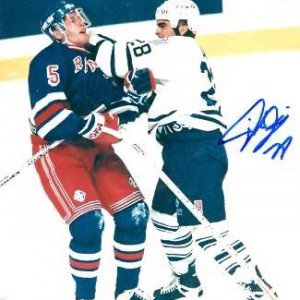 Rival fans nicknamed him "Tie Dummy" and opposing players dreaded having to fight him, but like many Maple Leaf players on this list Tie Domi was loved by every Leaf fan.
Domi was the ultimate policeman, willing and able to drop the gloves in order to protect his teammates from opposing players that chose to take liberties with the likes of Mats Sundin, Alexander Mogilny and Doug Gilmour.
Domi worked tirelessly with a number of charities, which made him a hero to many, but his on-ice behavior was often called into question.
In the 2000–01 season, while sitting in the penalty box and with a fan heckling him and banging on the glass, Domi sprayed the Philadelphia Flyers fan with a water bottle. With the idiot fan attempting to get at Domi, the glass gave way, and the fan fell into the penalty box. Domi fed the fan a few punches, solidifying his status as public enemy number one in the minds of Flyer fans.
Domi is also remembered for elbowing an unsuspecting Scott Niedermayer of the New Jersey Devils in the head during game four of the 2001 Eastern Conference Semi-Finals. Niedermayer was knocked unconscious, resulting in Domi being suspended for the remainder of the playoffs.
This incident remains the most disgusting of Domi's career and yet another reason for fans to hate him.
3. Dave "Tiger" Williams
Known for his ability to drop the gloves, Dave "Tiger" Williams is regarded as one of the best fighters in NHL history.
Like many pugilists, Williams was afraid of nobody, often dropping the gloves with bigger players, often escaping with yet another broken nose!
If  Williams' fighting prowess wasn't enough to hate him, his penchant for riding his stick in celebration of a goal annoyed opposing players and fans alike.
It was a sight to see, and Maple Leaf fans loved it, but the rest of the league wanted to rip Williams' head off every time he did it.
Williams riding his stick after a goal is one of my favorite childhood memories. He was a cartoon character of sorts, and Leaf fans loved him!
2. Darcy Tucker
If you are a fan of the New York Islanders, Darcy Tucker is on your "crap" list.
During the 2002 playoff series between the Maple Leafs and Islanders, Tucker charged at Mike Peca, hitting him in the knee, and turning it into mush in the process.
Peca was livid after the hit, calling Tucker out and making it very clear that there was much hatred between the two foes.
Tucker and Peca would later be teammates when the Maple Leafs signed Peca to a free agent contract. The two would go on to become friends and all was forgiven, but the incident still stands as an ugly blemish on Tucker's resume.
Known as the ultimate pest, the players and fans nicknamed him "sideshow Bob", in reference to a cartoon character from the Simpson's television show.
Gritty, ultra-competitive and mean, Tucker could get under any players skin. While he was small in stature, (he played at 5'10", 170 pounds), Tucker would often drop the gloves with much bigger players, and he held his own in most of the fights.
Still, when your job is to exasperate opposing players a high level of hate is bound to follow you, which is why Tucker is the second most hated Maple Leaf in history.
1. Harold Ballard: Owner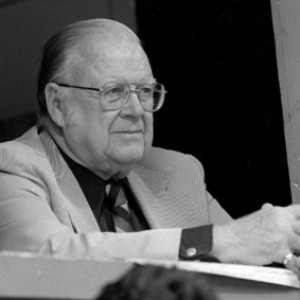 If you were a Toronto Maple Leaf fan during the 1960's you loved him for the role he played in the Maple Leafs winning four Stanley Cups (1962, 1963, 1964 and 1967). If you were a fan of the Maple Leafs in the 1970's and 1980's, the name Harold Ballard sends shivers down your spine.
Known as a passionate hockey fan and astute businessman, Ballard was also known as an abrasive, stubborn man who often let his feelings get in the way of good hockey decisions.
Often interfering with coaches, management and players, Ballard had a love/hate relationship with the media, fans and those under his employ.
Whether it was keeping legendary captain Dave Keon from signing with another NHL club, the firing and subsequent re-hiring head coach Roger Neilson over a two-day period, the wasted draft picks, the refusal to spend money, allowing emerging star Lanny McDonald to be traded or going to war with captain Darryl Sittler, Ballard sabotaged the Maple Leafs franchise to the point that they would not recover from Ballard's idiocy until after his death in 1990.
Ballard's actions led to the fans of the Maple Leafs spewing their venom at Ballard throughout his years of insanity. At one point Ballard was probably the most hated man in Toronto, if not Canada, and with good reason.
Still, with the arena continually full, Ballard could care less about what the fans or anyone else thought about him. He was making money hand over fist, and with little in the way of opposition to his shady practices, Ballard was free to do as he saw fit.
Admittedly, there is much more to the story, but in a nutshell, this is the sad story of how the Maple Leafs went from a once proud and successful franchise to the laughingstock of the NHL.
In the end, Ballard's stubborn nature, ignorance, greed and the power that Ballard had over the team, destroyed this franchise and the Maple Leafs are still paying for Ballard's moves or lack thereof today.
Given the fact that he derailed the Maple Leafs so badly, Ballard might just be the favorite Maple Leaf of all-time in the minds of opposing teams and fans.
From my seat, as a fan of the Maple Leafs, Ballard is and likely always will be, the most hated Maple Leaf of all-time!