The Wilkes-Barre/Scranton Penguins got off to a tough start in October, winning just two games. But right before they could get momentum going, they ended the first month of the regular season with a loss to one of their biggest rivals. The team is still trying to find its way on a roster with core team members, rookies and free-agency additions.
Before the Penguins start off their second month of action, let's take a look back in the first edition of the Wilkes-Barre/Scranton Penguins monthly report for the 2012-13 season.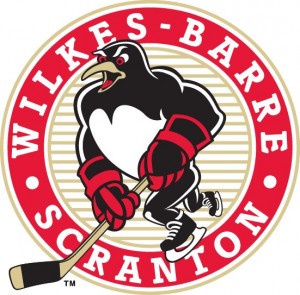 Current Record: 2-5 (four points, 15th in Eastern Conference, fifth in East Division)
Team Leaders
Goals: Eric Tangradi (five)
Assists: Benn Ferriero (five)
Points: Three-way tie between Tangradi, Ferriero and Beau Bennett (five apiece)
Plus/minus: Zach Sill and Dominik Uher (plus-one)
Goaltending: Brad Thiessen and Jeff Zatkoff have each won one game. However, Zatkoff has the better statistics with a 2.65 GAA and .894 save percentage.
Injuries
Robert Bortuzzo and Jayson Megna did not play in October. Bortuzzo has a lower-body injury, while Megna hurt his foot and has been seen in a walking boot. Keven Veilleux remains out of the lineup while recovering from a knee injury sustained in the 2011 preseason, while Denver Manderson has an upper-body injury.
Zach Sill will miss five to six weeks after breaking his wrist in the October 19 meeting with the Springfield Falcons. He took a puck off his hand.
Transactions
Adam Payerl, Dominik Uher and Tom Kuhnackl were called up to Wilkes-Barre/Scranton shortly after being assigned to the Wheeling Nailers of the ECHL. Payerl and Uher each had a point in five games, and Payerl also received a fighting major on October 13 against the Binghamton Senators.
Kuhnackl played in two games and registered a minus-one rating.
October Recap
Saturday, October 13 at Binghamton: 2-1 Loss
Friday, October 19 at Springfield: 4-2 Loss
Saturday, October 20 vs. Bridgeport Sound Tigers: 3-2 Loss
Sunday, October 21 vs. Syracuse Crunch: 3-1 Loss
Friday, October 26 vs. Rochester Americans: 5-4 Win (overtime)
Saturday, October 27 at Syracuse: 4-1 Win
Sunday, October 28 at Hershey Bears: 3-2 Loss
Game of the Month
On October 27, the Penguins beat the Syracuse Crunch by a 4-1 score at Ondonaga War Memorial in Syracuse. The game came less than a week after the Crunch defeated the Penguins, 3-1, in Wilkes-Barre.
After the Crunch took a 1-0 lead 38 seconds into the game, the Penguins scored four straight goals for their second consecutive win. Tangradi had two goals, while Zatkoff made 34 saves in goal.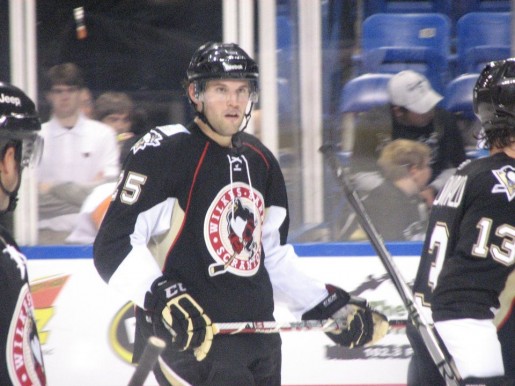 Lowlights

The Penguins posted an 0-4 record to start to the season, including losses in their first game of the season in Binghamton and their home opener against the Bridgeport Sound Tigers.
In two of the Pens' five losses, they had goals disallowed at crucial moments in the game. A game-tying goal against the Senators was waved off due to incidental contact with the goaltender even though Tangradi was pushed into Sens goalie Robin Lehner. Had the Penguins scored, the game could've gone to overtime.
Then in Hershey on October 28, a Philippe Dupuis goal was called back after video review showed a distinct kicking motion. Again, this could have tied the game, as the Bears were up 2-1 at the time.
Player of the Month
Although Tangradi was impressive this month, second-year forward Paul Thompson gets the honor of being October's top Penguins player.
On October 26 against Rochester, Thompson had three points, including the game-winning goal with 14 seconds left in overtime to give the Pens their first win of the season. He has four point through the team's first seven games.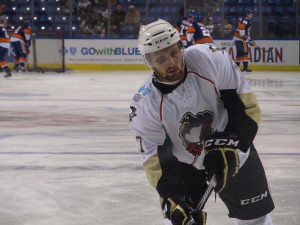 November Schedule
Friday, November 2 at Manchester Monarchs
Sunday, November 4 at Bridgeport
Wednesday, November 7 vs. Binghamton
Friday, November 9 vs. Hershey
Saturday, November 10 vs. Portland Pirates
Wednesday, November 14 vs. Springfield
Friday, November 16 vs. Bridgeport
Saturday, November 17 at Hershey
Wednesday, November 21 at Hershey
Saturday, November 24 vs. Toronto Marlies
Sunday, November 25 at Albany Devils (at Boardwalk Hall, Atlantic City)
Friday, November 30 vs. Syracuse
November Schedule Facts
Springfield's and Bridgeport's visits to Wilkes-Barre/Scranton will mark the respective teams' final games there this year. Former WBS captain Ryan Craig signed with Springfield this past offseason, while ex-Penguin forwards Brandon DeFazio and Colin McDonald are teammates on the Sound Tigers.
Former Penguins forward Chris Conner is in his first season with Porltand. Conner played for WBS in the 2009-10 and 2010-11 campaigns. He had 59 points in 56 games in 2010 and holds a franchise record for most points in a regular season game. He posted six points (a hat trick, three assists) as the Pens defeated Albany 9-2 in a February 2010 meeting.
The Penguins return to Atlantic City to play the Devils for the first time since 2010. On the Pens' first visit there, unsafe ice conditions postponed the game before puck drop, as the problems were noticed during warmups.
Alison is currently covering the Wilkes-Barre/Scranton Penguins of the AHL for The Hockey Writers after writing about the NHL's New Jersey Devils from 2011-2012. She is currently employed for the fast growing sports website Bleacher Report as a quality editor and hopes to one day have a media relations career with a professional hockey team. Follow her on Twitter @AlisonM_110.