The Ottawa Senators have been playing some of their best hockey this season as of late. They have won five of their last eight and the young guns are starting to shine. Tim Stützle and Josh Norris are making their cases for the Calder Trophy and players like Drake Batherson and Nick Paul who have played NHL minutes before, are starting to look like full-time players for years to come. However, this week did bring some sad news to the organization as long-time Senators fan and Twitter favourite, Brian Fraser, had passed away after his two-year battle with leukemia.
Brian was the technical producer of The Morning Rush with Bill Carrol at the radio station 580 CFRA Ottawa and touched the hearts of Senators fans across the city. In memory of Brian, the team wore decals on their helmets featuring the letters "BF" and a drop of blood. There was also a moment of silence before puck drop against the Calgary Flames on Feb. 27. Unfortunately, the Senators couldn't grab another two points off the Flames for Brian, but they'll look to bounce back this week.
Item One: Ryan Dzingel Joins the Senators
The Ottawa Senators are getting a boost to the offensive side of the puck as Ryan Dzingel has joined the team for the first time since being traded from the Carolina Hurricanes on Feb. 13. He had to serve his mandatory quarantine due to travel from the United States to Canada and after spending 16 days off the ice, he's ready to go. During his time off the ice, Dzingel admitted that he just wanted to feel his legs again.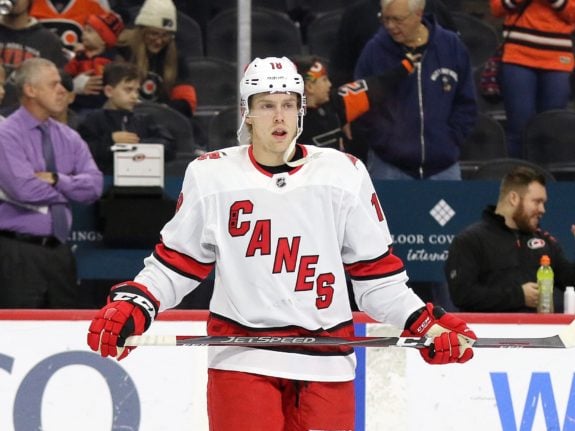 "I was just trying to focus on skating around and not falling over today," Dzingel said. "I was in a flurry getting ready and trying not to screw up the drills too much. It's been a long time since I was excited and nervous to practice," he said. "It was an awesome day and I can't get wait to get things going in a real game and I'm itching to get out there." Dzingel was a seventh-round selection (204th overall) by the Sens in 2011 and played a total of 247 games with the organization his first time around and recorded 126 points.
However, his second call to duty with the Senators looks a lot different than his first. Just a handful of guys remain on the roster since the last time he was here, but the familiarity with the club's training staff and those players makes him feel at home again, as opposed to the adjustment period he went through in Columbus and Carolina.
The time frame for his exact return to the game sheet is still to be determined, but head coach D.J. Smith did say he wanted him to get his legs back as well. Smith is familiar with his game after being behind an NHL bench for the better part of five years now, so he knows what he brings to the table — he just wants him to get familiar with the team and give him an opportunity to get his conditioning back rather than setting him up for failure.
Item Two: Drake Batherson Continues to Find the Back of the Net
In the midst of the Senators' recent run where they have won five of their last eight, the skilled winger Drake Batherson has scored in five straight games. This has brought his goal total to seven for a total of 15 points to date. Before he made the jump to what looks like a full-time position on the team, he played 103 games with their AHL affiliate, the Belleville Senators, where he recorded 116 points.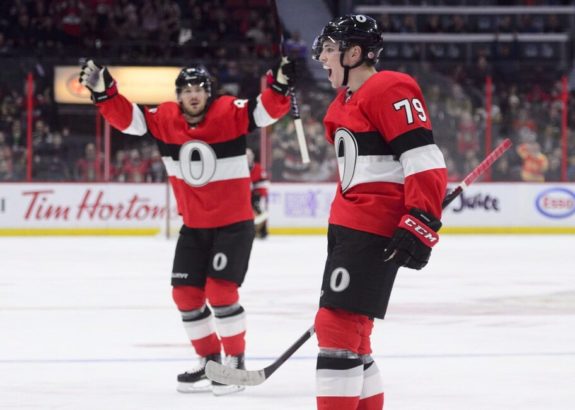 Before he scored his fifth straight against the Flames on Feb. 27, his fourth in a row brought his season total to six — the same number he had in his career through his first 43 games in the NHL. Batherson joined Alexei Yashin (twice), Mark Stone, Mike Fisher and Daniel Alfredsson as Senators at the age of 22 or younger to score in four straight NHL games. There was no stopping there as his fifth straight on Saturday against the Flames tied Jason Spezza's record of scoring in five consecutive games.
"His play is good," Smith said. "He makes plays. He's a high-end thinker. No matter what, he loves being out there and that's what makes him a special player. He's not afraid to try things and if he makes a mistake he'll admit it but he just continues to get better." Not only is the head coach noticing his game develop, but his teammates are as well.
"He's been playing really well," Paul said. "He's just finding his groove. It's a little bit of a jump from the AHL to the NHL and he's getting used to that and I think he's figured it out. He's always had the speed and the skill and the physicality and he's playing the right way. He's a goalscorer. He's an unbelievable player and he's just bringing it now and he's just getting started. I think he's going to keep producing for us."
Batherson is Belleville's all-time points leader with the aforementioned 116 points and is a two-time AHL All-Star, now it seems those two seasons spent in the AHL was money well spent. His NHL game is getting better and better each day and he's going to be a crucial piece for this team for years to come.
Item Three: Senators Release Filip Chlapik
After it was reported last week that the Senators were putting forward Filip Chlapik on unconditional waivers for the purpose of terminating his contract, it has now been finalized. The second-rounder drafted by the Senators in 2015 played in 57 games during four seasons where recorded five goals and 11 points. In October, he re-signed a one-year, two-way contract that would give him one more chance to prove himself.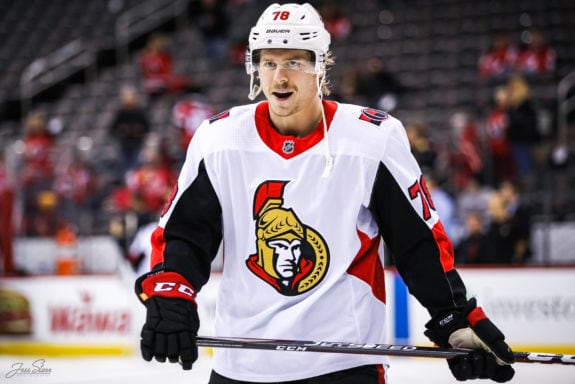 "After considerable dialogue with Filip and his representation, we have mutually decided to part ways," said general manager Pierre Dorion. "We're appreciative of Filip's efforts with the organization, both in Belleville and in Ottawa, and wish him the best as he moves forward." Chlapik, who is 23 years old, played just one game with the Senators this season. He registered 88 points (37 goals, 51 assists) and 130 penalty minutes over 148 contests with the Belleville Senators.
Item Four: Logan Shaw Named Fourth Captain in Belleville's Franchise History
Belleville forward Logan Shaw has been named as the fourth captain in Belleville Senators history before Wednesday's home opener. In 2019-20 Shaw split playing time with the Winnipeg Jets and the AHL affiliate, the Manitoba Moose. He recorded five points (two goals, three assists) in 35 games with the Jets and seven points (four goals, three assists) in 16 games with the Moose. Originally drafted 76th overall (third round) by the Florida Panthers in 2011, he has been playing in both the AHL and NHL since 2013 before he joined the Senators in 2021. When asked about being named captain for the first time in his professional career, Shaw took the time to reflect and talk about his parents.
"It means a lot to them, as it does to me. It's the way I was raised to always be a good person first and as much as it is an honour for me, it's also an honour for my parents as well. Just being where I am right now in general I am very proud, a lot of hard work has gone into it but being recognized as a leader on the team is a huge accomplishment for me." Shaw will be the fourth captain in Belleville history, following previous captains Jordan Szwarz, Mike Blunden and Erik Burgdoerfer.
What's Next for the Senators?
The Senators begin the month of March with seven games in 12 days. They will play the Montreal Canadiens once and then both the Edmonton Oilers and Flames three times during that time. The first of the seven games will be at the Canadian Tire Centre and then they will hit the road for the final six spanning over a two week road trip. During this set of games over the next two weeks, it'll be interesting to see when, not if, goaltender Joey Daccord gets his first start. Smith has said that he will consider using the netminder in one of the back-to-backs on Monday or Tuesday, but it all depends on the status of Matt Murray.
---
---