An NHL team's fourth line really isn't expected to do much heavy lifting when it comes to providing offence, but if the unit can chip in a few timely goals, that secondary scoring can really go a long way when a club's best forwards fail to deliver. The Calgary Flames' top three lines have all seen some success this season with a resurgent Johnny Gaudreau, a breakout year for Andrew Mangiapane and a surprisingly competent performance from Milan Lucic. However, if we focus on the bottom end of the line-up, we've seen nothing but utter futility.
A Rotating Cast of Characters Has Provided Zero Offence
It's no secret the Flames' coaching staff has been experimenting with endless line combinations, hoping to find useful roles for the team's new signings and a pool of up-and-coming prospects. Head coach Geoff Ward has been very busy this season making healthy scratches and calling up multiple players from the taxi squad. While some of these skaters have had brief auditions in the top six, they have all seen plenty of ice time on a fourth line that is currently experiencing a scoring drought of epic proportions.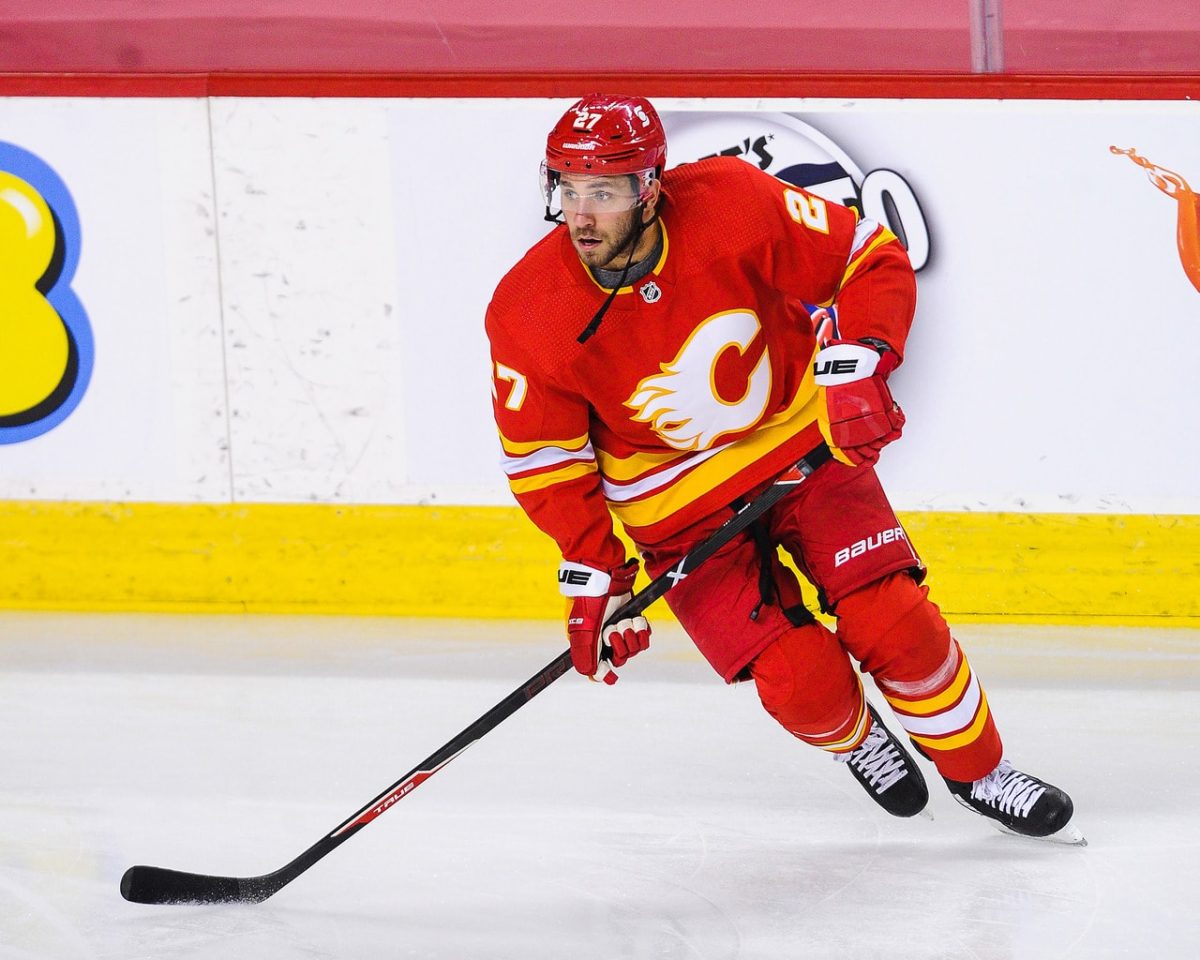 Just how bad has the Flames' fourth line scoring been? The stat I'm about to drop really says it all: Josh Leivo, Joakim Nordstrom, Dominick Simon, Derek Ryan, Byron Froese, Glen Gawdin, Buddy Robinson, Brett Richie and Zac Rinaldo have combined for 73 games played this season. This entire group has posted a grand total of one goal and three assists in the 2020-21 season.
Nine forwards. 73 games. One goal. I think it's safe to say the team has nothing to lose by looking to their AHL farm club for help.
Matthew Philips is Ready for his NHL Debut
Teams like the Toronto Maple Leafs and Winnipeg Jets have long benefitted from having their farm clubs situated in the same city, and now the Flames also have that luxury, with the Stockton Heat playing out of Calgary this season. That gives the team incredible flexibility to shuffle the roster and switch up the taxi squad. I say it's time to take advantage of all of the forward options on the table and give Matthew Philips his shot with the big club. The Calgary-native had a red-hot start to his 2019-20 season, notching 30 points in just 28 games for the Heat before an injury knocked him out of the lineup for almost two months.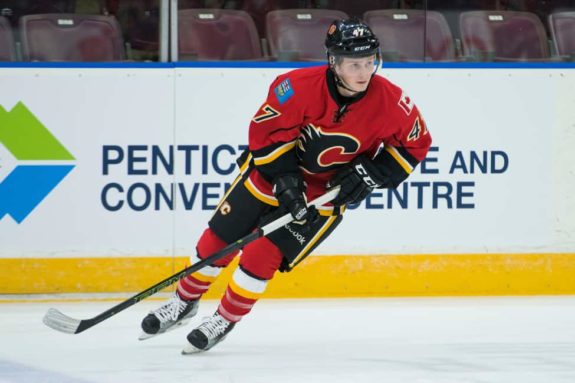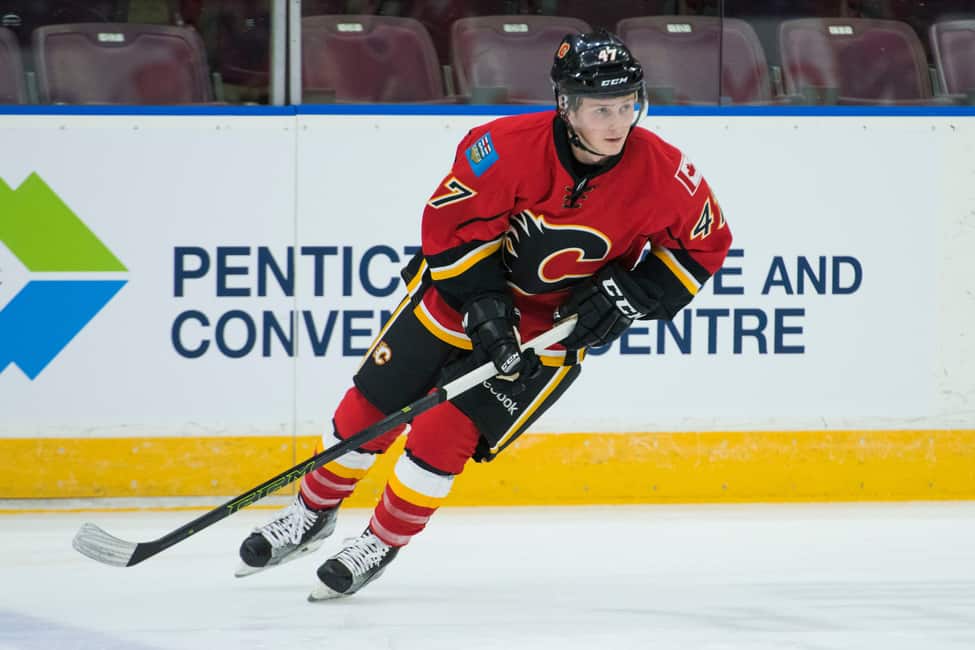 Phillips struggled when he finally returned to the ice but only got in 10 games before COVID-19 cancelled the remainder of the season. Now in his third full year with Stockton, the diminutive forward is back in top form and has looked sharp with four points in four games, proving to be an excellent set-up man who also has the ability to finish. The 22-year-old has shown great vision, while his rapid footwork keeps opposing players guessing where he'll go next. The Flames' sixth-round pick has put in his time in the minors – let's see if he can make the jump to the bigs.
Adam Ruzicka Leads the Heat in Scoring
I know what you're probably thinking. The 21-year-old native of Bratislava, Slovakia, hasn't quite paid his dues in the minors yet, so why rush his development and call him up to the Flames before he's ready? I think the six-foot-four center has shown he's taken a huge step forward this season, scoring four goals and two assists in just four games to lead the Heat on the scoresheet. He could be ready.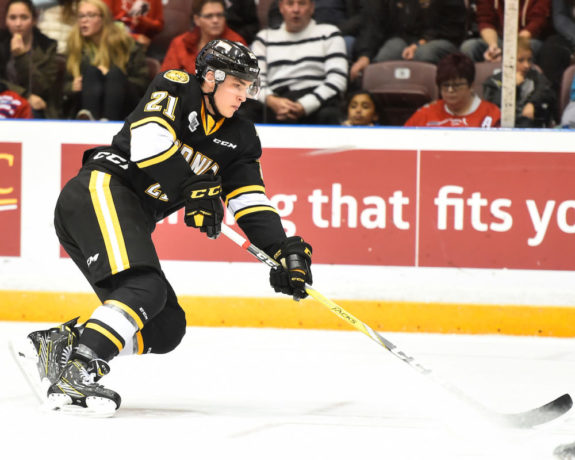 With only one pro season under his belt, the former OHL sniper has been a dominating force in his second year in the AHL, and at 202 pounds, he is a big presence who continues to grow into his power-forward frame. Since I wrote about the Heat's season opener and previewed their 2020-21 season, I've been keeping an eye on the Flames' farmhands, and this guy has definitely been a standout. Ruzicka has shown some great chemistry playing on the top line with Phillips, so why not bring them both up as a package deal?
The Flames already have a pretty good "big guy/little guy combo" in Johnny and "Mony," so why not roll the dice to see what this red-hot AHL duo can do at the NHL level? Like Sean Monahan, Ruzicka is a big center who has a knack for scoring goals right in front of the net, but unlike No. 23, the young Slovak plays a more physical style and skates much better. With back-to-back two-goal games, the Heat's number one center is definitely on the Flames' radar and should be near the top of the call-up list.
Emilio Pettersen is a Dark Horse Candidate to Get the Call
You may think I'm off my rocker for proposing the Flames, take a look at Emilio Pettersen after only playing four games at the AHL level, but hear me out – there is a method to my madness.
After playing two seasons at the University of Denver, the Flames' sixth-round pick in the 2018 entry draft is now a full week into his professional career, and the Heat's head coach is already comparing the young Norwegian to the Flames' hottest forward, Andrew Mangiapane. Cail MacLean has coached both players and is certainly qualified to compare the two.
"The tenaciousness of Pettersen matches up with the tenaciousness of Mangiapane," MacLean said. "I see things that they do, even in practice settings, where Pettersen is very good at trying to execute at the maximum pace that he can, and Mangiapane did that. I think that pushes your ceiling even higher. You're trying to push yourself in every rep to go beyond the limit of what you can do under control."

(from 'The Flames' Next Andrew Mangiapane?', The Athletic – 02/26/21)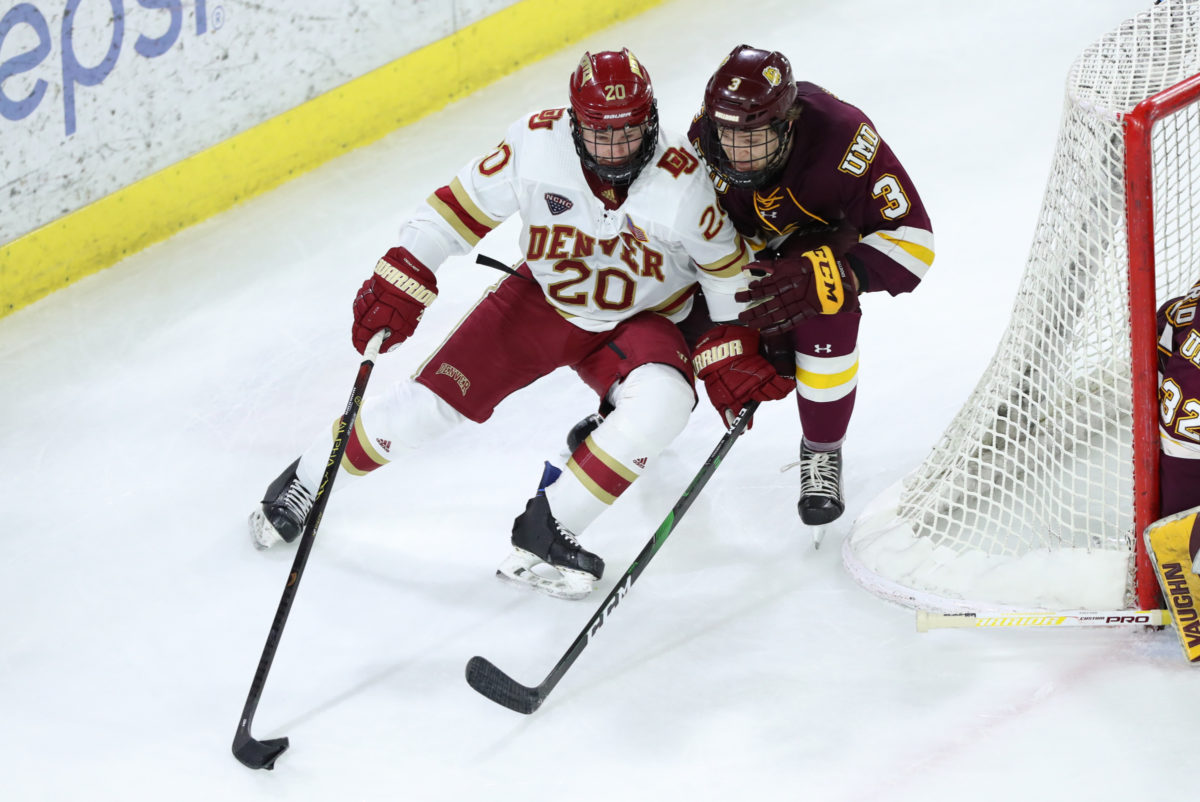 The first-year pro has shown impressive skating skills both with and without the puck and is developing a responsible, 200-foot game. Like Mangiapane, the 20-year-old Heat forward likes to spin out of those tight spots in the corners, try and beat guys wide and attack the far post. Petterson now has three points in his first four games, including his first-ever professional goal where he battled the puck out of mid-air on a power play against the Toronto Marlies:
There are others on the Heat's roster that may slot ahead of Petterson on the organization's depth chart: Martin Pospisil, the Flames' fourth-rounder from the 2018 draft, certainly comes to mind, but right now, the big club needs to get creative and explore all of their AHL options if they are to solve their fourth line woes. The Flames need a spark to get that secondary scoring to heat up, and time is not on their side.
The Flames Need a Fourth Line Fix Sooner Rather Than Later
Calgary's record currently sits at 10-10-2, a single point outside of the playoff picture and in a couple of weeks, the team will officially reach the halfway point of the 2020-21 campaign. The Flames' fourth unit has seen nine different forwards, who have collectively found the back of the net exactly one time this season. How much longer will they shuffle around the same non-productive players to try and find that elusive spark? I say it's time to give Philips, Ruzicka or Pettersen a shot. Like I said before, I don't think there's anything to lose.
---
---