It's a quarter way into the 2022-23 NHL season, which means fans have a pretty good idea of how things will shake out for the rest of the year. Statistically, only two or three teams will move in or out of a playoff spot over the next several months. That's tough news for the likes of the Columbus Blues Jackets and Ottawa Senators, who sit roughly 10 points back from a wild-card spot in the Eastern Conference. Both expected to be far better this year, but have failed to live up to the lofty expectations they set for themselves in the offseason.
But it's not all doom and gloom for the Senators. Shane Pinto was an early favourite for the Calder Trophy after he scored six goals in his first eight games, including a five-game goal streak and is currently tied for the lead among all first-year players with nine goals. However, he's slowed down since his first month, scoring just three goals in November, which has put a damper on his chances for the trophy.
Related: 2022-23 Vezina Trophy Tracker
---
Latest News & Highlights
---
Thankfully, as Pinto stepped back, Jake Sanderson stepped up. Expectations were sky-high for the fifth-overall selection in 2020, although most fans knew that he likely wouldn't hit those heights for another season or two. Well, no one told Sanderson that, as he's been incredible this season and easily the team's best defenceman. Could he be another Calder candidate for the Senators this season? Given his early success, it's easy to think he is a top choice, but it's not so simple for a defenceman to win the coveted award.
Sanderson's Season So Far
After Senators' defenceman Artem Zub ended up on the injured reserve, Ottawa was suddenly without a shutdown defender, forcing them to utilize their 20-year-old rookie far more than they planned. Yet Sanderson has looked completely at ease given the increased role. In 22 games, he has one goal and 11 points, which places him first among all defenders in Ottawa and on pace to hit 41 points, the highest first-year total ever for a Senators defenceman. The current record is held by Andrej Meszaros, who put up 39 points in 2005-06.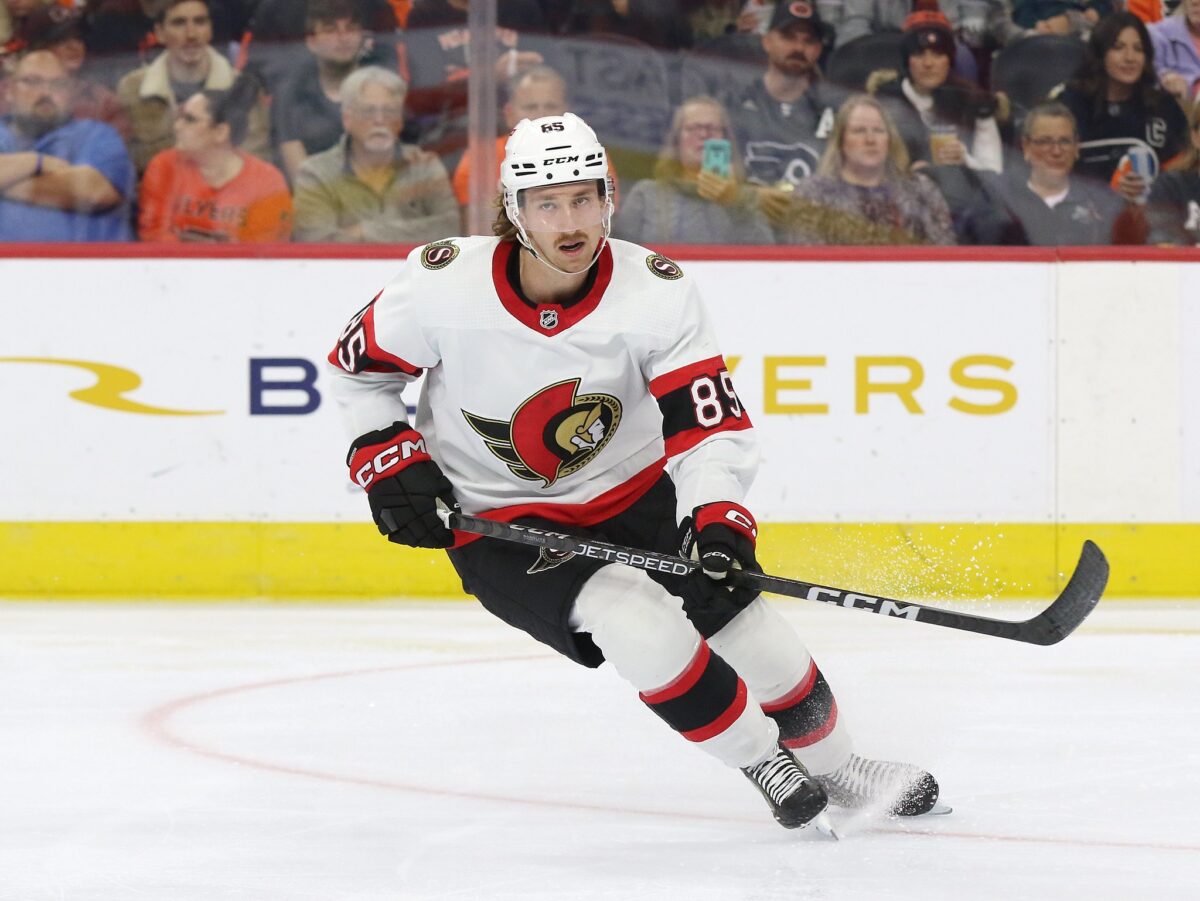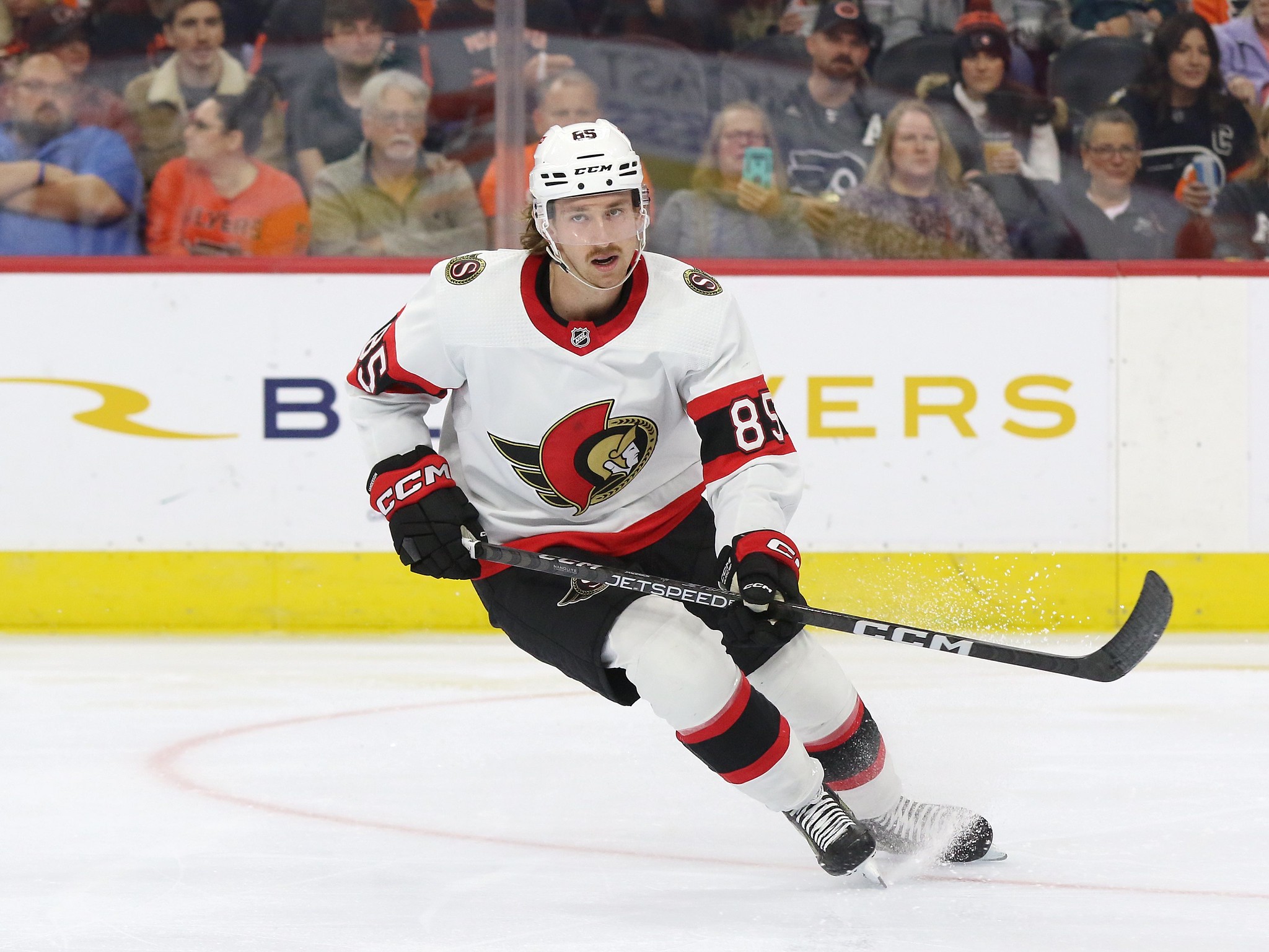 Sanderson also leads the club in plus/minus with a plus-4 and in defensive point shares with a 1.2 while coming in third with 33 blocked shots and fifth in on-ice save percentage among players with at least 10 games played in 2022-23. Yet arguably the most impressive part is that he's been able to do all this while playing nearly 21 minutes a game on average, the most of any rookie, and most of those have been difficult matchups; over half of his starts have been in the defensive end, and the Senators have not had an easy schedule thus far.
Beniers is the Current Calder Frontrunner
Despite Sanderson's success, he currently is not the top choice for the Calder Trophy. That honour belongs to the Seattle Kraken's star Matty Beniers, who has also been fantastic in his first year. In 22 games, the 20-year-old center has 20 points, putting him on pace to hit 75 points by the end of the season. Should he hit that, it would be the highest total from a rookie since Mathew Barzal's 85 points in 2017-18.
Beniers has been a big part of the Kraken's resurgence after their disappointing inaugural season last year. The team currently sits second in the Western Conference, just behind fellow expansion team Vegas Golden Knights, and Beniers sits third on team scoring, as well as second in offensive point shares with 1.7. Should the Kraken make the playoffs, he'll be much more likely to win the Calder.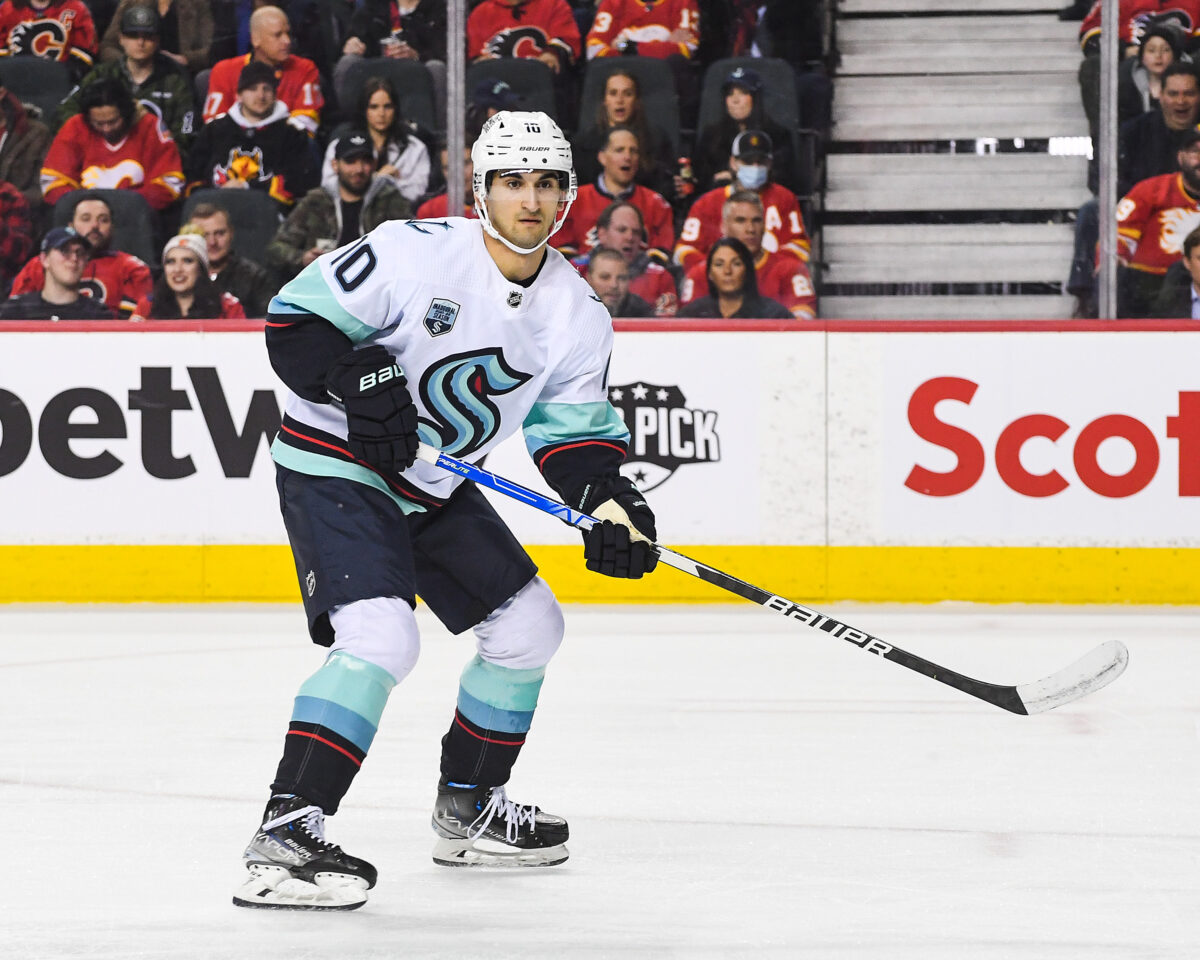 However, Beniers is far from the only Calder-worthy candidate. Cole Perfetti has begun to heat up with the Winnipeg Jets with five points in his last three games and 14 points on the 2022-23 season so far, which places him second in rookie scoring. There's a chance he could really get going soon, though, as he's shooting under 10 percent, while Beniers' 22 percent is likely unsustainable across a full season. Mason McTavish, an early-season Calder favourite, is also starting to catch up after a slow start and is also shooting at 9.3 percent.
Defenceman Calen Addison is also having a strong rookie season and is tied with Sanderson in points with one goal and 11 points. However, despite the Minnesota Wild's reputation as a defensively sound squad, he hasn't been able to round out that part of his game yet and currently sits with a team-worst minus-9.
Defencemen Rarely Win the Calder
So, given the season's rookie performances, Sanderson is right in the mix to receive at least a few votes. But one thing standing in his way is history. Since the inception of the Calder Memorial Trophy in 1932-33, only 13 defencemen have claimed the prize, and only six have done so since 1990. Historically, one of two things needs to happen for a defenceman to win the award. Either they need to hit 50 points, or the crop of forwards needs to be generally underwhelming.
Hitting 50 points
The 50-point plateau is perceived as the point at which a defenceman becomes a top offensive producer. With defencemen often tasked with stopping goals rather than creating them, few have hit this plateau. The first true defenceman to hit the marker was Doug Harvey in 1956-57 – Red Kelly and Babe Pratt had hit it before, but they also played forward positions – and he was the only defender to do so until Bill Gadsby did it three seasons later.
But it wasn't until Bobby Orr broke onto the scene that teams started thinking about defencemen differently. In his rookie season in 1966-67, he led all defensemen with 41 points, which not only earned him the Calder Trophy but also a Norris Trophy nomination as the league's best defenceman. Two seasons later, he became the first defender to break the 60-point threshold, then the first to pass 100 points in 1969-70. His skill resulted in two Stanley Cups for the Boston Bruins, and soon, the rest of the league was following suit. By the 1980s, around 20 defencemen per year were hitting 50 points a season, including Calder winners Ray Bourque (1979-80), Gary Suter (1985-86), and Brian Leetch (1988-89).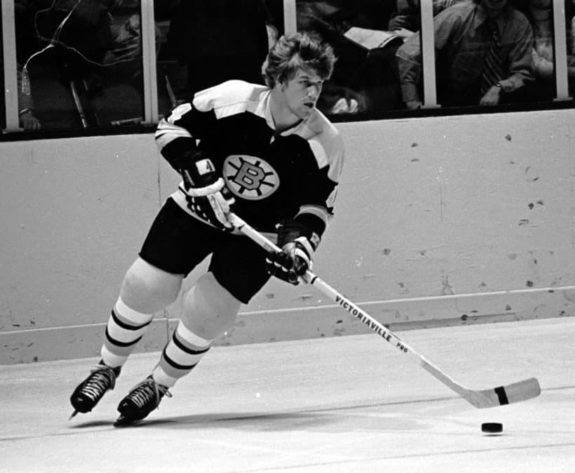 However, surpassing 50 points isn't a tried and true method of winning. Larry Murphy scored an incredible 76 points in his first year, but the 1980-81 Calder Trophy went instead to Peter Stastny, who scored an even more astounding 109 points. Several defenders came out of the gates hot in 1977-78, including Barry Beck, Stefan Persson, and Reed Larson, but Mike Bossy stole the show with his 91-point performance. Phil Housley started his Hall-of-Fame career with a bang, putting up 66 points in 1982-83, but the Rookie of the Year went instead to Steve Larmer, who had 90 points.
But maybe the toughest pill to swallow was Nicklas Lidstrom, who was very impressive in 1991-92, scoring 60 points and sitting sixth in team scoring. But the trophy instead went to Pavel Bure, who also scored 60 points, albeit in just 65 games with the Vancouver Canucks due to injury, plus another 10 points in 13 playoff games.
Underwhelming Forwards
For a defenceman to be an easy choice for the Calder Trophy, the rest of the NHL's rookie forwards have to be somewhat underwhelming. That was the case in 1962-63 when Kent Douglas became the first defenceman to win the award. A hard-nosed defender for the Toronto Maple Leafs, he put up a respectable seven goals, 22 points, and 105 penalty minutes in his first season with the team. Normally, that wouldn't have gotten him close to the trophy, but Rod Gilbert, the highest-scoring rookie forward, had just 31 points, which was even less impressive.
Over the next several decades, more than a few defencemen benefitted from the lack of scoring from forwards. Bryan Berard's 48 points in 1996-97 were deemed more impressive than Jarome Iginla's 50 points. Tyler Myers was a surprise breakout rookie in 2009-10, putting up 48 points with the Buffalo Sabres, but it also helped that Matt Duchene, the leading rookie scorer, had only managed to hit 55 points with the Colorado Avalanche. Even Moritz Seider and Cale Makar, winners in 2021-22 and 2019-20, respectively, didn't have much competition from their forward counterparts.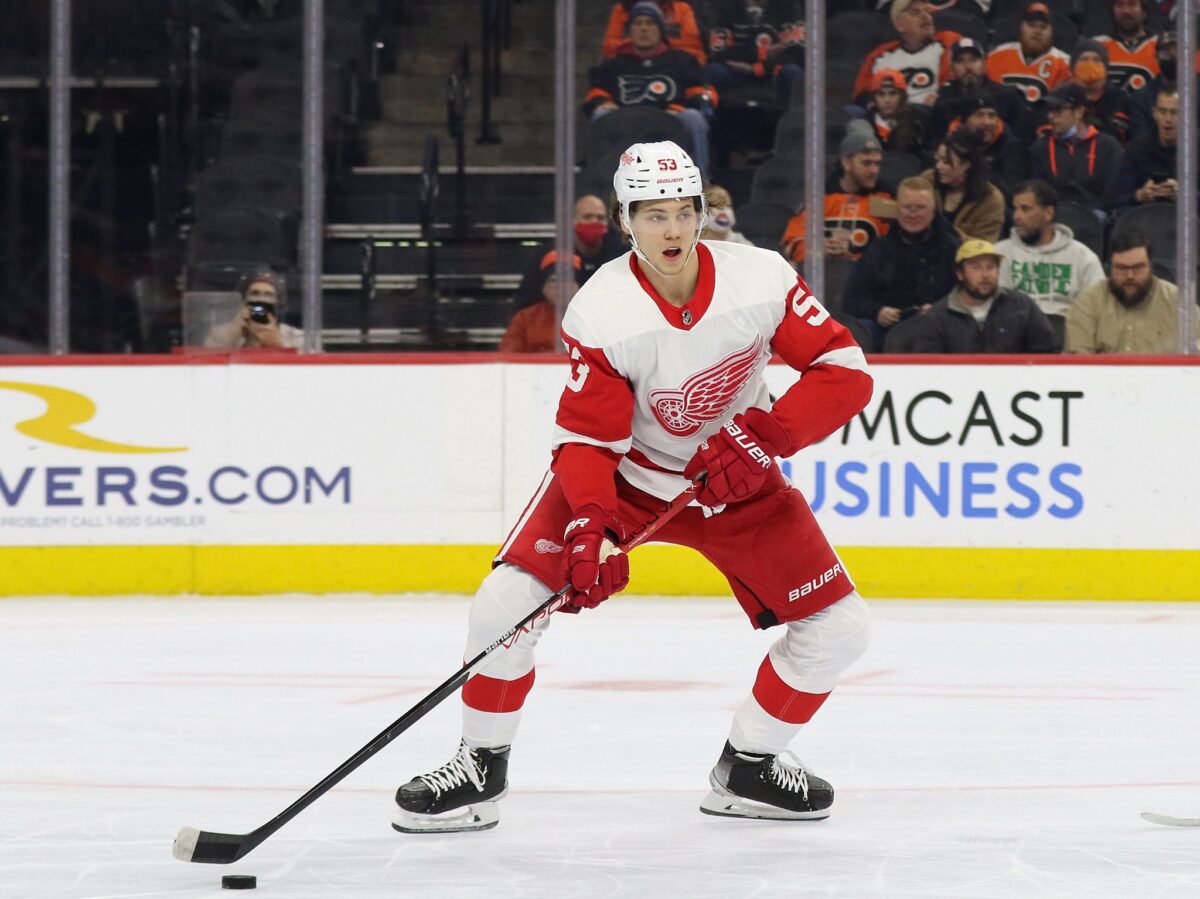 Then there's Barret Jackman. Arguably one of the least-known Calder winners, the defensive defenceman ended his first season with the St. Louis Blues with just 19 points. But scoring was down in 2002-03; only one player hit 50 goals that season, Colorado's Milan Hejduk. Like Douglas 40 years before him, his point total was far from award-worthy, but the highest-scoring forward was Henrik Zetterberg, who put up just 44 points, with Rick Nash coming in second with 39 points. It wasn't all that close, either, with Jackman ending up with 39 first-place votes to Zetterberg's 18.
What Needs to Happen for Sanderson to Win?
Based on the history of the award, Sanderson's pace of 41 points will put him just shy of claiming the Calder Trophy, especially if Beniers continues on his current pace. Barring an otherworldly performance from a goalie or defenceman, 70 points is usually enough to win a player the award. In 2015-16, Artemi Panarin finished his rookie season with 77 points, which put him easily over Shayne Gostisbehere, who had 46 points.
However, Sanderson can do it. Defensive prowess has been rewarded in the past, and on a Senators' team that has been rife with defensive lapses, he could set himself apart from the crowd if he continues to excel in two-way play. Zub's return should also give him a great mentor and help Ottawa become a much more dangerous team on the blue line, similar to the days of Zdeno Chara and Chris Phillips. It still makes him a long shot, but Sanderson is a dark horse candidate to win the Calder in 2022-23.
---
---
---
---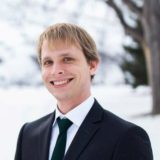 An elementary teacher by day and an avid hockey fan, Dayton joined The Hockey Writers in 2019 and currently covers the Ottawa Senators, World Juniors, and NHL Entry Draft.