The New York Rangers have signed defenseman Sergey Zborovskiy to a three-year, entry-level deal, reported TVA's Renaud Lavoie on Monday. The reportedly two-way contract has a $633,000 AAV with a $278,000 signing bonus.
Zborovskiy has played the last two seasons in North America with the Regina Pats of the Western Hockey League (WHL) and has compiled 11 goals, 44 points and 131 penalty minutes in 135 games. A native of Russia, Zborovskiy was originally drafted by the Rangers with the 79th pick in the 2015 NHL Entry Draft.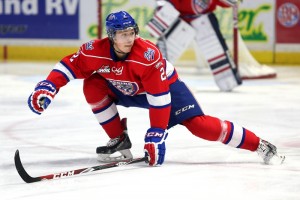 Zborovskiy is still growing into his 6'4″, 195-pound frame, learning the English language and life in North America. During an interview in 2015 with Alexander Grebennikov of the Winners Hockey Agency, Zborovskiy spoke about adapting to the North American lifestyle in Regina. "At first you have to understand their culture and their lifestyle. You have to be quiet, to be a simple guy. Regina is a small, quiet town, while I am from Moscow, a huge metropolis with a population of about half of all of Canada. You need to be well-educated and always give back to the good things you get," he said in his native Russian language.
At just 19-years-old, it is unlikely Rangers fans will see Zborovskiy in a Blueshirts uniform for at least a couple more years, but with today's entry-level contract announcement,the franchise sees potential in the young blueliner.
Steven is a lawyer and writer with a passion for the game of hockey. He's the Lead Writer covering the Tampa Bay Lightning with THW. He's also been press credentialed through the Lightning since 2016. His work has been published at The Fourth Period, LightningInsider.com, Bolt Prospects, The Sports Daily Network, U.S. College Hockey Online and College Hockey News. He's had radio appearances on TSN 690 in Montreal, Lightning Power Play Live and multiple podcasts to give insight and analysis on the team. He can be reached on Twitter @StevenDiOssi and by email at sdiossi@gmail.com.