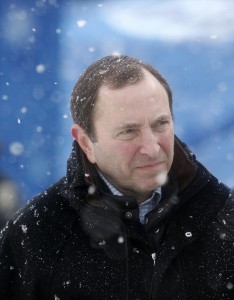 NHL Commissioner Gary Bettman is ready, willing and able to meet with the players union in order to negotiate a new contract between the two, however, Bettman has stated that he has yet to hear from the union if they are ready or not to do so.
"That's something that we're relying on the union for right now," Bettman said Thursday. "We've been ready to go for months but there's a new executive director and he's getting up to speed, meeting with his constituents and when the union's ready, then we'll start."
The new executive director that is Bettman referring to is Donald Fehr, who the formerly led Major League Baseball's players union. Fehr moved over to the NHLPA is December 2010.
What is the league looking for in a new seven-year deal this time around? Bettman declined to say.
"I don't discuss what we're looking for in collective bargaining publicly," he said. "That's best done across the table with the principals."
If one had to guess, revenue sharing will most likely be a main topic of the negotiations. Currently, the players' take of league revenues is set at 57 percent, a fairly generous number when compared to the other major North American sports leagues.
The league will be looking to cut that down closer to an even split.
The current contract was also the league's first that included a salary cap. Expect a salary cap, though perhaps one with a higher ceiling, to be included in the new collective bargaining agreement.
"Obviously, the system we have made some important fundamental and dramatic improvements," Bettman stated. "We have, as I said, great competitive balance but I'm not getting into the specifics."
You can be sure on everyone's minds, fans and leadership alike, will be to avoid a work stoppage like the one that shut down the 2004-2005 season. Another lost season could cripple a league that has made so many strides in the right direction.
The current deal expires September 15.
Bettman is currently in Las Vegas with team presidents at the Encore Las Vegas hotel-casino, the new site of the NHL Awards in June. Bettman said they were there discussing how the award show will operate, as well as talking other general business issues such as marketing initiatives and TV contracts.