If you call yourself a die hard hockey fan, you probably have at least a moderate curiosity towards line combinations and defense pairs. The start of training camp is when coaches like to try new combinations and mix things up to see which players might mesh well together.
For veteran teams like the Sharks, the mixing and matching of players on different lines is easier when there is already plenty of established chemistry. Experimenting in training camp is more for future reference as typically teams will start the season with familiar lines that have worked in the past.
This morning's column took a look at probable even strength forward lines that first year Sharks head coach Peter DeBoer might start the season with. What about the defense pairs? Let's take a look.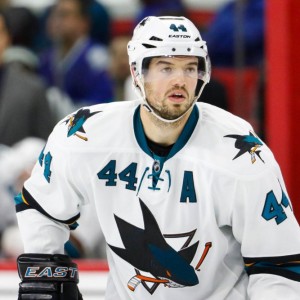 Marc-Edouard Vlasic and Justin Braun
For a large portion of the last three seasons, Vlasic and Braun have played together as San Jose's top shut-down pair. While Braun had a down season last year, it is wrong to suggest that he is only good when paired with Vlasic. During the 2013-14 season when Vlasic was paired with Jason Demers for most of the second half, Braun continued to be fantastic. In fact, the Minnesota native was terrific at even strength despite having to compensate for a struggling defense partner in Brad Stuart. Over the years Vlasic and Braun have built up plenty of chemistry. With a likely bounce back year for Braun and the team as a whole, look for this top pair to be excellent against the other team's top lines.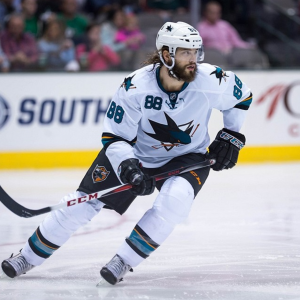 Paul Martin and Brent Burns
Last season was a major struggle for Brent Burns at even strength. While he dominated the power play and picked up plenty of even strength points, the fact of the matter is the opponents scored a significant majority of the goals with Burns on the ice five aside. This needs to change for the Sharks to make noise this season. With a full year back on the blue line under his belt and a stud shut-down partner in Paul Martin, Burns' five aside performance will improve drastically. Martin and Burns have the makings of being a top notch second pair. They won't have to face the toughest matchups and therefore should be able to dominate the competition. Martin is a superb defender, with tremendous skating ability and a good first pass. Burns is already a big time possession guy, assuming he can clean up some of his mistakes from a year ago, these two have the potential to do some serious damage.
Brenden Dillon and Matt Tennyson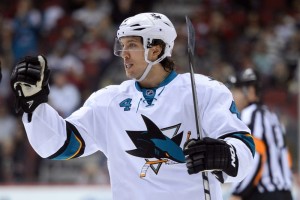 Brenden Dillon showed flashes of top-four shut-down potential last season but struggled to find his game consistently after being acquired in a November trade with Dallas. Dillon has the size and skating ability to be a tremendous defensive defenseman but his offensive game severely lacked last season. In order to reach his ceiling, Dillon will need to work on fine tuning his game at both ends. Offensively he must do a better job getting pucks through to the net instead of being blocked out high. Defensively, he could still use his six-foot-four frame a bit better, play a bit more of a nasty game in his own zone. While he does have things to work on, he ought to feast in limited ice time against third and fourth line forwards. For a significant stretch of games last season Dillon and Matt Tennyson showed some good chemistry together. Tennyson's puck moving abilities and right-handed shot complement Dillon's more stay-at-home left-handed game.
Andrew has been credentialed to cover the Sharks since 2010 and the 49ers since 2012. He graduated with his BA in Broadcast Electronic Communication Arts in 2013 from San Francisco State University.