Last month, I discussed the possibility of Dan Cleary signing with the Detroit Red Wings. Sure enough, Ken Holland signed Cleary to a new one-year deal just a few days later.
Red Wings re-sign Daniel Cleary for 1 year $950,000. I do not expect him to make Detroit roster. In minors not count against cap.

— Helene St. James (@HeleneStJames) September 4, 2015
In the article, I talk about the pitfalls of Holland's loyalty to Cleary, specifically when he re-signed the 36-year-old winger in 2013. Tomas Tatar had to sit in the press box for a few extra games. Gustav Nyquist started that season in Grand Rapids. At the time, each was a promising, young player, ready for fulltime duty in the NHL. It seems as if that is what bothers the majority of Cleary's detractors the most – he is taking someone's spot. Admittedly, it has bothered me in the past, too.
However, that is not the case this year, at least not in the NHL. Sure, it is possible that he bumps someone out of the Griffins' lineup. What about what he can do for the players down in Grand Rapids, though? If Cleary can instil some of his work ethic into their young players, is the signing worth it then? If you look at Cleary's career as a whole, it reads as something of a cautionary tale – a young player with all the talent in the world knocked off the tracks by off-ice issues and poor work ethic. Taking a glance at the Griffins' roster, there is one player in particular whose work ethic has often come under criticism. Anthony Mantha is looking to put his first year of hockey in the AHL behind him, to learn and grow from it. Who better to guide him on his path than a man who has been there before?
A Rocky Start for Cleary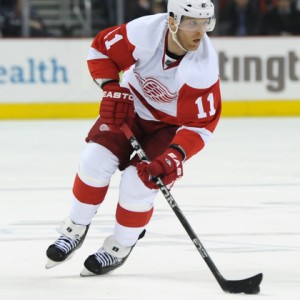 The Chicago Blackhawks selected Dan Cleary with the 13th overall pick in the 1997 NHL entry draft. Regarded as one of the best young players in the world at the time, he finished his career in the OHL with 323 points through 220 regular season games. The point totals, however, did not impress Mike Babcock. At the time, Detroit's former head coach was in charge of Canada's junior team and decided to cut Cleary from the '97 squad. Per an article from The Detroit Free Press, 2007:
"He got carried away is what happened. But it just didn't happen – off-ice commitment, work ethic, pace of game."
In his last season with the Belleville Bulls, the Blackhawks called Cleary up to the main roster – an unsuccessful stint that found him back in the OHL after just six games. It was a sign of things to come, as Cleary struggled to stick with the Blackhawks the following season. He found himself as a member of the Edmonton Oilers after just 35 games with Chicago. While Cleary found some success with the Oilers over the next four seasons, the Phoenix Coyotes acquired him in the summer of 2003. They elected not to re-sign him. That's when Cleary found a new trainer, deciding to change his lifestyle and his mentality. When the NHL lockout occurred in 2004-05, he went overseas, where he registered 37 points through 47 games with Mora IK of the Swedish Elite League. Cleary's return to North America represented a new start – he was a man with a different set of priorities and a renewed sense of self.
"I just told myself, 'Work hard, and your skill will come out. Show Ken Holland and Mike Babcock that you're a different person than I was when I was younger. Show them that I'm not that hotshot kid anymore.'"
Though he struggled to produce during his first season in Detroit, Cleary would go on to score 40 points or more in three consecutive seasons. Along with the points came a brand of hard-nosed, two-way hockey that would endear Cleary to Babcock, who felt comfortable using the winger in all situations during a game. It was a lesson that took Cleary a long time to learn, but it was one worth learning.
Heading in the Right Direction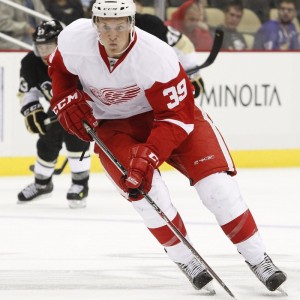 To be clear, I do not think that Mantha's situation nearly as dire Cleary's was back in the late 90's. You have to give the young winger the benefit of a doubt. He started the 2014-15 season with an injury, fracturing his right tibia during the Traverse City Tournament last season. Mantha missed two months with the injury, making it tough to gain any kind of traction entering his first season of pro-level hockey. Heading into the 2015-16 season, he seems to have the right attitude. Mantha told Mike Morreale of NHL.com:
"I've learned a lot in the past two years when I was at the top and when I was at the bottom. I'm kind of trying to figure out my way through, so this year I want to stay right in the middle and play my game."
For Mantha, it seems a matter of confidence. Members of Red Wings' management have cited various ways for Mantha to improve his game – skating harder with and without the puck, battling for pucks and upping his level of intensity.
Sounds familiar, doesn't it? Enter the experienced veteran who has been in a very similar situation. The ups and downs Mantha has experienced over the past two seasons, Cleary experienced over the course of eight years. He is a man who has never been shy about getting on top of teammates, especially if he feels they are not putting forth their best effort. I expect him to do the same with Mantha. While his days of 40-point seasons are past him, he can find a new way to contribute. After all, isn't that how Cleary found himself on the Wings in the first place?
I am a writer from Windsor, Ontario who has covered the Detroit Red Wings for The Hockey Writers. I have had the pleasure of doing so since February of 2015. Previously, I have written about Red Wings prospects for Hockey's Future. I am always up for chatting about the Red Wings and hockey in general, so leave me your comment and/or tweets. Follow me on Twitter at @BrandonPeleshok.