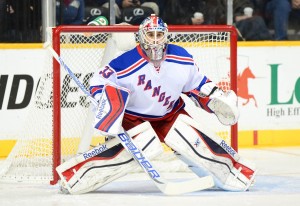 Outside of pending unrestricted free agent Devan Dubnyk, current New York Rangers backup Cam Talbot is the hottest goaltender on the market for a new team. The San Jose Sharks are reportedly interested in trading for the soon to be 28-year old Talbot. The Ontario native has one year left remaining on his contract with a $1.45 million dollar cap hit. Talbot shined this past season when filling in for the injured Henrik Lundqvist, but the Sharks would be wise to stay away from the veteran backup.
Would Have to Give Him Ice Time
While Talbot may have continued success on his next team, the fact of the matter is there are few elite goaltenders in the NHL. Chances are Talbot isn't going to join the ranks of current teammate Lundqvist, or Carey Price, Pekka Rinne, Tuukka Rask, and Braden Holtby. Outside of these top four or five goaltenders, the rest of the goaltenders in the NHL are rather interchangeable and up and down.
For the past 10 years, the Sharks have ridden one goaltender hard and it hasn't produced great results by the end of the season. Moving forward San Jose should bring in goaltenders to compete for ice time between the pipes. They should not give up assets for a player who they will then have to start 50 plus games.
When teams execute a trade, it is difficult to reduce the playing time of the new acquisition because they don't want the trade to look bad. If the Sharks were to trade for someone like Talbot, they will have to give him plenty of time to find his game even if he has some hiccups. This is just a bad idea. A journeyman backup with just 53 starts is not the guy you want to hand the reins to. Instead, the Sharks should bring in a veteran unrestricted free agent like Michael Neuvirth, Karri Ramo, or even retain Antti Niemi if they can re-sign him at a cheaper cap hit. They should then pair that veteran with backup Alex Stalock and play the hot hand the whole season. If one is hot and the other is cold, then the hot goaltender should start eight out of 10 games. If they are both playing at the same level, then a 50-50 split.
Patrick Sharp vs Corey Crawford
In today's NHL, it is far more useful to spend assets and money on the players playing in front of the goaltender. Chicago has won all of their Stanley Cups with goaltenders that aren't thought of as elite. Sure enough they eventually paid goaltender Corey Crawford big money, but many consider that contract to be a poor allocation of salary. If I'm the Blackhawks, I would rather keep Brandon Saad, Johnny Oduya, and Patrick Sharp, and trade Crawford, than have to trade one or two of these big name skaters. Crawford can be replaced by the next young goalie relatively easily. Replacing multiple key parts of the 18 skaters is much more difficult.
Start Drafting Some Goaltenders
As for the Sharks, instead of giving up assets for an unproven goaltender, they should focus on the draft. San Jose has been miserable at drafting goaltenders. This is something that needs to change and should be the focus rather than trading for a goaltender who will require No. 1 playing time. Team Teal hasn't drafted a starting netminder since 1995 and they have only drafted one goaltender in the past six drafts. They must begin drafting multiple goalies and grooming them to have legitimate opportunities down the line. Instead of hoping Talbot is good enough to be the main goaltender for the next few years, the plan should be that the goalies they draft next week will be quality NHLers down the road.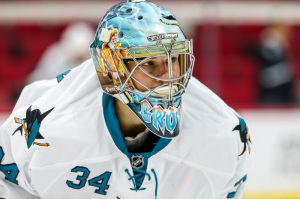 Until the 2015 drafted goalies are NHL ready, the Sharks should give Stalock, Troy Grosenick, and some free agent veterans (all guys with big motivation to prove their doubters wrong), chances to succeed. If these guys fail, then in subsequent seasons other free agents can be brought in. However, if someone like Talbot fails, then not only does goaltending remain a problem, but they will have given up a quality draft pick or prospect in the process. While Sharks GM Doug Wilson has been really good making trades in his career, this is the inherent risk in having to trade for players rather than develop. Wilson has developed a strong roster for many years, particularly at the forward position. However, defensively and between the pipes, he has done a rather poor job at drafting and developing.
Instead of repeating past mistakes (overriding the home grown Nabokov late in his career, overriding Niemi the last few years), and instead of trading for an unproven backup, the Sharks should start stockpiling goaltending prospects – giving them a legitimate chance to succeed.