Last week, I took a look at what options the Red Wings had with Stephen Weiss, and the general consensus was to give Weiss a chance to play his way back into the lineup. Assuming that doesn't happen, or the Red Wings can get something in return for Weiss, where exactly could he go?
Vancouver Canucks
With the recent news that Shawn Matthias is going to test free agency, the Canucks have a possible vacancy in their bottom six forward group. With the likes of Tom Sesito, Cal O'Reilly and Brad Richardson all pending UFAs, the Canucks would be looking for a body to replenish their third and fourth line? Is there a chance that they would take a stab at Weiss?
Rumours have flown for a couple of years that the Red Wings had significant interest in 29-year-old Swede.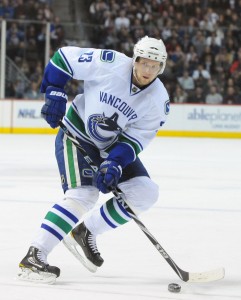 Alex Edler, who had a year to forget in Vancouver in 2013-2014. This past year, he rebounded well with a 52.3% Corsi For % and averaged nearly 24 minutes a game. If the Canucks were still looking to move him, they would need something else than just Weiss in return.

Pope may not be a name that Red Wings fans remember. Pope played for West Kelowna in the BCHL (British Columbia Hockey League) which is the best Junior A hockey program in Canada, and has produced such NHL players as Kyle Turris, Beau Bennett, Brett Hull and 2015 Conn Smythe winner Duncan Keith. This isn't your regular Junior A league, and Pope did well in his last year for the West Kelowna Warriors as he lead the team with 27 goals in 45 games. Pope then moved to Nebraska-Omaha of the NCHA where he helped the team reach the Frozen Four and was third in freshman scoring for the Mavericks. He is a few years away from making an impact in the NHL, but the Canucks wouldn't be adding to their salary cap at all. This is probably the least likely trade to happen as Alex Edler has found his niche again in Vancouver.
Nashville Predators
With Mike Ribeiro and Matt Cullen pending UFAs, the Predators could possibly lose two of their top three centres from last season. Since they took a flyer on Ribeiro in signing him, there is a chance that they would take a swing at a guy like Weiss.
It's completely possible that the Predators would be willing to take on a rehab project in Weiss, simply because they have a giant hole in the middle of their lineup. With the looming possibility of Matt Cullen looking to move closer to home this season, or possibly retiring, the 38-year-old's $4 million dollar contract would come off the books. Along with Cody Franson and Mike Santorelli more than likely leaving, the Predators would be hovering dangerously close to the cap floor.

This is probably the best-case-scenario for the Red Wings. In this instance, the Predators need some salary on their books, and they also need centres; and they need them badly. This would be the ideal trade for Stephen Weiss and the Red Wings, and its unlikely that the Wings would (or could) ask for much in return, considering Weiss was a healthy scratch numerous times this past season. Nashville gets a centre with a chip on his shoulder to produce, and the Wings unload salary while opening up a roster spot for one of their younger players.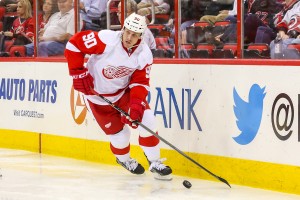 Arizona Coyotes
Much like Nashville, the Arizona Coyotes could use a few extra bodies up the middle. Maybe more than capable centres, the Coyotes need to spend more money. As of July 22nd, the Coyotes are nearly $17 million dollars under the salary cap floor. The Coyotes offer up Sam Gagner as their number one centre, and right behind him is Mark Arcobello, followed by Kyle Chipchura and Joe Vitale. Gagner has yet to grow into his number one centre role, putting up 41 points in 81 games in Arizona last season; Arcobello is an Edmonton Oilers cast-off who bounced around four different NHL rosters last year, and registered 16 points in 27 games with the Coyotes as their second line centre. Chipchura is a reliable third or fourth line centre, and Joe Vitale is much of the same, with an even smaller offensive upside.
If the Coyotes are looking to add a little bit of scoring potential to their lineup, while taking on some salary, Stephen Weiss may be their best bet. Even though it seems like the Coyotes need Stephen Weiss, the reality is, they do not. The Wings may need to beef up their offer in order to get Weiss off their books and into the hands of the Coyotes.

If the Coyotes are looking to stockpile prospects, why not do that in the centre position? Behind Max Domi and Henrik Samuelsson, the Coyotes are a little thin in the centre prospect pool. Aubry isn't anything special in terms of talent, but he is 6-foot-4 two-way centre that the Coyotes could use in a few years when the likes of Chipchura and Vitale have done their times in the desert. Aubry was seen as a lanky 18-year-old, and he is still bulking up and improving his game. His defensive mindset is seen as his biggest strength, which the Coyotes would be looking for.
The Red Wings currently have Dylan Larkin, Landon Ferraro and Dominic Turgeon knocking on the door in the centre position, so they shouldn't feel any pressure to hold onto Aubry or another one of their centres. This move would open up space on the NHL roster, as well as the AHL roster for younger talent to begin making their way up.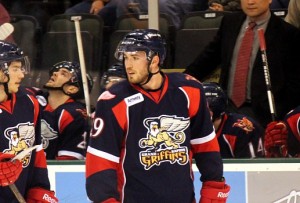 As much as Red Wings fans would like to see Weiss move on to open up a roster spot for younger talent, knowing Ken Holland and his history, there is a great chance that Weiss sticks around for at least half the season, if not the full season. However, if Holland can strike a deal, perhaps these ones would be high on his list.