"I want to be close to home," Nashville Predator center and pending unrestricted free agent Matt Cullen recently told his hometown paper, the Dickinson Press.
This doesn't necessarily mean that the Moorhead, MN-native is set on playing for the Minnesota Wild. He also said, "I know already in my head that there's a few places, if I do decide to play, I'd consider going to." He added that no matter where he winds up next year, his family will be back home in Moorhead.
That means Minnesota isn't the only option. Winnipeg is less than four hours from Moorhead and there's a relationship there, as Cullen played for Jets coach Paul Maurice during his time with the Carolina Hurricanes.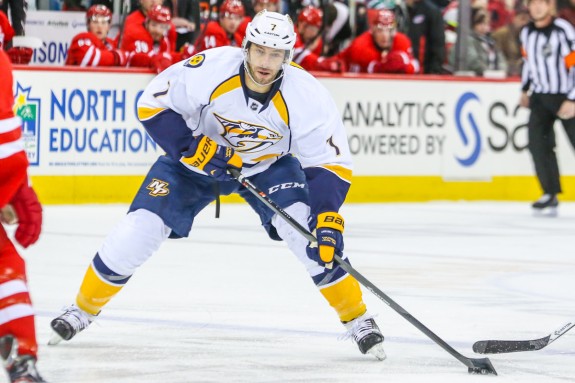 Could Matt Cullen Return to the Wild?
He's only two years removed from a three-year, $3.5M AAV stint in Minnesota. A large part of his departure was salary cap restrictions for the Wild and there was no ill will. After signing with Nashville he told the Pioneer Press' Chad Graff, "Being in Minnesota was very special. I'll miss it a lot."
This offseason, the situation isn't much different for the Wild. The cap isn't choking off their ability to make moves, but there isn't a ton of wiggle room with a number of RFAs looking to get new deals and they aren't likely to be keen on multi-year contracts for older players considering the age distribution on the team.
While they will likely need to sign a depth forward or two, the may also need to make a trade in order to make the cap work with the likely re-signing of Devan Dubnyk, Mikael Granlund, Erik Haula, and Christian Folin. They likely have around $9M in cap space to get that all done.
However, if the money is there and Cullen is willing to have a smaller, shorter contract, Minnesota could have allure for the veteran, who is finishing a two-year, $7M deal with the Nashville Predators.
What's Already There
While money is tight, the Wild are still looking for solutions down the middle. Not only do they not have a star center, Mikko Koivu is aging with offensive production on the decline and Mikael Granlund hasn't developed as quickly as the team may have hoped.
Further down the roster, Charlie Coyle started the season at wing before becoming a steady third line center. With his new five-year deal starting this fall, it's hard to imagine that the Wild don't start Coyle at center next season.
On the fourth line, the team rotated between Erik Haula and Kyle Brodziak at center. Brodziak is a pending unrestricted free agent, who the Wild seem unlikely to re-sign.
Haula didn't develop the way the team hoped in his sophomore year. Though, part of that was likely injury related. He took a shot to the head over the summer at the IIHF World Championships from Evgeni Malkin, which broke his jaw. Then, early in the season, he suffered a concussion when he took a hit from the New York Rangers' John Moore. His performance may deserve a bit of an asterisk, but it's not clear that the Wild have a fourth line center they can rely on going into next season.
The Wild played their best when the fourth line was another scoring threat, which Cullen could provide. They have also struggled winning face-offs and with the presumed departure of Brodziak, they're losing their second best face-off man (49.2%). Cullen, who drew at 54% this season, could provide a more reliable solution on the dot.
The Deal
If Brodziak indeed exits the franchise, it could open the door for Cullen to take a pay cut and find a home in Minnesota. He'd need to come in around (likely under) the $2.83M AAV Brodziak had on his three-year deal and the Wild might want to keep it to a one-year contract.
A pay cut and a one-year deal seems like a tough sell, but it may be the kind of home-town be-close-to-your-kids discount that makes sense if the Wild are willing to give a no trade clause to Cullen.
This kind of deal could be a win for both sides. Cullen gets close to home and doesn't have to retire quite yet — something that his postseason quotes indicate is a possibility. For the Wild, they're only one of two teams whose five highest paid players are all over 30, but they also had more players under 25 than either of their opponents. They both need to win now and nurture their youth.
With a one-year deal on Cullen, they improve for the 2015-16 season without sacrificing development or creating cap issues for the following year when they've got contract negotiations to have with Justin Fontaine, Jordan Schroeder, Jared Spurgeon, Matt Dumba, Darcy Kuemper, Jason Zucker, and Tyler Graovac, as well as a number of younger non-NHL players like Brody Hoffman, Zach Palmquist, and Raphael Bussieres who will be RFAs.
What Matt Cullen Offers
Cullen's versatility could be an asset as the team continues to develop young centers like Haula and Tyler Graovac. Cullen found his role changing in Nashville as the season wore on and he struggled through the early portion of the season. It was a role that had him bouncing from center to wing and creating offense in the Predators depth lines.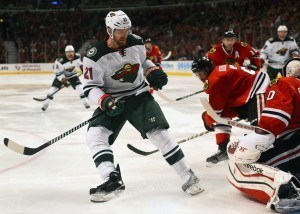 His scoring took a hit his year, dropping from 39 points (10-29–39) the prior season to 25 points this year (7-18–25). Though if he comes in on an affordable deal, he provides solid depth scoring that could compliment the Wild's speed and play-making ability. He comes in, even with a decrease in scoring, ahead of Brodziak's 20 points despite Brodziak playing 11 more games than Cullen. Haula also played more games than Cullen and put up fewer points.
A hometown discount could make Cullen a suitable Brodziak replacement, especially considering that despite being nine years older than Brodziak, he played a better season offensively and wasn't a drag on Nashville's possession in either of his seasons there, in two different coaching situations.
This season he posted a -0.2% CF%Rel and the year before he had 3.1 CF%Rel with both score-adjusted CF% being above 50%.
At 39 next season, the former Stanley Cup champion's age is a concern with the Wild split between very young players and a lot of highly paid players who are getting into their thirties.
He would provide a bottom six center with the versatility to move to wing if Haula or Graovac's play demanded a center job. He also has the talent to move up a line when injury strikes without making you feel like the team is instantly getting unmanageably thin.
The Vegas Odds On It
Would it be a sexy signing? No. But it could be smart if it's a scenario where Cullen wants to come home, again. From recent quotes, it's clear that retirement is an option, so he's at that stage where being near family matters and that may put him in a position where he'd just look to get in one last season near home.
However, if he chose Minnesota (and Minnesota chose him after the dust settles on re-signings and potential pre-July 1 trades), he'd have to accept a role that he never played in his career until late this season. If he's not interested in that role, it may not make sense for a team that has the majority of its forward roster already set for next season.
It's a thin free agent market and, short of a trade, the Wild aren't landing any big fish. The team is in a tough spot where their stars are hitting their early 30s, but young players are still developing. They need to make moves that help them win now, but also leave them free to improve the team again next year. With Cullen considering retirement, a one-year deal may improve the Wild's chance next season without having ill effects on the season after.
Dustin Nelson writes about news and the Minnesota Wild for The Hockey Writers.