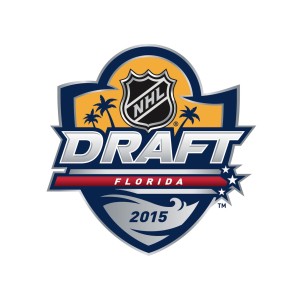 We're roughly six weeks out from the 2015 NHL Entry Draft. The majority of the games have been played, with the notable exception of the Memorial Cup, and it's time to take a look at the whole season at a glance, and get a sense of where the 2015 NHL Draft class stands as he approach the big weekend in sunny Florida.
This is the final 2015 edition of The Hockey Writers' Alternate Draft Rankings. Designed as a complement to Chris Ralph's The Next One rankings, the Alternate Rankings take a different bent: I rank players in the order that I would take them, based upon a hypothetical world where I both (a) own an NHL club and (b) have to draft a team from scratch. As such, I'm not trying to complement any existing roster players or do anything wacky like this – I just am trying to get the most useful players I can find at any particular draft position.
A disclaimer: I'm based in Calgary and see some WHL teams live, but typically see only a few college, junior and World Junior games on TV. That does limit my ability to judge a lot of things, so there's some voodoo, guesswork, and weighing of statistical stuff involved.
---
THE TOP 30
#1: F Connor McDavid – Erie Otters (OHL)
McDavid has been the top-ranked prospect for basically every rankings service for the majority of the season. Central Scouting rated him as their top North American prospect, while Future Considerations, ISS, and Craig Button ranked him first overall.
McDavid is considered a generational player by many scouts. He's offensively creative, occasionally dominant, and teams need to focus a lot on him to shut him down. He's been very strong against his peer age group and was really good against a lot of top older players at the World Juniors.
#2: F Jack Eichel – Boston University Terriers (NCAA)
Eichel has been the consensus number-two player in the draft basically since the get-go. In most seasons, he likely would've been the clear top pick, but the presence of McDavid has bumped him to second place.

Like McDavid, Eichel's considered a generational player by most scouts. He's just not quite as good as McDavid. He may be a big more physically developed, and he's got the benefit of playing a lighter NCAA schedule with less travel. But even the most negative scout would call Eichel a very, very good hockey player.
#3: F Dylan Strome – Erie Otters (OHL)
Strome has been ranked third or fourth on most of the draft rankings that are floating around. He, Mitch Marner and Noah Hanifin are generally clustered together after the top two on most lists.
Strome benefited this year from both Connor McDavid's presence and his absence. His presence drew many additional eyes to his draft-eligible season, where the versatile, talented and creative Strome had an excellent season – despite only occasionally playing with McDavid. When McDavid went down with his mid-season injury, it really shined a light on how good Strome really is, as the Otters kept chugging along while McDavid recovered.

#4: D Noah Hanifin – Boston College Eagles (NCAA)
Hanifin began the season as the presumptive top defender in the draft, slightly ahead of Oliver Kylington, and while he's the top-ranked blueliner on my list, both Ivan Provorov and Zack Werenski have closed the gap. Hanifin's ranked between third and fifth by most rankings services.
Hanifin had some adjustments to make this season, making the leap from the U.S. National Development Team to the deep waters of arguably the NCAA's toughest conference. He reportedly struggled early this season, but gradually made adjustments and was a solid defender down the stretch. He even made the American World Junior squad. He won't be 19 until late January, so whoever picks him will be getting a big-bodied, intelligent defender with the ability to make adjustments in a tough hockey environment like the NCAA.
#5: F Mitch Marner – London Knights (WHL)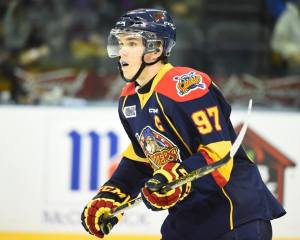 Marner really shot up most draft rankings this season – including this one. As the season ended, he's clustered together with Hanifin and Strome on most rankings services' listings.
Let's get this out of the way. Two obvious qualities that Mitch Marner has. The first? He's a stellar offensive player, racking up 126 points this season – second only behind Strome – and more than doubling his scoring rate from last season. He's a special player. He's also not the biggest guy. Now, the success of Johnny Gaudreau in the NHL this season very bluntly stated "size doesn't really matter." But size matters a little bit when drafting, and if I had a choice between a big, minutes-eating defender like Hanifin and a skilled, smallish forward, I go with the minute-eater because he might be able to make life easier for the rest of my defensive group.
That said, it's a personal choice, and if you swapped Marner and Hanifin, you're still getting a really good player.
#6: D Ivan Provorov – Brandon Wheat Kings (WHL)
Provorov is ranked between fifth and seventh on most draft rankings. His stock has gone up a bit as the season progressed.
I'll admit a small bias – I really like Ivan Provorov's game. He's big. He can skate. He can hit. He's offensively creative, but not awful in his own zone. I cover the Calgary Flames on a regular basis, and he's the exact type of player that they need. It's too bad he'll be gone early in the draft, and with good reason, because he's a very dynamic and confident player.
#7: F Lawson Crouse – Kingston Frontenacs (OHL)
Crouse is a bit of a wild-card in this draft. I've seen him ranked as high as 4th (by ISS) and as low as 11th (by Craig Button). He'll likely go somewhere in the middle, but there's a debate amongst hockey people regarding just how good he is right now relative to others.
Crouse "only" put up 51 points in 56 games this season, which is a significantly lower scoring rate than many of his peers. However, Strome and McDavid had each other in Erie, Mitch Marner had Mad Domi (and Christian Dvorak). Crouse was without super-talented teammate Sam Bennett for the majority of the season, so teams could key in on him. His relatively lower draft stature may be a product of his relatively lower scoring rate.
Beyond considerations of comparison factors, Crouse is a big body who isn't afraid to use his size to get to the dirty areas of the ice. He has a good shot, is a good passer, and as a June 1997 birthday, he'll be barely 18 on draft day.

#8: D Zack Werenski – University of Michigan Wolverines (NCAA)
Werenski is ranked between sixth and 11th by most draft ranking services.
He's big. He's defensively responsible. He's positionally sound. He's got the potential to be a minutes-eating defender. He's in college and likely doesn't face the same type of opposition as the European pro kids or the Canadian junior kids do, nor does he undergo the same crazy Canadian travel schedule.

#9: F Mikko Rantanen – TPS Turku (SM-Liiga)
Rantanen is the consensus top European player in the draft. He's ranked between sixth and 14th by the major ranking services.
Played a regular shift in a top European men's league as a teenager, but will have to get used to the small ice. He wasn't dominant in Finland, but he showed growth and progression.
#10: F Matt Barzal – Seattle Thunderbirds (WHL)
Barzal is ranked between 8th and 18th by the major draft rankings services. His stock has fallen a little bit because of an injury this season, but he did post solid numbers and good scouting reports when he wasn't hurt.
Good skater. Good passer. He's all-around strong in offensive zone and pretty creative. He's also responsible defensively, though his strengths lean towards the offensive.
#11: F Pavel Zacha – Sarnia Sting (OHL)
Zacha has been ranked between 10th and 30th on various rankings. NHL Central Scouting has him as the 8th-ranked North American skater.
Zacha's a slight notch below the other OHL forwards in the upper-end of the first round, but he's still quite skilled and creative.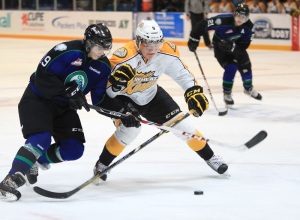 #12: F Kyle Connor – Youngstown Phantoms (USHL)
Ranked in the mid-teens on most rankings, though Craig Button's April rankings have him at 7th.
Smart and creative, Connor's been a consistent high scorer at the USHL level for a couple seasons. Had he done the same thing in one of the Canadian junior leagues, with their well-established high competition level, he likely would've cracked my top 10. (The USHL is rapidly improving, though…)
#13: F Timo Meier – Halifax Mooseheads (QMJHL)
Ranked between 9th and 16th on most rankings.
He's got good size and good offensive instincts, and this past season this Swiss product nearly tripled his previous season's scoring output. He's adapted incredibly well and incredibly quickly to North America, and the big question will be how he deals with bigger, stronger competition as he gets older.
#14: F Travis Konecny – Ottawa 67s (OHL)
Ranked between 11th and 24th on most rankings.
Not the biggest guy, but plays a really tenacious, physical game. Smart 200-foot player. Arguably not "elite" at anything, but his game has very few holes and a ton of areas that have the potential for improvement.
#15: D Jeremy Roy – Sherbrooke Phoenix (QMJHL)
Ranked as high as 12th (by Future Considerations) and as low as 23rd (by ISS).
A May birthday and a right-hander, Roy will be a highly-coveted individual on draft day. He was nearly a point-per-game with Sherbrooke, and performed well at both the World Under-18s and the Ivan Hlinka tournament. Said to be a smart, effective player in every zone.
#16: F Colin White – US National Development Team (USHL)
White has been all over the rankings. He's been as high as 15th (by ISS and Future Considerations) and as low as 33rd (on Craig Button's rankings).
He scored at just shy of the point-per-game pace for his team. He's said to be a very effective player in all three zones of the ice, and despite not being a tremendously large body yet, he protects the puck well.
#17: D Thomas Chabot – Saint John Screaming Eagles (QMJHL)
Chabot has been ranked in the high teens to low 20s in most rankings.
Lauded as a strong three-zone player, he's got decent size (6'2″, 180 pounds), an underrated offensive game and has shown tons of improvement over the past season. His on-ice intelligence has also been praised.
#18: F Evgeni Svechnikov – Cape Breton Screaming Eagles (QMJHL)
He's been ranked in the high teens by most rankings with very little variation.
A first-year import from Russia, Svechnikov performed extremely well for Cape Breton, being third in team scoring and producing at well over a point-per-game pace. He's one of the older players in the draft, as an October birthday, and he'll need to continue to improve his defensive game.
#19: F Nick Merkley – Kelowna Rockets (WHL)
Ranked throughout the teens by most rankings services.
A good all-around player whose skills lean slightly towards slick offensive moves more than defensive prowess – just slightly – Merkley has been great for the Rockets this season, helping lead them to a Memorial Cup appearance.

#20: F Daniel Sprong – Charlottetown Islanders (QMJHL)
Sprong has been ranked in the low-to-mid 20s by most ranking services. Future Considerations ranked him at 19th.

Sprong's been a point-per-game player in each of the past two seasons, and has been easily Charlottetown's most consistent player since he's arrived. Unfortunately, he hasn't been good enough to drag the Islanders to contendership quite yet, and he's much stronger in the offensive end than the defensive end.
#21: D Jakub Zboril – Saint John Sea Dogs (QMJHL)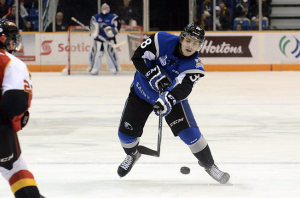 All major rankings services surveyed rank Zboril between 20 and 23.

The good? Zboril is an effective two-way defender, who moves the puck well and managed to produce at just shy of a point-per-game pace. The bad? He takes a lot of penalties. That said, he's a first-year North American player coming in from Europe, and he'll likely improve as he adjusts to the smaller ice.
#22: F Jansen Harkins – Prince George Cougars (WHL)
A candidate to go anywhere from the late teens to the mid-20s, depending on what a team is looking for.
Harkins likely won't be a dominant power forward, but he's a bit like Morgan Klimchuk in that he doesn't have many weaknesses, and he's pretty good (though not great) in most aspects of the game. Really intelligent player without the puck, in terms of reading coverage and forechecking. And his father was an NHLer, so he has a bit of an insight into the rigours of the pro game.
#23: Paul Bittner – Portland Winterhawks (WHL)
Generally ranked in the 20s on most rankings, though he's appeared all over the place in terms of the bottom-third of the first round.
Bittner is a smart, resourceful player who's come up through the ranks of one of the WHL's most successful organizations (and most effective at producing good forwards).
#24: D Oliver Kylington – AIK (Allsvenskan)
Once thought to be the top defender in the draft – up there with Noah Hanifin – he didn't have an amazing season, switched teams and leagues, and tumbled on most rankings towards the mid-to-late 20s.
Still extremely young and he has experience playing tough games in a very highly-regarded men's league. He went through adversity this season, and it'll be interesting to see how he can use that experience to adjust to North American when the time comes.

#25: F Jake DeBrusk – Swift Current Broncos (WHL)
Generally found in the mid-to-late 20s on most rankings.
Son of former NHL Louie DeBrusk. He lacks high-end, elite skill, but he's a hard worker, a smart player and doesn't have many holes in his game. He uses his body effectively, particularly on the forecheck.
#26: F Brock Boeser – Waterloo Blackhawks (USHL)
Craig Button really likes this kid, ranking him 8th in April, but every other service has him in the late first round.
Boeser was over a point-per-game with Waterloo, but he may have trouble playing against bigger defenders.
#27: F Jeremy Bracco – U.S. National Development Team (USHL)
The independent scouting bureaus are much higher on Bracco than Central Scouting is. He's 21st-ranked by Future Considerations and 28th on the ISS rankings, but way down as the 60th-ranked North American skater by Central Scouting.
#28: F Joel Eriksson Ek – Farjestads BK (SHL)
Ranked 20th by ISS, 26th by Future Considerations, and the 4th-ranked European skater by Central Scouting.
Playing in one of the top men's leagues in the world as a teenager. Hakan Loob is his general manager, so he'll be well-prepared to jump to North America.
#29: F Denis Guryanov – Lada Togliatti (MHL)
Ranked 24th by ISS, 30th by Future Considerations, and the 7th-ranked European skater by Central Scouting.
Talented and already has high-level pro experience with a brief KHL stint, but the "Russian Factor" may scare teams away a bit.
#30: D Brandon Carlo – Tri City Americans (WHL)
Ranked 21st by ISS, and is the 25th-ranked North American skater by Central Scouting.
Big (6'5″), smart and defensive responsible. Offensive game needs some fine-tuning.
JUST OUTSIDE THE TOP 30
D Gabriel Carlsson – Linkopings HC (SHL)
F Filip Chlapik – Charlottetown Islanders (QMJHL)
F Nikita Korostelev – Sarnia Sting (OHL)
D Noah Juulsen – Everett Silvertips (WHL)
D Jacob Larsson – Frolunda HC (SHL)
F Jens Looke – Brynas IF (SHL)
D Nicolas Meloche – Baie-Comeau Drakkar (QMJHL)
D Ryan Pilon – Brandon Wheat Kings (WHL)
Ryan Pike has covered the Calgary Flames and the NHL Draft extensively since 2010 as a Senior Writer for The Hockey Writers and Senior Contributing Editor of FlamesNation.ca. A member of the Professional Hockey Writers Association, he lives in Calgary.