You have to give Ken Holland credit. The Red Wings have made 25 straight playoff appearances, and he has been the GM of those playoff teams since 1997, winning 3 Stanley Cups as a GM and 2 Olympic Golds as a part of Team Canada's Management Staff.
This is the man who traded for Mathieu Schneider, Chris Chelios, Brett Hull, Wendel Clark, Igor Larionov, Dominik Hasek, Robert Lang, and signed the likes of Brian Rafalski, Luc Robitaille and Marian Hossa. Not a bad track record.
Everyone is allowed a few mulligans right?
Stephen Weiss was one of those Florida kids who were shining for the Panthers. With the likes of David Booth and Nathan Horton leaving the Panthers for greener pastures and lucrative deals elsewhere, it was time for Weiss to reap his rewards. He was seen as a 2nd line centre, and that's exactly what the Wings were looking for when they signed the Toronto native to a $24.5 million dollar deal in 2013.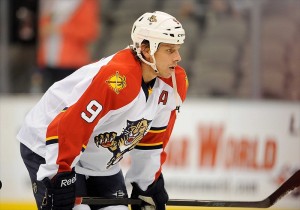 Coming off of wrist surgery, and having never played a full 82 game season (and only breaking the 80 game mark twice), Weiss' $4.9 million cap hit was risky. The Red Wings hadn't made it past the 2nd round in the past 4 seasons, and Holland was feeling the pressure to make a splash in free agency. With Filppula leaving for the Lightning, the Wings had a lack of centres and looked to shore up their top 6.
However, purely looking at Weiss's stats, the risk seems far greater than the reward. Weiss had a career high of 28 goals, and the most he scored other than that was 21. He was a depth player making $4.9 million a year. The pressure was on.
Fast forwarding 2 seasons, Weiss has put up 29 points in 78 games over 2 years, and has been injured and scratched more times than anyone can count. The 32-year-old is on the outside looking in, and he knows it. He has 3 years left on his deal, but he was scratched for all but 2 of the Red Wings playoff games this year and it doesn't seem as though he fits into the Red Wings future as they continue to push youth into their lineup.
Without a coach at the helm of the Red Wings, its hard to say whether Weiss has a spot or not, but after trying to trade him for Dion Phaneuf at the deadline it seems as though the Red Wings are looking to be rid of the former Florida Panther. So what are the options here?
Ship Him Out
As much as Wings fans would like to just trade Weiss, there has to be a GM willing to take on the aging Weiss and his large contract. When the Leafs were willing to take Weiss, they also wanted Brendan Smith and Anthony Mantha, sending Dion Phaneuf back to the Red Wings. Thankfully, Ken Holland didn't bite on that deal, but other GMs aren't simply going to take Weiss and offer up a few draft picks or prospects.
If the Red Wings are able to unload Weiss to another team, they would have to give up some prospects or picks. Because the Wings don't have many picks in this year's draft it would look more likely that they would have to give up a prospect or two to get rid of Weiss.
Would the Oilers be willing to take on another overpaid player? Likely not, since they plan on keeping Derek Roy around and Leon Draisitl will play in the NHL next year. Would the Flames want to add some experience to their lineup? Although that does sound like something Brian Burke would do, the Flames are pretty well set with their young core as it is. Teams like the Hurricanes and Panthers may be willing to pay Weiss's contract assuming the Wings give up a Martin Frk/Ryan Sproul package along with him. However, a trade at this point, is unlikely.
Stick it Out
However unlikely it is, the Red Wings could give Weiss another year to prove himself, and hope that he comes somewhere close to 20 goals this next season. The problem is, where does he fit? Weiss barely fit in the lineup as it was last season, and with the emergence of guys like Ferraro, Tatar and Pulkkinen, Weiss's window to play with the Red Wings is shrinking. His future looks even more bleak if Larkin or Mantha break Red Wings tradition and get playing time next season.
Buy Him Out
This may be the most logical option for the Red Wings. With $16 million left on his contract, Weiss's buyout would cost the Red Wings approximately $1.8 million over the next 6 years. Considering Weiss is currently the 3rd highest paid skater per year on the Red Wings, getting him off the team for $1.8 million doesn't seem so bad. Holland and co. would be left with around $3 million dollars to spend on a defenceman, or balloons to celebrate the departure of Stephen Weiss.
I think it's safe to say that Stephen Weiss will not be a Red Wing for the 2015-2016 season. Whether he leaves via trade or buyout, I would put money on Weiss playing with another team next season. Maybe I'll even put $4.9 million on it.