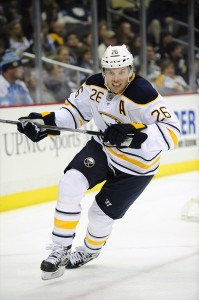 The Terry Pegula Era has not exactly busted in with wild success. After missing the playoffs for two consecutive years, the Buffalo Sabres find themselves at a crossroads. During a disastrous 2013 campaign, the Sabres fired Lindy Ruff, at the time the longest tenured head coach in the NHL. Another playoff miss next year could cost long-standing GM Darcy Regier his job, as well. But is a quick fix to try to eke into the seventh or eighth playoff seed smarter than a full re-build which could have Buffalo challenging for the Stanley Cup a few years down the road?
Two prominent teams which have consistently mortgaged a future in the hopes for a lower playoff seed are the Calgary Flames and the Toronto Maple Leafs. Both of these teams' efforts have largely met with disaster in the standings. It might be wiser to follow the examples of the Chicago Blackhawks and Pittsburgh Penguins, who built strong cores through the draft and then added around them in trades and free agency.
The Sabres' two core players are goaltender Ryan Miller and LW Tomas Vanek. Like with Calgary's elite goalie/forward combo of Miikka Kiprusoff and Jarome Iginla, the Sabres' hourglass to build a winner around them seems to be running out of sand. Both Miller and Vanek are unrestricted free agents following next season, and the best opportunity to trade them might be this off-season.
Buffalo is fortunate to have two first-round and two second-round picks in June's entry draft, considered to be the strongest crop of talent since 2003. They have a potential franchise center prospect in 19 year old Mikhail Grigorenko, a potential top-pairing defenseman in Jake McCabe (also 19), and a possible future starting goalie in Matt Hackett (23). How Darcy Regier builds around them will likely determine the next decade for the Buffalo franchise. Here's how to do that in five (not so) simple steps: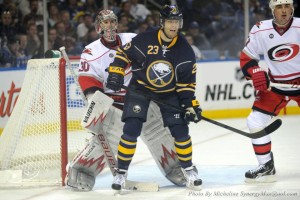 1. Buy Out Ville Leino
For Leino's $4.5 million a year (through 2016-17!) a team could afford five players who don't score, don't play defense particularly well and are injured all the time, why throw it away on just one?
The Leino signing has been a disaster from the get-go. With $48.5 million committed to 17 players under the $64.3 million cap for the 2013-14 season, the Sabres are not exactly in a cap crunch. Still, Leino is the equivalent of lighting your money on fire, and then dynamiting the house the money is burning in and then dropping a hydrogen bomb on the block the house is on that the money is burning in.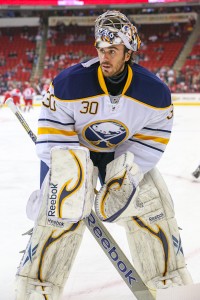 2. Trade Ryan Miller
For the record, I don't like Ryan Miller. I love Ryan Miller. He is not just a top-flight netminder, he is the heart and soul and glue of the Sabres' franchise. That being said, he will be 33 at the start of next season, he is plagued by chronic back problems, and he is a UFA at the end of the year.
Several teams will be looking for a goalie for next year, and Miller's trade value remains high. Minnesota, Toronto and Washington all would be interested. If Phoenix cannot re-sign Mike Smith, if Philadelphia buys out Ilya Bryzgalov, if the Islanders lose Evgeni Nabokov to the KHL or another team, if Calgary loses Miikka Kiprusoff to retirement.
All these possibilities could exacerbate Miller's value. There is little doubt Regier could get a later first-round pick or a top prospect for him. Then the Sabres could go into 2013-14 with Jonas Enroth and Matt Hackett vying to establish themselves as NHL starters.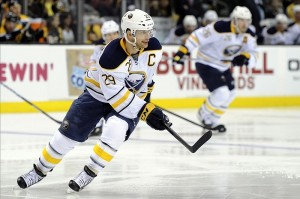 3. Trade Tomas Vanek
Like Miller, this would hurt. Vanek is a true sniper, one of the best net-mouth presences in the NHL. Yet also like Miller, he is a UFA after 2013-14. And his trade value would eclipse that of Miller's, as Vanek is in his prime at 29 and one of the league's most bankable goal-scorers.
Vanek could score a greater return than Jason Pominville did at the trade deadline, two top prospects, a first and second-round draft pick. Although the trades of Vanek, along with Miller and Pominville, would likely leave the Sabres near the bottom of the standings for the next season or two, it would enable them to load up on more high picks and prospects.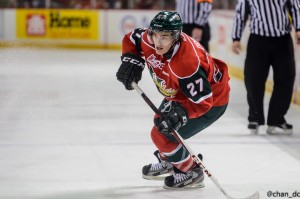 4. Kick Ass At The 2013 Draft
The Sabres face an extremely deep draft with four of the first 52 picks: 8, 16, 38 and 52. If I were Darcy Regier, I would be calling Florida (#2 overall) and Tampa Bay (#3 overall) daily, offering picks #8 and #38 (and perhaps a prospect) to move up and get the opportunity to draft one of Halifax's future franchise forwards, C Nathan MacKinnon and LW Jonathan Drouin. Both have electrifying franchise talent and rare 100+ point upside. The Lightning seem the more possible match, as they are seeking defensemen and would likely have a choice of young highly-regarded rearguards Darnell Nurse, Nikita Zadorov, Risto Ristolainen and Ryan Pulock at the #8 slot.
If the Florida teams will not bite, Buffalo can hope that a top forward such as Valeri Nichushkin (comparable to Rick Nash) or Sean Monahan (comparable to Rod Brind'Amour) fall to them at #8.
Buffalo needs to look at the draft numerically. It is safe to assume that the top four picks will be D Seth Jones, MacKinnon, Drouin and C Sasha Barkov. The three teams ahead of them are likely to decide between the remaining three consensus top forwards of C Elias Lindholm, Monahan and Nichushkin and highly-regarded defense prospect Darnell Nurse.
The best case scenario would involve one of the forwards (especially Nichushkin, who has the talent to be an absolute superstar) falling to Buffalo, but if not, it would be prescient to take Nurse, a physical defender with elite athleticism which leads many scouts to believe he has untapped offensive upside.
Then, with their second first-rounder at #16 overall, Buffalo will likely have a choice of several high-upside forwards and defensemen, though not necessarily with the franchise potential of the #8 pick.
Centers Curtis Lazar and Frederik Gauthier could both be available to join the Sabres' burgeoning prospect pool. On the wing, Valentin Zykov, Andre Burakowsky Adam Erne and Kerby Rychel could all be available. On the blueline, it is possible that one of Zadorov, Ristolainen or Pulock will slip, or perhaps the hulking 6'6″ Samuel MorinWith the #38 and #52 picks there could be several potential steals. RW Mike McCarron is 6'5″ and knows how to use it, LW Emile Poirier brings it every shift, centers Jimmy Lodge, Pavel Buchnevich and Conor Hurley have top-line upside. Native New York State defensemen Steve Santini and Brett Pesce both have shut-down upside.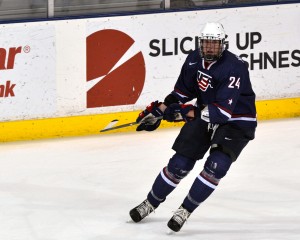 5. Don't Panic
It is difficult to sustain success in today's salary cap NHL. The Detroit Red Wings and New Jersey Devils have combined for 11 appearances in the past 17 Stanley Cup Finals, but most teams have ebbs and flows.
Let's face it, the Sabres are not winning the Stanley Cup next season. And after that, there is no guarantee of re-signing franchise players Ryan Miller and Tomas Vanek. It is time for Darcy Regier to blow it up, to try to become the next Chicago Blackhawks and not the next Calgary Flames.
Writer/lunatic, hockey columnist, mlb.com, aspiring cryptozoologist, estrogen addict, patron saint of vertigo, unintentional ghost hunter. Brooklyn, New York