While the NHL playoffs are in full swing, teams who are already on the golf courses need to be working on how to avoid their 10 a.m. tee offs this time next year. The Buffalo Sabres are no different. Here are just five things that should be on their to do list this off season.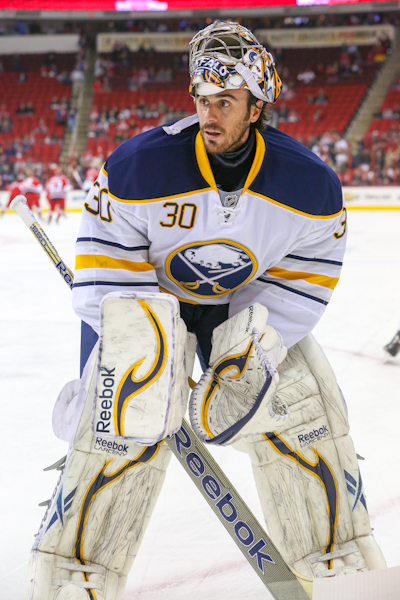 1. Address Goaltending Situation
The first thing the Buffalo Sabres need to do this offseason is address what they plan to do with their goaltending situation and specifically Ryan Miller. The reason this needs to be at the top of the list is because if they wait for the other goaltending chips to fall they are going to reduce the potential return for Miller, if they so decided to trade him. A conversation needs to happen, if it has not already, between General Manager Darcy Regier and Miller. Regier needs to call Miller up and say: Hi Ryan, Darcy here, so where is your head at? Do you want to be part of a "rebuild" here in Buffalo? Would you reconsider resigning after this season? If not I need your list of teams.
If Miller is not committed to being in Buffalo, after his contract expires at the end of next season, and at the age of 32, why would he, the Sabres need to move him and move him before guys like Roberto Luongo, Jonathan Bernier and others are. If the Sabres wait, they only limit their return, if they get the ball rolling they can speed up their rebuild. Not to mention start to move on with Jhonas Enroth between the pipes, which he showed he can handle with Sweden at the IIHF World Championships.
2. Determine Draft Objectives
The Sabres then must turn their attention to the 2013 NHL Entry Draft. This goes hand in had with the Miller situation as it may effect their drafting position. But before the June, 30 draft, the team's scouting department must get into overdrive, again this should already be happening.  They must identify the team needs. The Sabres are still well stocked with defensive talent and even if they move out Miller, they did acquire Matt Hackett from Minnesota in the Jason Pominville trade who could serve as a back up.  Even by acquiring Johan Larsson, a centre, in that trade, and drafting Mikhail Grigorenko last season, the need for guys down the middle still seems apparent to the team. The Sabres currently pick eighth, so this is where things get tricky as there are three centers ranked in the top six of the most recent NHL Draft Rankings.   If one of these three (Nathan Mackinnon, not likely, Sean Monahan, a little more likely, or Hunter Shinkaruk, most likely) slips it would make sense for the Sabres to take them. But to ensure they address a need it might mean trading up.
3. Target and Fill Out Depth Chart With Free Agents
Much like the amateur scouts being in overdrive, the professional scouts need to be finalizing reports about who might be able to move up from Rochester and fill out the Sabres roster and who potential targets are in free agency.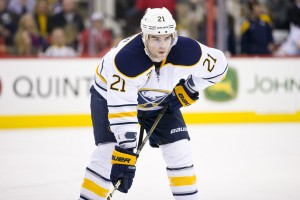 Looking at forward, the real weakness seams to be at right wing. There will be a lot of pressure for Drew Stafford to rebound from his poor 2013 season, but the Sabres might want to get some insurance as after Stafford, things get a little thin. There are many veteran right wingers potentially hitting the market that could be short-term solutions while younger talent develops. Much of this depends on retirements and resignings.
The question remains surrounding the centre position. Since the team is rebuilding, it would appear they are going to let Cody Hodgson grow in the number one role.  If Stafford, or a free agent can fill the top line right wing spot, it allows Tyler Ennis to drop off the wing back to his natural position at centre on the second line.
On defense, it appears that there is one spot up for grabs if you assume Tyler Myers, Christian Ehrhoff, Andrej Sekera, Mike Weber and Alex Sulzer, an unrestricted free agent, will occupy the other five. This could be a great time to allow younger players like Mark Pysyk, who did appear in 19 games in 2013, to fill that void. The area of organizational strength is defense so the Sabres are hoping they don't have to spend in free agency to fill that void. What they may look at doing is adding a veteran guy who doesn't intend to play every night again as an insurance policy while younger players develop.
In net, once again it all depends on the Miller situation, if he returns, they really don't need to do anything. Yet, if Miller is traded, a veteran back up to help Enroth along would make sense. Chris Mason, and Jose Theodore are guys who have filled those roles before and will be unrestricted free agents.
4. Determine Who Will Lead on the Ice
My colleague, Ryan Womeldorf, can tell you who should be the captain of the Buffalo Sabres, but let's identify why this is important. This upcoming season could be quite difficult for the team as they transition. Clear, decisive leadership is what the team needs in the front office and on the ice. They need to make someone responsible for helping the development of young players, along with keeping the focus and accountability. One thing the Sabres need to avoid is naming a captain to make a player happy. They need to think about the crest on the front not the name on the back for the jersey.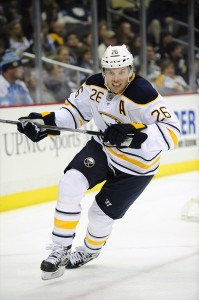 5. Deal With Thomas Vanek
This is a similar situation as Miller, outlined above. The difference is that Vanek's value may increase as the season goes on, no matter how many forwards move, which is quite the opposite of Miller. As mentioned in the previous section the Sabres can't just name Vanek captain to make him stay. If he truly wants to stay and be the centerpiece for the team, which would probably be in their best interest, there should be no hesitation to get him signed to a long-term deal and end the speculation that will only become a distraction as the season progresses. While this is something the Sabres need to address in the offseason there is a little leeway. However, if a deal comes along that blows the Sabres out of the water they would be foolish not to consider it.
These are just five of the important things the Buffalo Sabres need to address in the offseason. There many others like how to make up recent ticket increases to the fans, but let's leave that to the marketing department and stick to hockey here. One thing appears to be evident on the to do list, if the Sabres are too passive and do not take the initiative they cannot hope to rebuild the team in the near future.
An avid sports enthusiast, Darren presently is the Communications and Marketing Coordinator at the Golf Association of Ontario. He has served as a Sports Editor with Etcetera Publications and colour commentator on TV Cogeco's junior hockey coverage. He has covered a wide range of junior and professional sports including: hockey, golf, baseball and football to name a few.