As we covered this past Thursday, Ryan Miller has a list of eight teams to which he will not be traded as per the terms of his contract.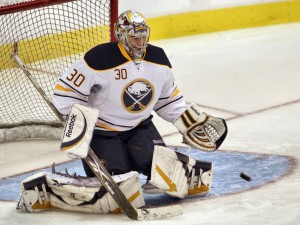 With those who aren't relevent out of the way, it's time to figure out just who's in the running for the franchise goaltender and where exactly he could end up, be it at the draft, before the season starts, or at some point during the 2013/14 season.
Realistically, there are eight teams in the running; some more serious than others. We'll break them down accordingly.
Anaheim Ducks
Yes, the Ducks already have a pair of goaltenders in Viktor Fasth and Jonas Hiller. Yes, both are paid well. Hiller has been slipping of late and both are on the wrong side of 30. In the team's first round loss to Detroit, Hiller wasn't bad — but he wasn't the force they needed.
The caveat: they're already kind of up against the cap and that's under the assumption that veterans Teemu Selanne and Saku Koivu call it a career. Kyle Palmieri is probably their biggest restricted free-agent and should come relatively cheap but with a slew of unrestricteds on their plate, any trade involving miller would likely have to involve Hiller.  Would the Sabres want back a 31 year-old goaltender who they don't have any future plans for? Likely not.
Pittsburgh Penguins
This is all dependent on whether or not the Pens win the Cup.  If they do despite another Marc-Andre Fleury implosion and a shaky, yet in the end satisfactory, effort from Tomas Vokoun, will they really need to look themselves in the mirror and clamor for an elite goaltender?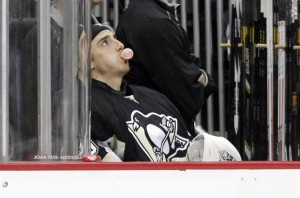 Sure, Iginla won't be back next year but Sidney Crosby, James Neal, Evgeni Malkin, Chris Kunitz, and Kris Letang are back. There's the possibility they retain Brendan Morrow but he'd need to take a pay cut from the $4.1M he made this season.  Point being: this team is stacked. If they can find competent goaltending, they're contenders.
Any deal involving Miller will mean salary back Buffalo's way. Could the Pens try to pawn Paul Martin's salary off on the Sabres? Maybe but it would cost them in picks and prospects.
Unless the Pens implode and fail to win the Cup, this is one of the more unlikely destinations for Ryan Miller.
Minnesota Wild
Could the Wild and Sabres end up as trading partners again after the Jason Pominville swap at this past trade deadline? Interestingly enough, they could. But it depends on what direction the Wild go in.
Niklas Backstrom, incumbent Wild goaltender, is an unrestricted free agent. He is 35 and currently making $6M. If the Wild feel confident in Josh Harding and Darcy Kuemper taking the reigns next year, this is all a moot point.
But what if the Wild feel like they're a step away from something big? They could have the room to make a move, depending what they do with P.M. Bouchard.
Not only that but they have one of the deepest prospect pools in the game, as displayed in their move to get Pominville. Provided they surrender a future first round pick, they likely won't have to give up one of their top-flight guys (Matt Dumba, Charlie Coyle, Jason Zucker, Mikael Granlund). If they don't give the first, there's a slight chance they could give one of those guys up but still probably doubtful.
The Wild could become a consistent name mentioned this summer in regards to Sabres on the move — former Golden Gopher Thomas Vanek is looking like he's on the outs in Buffalo and I'm sure the Wild would love to net the high-scoring hometown boy.
St.Louis Blues
Seems like long ago when the Blues had more blue chip goaltenders than they could figure out what to do with. Fast forward a year, poor performances from Jaroslav Halak and Brian Elliott, as well as the emergence of Jake Allen and all of the sudden you have a predicament in St.Louis.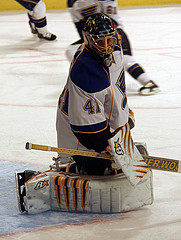 Once considered a Stanley Cup contender, the Blues slipped a bit last year but are still deep, talented, and disciplined. The only difference between 2011/12 and 2012/13 is the output from between the pipes. Perhaps someone of Millers credentials could boost them back into the elite once more?
The big caveat with this, at least from Buffalo's end, is that Halak or Elliott will likely have to come back. Not the worst thing in the world but with the goaltending assets they currently have, getting a high-priced one back wouldn't exactly fit well into their plans unless they believed they were getting their franchise goaltender. Which isn't likely here.
Still, the Blues prospect pool is fairly deep and could see the Blues swoop in and claim Ryan Miller as their own.
Tampa Bay Lightning
Before the Ben Bishop deal, the Lightning could have been a heavy favorite to land Miller. Desperately in need of goaltending and with a deep pool of prospects and picks, this was the ideal situation.
So after dealing Cory Conacher and re-signing Bishop, does Steve Yzerman have any interest in acquiring Miller? I'm sure if the price was right, he'd consider it, but it strikes me as though the Bolts could be out of the running.
Then again, Stevie Y felt he had his man in Anders Lindback and that eventually necessitated the move for Bishop. Perhaps Yzerman could seek to bring Miller in for a year or two, see what he's got while the elder Miller tutors Bishop?
Never say never on this one.
Which brings us to the contenders. Three teams who could realistically find themselves with Ryan Miller on their roster by the end of draft weekend.
Colorado Avalanche
I know, I know: Semyon Varlamov. He's 25 and the team paid a heavy price to get him. And I know the Avs were a bad team this past season but his numbers were bad.
How bad? His GAA was over 3.00 (3.02) and his save percentage hovered right around .900 (.903). He faced a ton of shots, sure. But would the Avs turn down the opportunity for someone like Miller, who also faced a ton of shots, but put up much better numbers?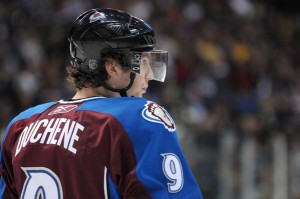 This year's first round pick isn't likely to be involved unless the Sabres throw picks 8 and 16 into the mix. For a franchise defender like Seth Jones, the Sabres might be interested but the Avs are likely not.
The Avs have a glut at center but can't trade Ryan O'Reilly until February. It's widely speculated that Paul Stastny could be on the outs but would the Sabres want his salary, especially knowing there is no guarantee they get him to re-sign at a cheaper rate?
So the wildcard is Matt Duchene. If the Avs are down on him, the Sabres would likely love to add someone of his skill set and potential. Other than that, it's tough sledding. Most of their top prospects are already integral pieces of the roster. Someone like Stefan Elliott or Tyson Barrie might be available but would that and a future first rounder be enough?
New York Islanders
With the excitement of making it back to the playoffs, being carried by homegrown star John Tavares, things are taking off for the Islanders. They have a plethora of young talent waiting in the wings and more cap room than they can shake a stick at.
They also happen to have a potential goaltending conundrum on their hands. Evgeni Nabokov played well this past season but he's 37 years old and an unrestricted free agent. Can anyone really expect him to repeat his numbers of this past year? He got shellacked in the playoffs — against the best offense in hockey, but still — and most goalies don't improve with age.
So with Tim Thomas' $5M salary coming off the books, Nabokov entering free agency, and the undoubted need to follow up this playoff appearance with something bigger, the Islanders could be major players for Miller.
They have their own first round pick, a ton of prospects, and the motivation to make an impact. This would be your clubhouse leader if not for…
Philadelphia Flyers
This one hurt just a little bit to even type.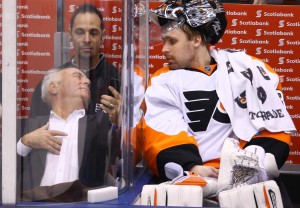 After his first two seasons in Philly, it was widely speculated that Ilya Bryzgalov, he of the 9 year, $51M contract would be bought out.  He failed to deliver on crazy Philly-fan expectations and then just started openly trolling the fan base:
– When a person first appears in Philadelphia, where the advise to go?Your favorite place in town?

– I live in New Jersey and come to Philadelphia only to play and exercise. No reason to not try to go ride. I have lived in Philadelphia and a half months before we bought the house. I do not really like that sort of town. Me and New York do not like. A big, bustling city with a grim gateways. Philadelphia is the same. But Boston, Vancouver and Dallas – are quite different.These newer, cleaner – there I like. I do not like old age. I love the story, but not in all. So we drove through New Jersey, chose the house. We go into one, realtors say, "Wow, this house 87 years, this is a story!" So what is his story? Well, someone has lived here, he died. Then what? You walk into the house, and there smells of mildew and old age. Americans like it, but let me something new.
Granted, it's mostly true but it's very obvious here that he wants out and he's giving the Flyers brass every reason to buy him out.  Get paid, go back home to Russia to play, and escape Philly all at once? There's no downside for Bryz here.
Which leaves the Flyers with yet another cavernous hole at goaltender and few options with which to fill it. They could go after Roberto Luongo but his deal is even bigger than Bryzgalov's and he's older; not exactly the most confidence-inspiring move Flyers could make.
With Miller, the team gets a proven goaltender with a year left on his deal. Things turn South, they move on. It works out? They have their franchise guy.
It would most certainly cost them their first round pick but would they be desperate enough to give up someone like Sean Couturier? You can bet the Sabres will ask in any negotiations.
Sabres faithful don't know when or if the rumors will end but hope for a resolution sooner rather than later. And maybe, just maybe, I can get used to seeing Miller in that awful orange and black.
Follow me: RWTFC
A long-time (and long-suffering) Buffalo sports fan. Sometimes optimistic, always weary. I write other stuff for a lot of other people.