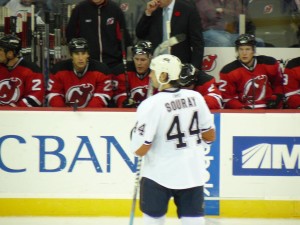 When the Edmonton Oilers signed free agent Sheldon Souray in the summer of 2007, they knew what they were getting. A hard nosed offensive defenseman with a wicked slap-shot and leadership qualities. Maybe even a guy who could fill some of the void left by Chris Pronger. Souray was an all-star and had just begun to make his mark on the NHL. But all the scouting in the world can never predict what kind of relationship a player will have with a team. Souray's tenure in Edmonton was disappointing to say the least, and ended with a very public and ugly divorce. And when he made his return to Edmonton for the first time as a member of the Dallas Stars on Friday night, the boos every time he touched the puck showed the fans certainly hadn't forgotten.
Souray's career with the Oilers was marred by injuries. With the exception of a very successful season in 2008-09 where he scored 23 goals and 53 points, Souray's days as an Oiler were forgettable. In the 2009-10 season, after missing time with a concussion, Souray fought Calgary Flames captain Jarome Iginla and broke his hand, which was considered to be the beginning of the end of his time as an Oiler. Souray requested a trade in the summer of 2010, and Oilers management weren't pleased with the way Souray voiced his displeasure to the media. The team placed  Souray on waivers, but he wasn't claimed, and was sent to the AHL. The Oilers asked that he would not attend their training camp and was loaned to the Hershey Bears of the AHL. The Oilers bought out his contract in the summer of 2011 and he became a free agent. The Dallas Stars signed him to a one year contract on July 1st. Souray, however, was able to put all of his troubles behind him, and has been a valuable piece for the Stars.
When asked about his return to Edmonton, Souray had this to say:
"It's just another game, to be honest. I do have some family and friends here but otherwise, it's business as usual. There's not even that many guys left that I played with. Things happen. It was a little messy in people's eyes and that's just the way it was. But a lot of time has passed since then, and everyone has moved on." – Starsblog
From the view of Oilers captain Shawn Horcoff, what's done is done:
"What he went through was a tough situation, obviously I think both sides would probably like to do things a little differently but it is what it is. It's good to see him move on and I think he's got a lot of good years left in him." – Edmonton Sun
Souray's Stars would get the better of his old team in this game, with a 3-1 victory to keep their playoff hopes alive. Dallas jumped out to a 2-0 lead on goals from Radek Dvorak and Tomas Vincour in the second period, and then Michael Ryder scored an empty net goal late in the third. Sam Gagner got the Oilers on the board about a minute later, but it was too late for Edmonton. Nikolai Khabibulin made his return to the line-up with 12 saves on 14 shots. The Oilers have a couple of days off before travelling to Anaheim to face the Ducks.