Christopher Ralph is THW's prospect and draft analyst.
"Shots From The Slot" (SFTS) scans hockey cyberspace for all the latest and greatest articles, news and videos focusing on prospects.
How do you like the 2010 Draft Class so far? This edition of Shots From The Slot highlights videos of brilliant finishes by hockey prospects.
Note: Soon to be released will be my highly anticipated rankings of the Top 250 NHL prospects in a searchable and sortable table format. It is a follow up to my detailed Top 100 NHL Prospect rankings series.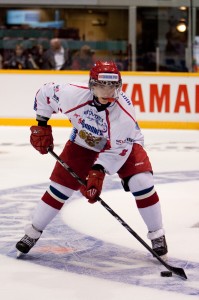 My preliminary 2010-11 Calder Trophy Prediction article already featured Seguin's and Eberle's extraordinary first career NHL goals. Here then are some more beauties:
1. Alex Burmistrov might have just scored the goal of the year not just by a rookie, but in the entire NHL last night against the Capitals. In my June draft preview, I compared him to Pavel Datsyuk and this outstanding display of stick-handling, creativity and patience is definitely Datsyukian.
2. Jeff Skinner is already proving any critics wrong, as the, albeit very early, frontrunner for the 2010-11 Calder Trophy. Check out this beautiful backhand roofing:
3. How about beating perhaps the best of all time, Marty Brodeur, with a crafty wrister? The Capitals rookie blueliner John Carlson might just be the player who displaces Jeff Skinner in the race for top rookie when it's all said and done.
4. 2011 entry draft eligible Michael St. Croix of the WHL's Edmonton Oil Kings recently scored this one-handed work of art. Stick tap to Jerome of NHL Draft Video.
5. For the final video, another stick tap to Jerome of NHL Draft Video who, like me, thinks it is never too early to get excited and primed for the 2011 NHL Entry Draft in Minnesota next June. Is there another Stamkos, Tavares, Hall, Doughty to be had?
*Follow The Hockey Spy on Twitter as I infiltrate, dissect and analyze happenings of hockey prospects and the NHL entry draft.