A hockey player can milk a lot out of being a World Juniors hero, especially if it was playing for Canada. Jordan Eberle will always be remembered for his game-tying goals against Russia and the United States, as it quickly became the stuff of legends.
Now at age 26 and in his seventh NHL season, though, patience is starting to wear thin for this once lauded goal-scorer. His production over the years has been consistent — he's scored at least 20 goals in four of six seasons coming into this one. But this year hasn't been his best, causing many to wonder if it's time to move on.
Should Eberle be Trade Bait?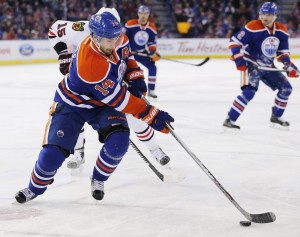 TSN recently released their list of players who may be traded come this year's deadline. Those lists are usually taken with a grain of salt because most of the time said players aren't moved. The Oilers had one name listed, and that was the aforementioned Eberle at number seven. He's got two years left on this contract at a cap hit of $6 million, but he hasn't got any sort of no-move clause, so the Oilers can trade anywhere if they so desire.
The question is, as the Oilers are in the midst of making the playoffs, should they be moving a player such as Eberle?
The fan base is somewhat divided. One side feels disappointed with Eberle's lack of production, and bemoan his inability to provide much else in the lineup. The other side is concerned about replacing him because he is a legitimate goal-scorer in the NHL, he's got experience and they don't have a lot of depth to cover his spot.
Obviously, if the Oilers do choose to move him, it wouldn't be for prospects. They are a playoff team this year, and they should be looking to improve their roster, not weaken it. If you look at some of the names on the trade bait list, there are more than a few who can help the Oilers offensively, especially if they move Eberle's salary off the books. Martin Hanzal (nine goals) and Radim Vrbata (10 goals) are both UFA this summer. Not much of an upgrade, but both are considerably cheaper.
@NicholsOnHockey @FanRagSports if you trade Jordan Eberle you need to find a new scoring RWer which is easier said than done

— Lessy (@Lessy19) January 5, 2017
The bottom line is that if you move Eberle, you have to replace him with someone who can score. Thomas Vanek (who is also UFA) has been having a great year in Detroit. That could be an interesting addition to the Oilers if they go that route. How valuable is Eberle on the trade market? Considering his cap hit and production, not very high. If the Oilers deal him, it has to be in correspondence with another move.
I don't think there's a lot of interest in the two wingers you just mentioned. The Oilers have been trying to do something with [Benoit] Pouliot for some time and they can't make it work. I think if there was more interest in Eberle, Hall would never have been traded. They're just isn't as much interest in those guys right now. – Elliotte Friedman [Edmonton Journal]
The Perception of Eberle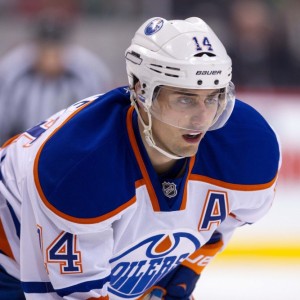 Eberle was among those players described as being "soft", and thus expendable going into this season. The surprise was that Taylor Hall got shipped out, while Eberle stayed. There was a concern about replacing Hall's production, but the Oilers are doing just fine in terms of offence, even though Eberle has just eight goals on the season. He's been in a terrible dry spell, so you'd have to think he's due. He's getting chances, they just aren't connecting.
Eberle could never be described as a stout defensive player, which makes his scoring woes all the more noticeable. But perhaps there's a misconception regarding his play on the other side of the puck. Through the majority of the season, his play defensively had been less than stellar. In fact, many of his miscues ended up in the back of the Oilers net. But for those who have been paying attention, he's been improving, albeit slowly.
Every player, no matter how great a defender, is going to make the odd major gaffe that leads to a dangerous chance or goal against. But no winger should make anywhere close to one such major mistake per game, the rate that Eberle was screwing up. Since that time, however, Eberle has evidently made a concerted effort to tighten up his defensive game. But this kind of defensive improvement doesn't get a lot of notice. It was certainly flying under my own radar. And it most certainly doesn't silence the Twitter critics, at least not for a player earning $6 million per. – David Staples [Edmonton Journal]
It's great to see Eberle making some strides defensively, but that's not what he's getting paid for. Connor McDavid and Leon Draisaitl can't carry the offence on their own, especially not in the postseason, so Eberle will have to start converting on his chances. Coach Todd McLellan isn't ready to kick Eberle while he's down, but the slump hasn't been lost on anyone.
"If you take his numbers out of it, or lack of numbers if you will, he's contributed to wins," said McLellan. "He's been pretty good defensively and he has been able to create some momentum with that line and it hasn't been a disaster by any means. But we need him, and others, to hit the scoresheet for us to have continued success". [Edmonton Journal]
In other words, get your scoring shoes on. Granted, there are a lot of players in the league who are struggling to light the lamp, but those guys aren't on the trade market. What's more than clear is that if there was a legitimate taker for Eberle, the Oilers would have no problem pulling the trigger. For now, they have to count on him coming out of his scoring drought. Jordan Eberle is who he is. The Oilers just have to decide if they've gone as far as they could go with him on board.