Injuries are bound to happen in professional sports. Some are career ending, while others are ordinary bumps and bruises. However, with an injury as severe as a ruptured Achilles tendon, it raises questions about the possibility of Mike Fisher's 2014-15 season.
The Mayo Clinic defines a ruptured Achilles tendon as "an injury that affects the back of your lower leg. The Achilles tendon is a strong fibrous cord that connects the muscles in the back of your calf to your heel bone. If you overstretch your Achilles tendon, it can tear (rupture) completely or just partially. If your Achilles tendon ruptures, you might feel a pop or snap, followed by an immediate sharp pain in the back of your ankle and lower leg that is likely to affect your ability to walk properly. Surgery is often the best option to repair an Achilles tendon rupture."
"Predators forward and alternate captain Mike Fisher sustained a ruptured Achilles tendon during a training session and underwent successful surgery on Thursday, July 3," general manager David Poile said in a July 7 statement. "We expect Mike to make a full recovery in four-to-six months, and look forward to his return to the ice."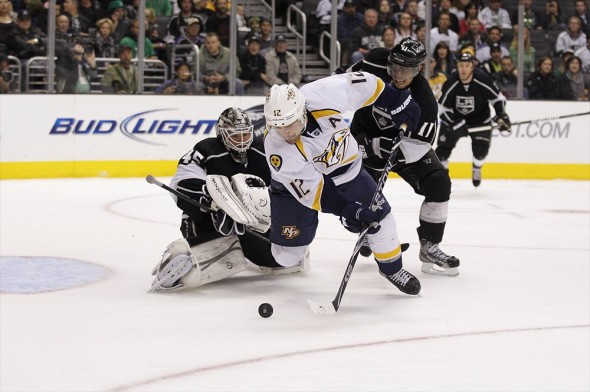 If the Predators' assessment on the injury is correct and Fisher recovers without any hiccups, the 34-year-old would likely return in December or early January. With such a serious injury, why rush Fisher's return to the lineup?
New Jersey Devils' forward Travis Zajac suffered the same injury as Fisher on August 17, 2013. After four months of rehab, Zajac returned to action on December 16, 2013. The 29-year-old played in eight games before team doctors told him to rest until he was fully healthy. He did not return March 25. Zajac admittedly rushed back into action.
"When I started playing I didn't stick with probably enough rehab stuff. I just wasn't conditioned enough and strong enough to continue playing at that level," Zajac told NJ.com. "Just the time off to work on the strength and conditioning helped, I think. The games have so much different intensity than practices. I was sore. I wasn't feeling good out there."
It took a season before Zajac returned to form. In 2013-14, he scored 18 goals, 30 assists in 80 games.
Fisher is aging and cannot afford to throw away a season because of a premature recovery. Although Zajac's injury is unfortunate, Nashville now has a historical example to estimate a timely return for Fisher.
The Predators have 15 NHL-ready forwards, 7 of which are capable centers, reporting to training camp in September. When Fisher returns in January or February, the lineup will be clogged and efficient players will be forced to watch games from the press box as healthy scratches. With an injury as severe as an Achilles rupture, it will be best for Fisher's career to wait some time before returning to the lineup, even if a doctor clears him to play.
However, Fisher is an unrestricted free agent next summer and will attempt to get back on the ice as soon as possible to prove Nashville, and other teams around the NHL, that he can still play despite a major surgery.