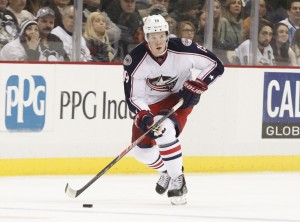 It is now September and training camp is set to begin league wide later this month. Several teams, including the Nashville Predators, still have questions regarding their lineup. Restricted free agent defenseman Ryan Ellis has yet to be re-signed and is apparently not close to a deal with the Predators, according to The Tennessean's Joshua Cooper.
Ellis is part of a handful of good RFA's still unsigned. Highlighting the list is Columbus Blue Jackets' center Ryan Johansen. Columbus and the 22-year-old are far apart in negotiations, leaving Blue Jackets fans wondering if he will be signed by training camp. The Columbus Dispatch's Aaron Portzline reported on August 30 that Columbus is offering $3.5 million per year for two years, while Johansen's camp is asking for $7 million per year.
NHL teams across the board who have salary cap space, like the Predators, are licking their chops at the situation. The native of Vancouver, British Columbia is not worth $7 million per year quite yet (but I guess so if Dave Bolland will earn $5.5 million the next 5 seasons). However, Johansen has upside that is attractive to a team lacking elite scoring. Last season, he posted 33 goals, 30 assists in 82 games.
For the Predators, adding a talented center to play alongside James Neal would fill the void in the roster. Signing Derek Roy, Mike Ribeiro and Olli Jokinen was nice, but neither of them compare to the scoring abilities of Johansen. The question, however, is if general manager David Poile is willing to offer the money and forfeit two first-round picks, second round pick and third round pick if Columbus decides not to match it? With Johansen being so young, it is worth it.
Nashville has gone through the offer sheet process before — most notably with Shea Weber. The Philadelphia Flyers signed Weber to a 14-year, $110 million offer sheet two years ago. Poile matched offer and kept Weber a Predator for essentially the rest of his career.
Maybe it is time to do unto others, especially a long-time Central Division rival.