I think we can all agree on a couple points,
Sidney Crosby is currently one of the best players in the world
He's been challenged by a serious and checkered history with concussions
While Crosby still ranks among the best of the best, the truth of the matter is that concussions have played a huge role in his career. He has suffered many head injuries and has had ongoing struggles with concussions for years. When it all comes down to it, should Crosby hang up the skates before it's too late?
Crosby's Concussion History
Here are the instances that are well publicised:
Over the course of his career, Crosby has missed 115 games with a concussion. His concussion history dates all the way back to the 2010-11 campaign, David Steckel delivered a blindside hit on Crosby in the 2011 NHL Winter Classic, resulting in a concussion that sidelined him for 48 games. This is also the onset of Crosby's ongoing struggles with concussions.
In the next season, he would miss 20 games with yet another concussion, and then 40 more with concussion-like symptoms. After that, it also appeared that Crosby would never be the same, and would never completely get back on track and healthy.
Over the course of the next few seasons, Crosby still continued to put up strong numbers, not letting any struggles with head trauma stop him from scoring. However, concussions came back to haunt him at the start of this season, where he missed the first six games. And, in the playoffs, he suffered yet another concussion and was ruled out for Game 4 of the second round of the playoffs against the Washington Capitals.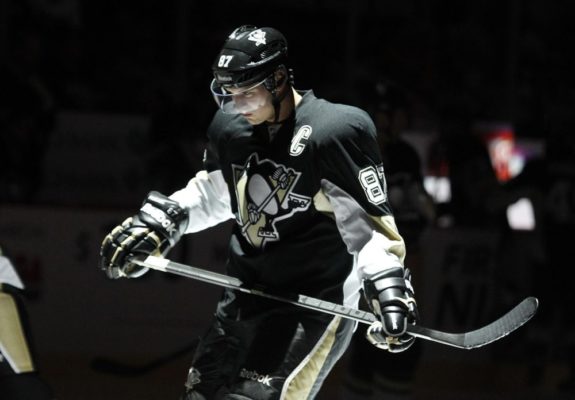 While this has not appeared to slow Crosby down, considering he still finishes among the league's leading scorers year after year, head trauma continues to haunt him as he grows older. And, taking the future into consideration, there is no way of ensuring he will never suffer another concussion or a blow to the head. Besides, hockey is one of the most unique but violent games in the world, and if you're playing, you're going to get hit, even if you're Sidney Crosby.
Fans' Takes on Crosby's Injuries
Looking at the retirement debate, fans of all different teams gave their two cents on the matter. In an ongoing Reddit stream, one Capitals fan posed the question as to whether or not Crosby's lengthy history with concussions should lead him to consider retirement. In response, people had different takes on the subject.
I'd rather see him retire than end up like Marc Savard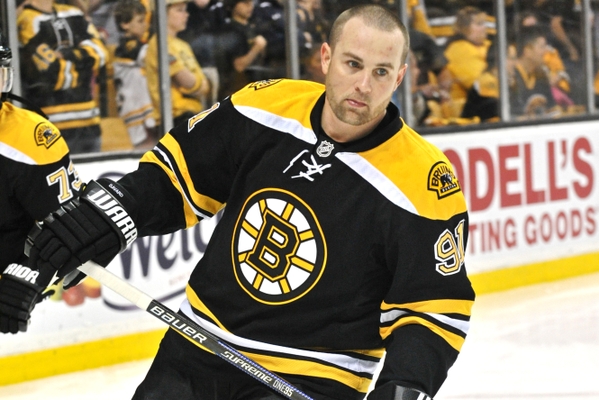 Many believed that it should be up to Crosby and his doctors when it comes to deciding whether or not to retire due to his complications with doctors. However, others said they would want to see him retire instead of struggling later on down the road.
"I'd rather see him retire than end up like Marc Savard. Or Junior Seau. I just saw someone on Twitter, one of the TSN guys, say something like 'what about his post-hockey life.' I'd hate to see him retire, but you've gotta think about life after hockey," one fan wrote.
Looking at Savard's case was interesting, probably because he is the one player with head traumas that you can somewhat compare to Crosby. Once an elite scorer, Savard's history with concussions led him to fall into trouble. He wrote a piece for the Player's Tribune titled "Hell and Back," where he discussed blows to the head and how concussions ruined not only his NHL career but parts of his life.
Overall, the fans brought up interesting points; only Crosby and his doctors know the extent of his injuries. However, for the sake of his life after he finishes playing hockey retirement isn't the worst thing in the world to consider.
Should Crosby Leave the Game?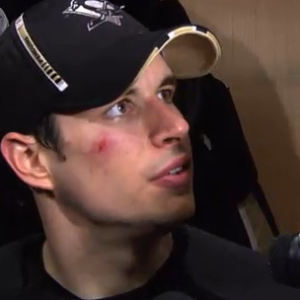 Head injuries are the most dangerous part of ice hockey. One of the biggest debates surrounding the league is whether or not they pay close attention to concussions and just how much they can impact a hockey player's life. The NHL still won't admit a link between concussions suffered in the NHL and CTE, a deadly brain disease that results from repetitive trauma to the head. CTE has been said to lead to depression, dementia, confusion, irritation and eventually, death.
In Crosby's case, it would not be ridiculous to say that he is at risk for developing CTE later in his life. Some victims of the disease include Derek Boogaard, Rick Rypien, Steve Montador and more. Of course, many of the ones who were later diagnosed with CTE after their deaths were enforcers, tasked with the duty to fight while suffering repeated blows to the head on a game-to-game basis. While Crosby isn't a fighter, he is similar to these enforcers in the fact that he struggles with concussions. So, what's the difference between him and them?
Crosby, however, is not the only All-Star forward to face problems with concussions. Hockey Hall of Fame center Pat LaFontaine had a promising career ahead of him, but his time in the NHL was cut short due to post-concussion syndrome. He has spoken out about how negatively concussions have impacted his life, and that he has struggled with issues like mood swings, and said that if players come back early from concussions, they "wouldn't only be jeopardizing [their] career, but [they] might also suffer long-term damage."
When it comes to Crosby, no one knows how severe his concussions are or how often he suffers complications, but if he ignores the red flags and continues to play, the damage could be irreversible.
On the other hand, players of all sports face the risk of concussions each day. In boxing, football, basketball and even racecar driving, there is always the chance of head trauma that could lead to concussions and complications. However, those players aren't – and shouldn't – be pressured into retiring. They choose to play the game and open themselves to those risks, so they should be the ones who make the decision as to whether or not the game is too dangerous for them.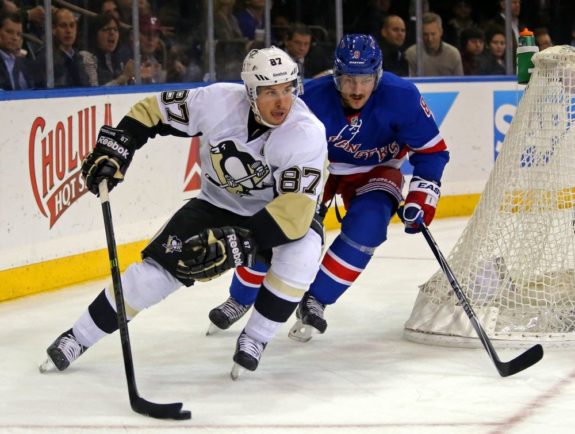 However, looking at the situation from another perspective, there is no predicting what will happen to Crosby as time goes on. He could suffer many more concussions in the coming years, and eventually, that could wear him down. Just because he hasn't shown any side effects or signs of trauma yet doesn't mean he won't in the future. There is life that goes beyond the ice, and for Crosby, that could be compromised if he continues to face head injuries each season. That being said, the symptoms of depression and memory loss could very well haunt Crosby; it is only a matter of time.
Will one more head hit be Crosby's demise?
Each player is different, as evident by players like Tie Domi, who fought and experienced many blows to the head but never experienced any CTE symptoms. While other players have seen their careers halted by complications with concussions, it has not slowed Crosby down.  Crosby averages over a point per game and still puts up outstanding numbers each season. He is currently trying to lead his Penguins to back-to-back Cup championships, and he won the Conn Smythe trophy last year. In addition to that, he will be accepting his second Rocket Richard trophy this season. At 29 years old, the future is still promising for Crosby.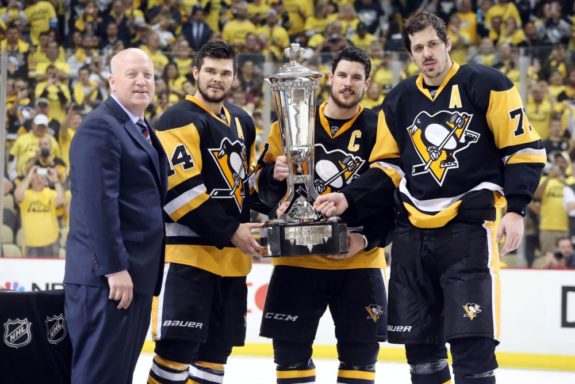 Thankfully, in the modern age, it is becoming easier to treat and diagnose concussions. For Crosby, this is a good sign in regards to his future, since he can always be treated to the greatest extent. However, the impact of head trauma later on down the road is unpredictable, and that is concerning.
Overall, Crosby has not shown any signs of slowing down, and he should be fine to continue to play without fear. However, the struggles with concussions probably linger in the back of his mind. The NHL is unpredictable, and if he continues to face head trauma, he may have to face those demons before it's too late.
Sammi Silber covers the Capitals beat for The Hockey Writers and is an NHL contributor with Sporting News. She has also contributed to USA TODAY College, Huffington Post, FanSided and the Nation Network. Silber has written four books and recently worked on graphics for the film, The California Golden Seals Movie.