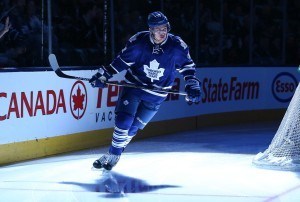 The Toronto Maple Leafs have some interesting options this summer in terms of the players they could pursue. It's not a secret that they are looking to trim the roster into a  younger and more skilled direction. One route the Maple Leafs could take to recruit players would be the NCAA road.
The Maple Leafs have a proven history of dipping into the college ranks for their prospects. As the season was ending, the Leafs signed Casey Bailey out of Penn State and were able to dress him for six games. Another former collegiate player currently plying his trade for the Leafs is none other than Tyler Bozak.
The former University of Denver Pioneer has been a mainstay on the Blue and White since the 2010-11 season and has developed into a solid player that is able to provide multiple roles on the ice. It's usually hit or miss with prospects, no matter where they come from. If the Leafs want to dip into the pool again this summer, there are two potential players who may fit the mold.
Zach Hyman
Hyman is an interesting case. The Michigan forward was drafted by the Florida Panthers in the fifth round, 123rd overall, in 2010.  The Toronto native is the definition of a power forward. He's 6 foot 1 inches and weighs in at 205 pounds. Hyman had a  monster season for Michigan and put up 54 points in 37 games. He was a Hobey Baker Award finalist this past season and was also named  to the 2014-15 All-Big 10 First Team.
Hyman has told the Panthers that he will not be signing with them this summer. That leaves the Panthers with really one option: trade him before he becomes a free agent in order to get something back for him. Hyman has a couple of Toronto connections already; he is a native of the city and also has a previous relationship with none other than Assistant Leafs General Manager, Kyle Dubas, who has advised and provided guidance to him during his collegiate career.
Hyman is big and offensively skilled. The Maple Leafs would be wise to consider pursing this option if for nothing more than to stock the prospect cupboard.
Panthers have been notified that prospect Zach Hyman won't be signing w/them. Possible he gets traded before hitting UFA on Aug. 16.

— Craig Custance (@CraigCustance) April 21, 2015
Mike Reilly
Mike Reilly was drafted by the Columbus Blue Jackets in the fourth round, 98th overall, in the 2011 NHL draft. The smooth-skating defenseman will be testing the free-agency waters this summer after a standout season with the University of Minnesota. He put up 42 points in 39 games and was a large part of the Golden Gophers squad.
Reilly had an impressive year and was rewarded by being selected to the American squad at the World Championships. He played in all nine of their games and put up a single assist.
Reilly tends to keep his game simple. He skates well while possessing excellent vision and a solid shot. He's a dynamo on the power-play and knows when to leap up and join the rush.
If the Maple Leafs are looking to get younger and more skilled this off-season, pursuing Reilly and Hyman is imperative. Both are young, skilled players who could make an impact with the Buds starting next year. Both are being courted by numerous NHL teams who want to make roster improvements. The Maple Leafs will need to be at the top of their game if they hope to secure the services of not one, but both of these players.
My name is Anthony Fusco. Through school, I completed a joint degree involving an Honours B.A. in Journalism from Wilfrid Laurier University and a Videography and Broadcasting degree through Conestoga College.
I currently work for the University of Toronto as a Varsity Sports Announcer and for the Toronto Maple Leafs as part of their game presentation squad.
I'm also the play by play voice of the Kelowna Falcons, a baseball team located in British Columbia.
My goal is to one day be a hockey broadcaster.