Rumors surrounding the possibility of the San Jose Sharks trading Patrick Marleau have been around for quite a while, and they are heating up again. However, it comes with a twist this time. It appears Marleau is seeking a trade. According to CSN Bay Area's Kevin Kurz, Marleau has given the Sharks a list of three teams he would accept a trade to — the Anaheim Ducks, Los Angeles Kings and New York Rangers.
It is impossible to believe San Jose would trade Marleau to inner-divisional rivals Anaheim and Los Angeles, and New York is pressed against the cap.
TSN's Bob McKenzie mentioned two more teams in a Marleau update Wednesday.
"There is unconfirmed talk that Marleau's list of potential destinations could be expanded – if it hasn't already," McKenzie wrote. "Some NHL executives have speculated Chicago and Nashville could also be approved teams."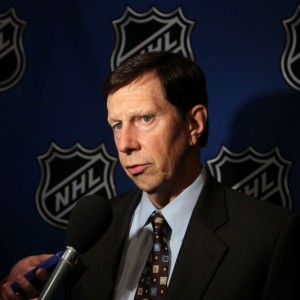 Marleau has two years remaining on a three-year contract with a $6,666,666 cap hit. Obviously, between the Chicago Blackhawks and Nashville Predators, the team most able to take on his contract would be the Predators.
But should the Predators inquire about Marleau?
No way.
If the Predators make any moves with its roster, it has to be for a true first-line center. Marleau plays left wing, and adding him would bump either Filip Forsberg or Craig Smith down a line, which is certainly not a significant upgrade.
Yes, Marleau used to be a center before San Jose placed him on the wing, but at best, he is a second liner at this point in his career. Nashville has enough second-line centers in Mike Fisher and Mike Ribeiro, so adding Marleau does not solve nor improve anything.
Also, Marleau is on the down-side of his career at 36-years old. Last season's 57 points (19 goals, 38 assists) in 82 games was his lowest since 2007-08. With nine points (4g, 5a) through 15 games so far, Marleau is on pace for just under 50 points this season.
Acquiring Marleau just won't be worth it, and the Predators should pass on him.
Colin Fitts is a Nashville Predators staff writer for The Hockey Writers. You can follow Colin on Twitter, @FittsTHW, and e-mail him at 22fitts@gmail.com.
Colin Fitts is a Nashville Predators staff writer and is a credentialed media member of the Chicago Wolves. From Nashville, Tennessee, Colin majors in journalism and public relations at Columbia College Chicago. Follow him on Twitter, @FittsTHW. Email: 22fitts [at] gmail [dot] com.