Pittsburgh Penguins general manager Jim Rutherford is one of the more candid GM's in the NHL. At the conclusion of their 2014-15 campaign, Rutherford said the Penguins needed scoring, which led to the addition of Phil Kessel. He said the blue line needed more mobile, puck-moving defensemen, which was followed by the additions of Trevor Daley and Justin Schultz. Normally, you can take what he says to heart and it's safe to assume he'll deliver.
So, when he said the Penguins won't sign anyone else – and that Matt Cullen can take as much time as he needs to decide whether or not he'll continue his playing career in Pittsburgh – we should probably believe him.
Is that the right decision?
Plenty of folks feel that Cullen is a necessity heading into the 2016-17 season. He was a major contributor for Pittsburgh and an integral piece of their Stanley Cup run. His versatility served the Penguins well, as he was asked to play multiple roles – both bottom-six and top-six – throughout the season and in the playoffs. He was able to mesh perfectly with head coach Mike Sullivan's uptempo system despite his age and provided Pittsburgh with value far-and-above his measly $800,000 cap hit.
Unfortunately, he isn't getting any younger. Nor is he getting any cheaper.
Pittsburgh Penguins May Want to Consider Plan B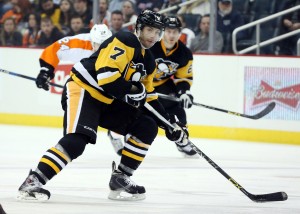 I was in the minority of folks that were optimistic about Cullen joining the team last summer. While many viewed that move as a roadblock for younger players such as Oskar Sundqvist, I saw it as healthy competition and a much-needed depth move. Thankfully for the Penguins, Cullen found the fountain of youth and put together a season that exceeded everyone's expectations of him.
That doesn't necessarily mean he can do it again, though.
Cullen will turn 40 shortly after the 2016-17 season kicks off. Age aside, he's likely due for a raise after his performance last season, which is something the Penguins will have a hard time affording given their current cap situation. While I'm not opposed to re-signing him, it may not be in the best interest of the team.
Last summer, there were plenty of question marks surrounding Sundqvist, who is the heir apparent for Cullen in Pittsburgh's lineup. After a few successful stints at the NHL level last season, we can put those concerns to rest. Sundqvist proved to be an effective two-way center. He's rangy, tough along the boards, responsible defensively and showed glimpses of offensive ability. In other words, a perfect fit for the role he'll be asked to play.
At $800,000, Cullen will be hard to pass on if he opts to return. However, if his price tag increases, the Penguins may be better off trusting Sundqvist and their AHL depth.
Depth Available in Free Agency
Two names come to mind when considering unrestricted free agent options, Dominic Moore and Brandon Pirri. Moore, who falls into a similar category as Cullen for many around the league, is coming off a two-year contract with the New York Rangers that paid him $1.5 million annually. At 36-years old, he could be a candidate for a low-cost cap hit but his production has been lacking, both in scoring and from a possession standpoint. Below is a comparison of the two, courtesy of OwnThePuck.Blogspot.Com.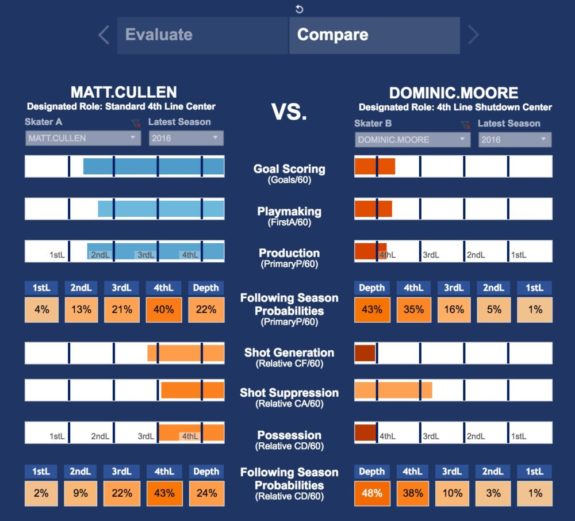 Pirri is a different story. At 25-years old, Pirri is a former 59th overall pick that has a lot of upside if he can stay healthy and find the right fit. He has been extremely inconsistent up to this point in his career but could end up being the next reclamation project in Pittsburgh if Rutherford would take a gamble.
Though, chances of that are slim.
While the Penguins have surprised us with unexpected trades and acquisitions in recent seasons, I look for the team to enter 2016-17 as is. Cullen may return but outside of that, the Penguins will stand pat and return to action with nearly all members from last season's championship squad. And, there's nothing wrong with that.
When it comes to waiting out Cullen's decision, they have all the time in the world but they need to stay firm on their price tag and avoid overpaying a 40-year old forward that may or may not return to the form he found one season ago.