Everyone that follows the Pittsburgh Penguins knew that changes were imminent last summer. The team was coming off a disappointing second half of their 2014-15 campaign and of course, they were torn apart by significant injuries that played a huge role in their downward spiral.
When Penguins' GM Jim Rutherford went to work on this roster, most assumed that defense would be his main focal point. The Penguins were losing Paul Martin and Christian Ehrhoff via free agency and had only unproven, young blue-liners in line to fill those voids. However, he did exactly opposite and targeted his forward group, acquiring Phil Kessel and Nick Bonino via trade and then adding Eric Fehr and Matt Cullen as free agents.
Then came the questions.
Why add so much depth down the middle when you need to address this defensive corps? Is Eric Fehr a smart signing, considering he was recovering from offseason elbow surgery? And, isn't Matt Cullen too old?
How Old is Too Old?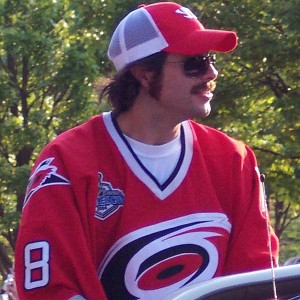 Cullen came to the Penguins as a savvy 39-year old veteran with nearly 20 years of experience in the NHL and one Stanley Cup championship under his belt. To put that into perspective, consider that Daniel Sprong, Pittsburgh's second round draft pick in the 2015 entry draft, was born in 1997. Cullen was drafted by Anaheim in 1996.
There was plenty of criticism that followed Rutherford's pursuit of an aging forward, when he clearly stated that his goal was to make Pittsburgh "younger and faster". Signing Cullen seemed to be just opposite of what the Penguins needed. At least, that was the mindset of many analysts, especially those that are quick to crucify Rutherford any chance they get.
At this point, Cullen has proved those critics very wrong.
With eight goals and 19 total points, Cullen leads all of Pittsburgh's bottom-six forwards in scoring. His versatility has also been invaluable, as the Penguins' have moved him up and down the lineup playing both wing and center. He boasts solid possession numbers in most situations and it seems that no matter the role required, he steps up and finds success.
In other words, he's the epitome of what you want in a depth forward and he has been a steal for his $800,000 cap hit. And, did I mention that he's 39-years old?
Next Man Up
If you were in the camp that loathed the Cullen signing, the past few weeks likely showed you exactly why he was needed. Prior to the NHL All Star game, it was common to hear complaints about why the Penguins needed so many centers and how Cullen was unnecessary on a roster with Bonino and Fehr. Oh, and an organization that had Oskar Sundqvist in the AHL, waiver exempt and able to get recalled at any point.
In case you forgot about the Penguins' injury history, courtesy of ManGamesLost.Com…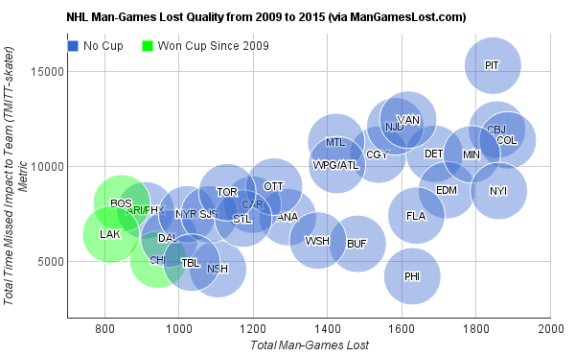 The Penguins have been one of the most injured teams since 2009, with those injuries impacting high-quality players. It looked as if Pittsburgh may have finally turned a corner in the injury department with a fairly healthy start to 2015. Then, history began repeating itself.
In mid-January, Bonino suffered a hand injury and would miss at least a month. In early February, Fehr would suffer a lower-body injury after going into the boards awkwardly and his diagnosis was simply a long-term absence with no target return date. Then, the unthinkable happened. Following the All-Star game, it was announced that Malkin also had a lower-body injury. The original assumption was that he would miss very little time but that turned into 11 games.
The Penguins were left with two NHL centers in Sidney Crosby and the ever-so-reliable veteran, Cullen.
Since Feb. 2, Cullen has averaged 16-minutes and 49-seconds per game. He has four goals and six total points in that span, with a shooting percentage of 16.7-percent. He has stepped into a second-line center role, playing primarily between speedy wingers Carl Hagelin and Phil Kessel, and he hasn't looked out-of-place. In fact, he has excelled.
Not bad for an unnecessary veteran who, in case I forgot to mention, is 39-years old, huh?
Malkin and Bonino will both return to the lineup on Saturday when the Penguins face the Winnipeg Jets. Sundqvist, filling a bottom-six center role in recent weeks, has been reassigned to the AHL. Cullen, though he has earned a bigger role, will likely be relegated back to his fourth line duties as part of this process. And, that's ok. He proved to everyone that he is indeed an integral part of this team and along the way, he also proved that Rutherford accomplished his mission to add impactful depth to the oft-injured Penguins.
Thanks for reading. Follow me on

Twitter

at

@Michael29Angelo

for more conversation around the Pittsburgh Penguins and everything NHL.