There's something different about Sidney Crosby these days. One calendar year removed from being considered washed up, the Penguins captain is doing more than quieting critics with his dominant play and point production.
He's also leading like we've never seen in the past.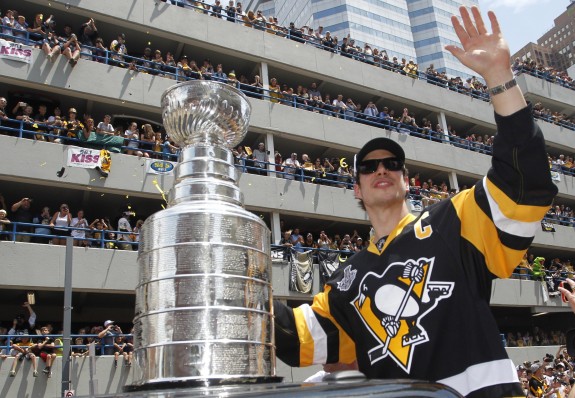 The NHL is a funny sport when it comes to intangible qualities like leadership. There's an emphasis on things like character and grit, among other unmeasurable qualities and personality traits. The Penguins have searched for someone to be their emotional leader throughout Crosby's career, usually looking to veterans to act as a calming force in the locker room while the most talented captain in hockey handled things on the score sheet.
Searching for those emotional support-style players is no longer a necessity. Pittsburgh's lineup, no matter their age, doesn't need to look any further than number 87. When you watch him on the ice, on the bench, or simply fielding questions from the media, you'll notice a different type of confidence in the 29-year old version of Crosby. A bit of a swagger, if you will. 
He has become an extension of the coaching staff, constantly speaking with Pittsburgh's young forwards between plays and during practice. He'll most likely never receive the praise he deserves in this area from national media outlets but trust me, he should.
A Subtle Change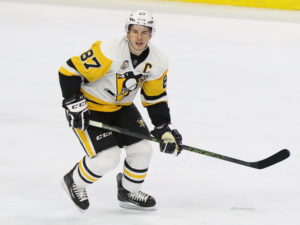 Mike Sullivan's hire seems to coincide with Crosby's emergence as the undisputed leader for the Penguins. Some folks I've spoken with on the topic noticed the change a little earlier but when Sullivan took over behind the bench something clicked. His trust in his players is well documented at this point and it may be the biggest reason for Crosby's slightly different demeanor.
I also want to be clear in saying that Crosby has always been a leader on this team, just not to this extent. His work ethic and production, his lead by example approach, hasn't gone unnoticed. The difference, though, is that he's been more of a vocal leader and truly is the heart of this team now.
Is it simply a better situation under Sullivan or has he grown more confident as he matures?
Clearly, he's far beyond the days of being 'Sid the Kid'. Two Stanley Cups, a Conn Smythe Trophy, a Hart Memorial Trophy, the Ted Lindsay award and an Art Ross Trophy grace his resume — not to mention his World Cup of Hockey and Olympic accolades. Crosby's currently scoring at rates we haven't seen since in decades and among all the questions of whether or not he'll remain the best player in hockey, he simply keeps producing.
He also keeps leading.
Emotions In-Check
I tried to challenge these guys, and Sid in particular, to play with that necessary emotion. My experience of coaching against him for all those years was that when Sid is at his best, he's emotionally engaged

– Mike Sullivan, following Crosby's OT winner vs. Tampa Bay on May 16, 2016.
While the aforementioned production Crosby and the Penguins are enjoying right now — most notably his 20 goals in just 22 games played this season — remains the headline and main topic of conversation, Crosby's on-ice manner stands out in a big way. In recent seasons, the Penguins were a team that was easily unraveled. The blueprint on beating their star-studded roster was published and well-known.
Get under their skin and watch them meltdown.
Those types of situations are where you want even-keeled leaders on the bench. Crosby has been that and more for Pittsburgh and their ability to play with discipline down the stretch of 2015-16 was a large reason for their eventual Stanley Cup Championship. They're a team built on skill, and they attract plenty of attention from around the league. Opponents will take liberties when given the chance, but the Penguins haven't wavered in their approach. They don't show frustration when the opposition turns up the dial in the physicality department and it shows in their results.
Sullivan is a huge reason for that discipline but how much of comes from their captain?
It can't be measured with numbers, but it's easy to see night in and night out. Crosby's ability to teach Pittsburgh's young players, his ability to stay focused despite constantly being targeted and his willingness to play the game in the most taxing areas of the ice is what sets him apart from most superstars in all professional sports. His desire and work ethic hasn't changed, but his leadership for the Penguins is more noticeable than ever.
That should scare the rest of the NHL.
Pittsburgh Penguins writer for TheHockeyWriters.Com and PittsburghHockeyNow.Com. Youth hockey coach, and student of the game.