Facing Off is a weekly column debating five of hockey's hottest topics each and every Monday. From current events like trades and hat tricks to bigger-picture stuff like scandals and expansion — you name it, we're debating it. Albeit, not always with a serious tone. We're keeping this column light, so keep that in mind when reading, and feel free to join in on the fun by leaving a comment. Follow us on Twitter (@FacingOff_THW) and get in on the debate there too.

Many Edmonton fans have fantasized about Patrik Laine scoring goals for the Oilers.
Last night, the league's leading rookie scorer did just that — netting what stood up as the game-winner.
Only problem is that Laine plays for the Winnipeg Jets and the own goal was his team's undoing in a 3-2 defeat at Edmonton.
That blunder will linger on blooper reels for the foreseeable future, but it also served as a reminder that without the NHL's draft lottery system, Laine would have been an Oiler — and Connor McDavid wouldn't be calling Edmonton home.
Crazy how different things could be, but that's neither here nor there. It is what it is — Buffalo be damned — and McDavid also added an assist to his league-leading point total of 39.
More importantly, that win propelled Edmonton past rival Calgary again and back into a first-place tie in the Pacific Division with Anaheim.
Yes, the Oilers are still topping the standings as we near the holiday break. That's quite the accomplishment for a team that has typically been out of playoff contention by this point in recent years. Maybe not mathematically, but realistically.
The Oilers are also topping the charts here at THW, driving the most traffic of any team since the start of the season, and Shane Sander has been a big part of that success — along with the likes of Marcy Di Michele, Rob Soria and Jim Parsons, among others.
Those four all rank within THW's top-10 individual traffic generators since Oct. 1 — out of more than 130 active writers — thanks to consistently producing quality content and thinking outside the box with their coverage. Definitely give each of them a read and a follow for all things Edmonton.
Can we all agree it's about time the NHL All-Star Game returned to Edmonton? https://t.co/FAxWw1AAkE #Oilers #THW

— Shane Sander 🏒 (@SanderEDM) December 5, 2016
Sander has also been lending a helping hand to Facing Off, making multiple appearances over the past year and stepping in on short notice this week to pinch-hit for regular contributor Sebastian Hedley-Noble, who had his hands full playing Mr. Mom on the weekend but will be back in the rotation in the New Year.
Also quick to offer his assistance in that time of need was Todd Moritz, a relative newcomer who covers the Chicago Blackhawks and contributes to the fantasy section for THW. Moritz makes his Facing Off debut as a Third Man In this week and expect to see more of him in the future as well.
Fantasy: More Quality Goalies to Choose From https://t.co/hIRujwn0tI #THW

— The Hockey Writers (@TheHockeyWriter) December 12, 2016
Moment of truth, how confident are you that the Oilers will finish higher than the Flames in the standings at season's end? Would you be willing to bet all your Christmas presents on it? Are you surprised by the Oilers slipping and/or the Flames surging? Do both Alberta teams make the playoffs? Perhaps a first-round showdown in the making?
SANDER: Confident or optimistic? I believe the Oilers will finish higher than the Flames for a few reasons not named Connor McDavid. Let's get the McDavid crutch out of the argument now — he's leading the league in scoring, on pace for 103 points, and could potentially be the first Oiler since 1990 to win the Hart Trophy (Mark Messier) and first Oiler since 1987 to win the Art Ross (Wayne Gretzky).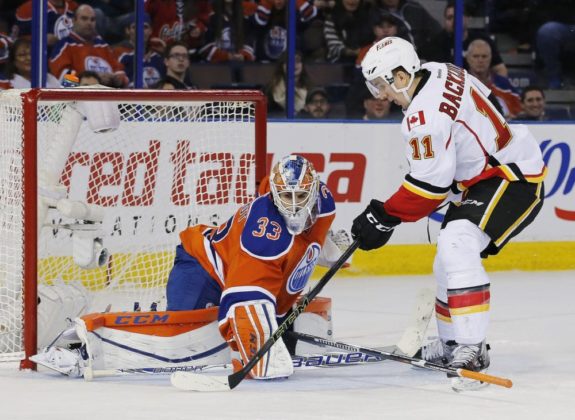 You need solid goaltending, defensive awareness, and some offensive jab. Cam Talbot leads all goaltenders in games played, shots against and saves, plus he's tied for second in shutouts and tied for third in wins. He's giving Edmonton a chance every night and that's something Brian Elliott hasn't done as Calgary's supposed starter (13 GP, 3 Wins, 3.31 GAA, 0.885 SV%). Chad Johnson is filling in admirably, however.
Offensively, Leon Draisaitl is surging and on pace for 34 goals. Johnny Gaudreau and Sean Monahan lead the Flames in scoring, but neither of them have topped 20 points and no Calgary player has hit double-digits in goals yet. Edmonton will likely have two 30-goal scorers, and is currently sixth in the league with a 2.97 goals-for average while Calgary is 17th (2.55). If you're looking at the goals for/against measurement, Edmonton has a positive difference (+8) to Calgary's negative difference (-5).
Statistically, the Oilers are a far more superior team despite going 3-3-4 over their last 10 games. Calgary is 8-1-1 over the same span and currently on a six-game winning streak.
Still, it's hard to envision both Alberta teams making the playoffs, but if I were betting my Christmas presents, I'd side with the Oilers. It's also difficult to bet against the San Jose Sharks and Los Angeles Kings in terms of missing the playoffs instead of the Flames.
Simple question: Separated by a single point on Dec. 12, who finishes higher in the #NHL regular-season standings? #Oilers #Flames #THW

— Facing Off (@FacingOff_THW) December 12, 2016
FISHER: See, this is why I like bringing Shane into the Facing Off fold — he's really not a homer and tells it like it is, armed with indisputable data. That said, all bets are off right now, with the Flames as hot as they are.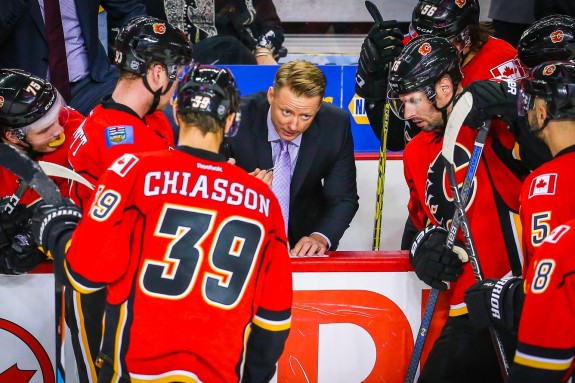 Full credit to Glen Gulutzan, their first-year head coach, for getting Calgary on track following a disastrous start that had him rumoured to be on the hot seat. Johnson might have saved his job — quite literally — but Gulutzan has been pushing all the right buttons lately.
As for Johnson, "filling in admirably" is an understatement in regards to his recent heroics. He's been better than Elliott all season long, and Johnson is now Calgary's clear starter going forward. Good for him, but I'd still take Talbot over Johnson every day of the week — twice on Sunday.
Edmonton also has, by far, the best skater between the two teams in McDavid, so barring an injury to him, I do agree that the Oilers should finish ahead of the Flames when the dust settles in the Battle of Alberta.
The Oilers blew out the Flames in their season-opening home-and-home set, but the teams haven't clashed since. This would be the perfect time for another meeting, a measuring stick of sorts, but Edmonton and Calgary aren't scheduled to play again until Jan. 14 in Edmonton, then Jan. 21 back in Calgary. Circle those dates on the calendar, although plenty could change between now and then — the Oilers have 13 more games before facing the Flames and Calgary has 14. The schedule-makers aren't exactly helping to fuel that rivalry in the present.
However, if the season ended today, Edmonton would have home-ice advantage over Calgary in the first round of the playoffs, with the Oilers just one point up on the Flames through 31 games. Should that come to fruition over 82 games, it would be the first Battle of Alberta playoff series since 1991, which saw the Oilers prevail in a seventh-and-deciding game.
Glenn Anderson scores on Mike Vernon. Battle of Alberta, Game 5, 1991 playoffs. Amazing hockey. #TBT #Oilers #Flames pic.twitter.com/TJAMie7xSr

— Darrell LeCorre (@DarrellLecorre) January 28, 2016
In fact, if the season ended today, the Pacific Division would send five teams to the playoffs, including both Alberta clubs. I wouldn't bet on that happening, with the Central Division widely considered the stronger of the two in the Western Conference and a trio of Central teams — Winnipeg, Nashville and Dallas — all within two points of a wild-card spot as of today. I'd be shocked if at least one of them didn't end up making it, but it has been great to see so much parity atop the Pacific thus far and hopefully that trend continues.
We got to see a different side of Connor McDavid this past week through an emotional exchange with Philadelphia's Brandon Manning that made it into the media. What did you make of that situation? Are you happy with McDavid's leadership thus far?
SANDER: The easiest thing in life is to have everyone else fight your battles for you. McDavid took matters into his own hands and called out Manning on the ice, and when that didn't work, he took the matter public. Emotions run high in the NHL, and it would've been easy for him to dump this off on Milan Lucic, Patrick Maroon and Zack Kassian, but instead he took a stand himself — and that's something to be commended for.
It's hard to criticize McDavid's leadership thus far, as he's led by example on the ice and hasn't hidden from the media when the team was sliding. That's a very easy thing for a young immature 19-year-old to do, but McDavid has shown he's mature beyond his years and capable of handling things.
There are going to be rough patches early in his career as a captain and face of the franchise. You look at the greats like Steve Yzerman, Joe Sakic, Gretzky and even Jonathan Toews who were all captains at a young age, they all had growing pains. McDavid is no different.
FISHER: Well said again, Shane. That fiery side just shows McDavid's passion more than anything. I still don't think Manning intentionally tried to hurt McDavid last season, but I'm sure he was purposefully trying to antagonize the young superstar this time around. You know, attempting to get under his skin and get McDavid off his game. Probably some harmless-enough chirping like "don't fall again" or "it's slippery out here kid," but McDavid obviously didn't take kindly to those not-so-subtle reminders of the wipeout that resulted in a broken clavicle and cost him the Calder Trophy.
Trash talk is part of the game, more so now than in the days before the instigator rule. Manning would have kept his mouth shut if he knew Lucic was looming with nothing holding him back. The instigator rule certainly has its drawbacks and, being a close game throughout, Lucic couldn't really go out of his way to manhandle Manning. Maybe next time, if the score is a little more lopsided either way. Manning and the Flyers visit Edmonton on Feb. 16, so you might want to circle that one too. Like they say, what goes around comes around and karma can be a you-know-what. Rest assured, the Oilers will want to exact a little revenge for McDavid in that rematch — although, hopefully for Edmonton's sake, those two points will still be of the utmost importance.
McDavid is definitely leading by example — his stat-line is evidence of that — but if I were to nitpick, the one knock that I'd call him out on is how he handles his media responsibilities following frustrating losses like the one in Philadelphia. Sure, McDavid always faces the media, but he really doesn't say much sometimes. He's extremely short with his answers and rarely offers anything quote-worthy — at least not until the conversation shifted to Manning in this case. A little more insight on the game itself would certainly be welcomed by those scribes.
I know it's not his job to write the stories, and what he says behind closed doors when the media is out of sight is what really matters, but McDavid's post-game comments often leave a lot to be desired — especially after losses. But he's learning as he goes and I'm sure he'll improve in that area too. If that's his only weakness with his 20th birthday still a month away, I'd say McDavid is doing just fine in living up to the hype and handling the pressures of Edmonton's captaincy.
We also saw some big hits go unpunished around the league — Taylor Hall hammering Philip Larsen, then Carey Price blockering Kyle Palmieri. Were either suspendable offences? Did they get off light because of their star status? Does the NHL have a double standard with regards to discipline?
SANDER: The Hall hit on Larsen was clean in my eyes. His arms were down, Hall didn't make an intentional impact with Larsen's head, nor did Hall plow through Larsen. You can't emphatically rule out that it wasn't a blindside hit however, so it rides the line.
Price losing his mind on Palmieri with his blocker also rides the line, but I stand by the call on the ice, which was a double-minor. You can't go after a player with your blocker, and as much as goalies need to be protected, head shots with a blocker can be dangerous considering it's classified as a blunt object.
Hall doesn't have a history of supplemental discipline and is pretty much a first-time offender. The game happens so fast and it looks like Hall was setting up for a board battle. It would've been different if he plowed through Larsen instead of essentially stopping. If he went through to finish that check, I'd see it as a suspendable offense.
With goaltenders, you need to protect them and avoid contact. Everyone drives to the net hard, and when a defenseman stands them up, nine times out of 10 they collide with the goaltender behind them. Price isn't afraid to stand up for himself, but we need to prevent this play from happening in the first place.
I'm not sure star power has much to do with this, and this isn't Jamie McLennan chasing down the Red Wings with his stick and slashing everyone in sight. Strip all the star-power away and this is a goalie standing his ground in an area players are not supposed to be making contact with him. The Hall situation is just unfortunate.
FISHER: That was quite the collision between former Oiler teammates, with Hall sending Larsen to the hospital. Like Shane, I'm willing to call that a clean hit. I watched it a few times and saw no issue whatsoever.
I know Vancouver players have been on the wrong end of some vicious hits this season and that Canuck fans were still fuming over Nazem Kadri's blind-side blow on Daniel Sedin, but they shouldn't be crying foul again or taking out that frustration on Hall. I didn't like Kadri's head-hunting one bit, but I actually loved Hall's hit — this one was a hockey play and reminded me of Wendel Clark in his heyday. I'd like to see more of that from Hall, and hopefully the resulting injury won't deter him from further developing that physical aspect of his game.
The Price situation looked worse than it was, and I saw no reason for supplemental discipline there either. Again echoing Shane's sentiments, the in-game punishment fit the crime and any suspension would have been overkill.
That's not to condone goaltenders using their blockers as a weapon, because those hard pieces of plastic could do some serious damage, but Palmieri wasn't hurt in that exchange and therefore the double minor was justice served.
Price's actions were more illegal and less acceptable than Hall's, but neither warranted a suspension in my opinion. I haven't agreed with every decision made by the department of player safety this season — I would have suspended Kadri, and not David Pastrnak for his prior charging infraction that paled in comparison — but Hall and Price didn't deserve any more than they got on the ice.
There might be a bit of a double standard in how discipline is handed out — perhaps some preferential treatment towards certain teams or individuals at times — but I don't feel either of those guys got off lightly. In saying that, if Price had been the aforementioned Chad Johnson and Palmieri was McDavid, maybe we'd see this differently. Maybe the DOPS would too.
Finally, the rumour mill is churning out some big names — including the Sedin twins and Max Pacioretty. What are the chances any of them get traded? Any chance they somehow get traded for each other? Or where could you see them ending up?
SANDER: I have been a huge proponent of trading the Sedin twins for years. Not because they aren't effective players, but because there are no two players in the league that deserve another run at the Stanley Cup more than the Sedins. Outside of hockey, the Sedins have done so much for the province of British Columbia, making enormous contributions to the B.C. Children's Hospital and their wives' involvements in various Greater Vancouver community projects. They don't do it for praise and attention, they've been quietly doing this.
If you could add two consistent 60-point scorers to your lineup that have developed chemistry, you'd take the opportunity. If the Sedins are truly being shopped, teams would be lining up at the door.
Vancouver is also in a position to retain a healthy amount of salary, you'd just need to make it worthwhile with the return. Chicago, Dallas, Los Angeles, Montreal, the New York Rangers and even Philadelphia would be great situations for the Sedins to walk into together. Those teams are just missing some secondary scoring pieces to really make a run for it. It's just a matter of whether the Sedins are willing to move.
When it comes to Pacioretty, I don't buy those rumors one bit. With Alex Galchenyuk and David Desharnais injured, this team can't afford to trade a 30-goal scorer. Multiple reports in the Montreal media have also come to this conclusion as well. The Habs were in the market to add a secondary scoring piece before the injuries, this just intensifies those needs. But don't look at Pacioretty being the guy they ship out, that'd be too short-sighted.
Rumor Roundup: Canucks veterans shaping up to be trade deadline targets https://t.co/FAmSQmtnYF pic.twitter.com/wrBNZhaHCd

— The Hockey News (@TheHockeyNews) December 8, 2016
It sounds like there's friction between Canadiens captain Pacioretty and coach Therrien https://t.co/1EVUGrdrTY

— NHL on NBC Sports (@NHLonNBCSports) December 4, 2016
FISHER: Yeah, Pacioretty is probably pretty safe in Montreal again — now that he netted four goals in Saturday's clobbering of Colorado. Prior to that outburst, I was thinking maybe, just maybe, there was a chance of that blockbuster becoming a reality.
It's well known that the Canadiens are willing to go all-in on this season, trying to capitalize on that window to win during Price's prime. The Sedins might be past their prime, but they are still productive as a pairing and Montreal is certainly in the market for some centre depth — especially with injuries to Alex Galchenyuk and David Desharnais, both could miss up to two months.
Vancouver could have approached that potential trade in two ways. The first being to take back the lesser pairing of Pacioretty and Tomas Plekanec — a combined $10.5-million cap hit to the Sedins' $14 million — plus some mediocre futures such as Michael McCarron and a third-round pick. The second option, as Shane alluded to, would involve retaining significant salary on the Sedins in order to fetch better prospects and picks. Perhaps the Canucks could land former Everett Silvertips teammates Nikita Scherbak and Noah Juulsen, both first-round NHL draft picks, plus a second-round selection in 2017 of which Montreal owns two. Mikhail Sergachev might be off limits, but Nathan Beaulieu and one of Artturi Lehkonen, Sven Andrighetto or Charles Hudon may have been another enticing package for the Canucks.
Vancouver needs to embrace this opportunity to rebuild, and moving on from the Sedins' era would be a step in the right direction as far as I'm concerned. Bo Horvat and Brandon Sutter are capable of plugging the top-six holes at least temporarily and, without the Sedins, the Canucks would improve their chances of drafting a franchise centre like Nolan Patrick — a better-shooting Jonathan Toews and the projected top pick in 2017.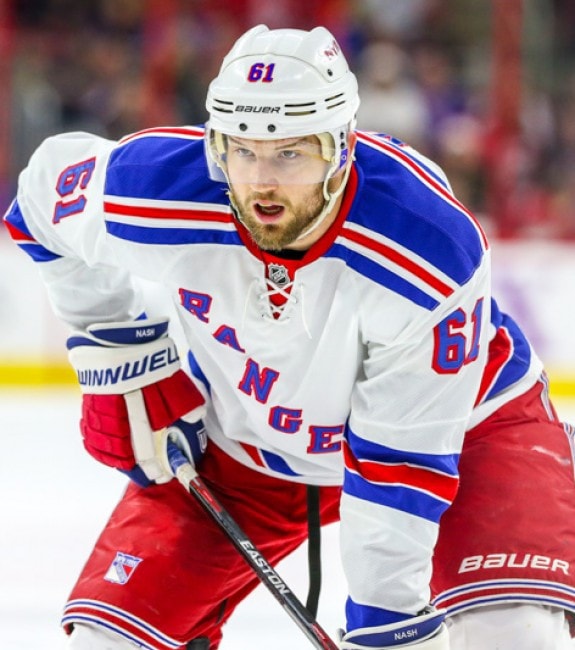 If I were to put a percentage on the likelihood of Vancouver trading the Sedins before the Feb. 27 deadline, it would be below 50. This is still a long-shot but, if it were to happen, Montreal would be my frontrunner to acquire the twins, followed by the Rangers to reunite them with former Canucks coach Alain Vigneault.
The Rangers are shaping up to be another buyer and Rick Nash could be Vancouver bound to offset some of the salary. I wonder if the Canucks could somehow package the Sedins and Alex Edler for Nash, Kevin Hayes or J.T. Miller, plus Pavel Buchnevich, Ryan Gropp and a 2017 first-round pick.
Is that fair? Or too farfetched? The more I look at it, the more it looks like a fantasy or video-game trade, but stranger things have happened.
Third Man In
TODD MORITZ (Chicago Blackhawks and fantasy hockey contributor for THW): As much as I think the Canucks are stuck in rebuilding mode — even if they don't want to admit it — I can't see them trading the Sedins. The Canucks won't be contending in the next few years, and it would absolutely behoove them to get some building blocks for the future, I just can't see it happening.
First of all, the Sedins want to stay and play together, so finding a team that can acquire both Daniel and Henrik, and are also willing to pay for them is a large wall to climb. Secondly, I think unless you truly get the fan base to buy into the rebuild, the Sedins have a lot of marketing power to the Canucks' organization. They also would be beneficial in the sense of having veterans around to help mold the younger players. I think they'll end up staying put.
Switching to Pacioretty, it seems written on the wall that either Michel Therrien or Pacioretty are on their way out. Given the way the P.K. Subban situation played out, I would guess that Pacioretty's days are numbered. I don't think a trade is imminent as you'd have to get value for a player of his caliber. This could be a drawn-out process where Montreal tests the market and the trade rumors die down before he gets sent off.
The Canadiens needs to keep his scoring in their lineup still and until they're healthy again, I think he'll stay in Montreal. If Therrien gets the boot, I could see Pacioretty staying for a longer time, but the personality and culture clash in Montreal certainly makes the Habs an organization to keep an eye on.
NHL participation at the Olympics continues to be a hot topic. Are you optimistic or pessimistic at this point? Or are you indifferent? Are you taking sides in this posturing between league officials/ owners and the players? Would you still watch Olympic hockey without NHLers?
SANDER: I'm still optimistic that Gary Bettman is putting a lot of public pressure and scrutiny on the NHLPA as a negotiation ploy to get them to give in. This is a very public dispute, but fan interest will always support the Olympics, and that's something Bettman knows is a battle he likely won't win.
Washington Capitals owner Ted Leonsis went public by saying if his franchise player Alex Ovechkin wanted to go to the Olympics in 2018, he'd let him go. So if there are some cracks on the ownership side of things publically, I'm curious how many cracks there are behind closed doors and what the breaking point is for the owners.
The World Cup of Hockey was a great little tournament with some interesting gimmicks and whatnot, but let's be frank — it's not the Olympics. You can't replace the Olympics as the mecca for best-on-best international competition. Taking NHLers away from the Olympics will hurt it, as so many fans drive revenue towards the hockey-related events, which are a premier event at the Winter Olympics. It's a great marketing opportunity and a chance to build the game globally.
I know insurance is a huge obstacle in this, but the two sides have to come to a compromise, even if that means part of the insurance money comes from the players themselves.
Just let them go, it's once every four years that the NHL has to make this compromise and it does more good for the game of hockey than bad.
Gary Bettman on the Olympics: I don't know if the IIHF has its act together. https://t.co/0EgTMUyd9E pic.twitter.com/FbTx3OywOO

— Sportsnet (@Sportsnet) December 9, 2016
FISHER: I hate to admit it, but I'm becoming more and more indifferent on this Olympics decision. Don't get me wrong, I love Olympic hockey as much as anybody — even if it means staying up late or waking up early to watch those 2018 games from South Korea — but I wouldn't be devastated if NHLers don't end up in Pyeongchang. I wouldn't be losing any sleep over it, that's for sure, and I wouldn't necessarily be pointing any fingers either — not even at Bettman.
I've said it before and I'll say it again that I don't think there would be this big of a "dilemma" if the 2018 or even the 2022 Winter Games were being held in North America or a more traditional hockey nation. Reality is, South Korea and China — Beijing is hosting in 2022 — aren't overly appealing for the NHL or the NHLPA, and the 1998 games in Nagano, Japan, weren't very successful from a hockey standpoint with the Canadian and American men both failing to medal.
Back to the present, I can sympathize with the sticking points from both sides, but if either side really wants to go to Pyeongchang, they will need to budge soon. Most still think that deal will get done at the last minute — that Bettman and the owners will come to see the benefits of sending the players, without forcing them to extend the current Collective Bargaining Agreement — but I'm one of the pessimists. I just don't see enough incentive.
I would still watch either way, but I'd probably be PVRing the games if there weren't any (or many) NHLers suiting up. Even then, I'd likely be in the minority. The Olympics obviously wouldn't be the same without NHLers, and the overall interest level would presumably go way down. The calibre would be more like the Spengler Cup tournament, but that is some pretty underrated hockey and often gets overshadowed by the world juniors. Tune in to the Spengler this year and it might make you more intrigued about the prospect of an Olympic tournament without NHLers.
Another simple question: Will we see #NHL players participating in the 2018 Winter Olympics in Pyeongchang, South Korea? #THW

— Facing Off (@FacingOff_THW) December 12, 2016
Third Man In
MORITZ: I don't really see a situation in which the NHL players don't participate in the Olympics. The NHL will end up giving in. It's the Olympics. It's a massive draw and even if the NHL says the players can't go, there will still be a decent number who chose to participate.
I'm of the opinion that the only reason it's even a topic of discussion is that Bettman would be making a huge negotiating failure by not putting pressure on the players in this area. Why give up something for nothing?
All that being said, if we assume that the players don't participate in the Olympics, I'd still watch. I'd arguably be more interested to see players that don't get as much exposure and how they react to the big stage. Also, the Winter Olympics are just plain fun. God bless curling.
---
Who won this round of Facing Off? Feel free to weigh-in with your opinions in the comments below. We will be checking in periodically to both defend and expand on our initial answers. If you want us to face-off over a topic, we're open to suggestions as well.
Larry Fisher is a senior writer and head scout for The Hockey Writers, having been an at-large contributor for THW since August 2014. Fisher covers both the NHL and the WHL, specializing in prospects and NHL draft content, including his annual mock drafts that date back to 2012. Fisher has also been a beat writer for the WHL's Kelowna Rockets since 2008, formerly working as a sports reporter/editor for The Daily Courier in Kelowna, British Columbia, Canada from 2008-2019. Follow him on Twitter: @LarryFisher_KDC.