It's official, Antti Niemi is a Dallas Star. He signed a three-year deal that will come with a $4.5M cap hit per season and is ready to challenge Kari Lehtonen for the starting job.
https://twitter.com/FriedgeHNIC/status/615577167787745280
The Stars will now have $10.4M in cap space tied up in goaltending for the next three seasons. Was it the right move for Stars General Manager Jim Nill to make? I think so, and here is why.
Cost is High But Manageable
The Dallas Stars will likely enter the 2015-16 season with the most money committed to goaltenders in the league and that is a scary thing to a lot of people. At the same time, the Stars are able to afford it as they have many cap-friendly deals littered throughout their depth chart.
As @FriedgeHNIC first reported, Niemi is $4.5 million per season for 3 years. That gives the Stars $10.4 million tied up in goal per year.

— Craig Custance (@CraigCustance) June 29, 2015
Their top two defensemen, Alex Goligoski and John Klingberg, will only take up $8.85M in cap space next season. Jamie Benn and Tyler Seguin combined will use $11M in cap space. Other than the names already mentioned, Trevor Daley, Jason Spezza and Ales Hemsky are the only other three players that will take up more than $3M in cap space next season. During the three seasons that the Stars will have both Niemi and Lehtonen under contract, Benn is the only current player who will be getting a "big money" contract. If there was a time for the Stars to potentially overspend on a need, it is now.
Potential Benefits Outweigh the Costs
The Stars simply cannot afford to waste another season with the offensive powerhouse that they currently possess. The signing of Niemi potentially solves a major problem that the Stars had last season. Let's go into the numbers a bit.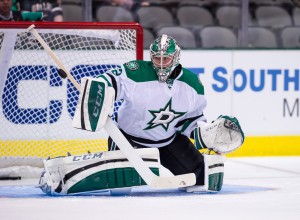 Last season, Niemi appeared in 61 games for the San Jose Sharks while Lehtonen appeared in 65 for the Stars. Niemi finished the season posting a .914 save-percentage while Lehtonen finished with an abysmal .904%. Lehtonen gave up 26 more total goals than Niemi did and 26 goals can easily be the difference between making the playoffs and ending your season early. At even strength the numbers tell the same story. While at even terms on the ice, Niemi put up a .922 SV% and Lehtonen finished the year with a .914 SV%.
Both San Jose and Dallas had similar defensive numbers while Niemi and Lehtonen were in goal. At even strength, both Niemi and Lehtonen faced similar amounts of low-danger, medium-danger, and high-danger shots against with Lehtonen giving up significantly more goals.
Even if Lehtonen returns to form and commands the full-time starter position, Niemi will still be a significant upgrade over the backups the Stars have put on the ice the past two seasons. Here are the list of goaltenders other than Lehtonen who have made appearances for the Stars in the last two seasons with their save-percentage in Dallas in parenthesis. Dan Ellis (.900 SV%), Tim Thomas (.902 SV%), Christopher Nilstorp (.890 SV%), Jack Campbell (.872 SV%), Jussi Rynnas (.841 SV%), Anders Lindback (.875 SV%) and Jhonas Enroth (.906 SV%). Those numbers really can't look much worse than that. This past season, the backup position likely cost them a spot in the playoffs and the Stars can't keep trying to plug that hole with a cheap and unproven netminder.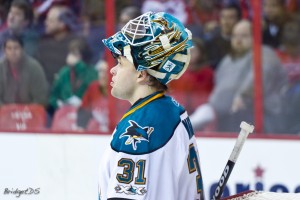 The Bottom Line
When all is said and done, this a move that the Stars needed to make. They have tried and tried again giving "show-me" contracts to backups with potential and it has burned them every single time. Does it look bad to the 29 other teams that the Stars are spending over $10 million in goaltending? Maybe, but that is where the Stars needs are at right now. Nobody blinks an eye at the teams who drop $10 million on the first day of free agency for unproven players and Niemi is a proven quality goaltender in this league. The Stars and Nill have managed their cap very well and it allows them to spend extra on a position of weakness. Signing Niemi may very well be the difference-maker for the Stars in 2016.