After GM Marc Bergevin said he was comfortable with his team, forward PA Parenteau was bought out of the last year of his contract. Getting rid of Parenteau makes an already glaring need for a top six right-winger even bigger for the Montreal Canadiens. As it stands, the top three right wingers on the team are Brendan Gallagher, Dale Weise and Devante Smith-Pelly. There is no way Montreal can contend with that lack of depth on the right side. This year's free agency group is weak compared to other years and despite Bergevin claiming that Jeff Petry and Torrey Mitchell was going to be it for free agency shopping, you can't always take Bergevin's quotes to the press at face value.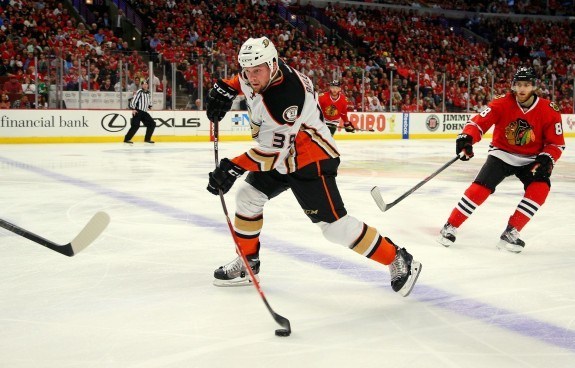 Option 1: Free Agents who are proven scorers
If Montreal is going to sign a free agent player, it will very likely be a forward. Carey Price and Dustin Tokarski are virtually locked in as the two goaltenders while the defence corps is pretty much set. If anything, Tom Gilbert and/or Alexei Emelin could be traded especially with Greg Pateryn's deal becoming one-way and this year will probably be Jarred Tinordi's last chance to make the Habs for good.
Up front, the Habs need size and scoring. Despite the NHL skewing towards smaller and skilled, Montreal needs some bigger bodies to balance out the roster. Scoring was a major issue all season long and it became glaringly apparent in the playoffs as the team couldn't score. There is no Habs forward that teams are afraid to face physically or try to shut down. Max Pacioretty would be the closest but the list gets shorter after that.
Montreal's biggest positional need is on the right-wing and there are some intriguing options but it's a question of whether the fit and the price is right. Martin St. Louis has lost a step but can still put up numbers. But his lack of size and age aren't exactly what Montreal is looking for as the team is trending younger. Justin Williams is a clutch playoff performer, the kind of player Montreal needs. But the price to get Williams could be too much as several teams will be interested in signing him, especially contenders.
Option 2: Gamble or Play it Safe
Matt Beleskey has been talked about as a player who will be looking to cash in a big deal. He saw a dramatic uptick in goals and was good in the playoffs for the Anaheim Ducks but Beleskey has never been a consistent offensive producer. Is he a late bloomer or this is just another scenario of a player performing well in a contract year? He isn't a traditional top six player and scored goals on an Anaheim team that promoted offense. Would he be able to replicate that on a tight, defensively structured Montreal team?
Michael Frolik is an effective player as he is solid two-way winger who is capable of putting up 40 points in a season but Montreal needs more than that. He is a right-winger and would certainly be an upgrade on Weise and Smith-Pelly and while it's great having players who can play on both sides of the puck, Montreal needs guys who can put the puck in the net consistently. As a player, Frolik would be a nice addition with his skill set, but he isn't what the team needs.
https://www.youtube.com/watch?v=U8yIhwWALQ8
Option 3: Forget Free Agency
Montreal could very well eschew signing a free agent entirely in the hopes that one of the team's prospects could make the jump. Nikita Scherbak is the team's most offensively gifted prospect but he might need some AHL seasoning first. It's too risky to bank on Scherbak becoming a top six winger this coming season and producing like one. Ditto for Michael McCarron making the team. He had a very good second year of major junior but remember he struggled mightily jumping from the USNTDP to major junior. He might need some transition time in the AHL first and when he's ready, he'll help the team's need for size immensely.
Sven Andrighetto and Charles Hudon could make the jump but betting on them to produce right off the bat might be too much to ask of them as rookies, considering how tight the leash Michel Therrien has when it comes to youngsters. Alex Galchenyuk will be expected to take a big step forward offensively in his fourth season but the debate still exists of whether that will happen at centre or on the wing.
Bergevin on free agency: "Jeff [Petry] and Torrey [Mitchell], that's my July 1. I'm not going to chase players July 1."

— Аrpon Basu (@ArponBasu) June 27, 2015
I don't anticipate Marc Bergevin going out and spending big money on a free agent. If Bergevin is going to improve the Montreal Canadiens, it will be through a trade. Buying out Parenteau is likely just a step in the bigger scheme of things as the team wasn't hurting on the salary cap. Parenteau had only one year left on his deal which is clearly a sign that the team has something specific in mind especially with the organization desperately needing a scorer. Bergevin didn't do much during last year's free agent rush and it will likely be the same scenario this year.
I have a Bachelor's Degree in Journalism from Ryerson University. I am a freelance journalist and a Montreal Canadiens writer for The Hockey Writers. I previously wrote for Simcoe.com and Last Word on Sports as well as interned at TSN.