On Monday night, the Coyotes announced that they wouldn't be extending a qualifying offer to forward Mark Arcobello, among other surprising players for a rebuilding team. That means that Arcobello will become a free agent on July 1.
The #Coyotes did not make qualifying offers to the following players: Arcobello, McGinn, Moore, Dziurzynski, Lane, Lee and Visentin.

— Dave Vest (@davestinaz) June 30, 2015
Arcobello is an interesting case. Last season he played just his second regular season n the NHL and will be 27 by the start of the 2015-16 season. He was on a one-year contract worth $600K, a contract that was handled more than a door knob as he was moved from the Edmonton Oilers to the Nashville Predators to the Pittsburgh Penguins to the Arizona Coyotes last season.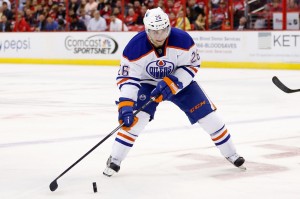 Yet despite what had to inarguably be a difficult season — moving cities, apartments (read: hotels), and linemates with regularity — Arcobello managed to put together a solid season that showed promising signs for coming years.
He's got the potential to be a free agency steal on Wednesday when he becomes eligible to sign with any team except Arizona. Despite playing for four teams last season, he posted impressive numbers. There's not a large body of work, but you could do a lot worse than giving Arcobello a shot, particularly if you can get him for just a slight raise on what he was making.
Last season Arcobello posted 17 goals and 14 assists through 31 games, career-high marks across the board. A solid depth scoring season that compares closely — less postseason success — with fellow free agent Matt Beleskey. Beleskey, who rejected a solid offer from the Ducks and is in high demand, scored 32 points last season and is likely to be looking at a significant raise from the $1.4 million he made last year.
That's just one more point than Arcobello. Arcobello wasn't qualified. Beleskey could be making in excess of $3-4 million in a couple days.
What Does He Do?
Despite last season likely being a difficult one on a personal level, Arcobello posted a 2.7% CF%Rel, a Total WAR of 1.27, and a dCorsi of 25.24. These numbers are nothing to scoff at. He made teammates better, made the team better, and performed above expectations for his usage.
Is he untested? Absolutely. That's part of the risk and the savings a team will get with him.
Is he going to batter down your door? Probably not. But there aren't many players who are able to do what he did last year for the price he's likely to do it at. If he can maintain those numbers through an entire season on a single team, he could be a great find for a team that needs to hunt out depth in the free agent market.
Similarity Score
Just for fun: Using Manny Elk's similarity scores Arcobello's 2014-15 season compares most cloesly with Jason Arnott's 2011-12 season, Teemu Selanne 2009-10 season, Ryan Kesler's 2007-08 season, Jason Arnott's 2010-11 season, Wayne Simmonds' 2014-15 season and Justin Williams' 2014-15 season. These aren't the seasons of players you release.
Why Was He Released?
It's not entirely clear why Arizona decided to release Arcobello. He's not the only player they didn't qualify that is tough to understand for a rebuilding franchise. They also released John Moore, who is a young and worthwhile defenseman, as well as former first round pick, goaltender Mark Visentin who is just 22. (Aside: Visentin did not play last season due to an ankle injury, that required surgery. A few articles out there talking about his numbers last season. Hasn't played since the 2013-14 season when he posted a .902 with the Portland Pirates in the AHL.)
There's risk and reward to contend with, but if Arcobello has to be given a one-way deal but still comes in at $1 million or less per year on a two-year deal (possibly short because he'll want to prove himself and get a raise soon), he might be a risk worth taking that could wind up being one of the best steals of the summer.
RELATED: Strome Thinks He Is NHL Ready
[catlist categorypage="yes" numberposts=3 excludeposts=this]
Dustin Nelson writes about news and the Minnesota Wild for The Hockey Writers.