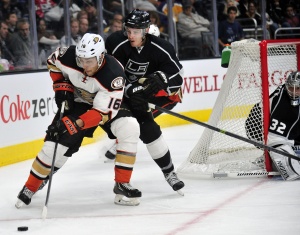 When the Rangers moved Carl Hagelin and two picks to the Anaheim Ducks for Emerson Etem, and a second rounder, there were some shock waves sent through the Rangers fan base. Hagelin was an easy player to like, but the business aspect of the game came into play; and the Rangers decided that they couldn't pay a third line winger upwards of $3.5 million a year. Instead the Rangers elected to move up in the draft while also getting a younger, cheaper player. The immediate reaction was that New York made a bad deal, but most don't realize that Etem brings a lot to the table as a player.
Offensive Upside
Etem's mix of size and speed make him a factor in every play. He has terrific offensive ability; he simply hasn't been able to tap into it at the NHL level yet. Gordie Clark the Rangers' Director of Player Personnel, spoke to Jim Cerny about what he expects out of Etem, "It's are game of speed, and that's what this kid has."Clark went on to say,  "we got back a guy that's in that class again with the speed and skill that he has." 
Etem has been a sound producer in the AHL; in 2013-2014 he played in 50 games for the Norfolk Admirals, there the winger notched 24 goals and 30 assists. Last season he got bumped up to the NHL, but was still in a bottom-six role. The winger from Long Beach California notched five goals and five assists in 45 games during the regular season, and three goals in 12 playoff games.
Below is one of Etem's goals from last year's playoffs, and it's a beauty. The main reason I selected this video was because we get a look at his speed, hands, and creativity.
You can see on this play that he has natural offensive instincts, that aren't easy to find. After beating Jacob Trouba with a stick handle, he doesn't rush a shot, instead he makes another little move in congestion, and flips a back-handed shot past Ondrej Pavelec. Jeff Gorton, the Rangers' Assistant General Manager spoke about why they pursued the young winger, "Etem, I think has a lot of different attributes that Carl has, as far as his skating, is explosive. He backs up the D really well. He's a guy that has a history of scoring in junior, and he can shoot the puck. He has a physical aspect to his game, he's pretty strong and very fit. We think he has a chance to be a top-nine forward for us right away. He is a guy that we liked going back to his draft, and followed him, and like I said, we are able to get him today."
Growing as a Player
Etem seemed to play his most consistent hockey during last year's post-season. He was able to employ all of the solid elements of his game. For one, he killed penalties, in last year's playoffs the winger was averaging 1:01 on the ice while his team was shorthanded, which was a big jump from averaging 27 seconds a game in the regular season. Looking at the other aspects of his game, the winger pumped 23 shots at the net, threw 34 hits, and blocked nine shots, all in 12 games. His defensive game is starting to round out, and he brings some edge as well. Etem isn't a fighter per say, but he does have some push back, which is something that the Rangers sorely lacked in last year's playoffs, especially against the Washington Capitals.
Below is a video of Etem dropping his gloves; this is his only NHL fight , but you can see that he has a boiling point.
The Anaheim Ducks' Vice President, and General Manager spoke about Etem to the teams official site, "He came a long way under us, but I think a change will be really good for him right now. I think he felt pressure at times. Now he can get away, go relax and play hockey." He has been highly touted since being taken in the first round (29th overall) back in 2010. Rarely do you hear that someone is going to New York to escape pressure, but that does seem to be accurate. After all Etem did grow up on Long Beach.
My Take
Etem's game reminds me of Chris Kreider's, he has that excellent speed to back off defenders, he can lay on heavy checks when he wants to, and he has great hands to accompany an excellent shot. His game has really come on as of late, and there should be some room for him to grab a steady spot in the lineup. Keep in mind, this team just let go of Martin St.Louis, and Carl Hagelin went back the other way in the trade, so there are currently two spots to be had in the top-nine.
So much of the talk after the Rangers were eliminated from the Eastern Conference Finals last Spring, revolved around "the closing window", well New York has made a move to keep that window open, they were able to add a young player who is ready for the NHL.
I graduated from Brooklyn College with a B.S. in Broadcast Journalism. Shortly after, I began writing for the Full Tilt Hockey Network, where I still contribute, covering a broad range of topics across the NHL.
I have been contributing to The Hockey Writers since February of this year focusing on the New York Rangers. My articles tend to focus on analysis of players, and possible directions that the organization could go.